Gardening is one of the best hobbies to have. Your garden is filled with vibrant, colorful flowers and juicy, delicious fruit. You literally get to enjoy the fruits of your labor; you can spend many afternoons in your gorgeous garden soaking up the sun.
With careful planning, you can even save your plants during winter so that they are ready for growth in the upcoming spring. A beautiful and well-planned garden will give you the greatest feeling ever, along with your neighbors' and friends' compliments.
Once you have decided on a garden, one of the most important things to consider is the garden's layout. The layout lets you know where you can plant your flowers, and the garden border is an integral part of the layout. There is a wide range of garden border types available for all gardens. In this article, you will learn about 11 low-maintenance garden border ideas that suit any budget.
What is a Garden Border?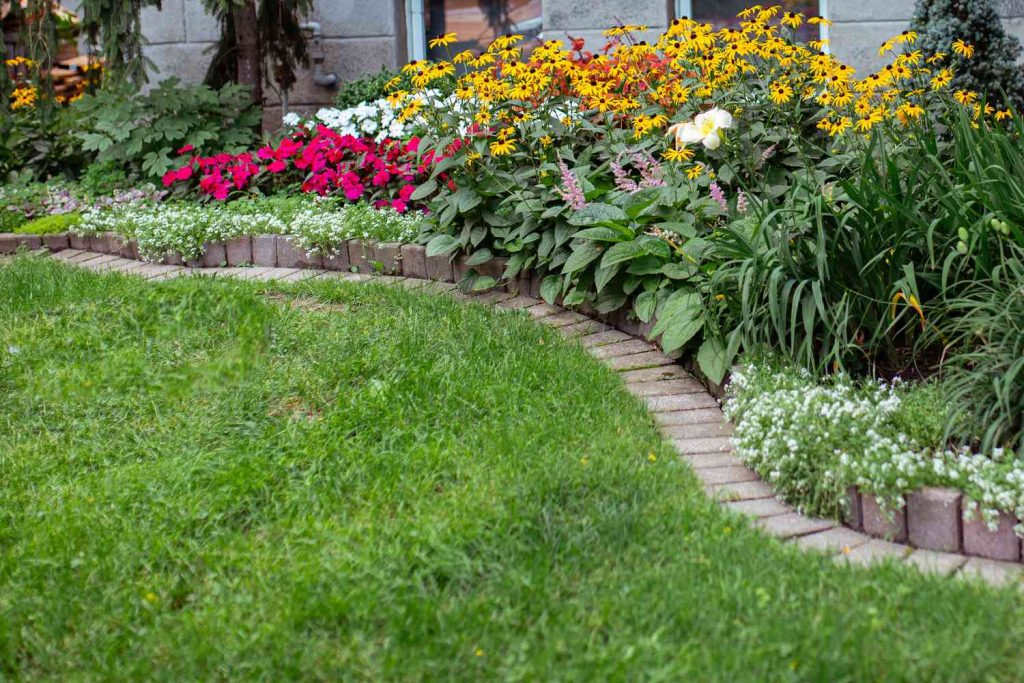 A garden border can be a variety of things. In the United States, the edge of the flower bed or garden is the garden border; it is usually closest to a path, walkway, or driveway. Sometimes, the term garden border is used to refer to a narrow strip of ground cultivated as a flower bed or other planting areas. While in Europe, a garden border is used to refer to a flower bed or a herbaceous border.
Low Maintenance Garden Border Ideas
Now that you know what a garden border is, let's see the many options of garden borders that you can use in your garden. Whether you want an upscale or cost-saving one, there is a garden border for you and your budget.
Here are 11 ideas for garden borders that are low maintenance as well.
1. Rocks and Stones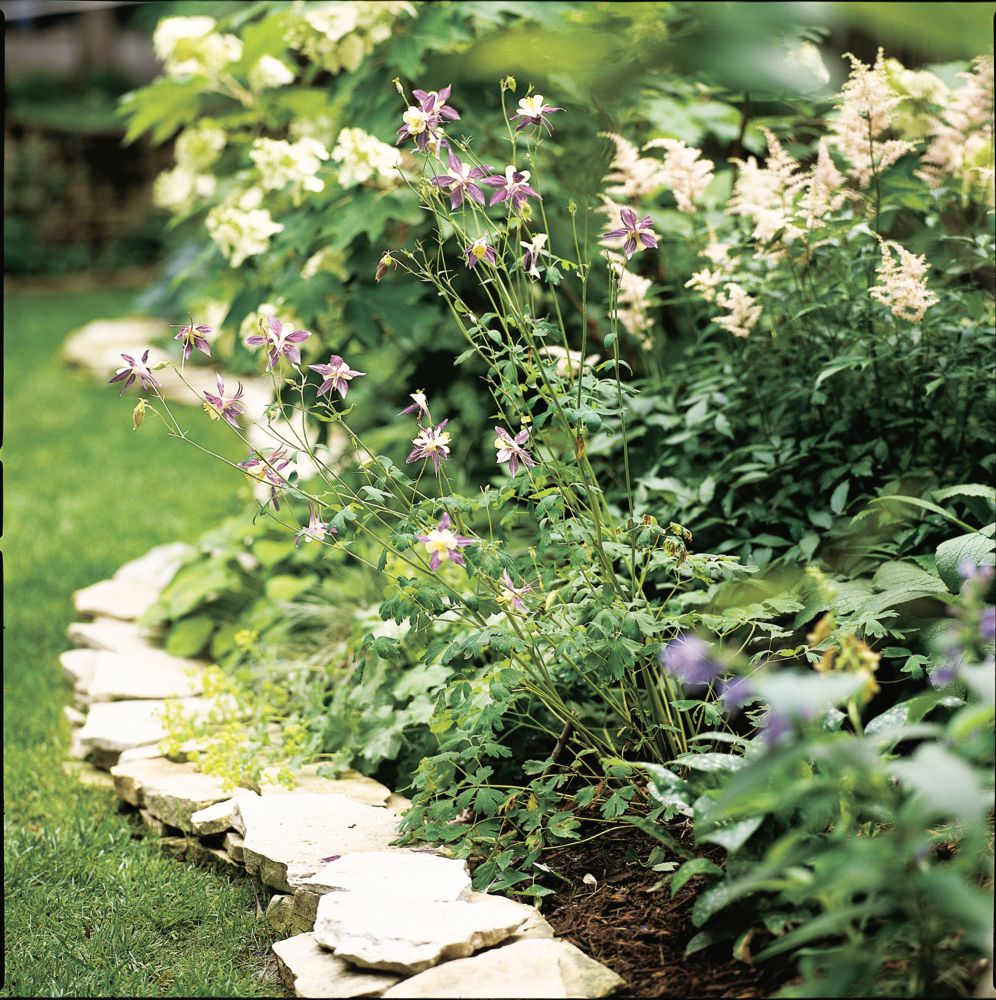 The easiest option for a garden border is rocks and stones; once you have laid them down, you are done since they do not need to be maintained. Rocks and stones look natural in a garden and will hold in the soil. So you do need to worry, and your garden will look amazing as always. They also come in handy for raised garden beds as well. Your local nurseries and garden centers will help you out with buying garden stones and rocks.
With rocks and stones, you have plenty of design options for your garden. You can use different colored stones for a fun look; there is also an option for tiered beds with varying levels if you are feeling more creative. If you use flat rocks, for example, sandstones, you can build fake retaining walls so that your garden beds are edged effortlessly.
One thing to remember about rocks and stones is that they retain heat more than other materials. Just add an additional layer of hydration for your plants in the warmer months of the year.
2. Rubber
Rubber is also a great low-maintenance border for your garden; it is durable and versatile. It will last longer than plastic, and rubber edging comes in various sizes, colors, and shapes to accommodate your garden needs. You can easily place the rubber roll as it makes a functional garden edging. Overgrown weeds will have a hard time getting into and out of your garden beds because of the rubber's non-porous qualities.
Rubber can be recycled to be made into an imitation of concrete paver; this is called rubber curbing since it looks like the sidewalk. You can shape the rubber into any shape you want, so you will be able to use the rubber curbing all over your garden without any problems.
Rubber needs less maintenance and is more durable than plastic; you have more color and shape when shopping for rubber. Rubber is a good investment in your garden since it will last for years to come.
3. Metal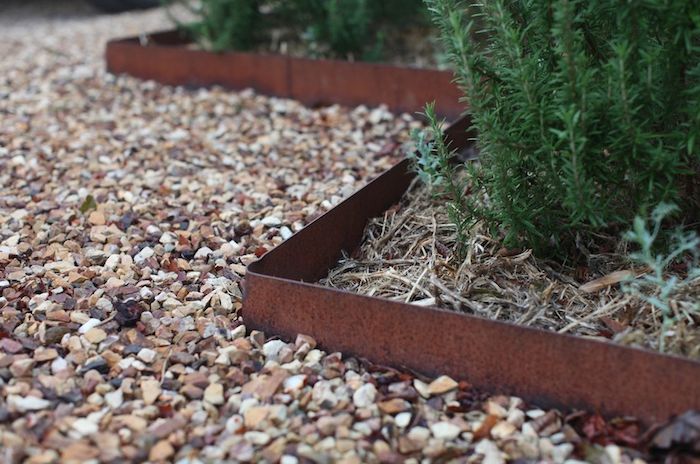 One of the low-maintenance garden border ideas is metal. One type of metal used in garden borders is Corten steel. You buy pre-rolled panels or interlocking pieces of Corten steel and install them quite easily in your garden with the help of steel stakes or pins. If you want the stakes or pins, just dig small trenches and fill them with soil or stones around the border. Metal is also less likely to bend or move than plastic, so it does not need maintenance. This type of metal will rust, but it will look natural.
If you do not like natural rusting in your garden, corrugated galvanized steel is your answer; this steel is zinc-treated, so it will not tarnish for up to two decades. There are many choices in terms of shape and dimension since metal is pliable.
4. Plastic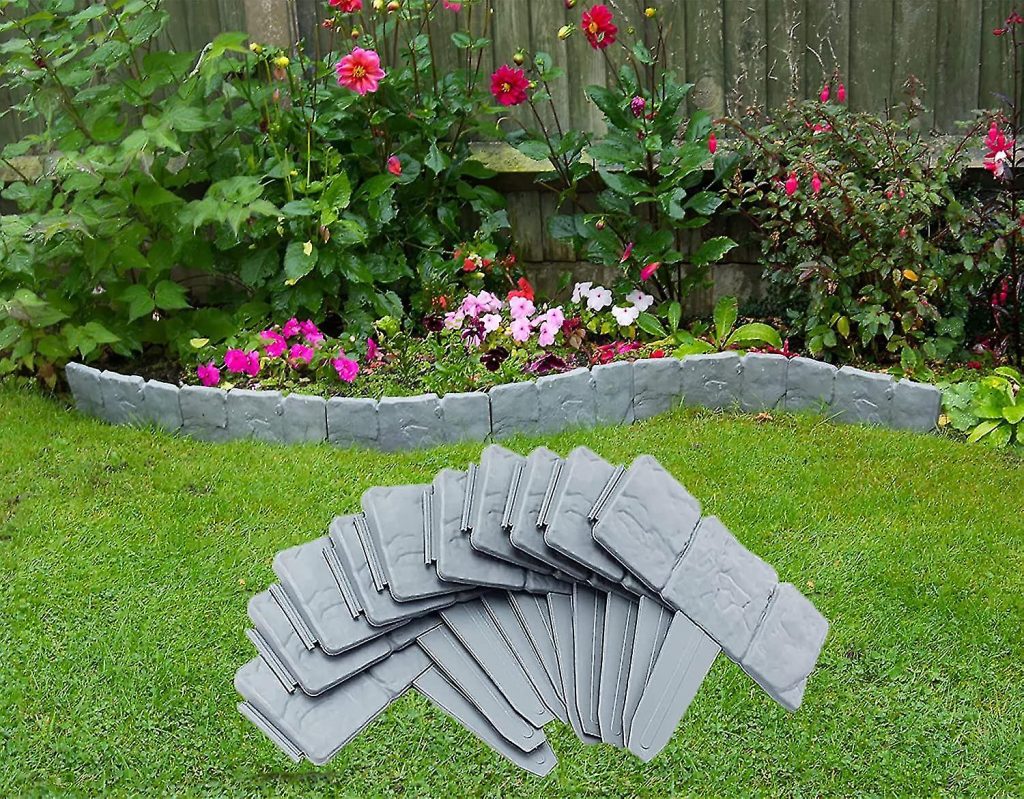 Plastic is one of the most affordable garden borders out there in the market, along with a wide variety of designs. Plastic borders come in no-dig, interlocking pieces and pound-in edgings. Plastic borders can also be stacked on each other at different heights so that you can build a wall as high as you want. If you want a more refined look, then there is a brick-wall plastic border which will serve well as a boundary.
Plastic border even comes in a brick form, which works well for a shallow garden's border. This could be your next DIY gardening project for you. There is even an interlocking plastic fence if you want a unique look for your garden. Plastic may shift, crack, or fade over time, so it may need replacing.
5. Bricks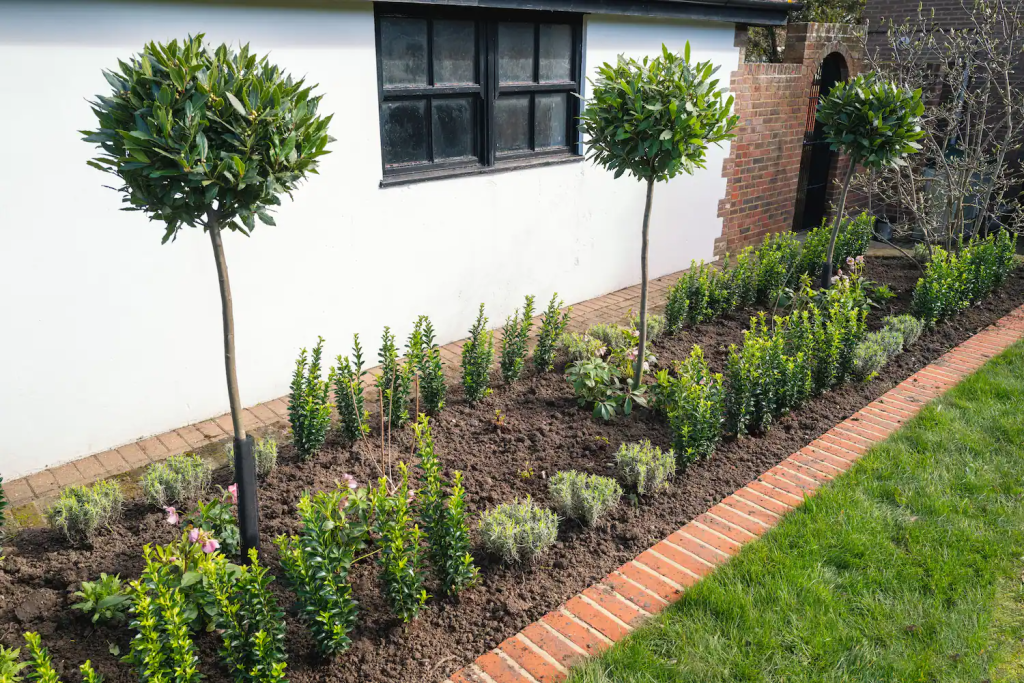 Bricks are an affordable material for your garden border. You have so many choices when you install bricks as garden borders. Bricks can be horizontal, vertical, flat, or at an angle when you insert them in your garden. You can even raise or lower the border with double-brick borders so you can have different border sizes in your garden depending on your needs. You can have curved patterns to suit your garden landscape if you want. Masonry work or cement will help you keep the bricks in place.
One thing to remember about bricks is that you will need to weed in between them to avoid rogue plant growth. Other than that, bricks do not need much maintenance, and you can just enjoy your beautifully planned garden.
6. Pavers or Paving Stones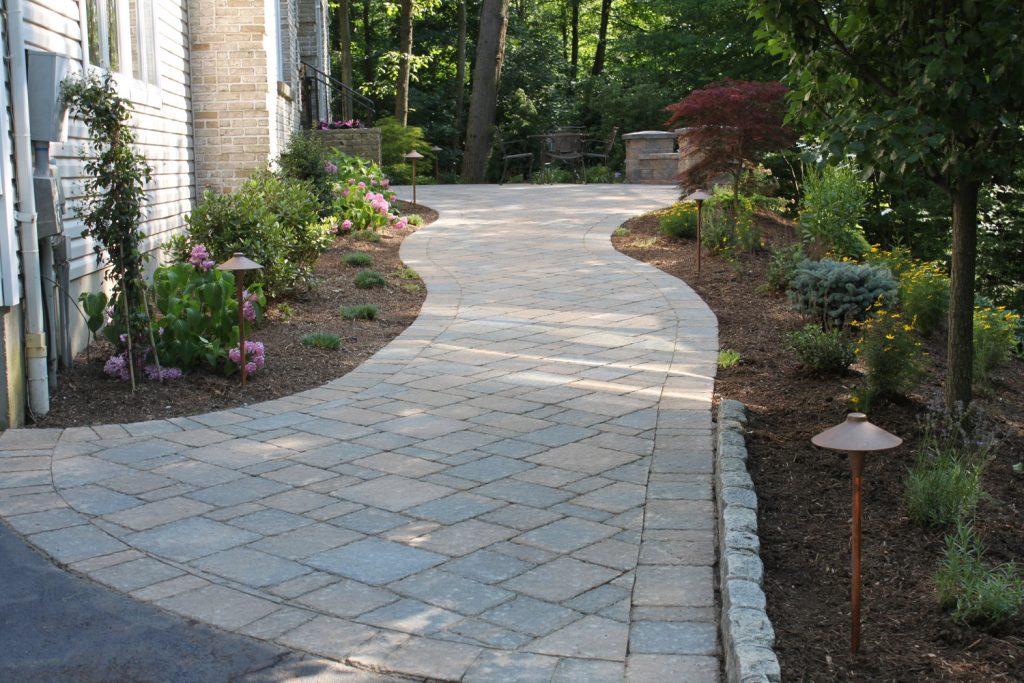 Pavers are another excellent solution for garden borders; you may know them as paving stones. You can lay them down flat like bricks or stack them for your raised garden beds. Use interlocking paving stones to create a beautiful border along your curving garden beds. For extended durability, it is recommended to put some concrete between the paving stones. Pavers need to be pushed into the ground so that they do not shift or move. If you like, you can raise your paver wall with capstones on top to give a more refined finish.
You will have to look out for weeds through the gaps between the paving stones; just pull them out regularly to keep your garden neat. Pavers are very handy in separating the different sections of your garden.
7. Gabions

For anybody who does not know, a gabion is a cage, box, or cylinder which is filled with rocks, concrete, soil, or sand; these are used for landscaping, road building, civil engineering, and military applications. You can install gabions as garden borders even if not everybody likes their appeal. Gabions are an excellent choice for keeping the soil in, which makes them ideal for raised borders.
Gabions do not have a universal appeal, but if you do not mind, they will make wonderful additions to your garden; they are bigger than other edging materials, so your choices in size are limited. They can only be used for curved beds if the cages are specifically designed for the curves.
8. Concrete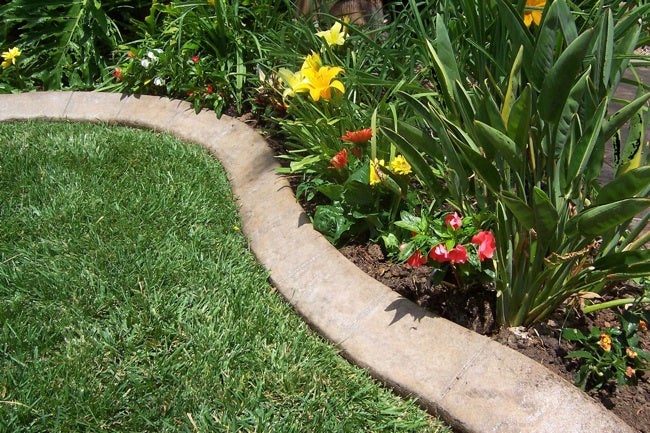 Another durable garden border option is concrete. This method is a long-term solution for garden borders, as once it is set, you can forget about it. You can pour and mold the concrete yourself or utilize concrete stamps. You will get decorative, affordable, and functional garden borders since concrete is already popular; it is used for driveways and sidewalks.
Whatever length you need, a concrete garden border can be built; you can do it yourself or hire an expert if you wish. The required tools and materials are readily available at your local home improvement and garden center stores.
9. Old Glass Bottles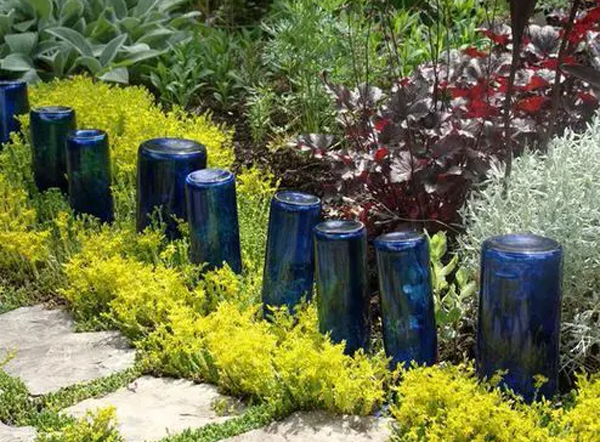 If you are into recycling, then this garden border solution is for you. Your old glass bottles can be used for garden borders; it might sound odd to include glass bottles on a list for low-maintenance garden border ideas. You can do this yourself as a garden project, and it will save you money and time. Glass bottle edging is a unique idea and will make your garden the envy of your friends and neighbors.
You need to anchor these glass bottles firmly into the ground. You can pick bottles of the same color for a coordinated look or mix and match them with different colors for a bohemian look. This will give you a dazzling border for a flower bed and garden path.
10. Wooden Border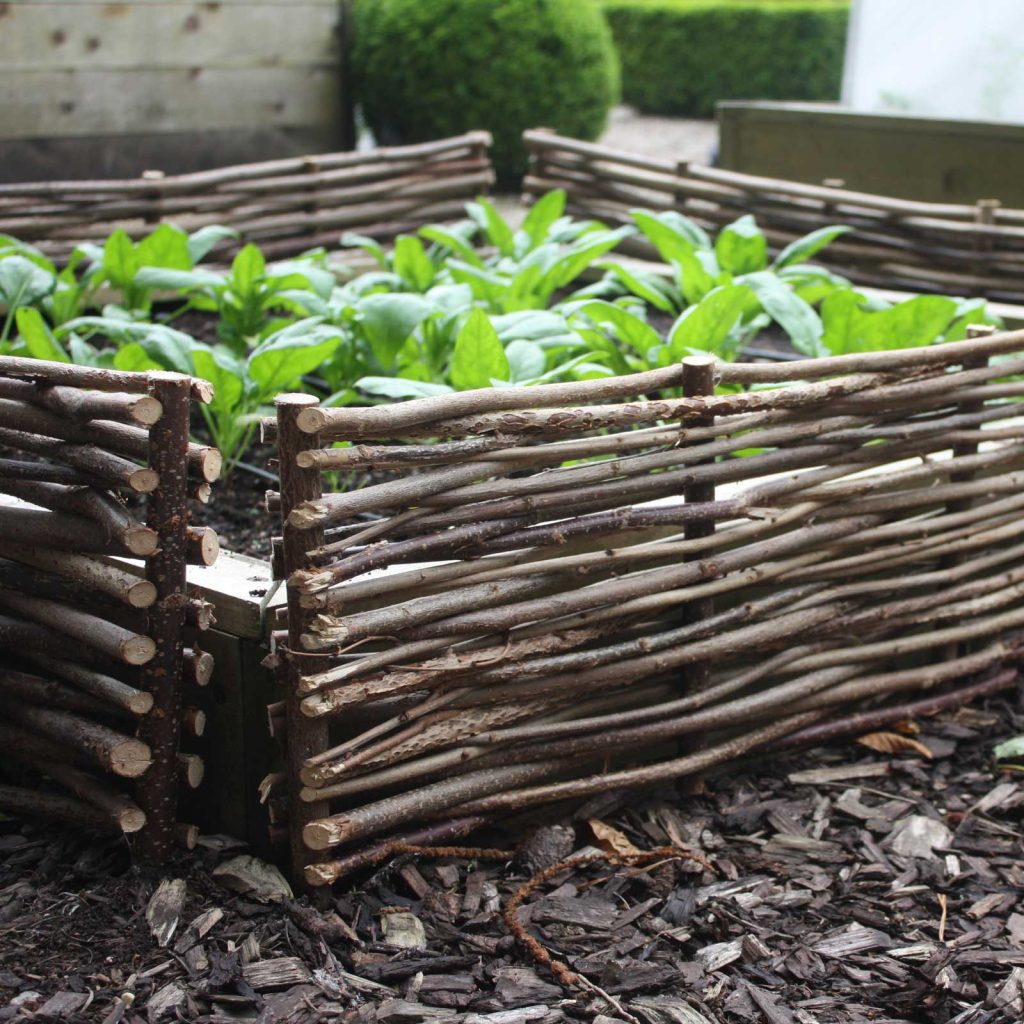 One distinctive solution for a garden border is a wooden border; that means is a border made out of branches and twigs. Woven Willow is one just example; this wildlife plant's branches can be used to build a border. You can use Hazel if Woven Willow is not readily available in your area.
To let your creativity flow, you need to weave all the branches together and place them in between wooden stakes. This type of garden border will look beautiful in a cottage garden and give off a bohemian vibe. If you do not want to do it yourself, pre-woven garden edging can be bought, and you can push them into the ground.
11. Hedges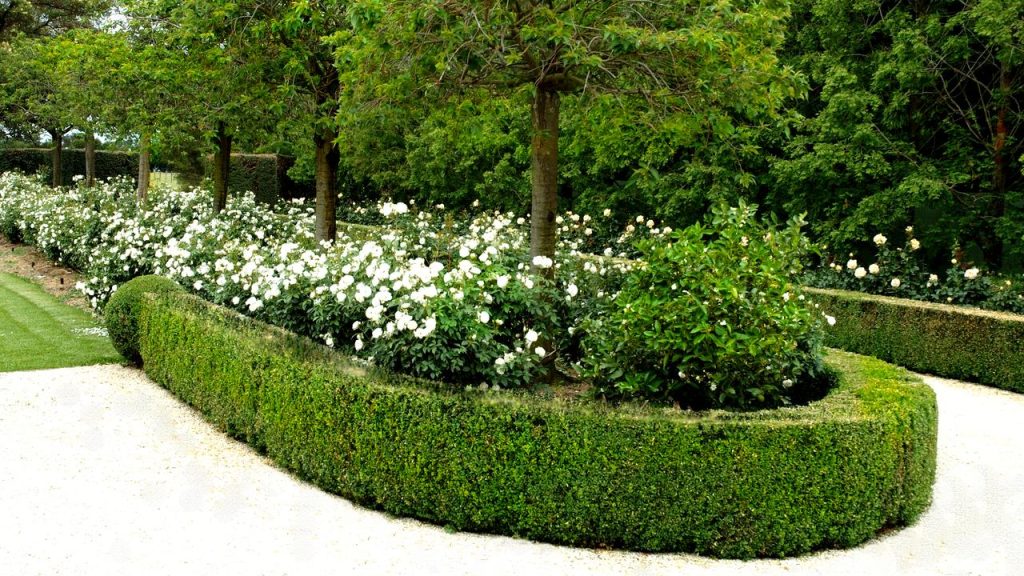 A hedge can be a garden border, too, if you prefer a natural garden border. Hedges are a great alternative to all the borders that need to be constructed. Hedges are plants and natural, therefore an environmentally friendly solution. They look incredibly wonderful along a winding path in your garden. After being planned, these hedges need to be watered, trimmed, and clipped as regular maintenance. Just treat them like your other plants and flowers.
The hedges will significantly complement your flowers and plants as they will look like an organic part of your garden while also doing their part as garden borders.
Final Thoughts
Having a tidy and beautiful garden is every gardener's dream. Planting and taking care of the plants and flowers takes dedication and hard work. There are so many gardening stores and nurseries where you can get seeds, young plants, soil, fertilizer, mulch, pots, containers, gardening tools, and so much more; once you have all the necessary items, you can get started on your garden. The blooming flowers and the fruit-laden trees will make all your hard work worth it.
Once you have decided to start a garden, planning is the first thing. You need to be able to protect your garden and know the boundaries. One important thing is the garden borders; these borders help contain the plants in one area or keep them safe from being trampled on so that your garden looks organized. Of course, this list of low-maintenance garden border ideas for every budget will guide you on your gardening journey.
Write down in the comments below what type of garden border you have used and your experiences with it so that other gardeners can take inspiration.