As you reach your house, imagine a special entrance gate that quickly gets your attention. Driveway gates serve two purposes. It provides an extra layer of security to your house and also acts as a beautiful point that greatly enhances the overall beauty of your surroundings. A variety of driveway gate ideas to fulfill every unique taste and individual style.
Your main gate gives you a chance to make a long-lasting impression on your guests. So, a carefully chosen gate design can make a statement, and you can stand out in your neighborhood. In this article, we have brought you 'the best' and 'the most unique' designs available in the market.
So do not spend money on a gate before reading this full article!
Awesome Designs of Driveway Gate Ideas
1. Classic Wrought Iron Gate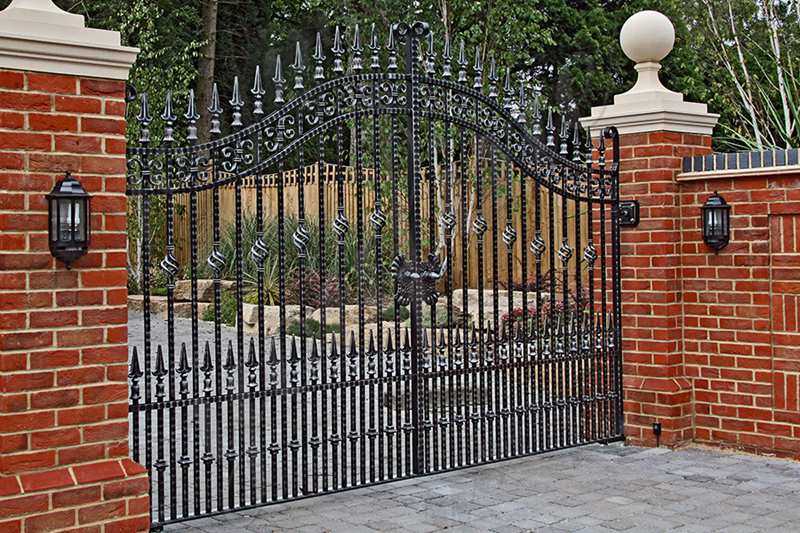 Wrought iron gates have a long history and continue to be commonly used for their strength and beautiful appeal. Wrought iron is a special type of iron that is made by the process of heating and shaping either through human labor or using different tools. The term 'wrought' comes from the word 'to work,' which means the labor-intensive nature of shaping metal.
Generally, classic iron gates are designed with scrolls, curves, and other decorative items. One of the main advantages of a classic iron gate is its resistance to rust and corrosion. It is also safe from weathering, which makes it suitable with very less maintenance.
Apart from its practical advantages, a classic iron gate gives an element of power to any house. When well-maintained, an iron gate can survive for generations with minimal maintenance. Due to the strength it offers, it enhances security.
2. Modern Sliding Gate
This is a modern and easy solution for your main gate. Adding a touch of beauty and extra security to a house, a modern sliding gate is a must! This type of gate is very common nowadays. Unlike other swing gates that need a lot of space to open, sliding gates open and close horizontally along a track. This makes them smooth and efficient gates.
Modern sliding gates are commonly made from materials like aluminum or steel. They provide great strength, making sure of the gate's durability and reducing maintenance requirements. Moreover, these sliding gates can be customized to fulfill different styles and personal preferences. This feature makes them seamlessly match the surrounding environment.
One of the major advantages of modern sliding gates is their easy operation. Many sliding gates can be made remote-controlled with the tools. This will provide you with easy access and control. Using electric motors and remote control systems, you or any authorized person can effortlessly open and close the gate with a simple button.
3. Wooden Gate with Carvings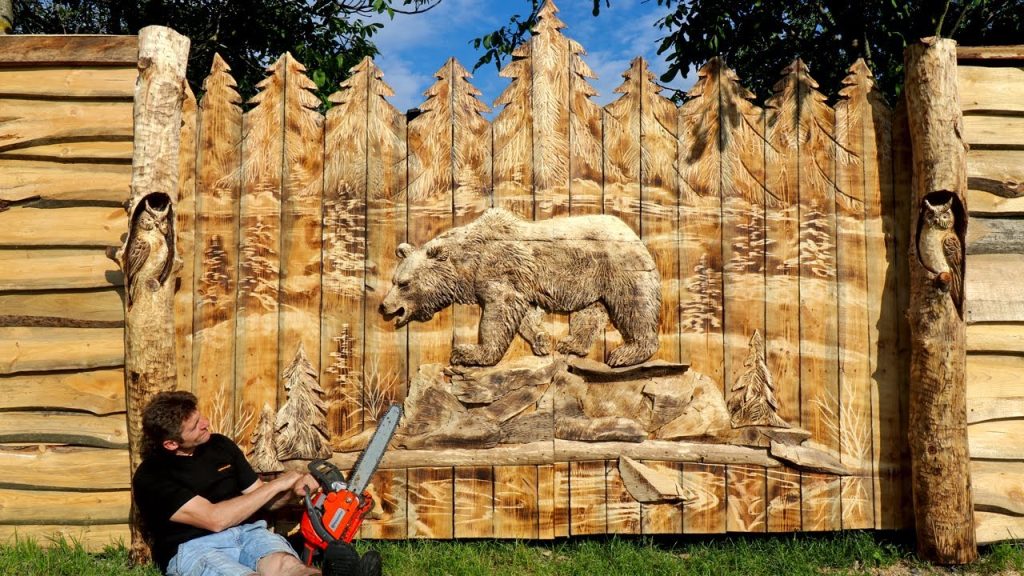 A wooden gate with cravings shows artistic features. This gives any house a feeling of warmth and charm. These wooden gates are common for making a normal house into an extraordinary one. This proudly shows the beauty of wood and the skills of the talented artists who made them.
The natural grain and texture of the wood create a welcoming and comforting atmosphere. While the detailed carving gives depth, shape, and pretty design. Some common designs include flowers, geometric shapes, animals, mythical creatures, or scenes inspired by the beauty of nature or cultural traditions.
Ensuring the maintenance and long life of a wooden gate is important. Regular cleaning, sealing, and application of liquid finishes or removal of stains are a need to protect against rot or discoloration. Additionally, regular inspection and attention to any wear or damage are important to maintain its new look.
4. Artistic Metal Gate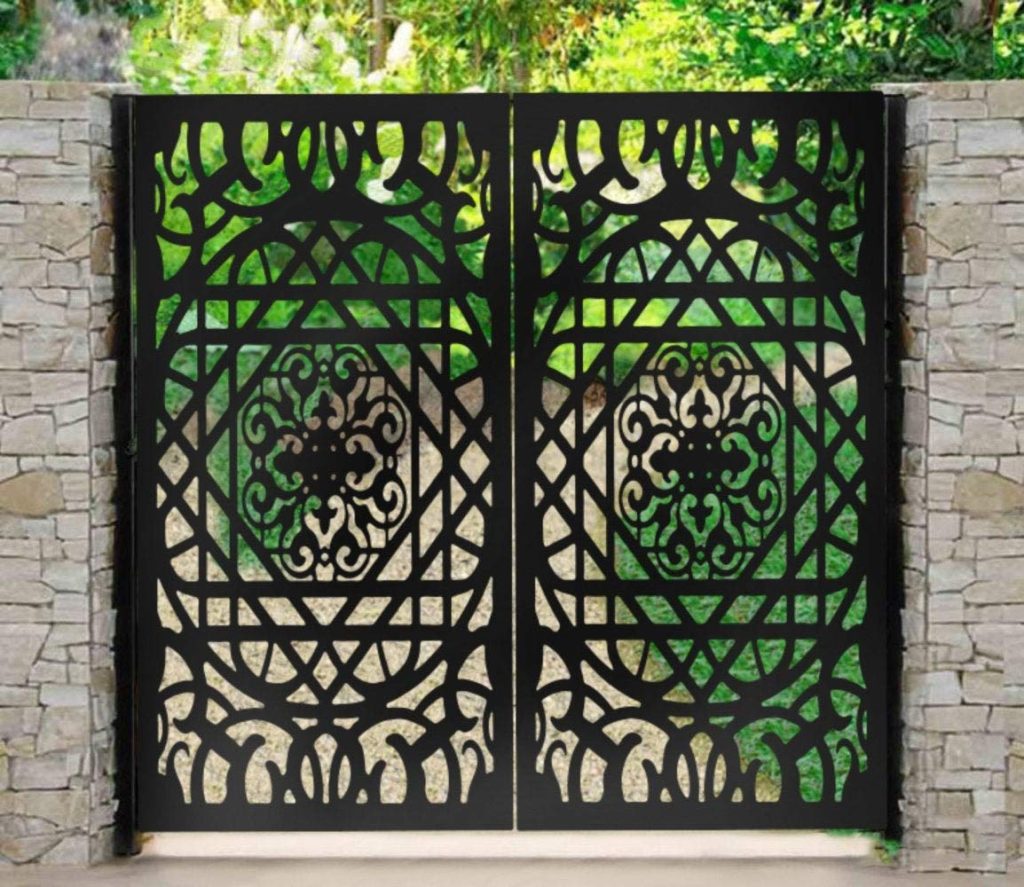 A metal gateway stands as a great feature giving a feeling of skills and art. Specially made with precision and arctic features, these gates are a piece of artwork that shows the creativity and talent who made them.
These gates are made from different materials, such as iron, steel, or bronze. And they come in different designs and patterns, but they also allow customization. They easily mix with various styles. These styles come with modern, industrial, and even traditional designs. This improves the appearance of the surroundings giving an overall great look.
To maintain the durability and preservation of an artistic metal gate, care, and maintenance are important. Regular cleaning, rust prevention, and the application of a protective coating to protect the gate from corrosion. With proper maintenance, this gateway can add beauty to the environment around you.
5. Stone Pillar Gate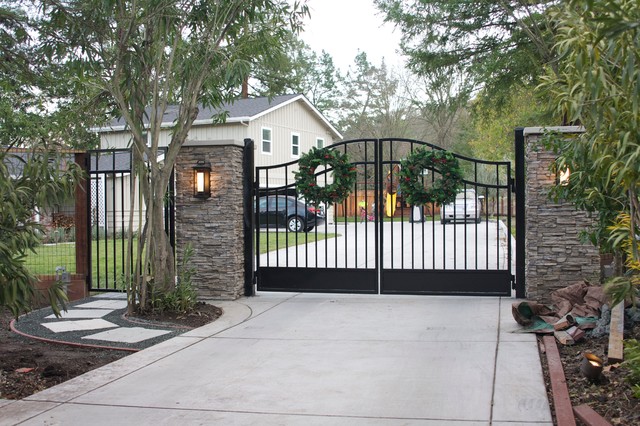 A stone pillar gateway acts as an old and inspiring piece. It is made with high precision, and it gets all its resources from nature. These stone gates prove to be a great design. These are made from a variety of stones, such as granite, limestone, or marble. A stone pillar gate presents a unique and artistic feeling.
The size and ratio of stone pillar gates have a lot of variations depending on preference and availability. The selection of design and size is often decided by the styles of the house. Some gates may use tall pillars, whereas some may need a wider one that has more visibility.
Beyond their designs, stone pillar gates give a sense of long life and stability. They easily mix into different styles, including classical, traditional, and even modern designs. They act as an inspiring gateway that leaves a memory on the visitors.
6. Automated Gate with Security Features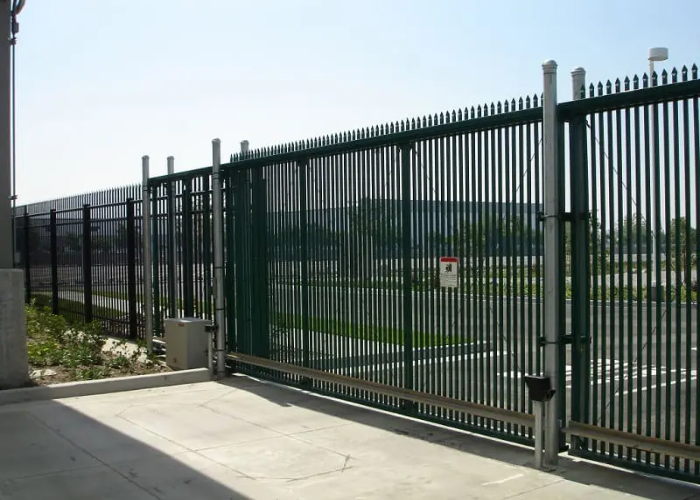 An automated gate added with cutting-edge security features stands as a paradigm of innovation. These gateways are added with automated mechanisms and need an effortless operation and incomparable convenience. At a gentle touch of a button or a swipe of a car, these gateway slides open or close with ease. This frees you from that manual exertion of those old and super-heavy gates.
Beyond their convenience, these automated gates offer a high level of security to your house. These tools not only record the movement around the house but also some with card or biometric scanners to ensure only authorized people can access them. These tools can be easily found on Amazon at a low price, including the scanner and automating system with smartphone control. Strategically positioned CCTV cameras with monitors can record the surroundings near the driveway.
7. Minimalist Wooden Gate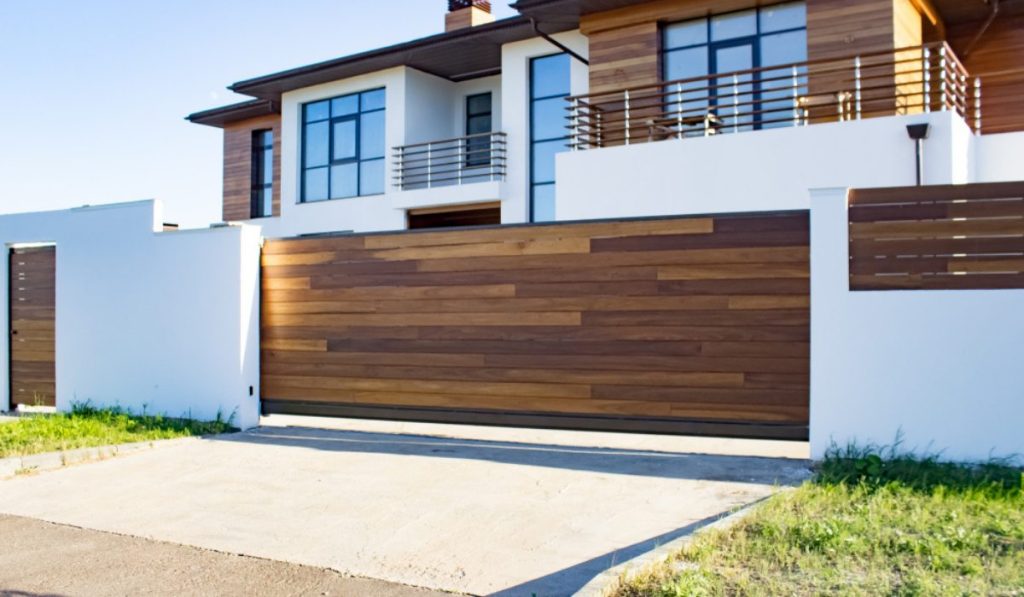 A minimalist wooden gate shows simplicity, clean lines, and underrated grace. With their sleek design and natural beauty, minimalist wooden gates make a striking statement. Made from high-quality wood such as oak, cedar, or teak, this gate displays a wooden texture and polished appeal. The gate's smooth surface and precise edges create an amazing appearance of the wood itself.
To preserve the elegance of a wooden gate, it's important to have regular maintenance. Take care of them by cleansing, regular sanding, and application of protective finishes, although gates these days are already painted and have a longer life than regular wood.
8. Minimalist Metal Gate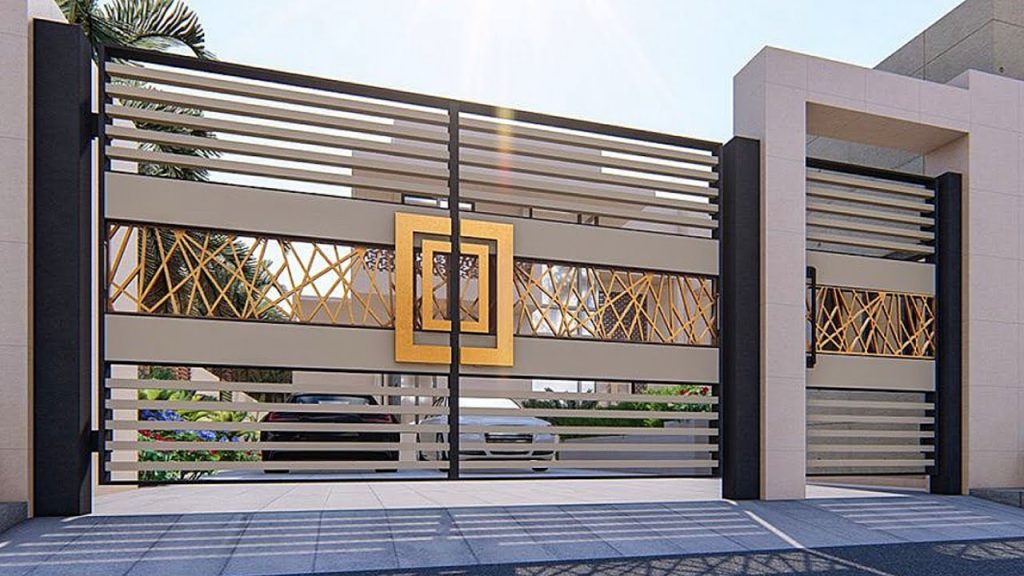 With the introduction of advanced technology in the laser industry, we have seen many new creations of even more innovative designs. These designs are not only visually good but also have a longer life. Modern technology allows the creation of different and unique patterns with precision and different shapes. These are unique and give the designers an opportunity to innovate more designs which will directly benefit us in the selection process.
Furthermore, the availability of various finishes for metal surfaces has increased the design options for minimalist gates. These gates are now coming in a polished finish as well.
In terms of shape, minimalist metal gates are no longer set to traditional rectangular shapes. Designers are now exploring curved gate designs to introduce a sense of style. These abnormal shapes break away from the typical straight lines and angles but still maintain minimalism!
9. Art Deco-Inspired Gate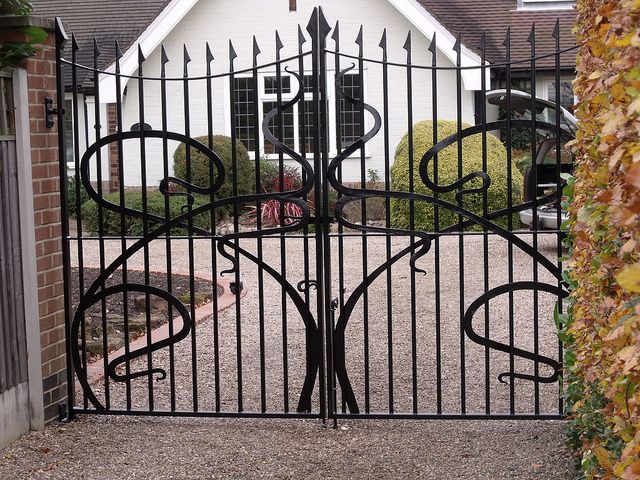 These gates often feature symmetrical patterns and repetitive geometric shapes, such as birds, flowers, and zig-zags. The use of luxurious materials like bronze, stainless steel, and wrought iron adds to their grandeur.
What sets Art Deco-inspired gates apart is their dual ability. The ability to have functionality with aesthetic appeal. These gates were designed to be not just entrances but works of art in their own place. The combination of geometric design, fine detailing, and high-quality craftsmanship creates a visual impact. Art Deco-inspired gates can be found in various settings, including housing, public buildings, and commercial spaces. They serve as impressive focal points that show elegance and sophistication.
10. Farmhouse Style Gate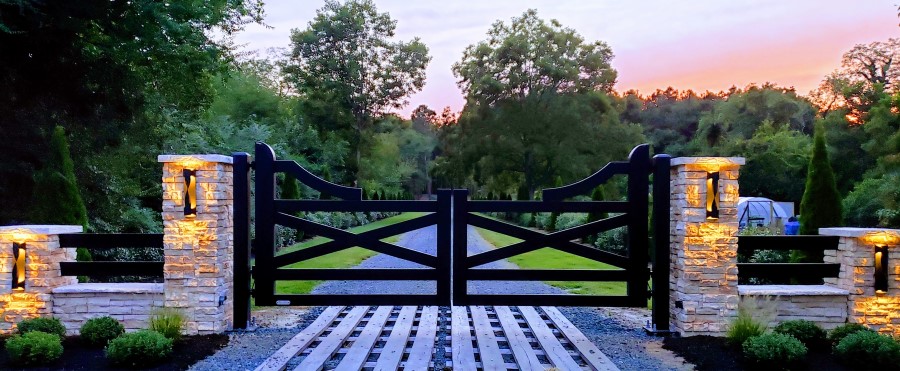 They can add a farmhouse touch to your house, but a farmhouse-style gate is not just for farmhouses! To enhance the farmhouse appearance, gates may add traditional design; for example, cross-bracing is a popular feature where wooden planks are set crossing each other like an 'X' across the gate for both structural strength and beauty. Additionally, farmhouse-style gates may include decorative items such as iron pieces, vintage-style items, or even a small window to add shine and outline.
In terms of design, farmhouse-style gates can vary from simple to more detailed and decorative, depending on preference and purpose. Some gates are made with clean, straight lines with very less design, while others may have shaped or curved tops.
11. Industrial Metal Gate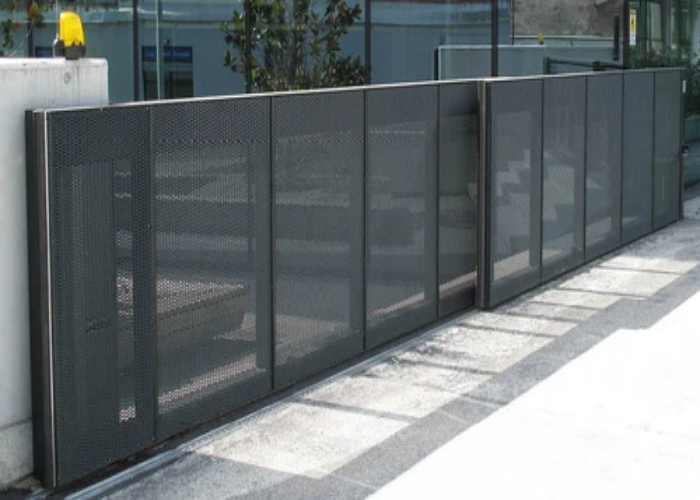 What truly impresses us about the industrial metal gates is their great specialty in having diverse styles. While commonly associated with modern times, these gates have the ability to set into traditional or old environments without any problem. The connection between the gate's industrial aesthetic and the surrounding ambiance improves visuals and serves as an inspiration for different designs.
They can be designed with both sliding or swinging mechanisms. This feature makes them highly suitable for different purposes of applications, ranging from industrial sites and commercial stores to modern housing. The selection of colors spans from lighter tones to dark industrial shades like charcoal gray or black. However, it allows further customization of specific designs and colors. Out of all driveway gate ideas, this one is getting popular these days.
Final Thoughts
Everyone wants to have an amazing driveway gate to impress their guests. This post showed you some of the best driveway gate ideas that can give an essence of elegance to your house. From classic wrought iron gates to automated gates with security features and wooden gates with carvings, you can choose the best option as per your preferences.
Out of all the types of gates, these days, the most preferred gates are modern sliding gates and industrial gates due to the fact that they can easily be made automatic and give additional security with new technology. Choosing a perfect gate can depend on a lot of factors, but in the end, its all a fun task to do!
So without wasting your time, let's get into this modification process!