Having a quiet time outdoors in your house is one of the best things to do. Well, if you love nature and enjoy quality time on your patio or porch, then you must be looking for outdoor privacy screen ideas.
Well, we have beautiful and unique ideas that will add beauty as well as give you privacy while you have a good time sitting outside. Or this can also upgrade your patio if you are looking up for that too. However, adding outdoor privacy screen ideas can be a fun DIY project.
There are so many designs available, but we have got the best ones for you that are not too expensive, and you can do it yourself. There may be some that require tutorials, but you'll be able to do it.
On the other hand, there are some amazing ideas that can be done with the materials that you may already have lying on your ground. Just look for them before you get started with the renovations.
Tune in to learn these 11 outdoor patio privacy screen ideas and DIY tutorials.
Creative Outdoor Privacy Screen Ideas & DIY Tutorials
It is easy to install these creative outdoor privacy screen ideas without any hassle, and the best thing is that they are very affordable. Below is the list that you can tune in and get to know everything in detail.
1. Growing Trees for Large Spaces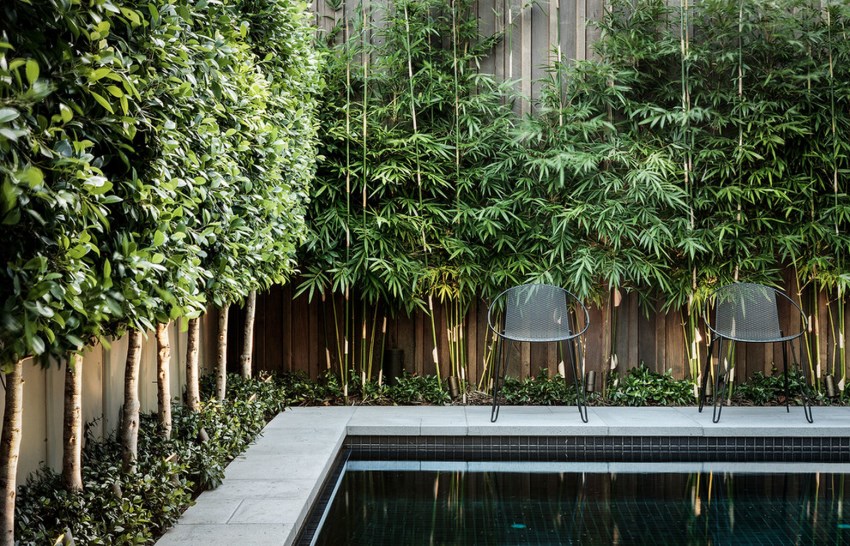 Well, this can be a time taking process, but planting trees is one of the best outdoor privacy screen ideas. This is because they can cover a large space and also add a natural green lustrous look to your space. If you have a big backyard and can wait for some time, then you have a great natural option to get some privacy. However, it depends on the type of tree that you are using, but they could give you up to 30 ft. or more of privacy screen. Also, they provide fresh, clean air around your house and will maintain the temperature. If you want these natural outdoor privacy screens, then you should plant trees right away and divide sections of your yard where you would want them.
2. Divider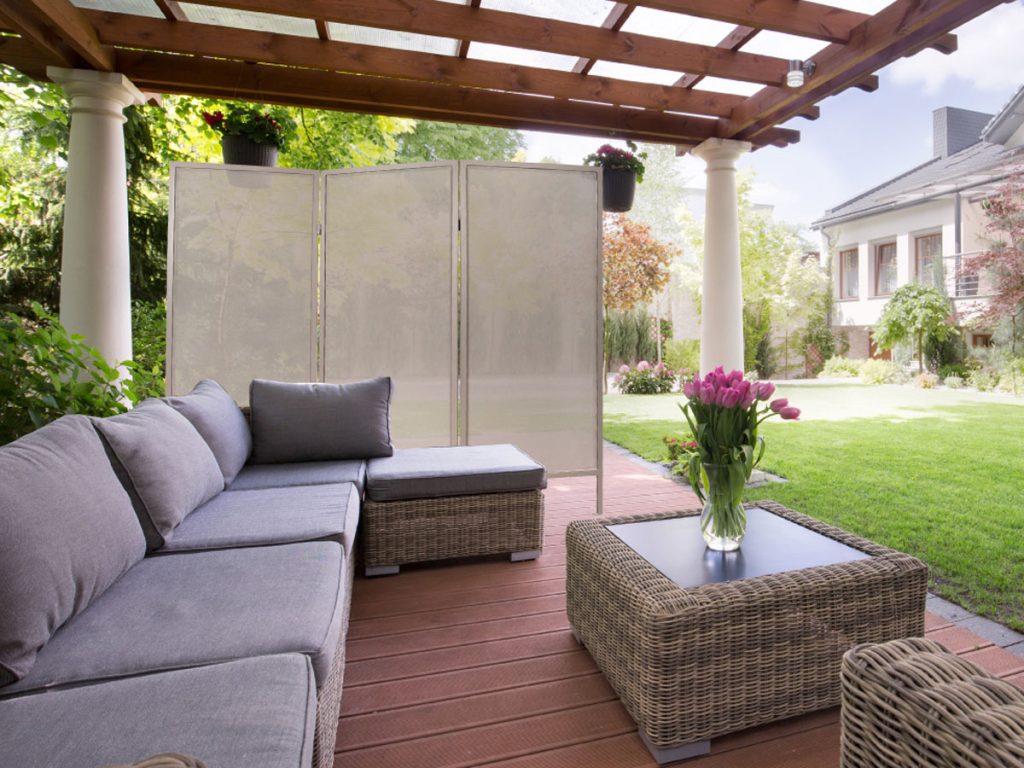 Dividers are multipurpose objects used in homes to give aesthetic looks, but surprisingly, they are very good outdoor privacy screen ideas. They can be used for hiding bins or splitting up a patio or your barbeque areas. The standout feature of these dividers is that they can be placed anywhere you want them to stand. However, there is a chance that they can be misplaced, but if you take care well, then you won't lose it. Moreover, if you have a small space and are looking for something to hide, then you can surely opt for this idea.
3. Bamboo Fence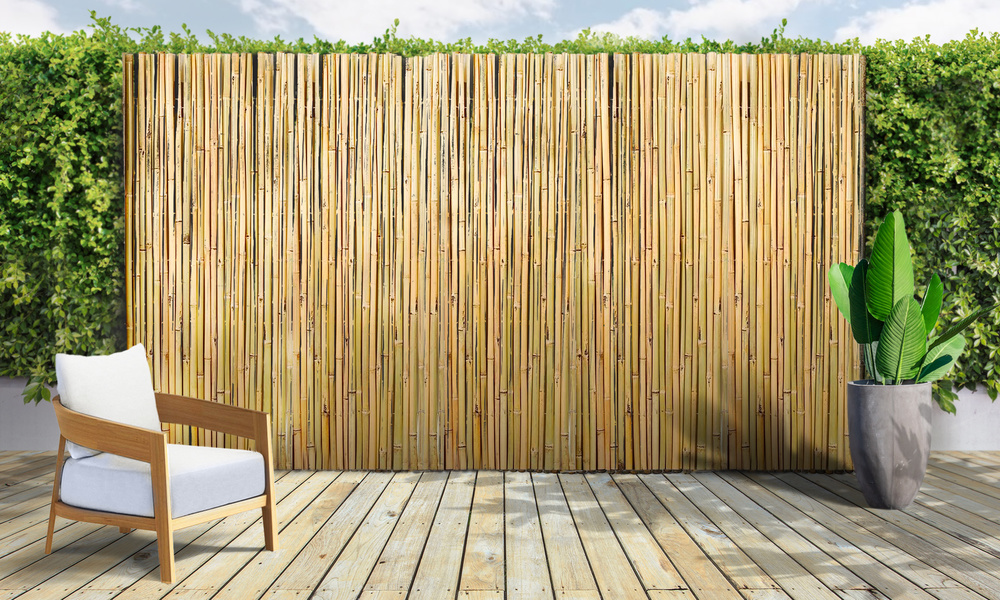 Bamboo is a very great and eco-friendly option to install in your space. If you have a little outdoor tub or fountain that you don't want people to see, then you can surely use bamboo to make your own fence. This can be one of the best outdoor privacy screen ideas. This little DIY project can be fun to make and can be very convenient. It is very flexible, so you can design as you like, and bamboos are great for humid areas. All you need to do is buy bamboo stalks and build your own bamboo screens.
4. Potted Plants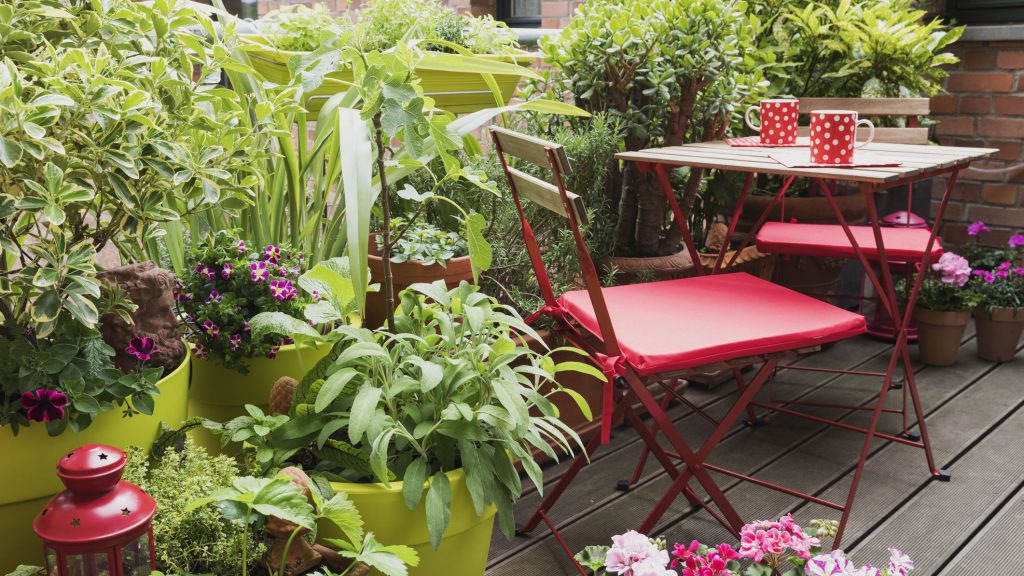 A garden full of big and small potted plants is bliss to the eyes. Potted plants are one of the ideal outdoor privacy screen ideas. They are fun to grow and give your space a beautiful makeover with magnificent foliage and colorful flowers. Also, these plants are potted, so they are up for moving anywhere, so you can form any sort of design to cover the space wherever you need privacy. Moreover, you get unlimited options to cover up. You won't get bored of seeing the same thing.
5. Metal Privacy Screens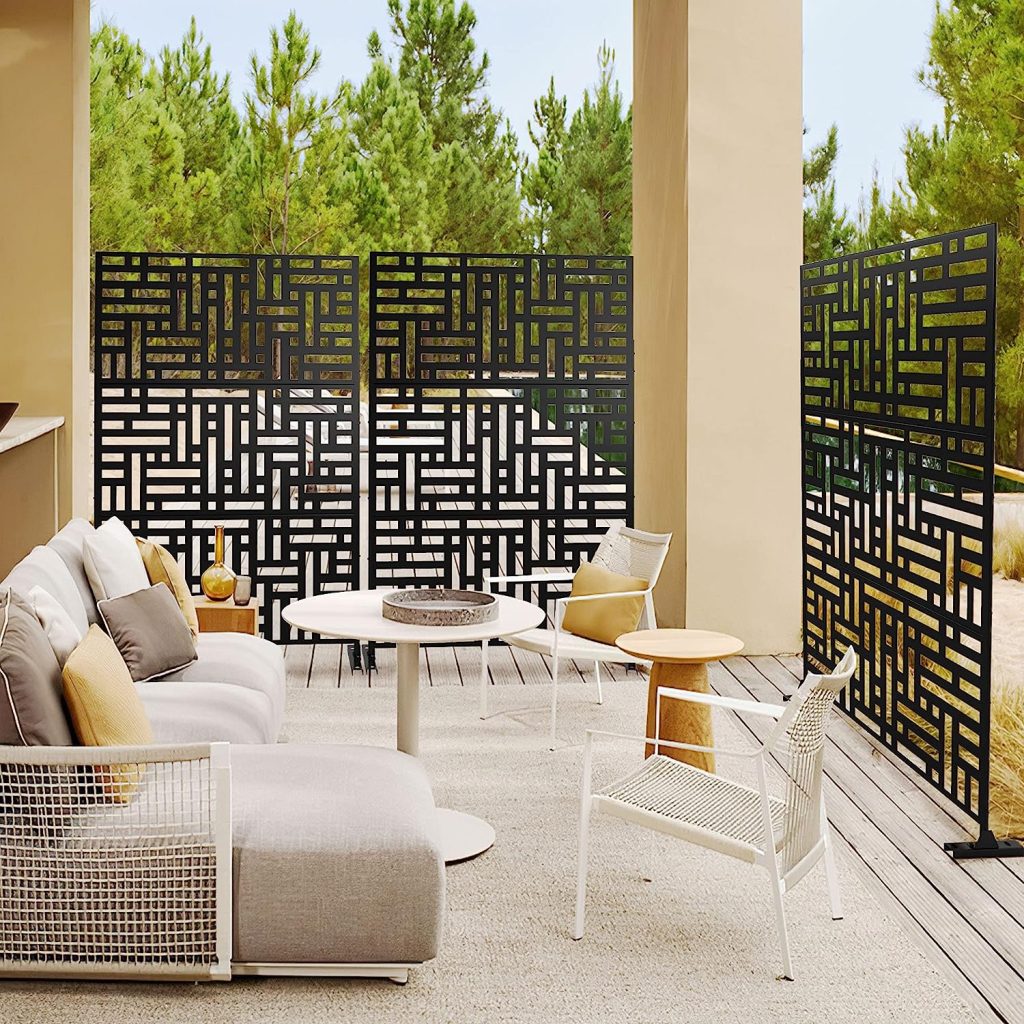 These are durable and long-lasting outdoor privacy screen ideas that you can use. They are great options for adding style to space. Most of the options available have cuts made into them, but they still offer up to 95% privacy. However, there are two types that are you can either fix them to the ground or buy a freestanding screen. If you want these metal screens for your balconies or small space, then you can go with the free-standing ones. However, there are plenty of options available, so you can opt for what pleases you the most.
6. The Hangable Lattice Panels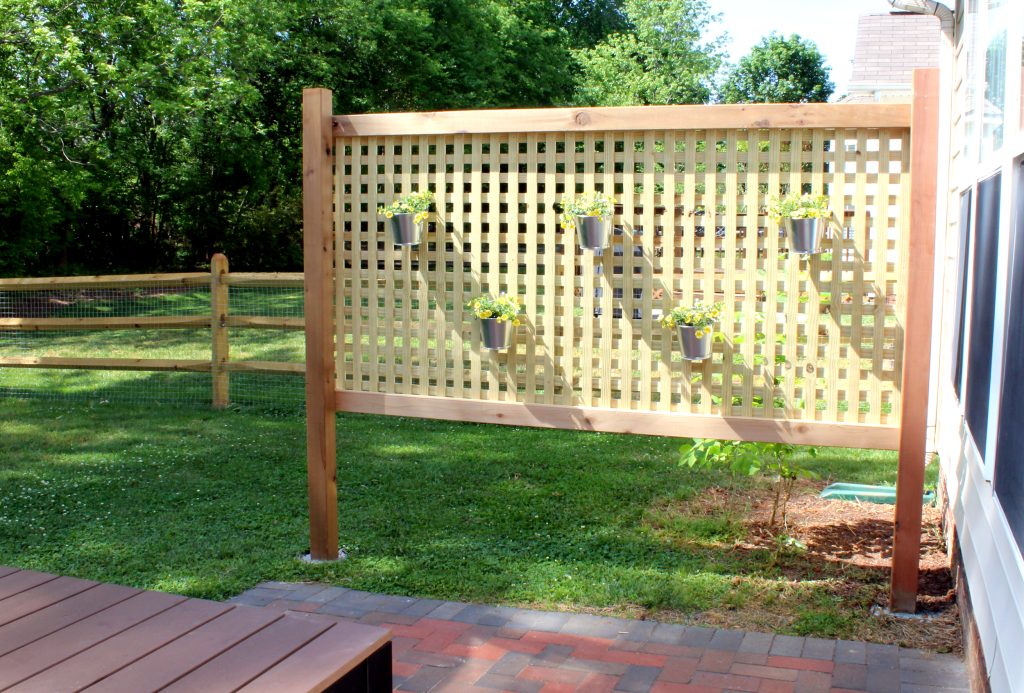 There are Lattice panels available in the market that are solely for this purpose. Also, it will help you escape from the extra work of building the screen from scratch. Moreover, you can hang these lattice privacy screens on one or both sides of your patio or porch. These outdoor privacy screen ideas are very fashionable, along with interesting designs. Moreover, this is an easy DIY project that you can have in it in your backyard. Also, there are so many options to choose from. Thus, all you need to do is make the right choice and then install these beautiful lattice panels to have the privacy that you want.
7. Use Curtains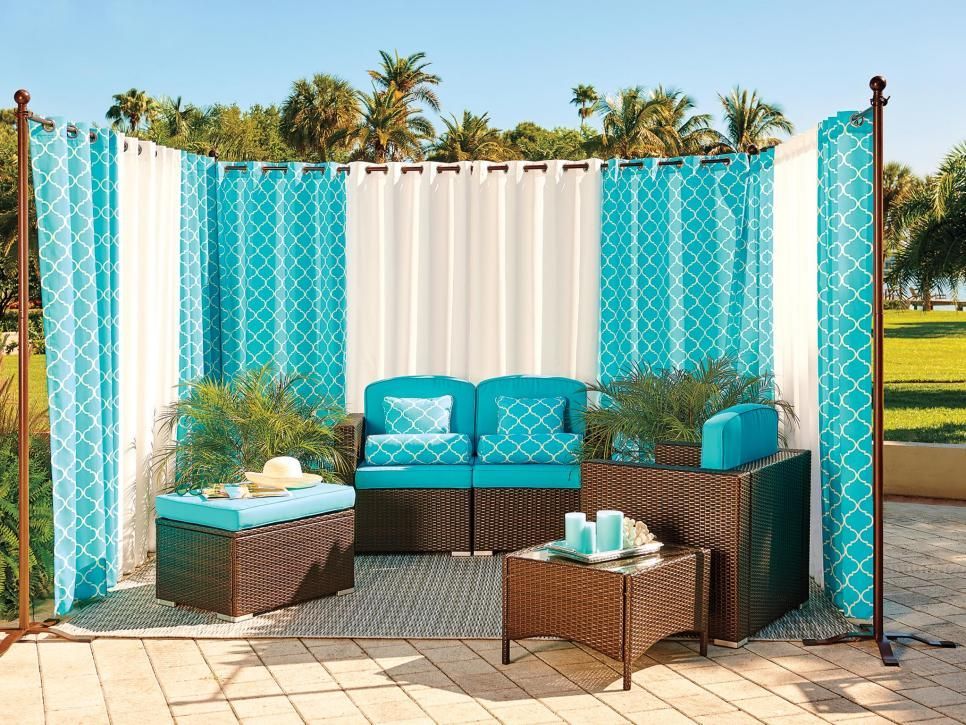 This is one of the easiest DIY among the other outdoor privacy screen ideas. Along with that, this is not at all an expensive idea. All you need is some curtains and rods. Also, there are chances that you may find curtains that are not very expensive in the flea markets in your area. This is really an elegant idea to have in your backyard. Along with that, they are movable and have so many options available. Curtains add a unique decor facet to the space put in.
8. Old Shutters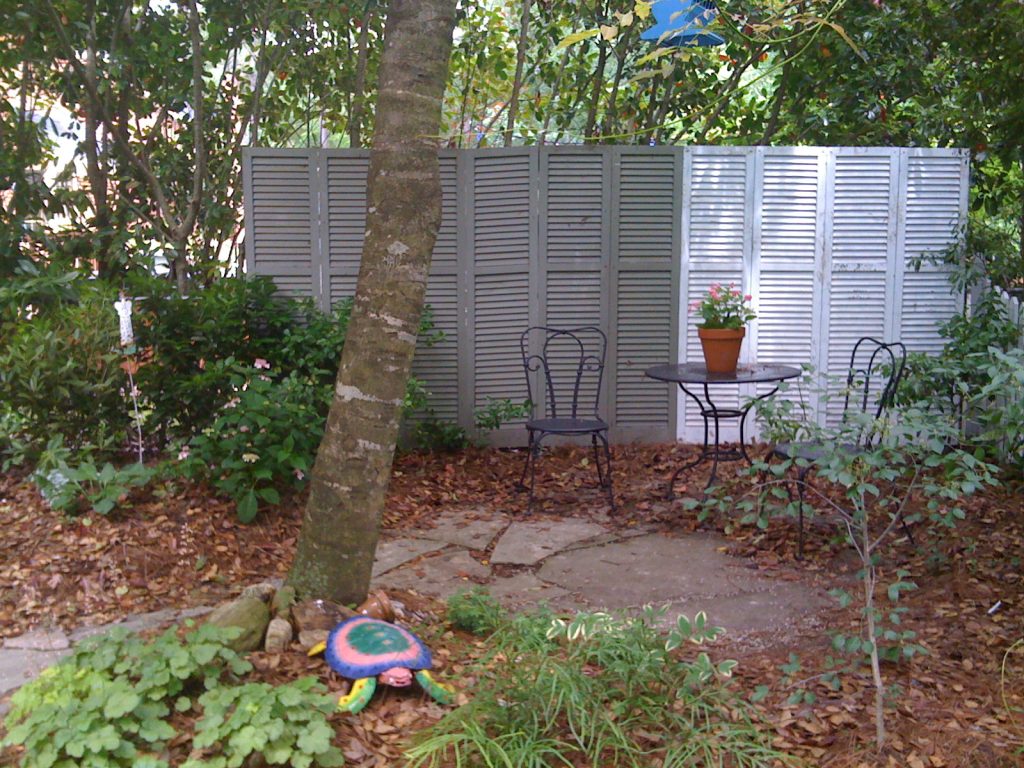 You will be amazed at how these old shutters can turn into a patio privacy screen. This is an amazing DIY and to recycle some old wood items too. You can paint the old shutters in whatever color you like and place them next to each other in that way, and you'll have a big screen that will provide you with the privacy that you want. However, if you do not have old shutters in your backyard, then you can choose to buy some raw wood shutters, and they are not at all expensive. Either way, you can just walk into some antique store or ask a neighbor for help to get these shutters.
9. Build Tin Accent Wall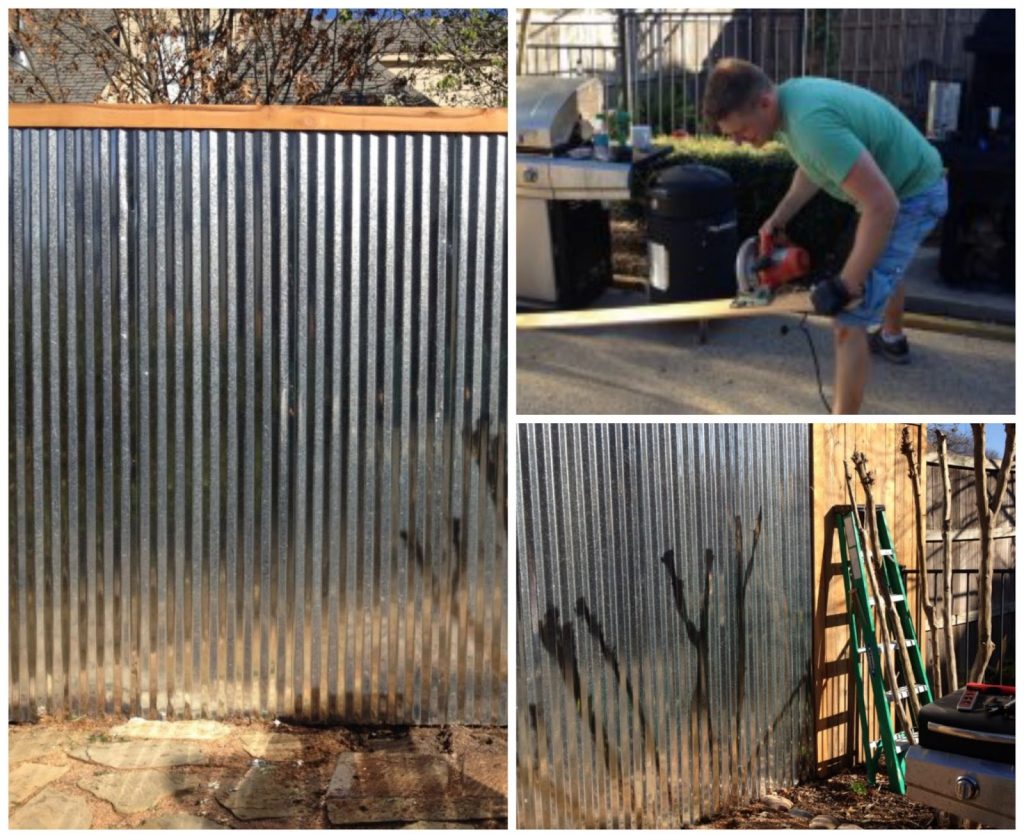 There are so many outdoor privacy screen ideas, and among all, you can have a tin accent wall for your backyard. This wall can give you an industrial vibe to your space. Along with that, you can keep potted plants that will add color to your space. If you do not have enough space in your backyard, then you can go with this idea as it will create some sitting area. You can make your space look a bit fancy and a space to chill around for a long time.
10. Use Wine Bottles as a Wall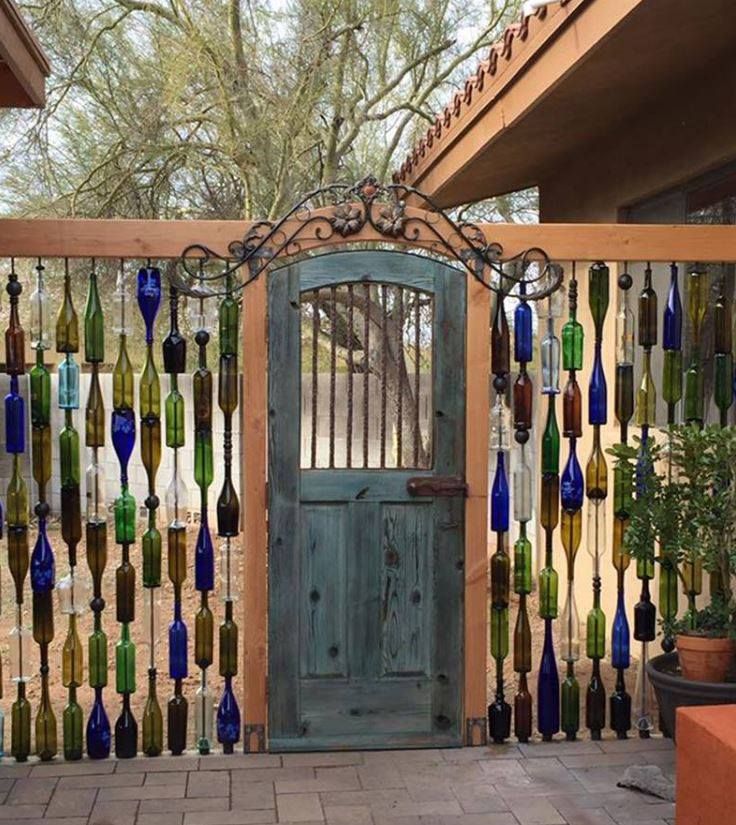 This is something unique and inspiring outdoor privacy screen ideas. Wine bottles look fancy and useful when filled with wine, but they can create an artistic wall afterward is something new. If you want something that is not simple or boring, you can surely do this DIY. All you need to do is start saving your wine bottles from now. Furthermore, the standout feature is that these colored bottles will shine differently in the sunlight. This is surely a piece of creativity from scratch. However, you will need to figure out how you will create holes in the bottles without breaking them. Otherwise, you can surely have this unique wall in your space.
11. Use Old Doors In a Creative Way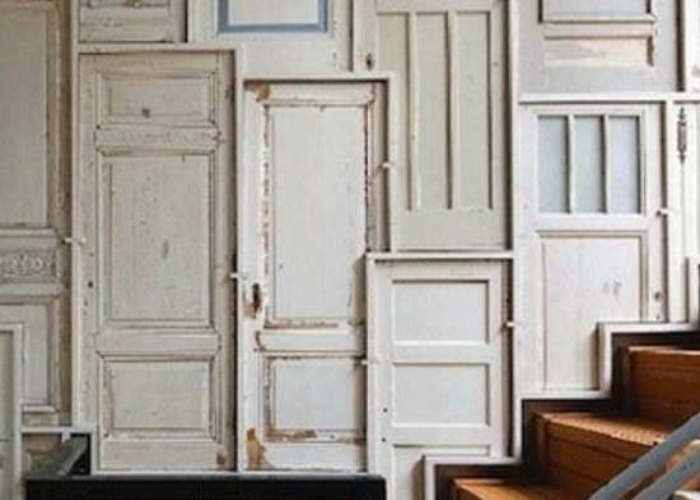 Old door frames are perfect for you to create a space to enjoy your tea sessions. This outdoor privacy screen idea is full of art and requires very less expense. This is a great idea to have a fun activity around your house in which you can include your kids while they are having some parties or sleepovers. However, if you want a creative break from anything, then you can just pick some old door frames and start creating a door to your privacy. So do wait up and find some old frames to decorate.
Final Thoughts
We have mentioned some great outdoor privacy screen ideas that you can surely try to get that extra privacy from your peeping neighbors or from the outside world.
Moreover, these DIY ideas will bring joy to you while you are busy creating them. Just enjoy while you are trying to do something new. These ideas are great for your aesthetic photos, but they are also cool to spend some quality time with.
If you do not find some of the things for an outdoor privacy screen, then don't worry.
Try creating something new with what so ever things are available. This is for you, so create anything that gives you fun and privacy.