Our homes play a huge role in our lives. It is our destination to seek comfort after a long day at work. Taking care of our home is equally important. Sometimes, we are too focused on the interior of our homes that we tend to forget to maintain the outdoors. But, home designing and maintaining can be quite expensive on a budget.
However, today, we are going to talk about how to take care of our patios on a budget. Yes! The same patios upon which we love to sit down and spend quality time with our family. We love to watch the rain with a hot cup of tea while we seek comfort and protection on our patio. Real estate agents say that a patio may change the look of the house entirely.
So taking care of the patios, maintaining them, and at the same time decorating is our responsibility. In this article, we will help you with some concrete patio ideas on a budget in the following points!
Concrete Patio Ideas on a Budget
1. Add Warmth to Your Patio with The Addition of Pavers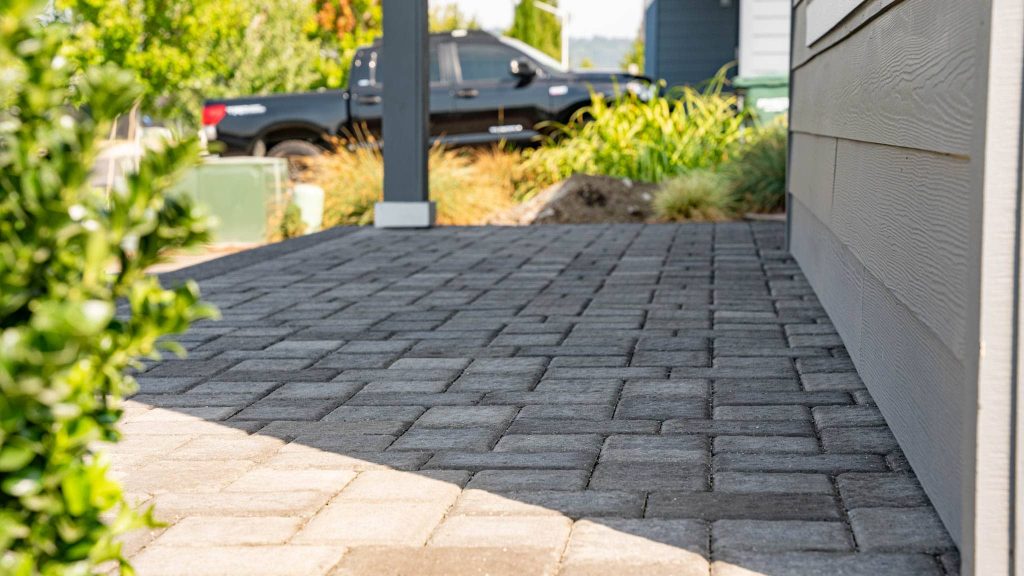 Pavers are one of the most cost-effective things that you can utilize on your patio. They come in various shapes, sizes, and colors. These pavers are not only budget-friendly, but the biggest advantage of using pavers is that you can replace them easily. Let's say you have different color pavers, and according to the seasons or even occasions, you can swap them for the other. Moreover, these pavers bring different dimensions and depth to your home, eliminating the "boring" and making your home unique.
2. Choose Mother Earth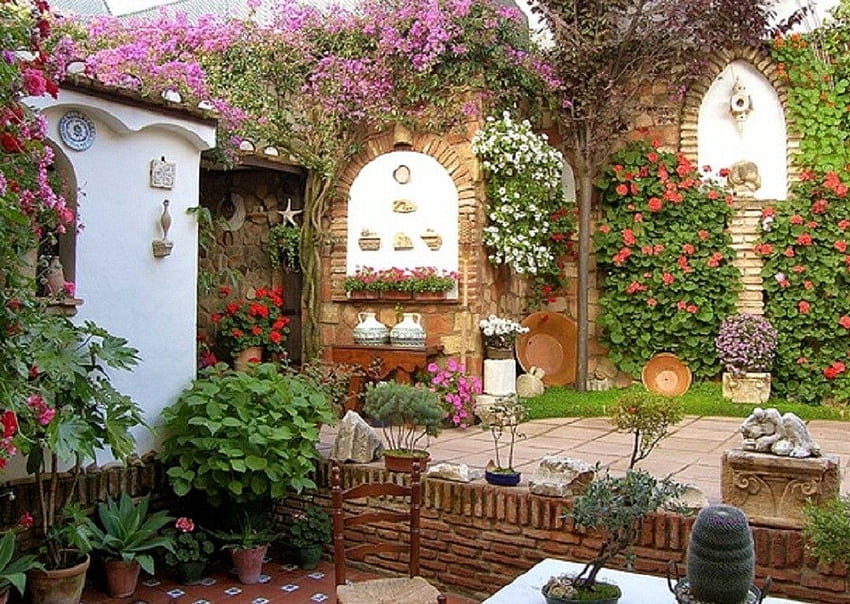 One of the best concrete patio ideas on a budget is to decorate your patio with plants. Yes, it is that easy. There are different kinds of lush green flowering plants that look beautiful once they grow. You can also opt for plants that grow to a height and plant them alongside the wall. This helps you not only by providing you with privacy but also help you in providing you with a bit of relief from the concrete, polluted city. These lush green plants will bring clean air and also improve the soil of that place.
3. Let There Be Light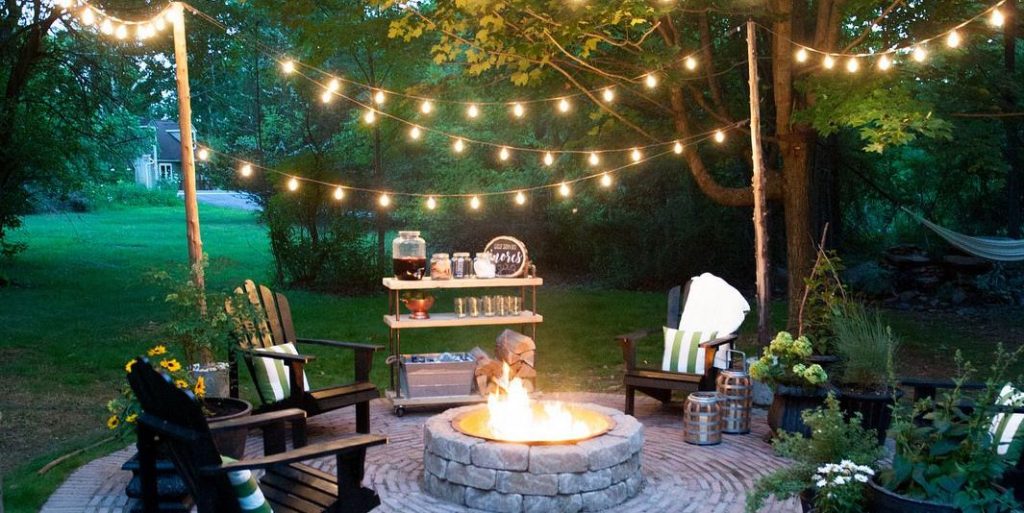 Another one of the best concrete patio ideas on a budget is to decorate them with lights. Lights affect our mood. Not only inside our homes but also outside, if there is proper lighting, we tend to feel energized, even after a long work day instantly. If the lighting in our home is good, we feel welcome. Similarly, a well-lighted patio is the best way to welcome your family members or friends to spend time in the evenings. You can host different kinds of parties on the patios, and they look really beautiful. When there is good weather, we love to spend the entire time outside! So, why not decorate our patios in the best possible way, and that too on a budget?
4. Let Your Creative Juices Flow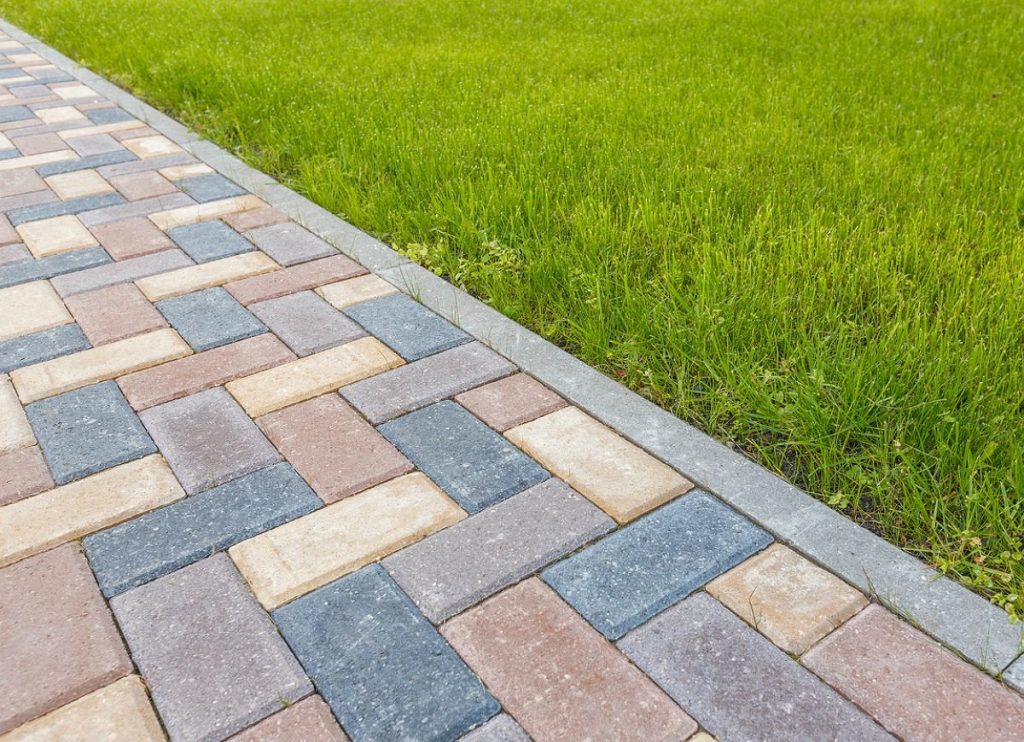 If you love colors and patterns in your life, then these creative concrete patio ideas on a budget are definitely for you! Your home shows your personality. You can put stamps, different patterns, different splashes of color, and, most importantly, different textures, which will bring a different dimension to your home. Moreover, the coarse texture of the concrete will provide a frictional surface so that you do not slip and fall and hurt yourself on the wet surface. If you love the drama, bring it on! Who said that you have to restrain your beautiful colors and dramatic designs in the interior of your house?
5. Create a Cozy Fire Pit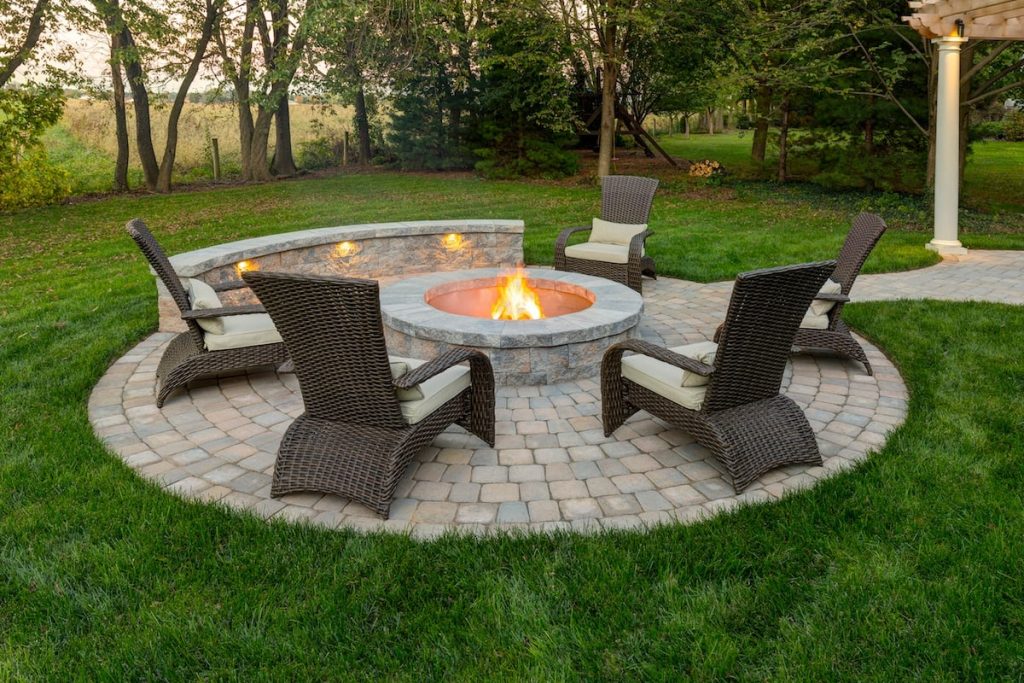 To take one of these concrete patio ideas on a budget and especially before implementing this point, please check with the laws and regulations of the place where you live regarding building a fire pit. If that is completely allowed, depending on your budget, you can easily implement this idea to make your concrete patio a cozy place. Especially during winter or around Halloween, you can organize parties around this fire pit so that your friends and family are comfortable. This fire pit gives a warm glow to your home, making it more welcoming to the guests.
6. Fountain All the Way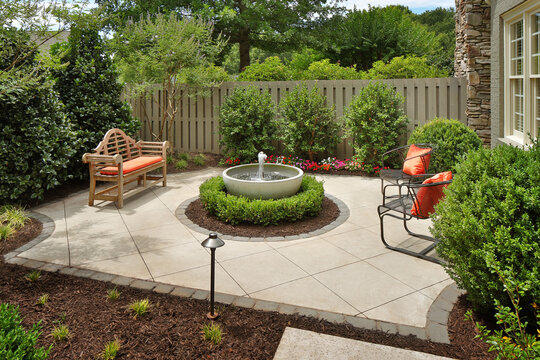 When we were young, were we not jealous of the castles and the big houses which used to come with their own fountains? Well, I definitely was one of those kids! But the best way to bring that desire into reality, there is one of the concrete patio ideas on a budget, which helps you build a fountain! Fountains add a different dimension to concrete patios. The sound of water trickling the entire night will definitely soothe your tired ears, listening to the honks of the city the entire day.
7. You Can Install an Outdoor Kitchen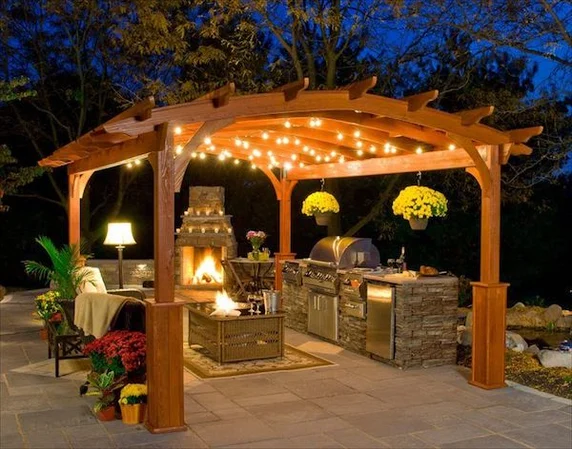 It may sound daunting, but installing an outdoor kitchen is not that scary. It may be one of the best concrete patio ideas on a budget for you if you are thinking of bringing a different dimension to your home. Now, you may think, why do you need an extra kitchen outside? Well, to answer that, you need an outdoor patio kitchen so that you do not have to run a thousand times inside your home to bring every little thing when you are hosting any kind of party. An outdoor kitchen can be set up easily, and this does not require any kind of extra help from outside.
8. Make an Awning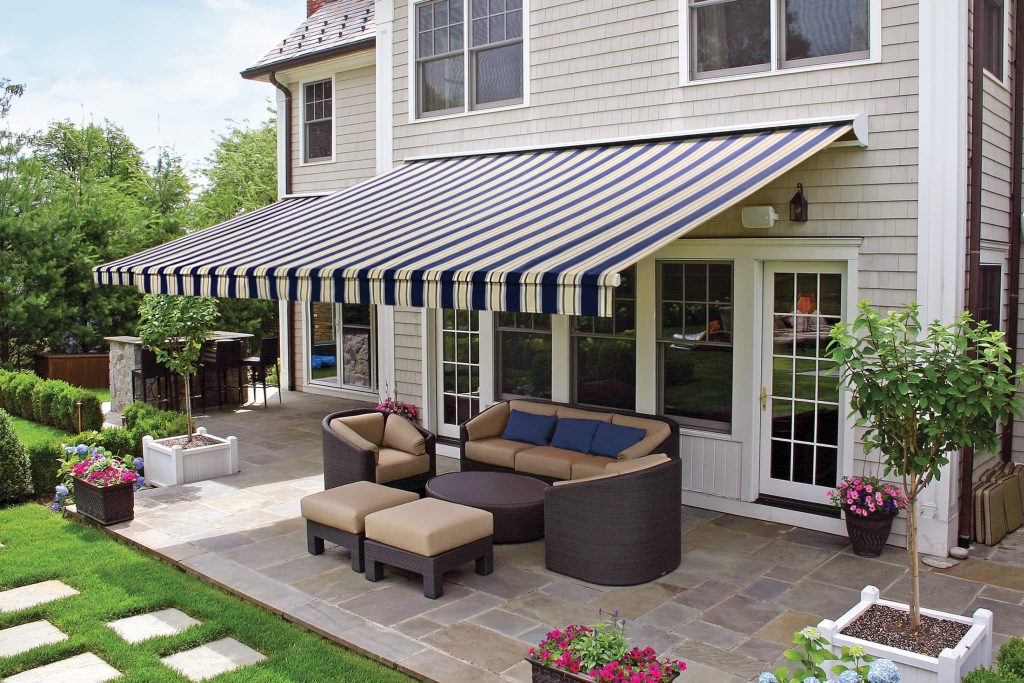 This is probably one of my favorite concrete patio ideas on a budget. To make a retractable awning or a movable sun shed, it provides an altogether different texture and looks to your boring concrete patio. Constructing an awning will protect you from the rain or the intense rays of the sun. Also, you can grow several hanging potted plants from the roof of the patio so that it gives off a green vibe that looks marvelous.
9. Get that Pergola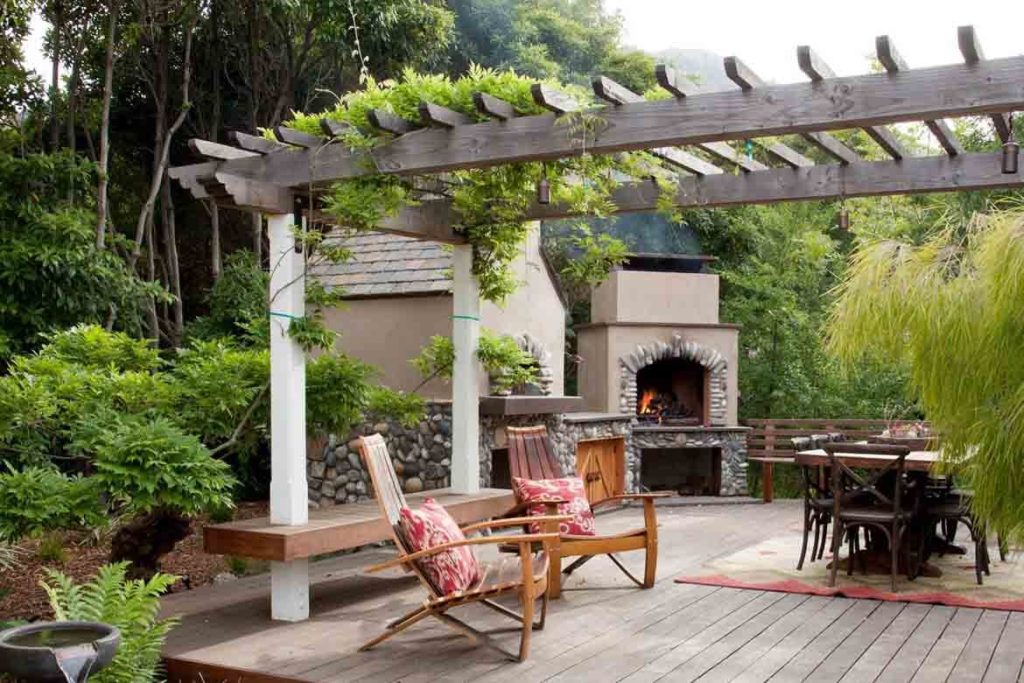 People love to spend time in cozy nooks with their family or loved ones. Have a look over at the patio and see if any kind of overhead shed or umbrellas, or "pergola" can be installed. This is also one of the best concrete patio ideas on a budget if you do not want to build a kitchen or hang on lights. These will also provide a shed to you so that you can easily enjoy the cool breezes when you sit with your cup of coffee in the mornings.
10. Change the Sides of Your Patio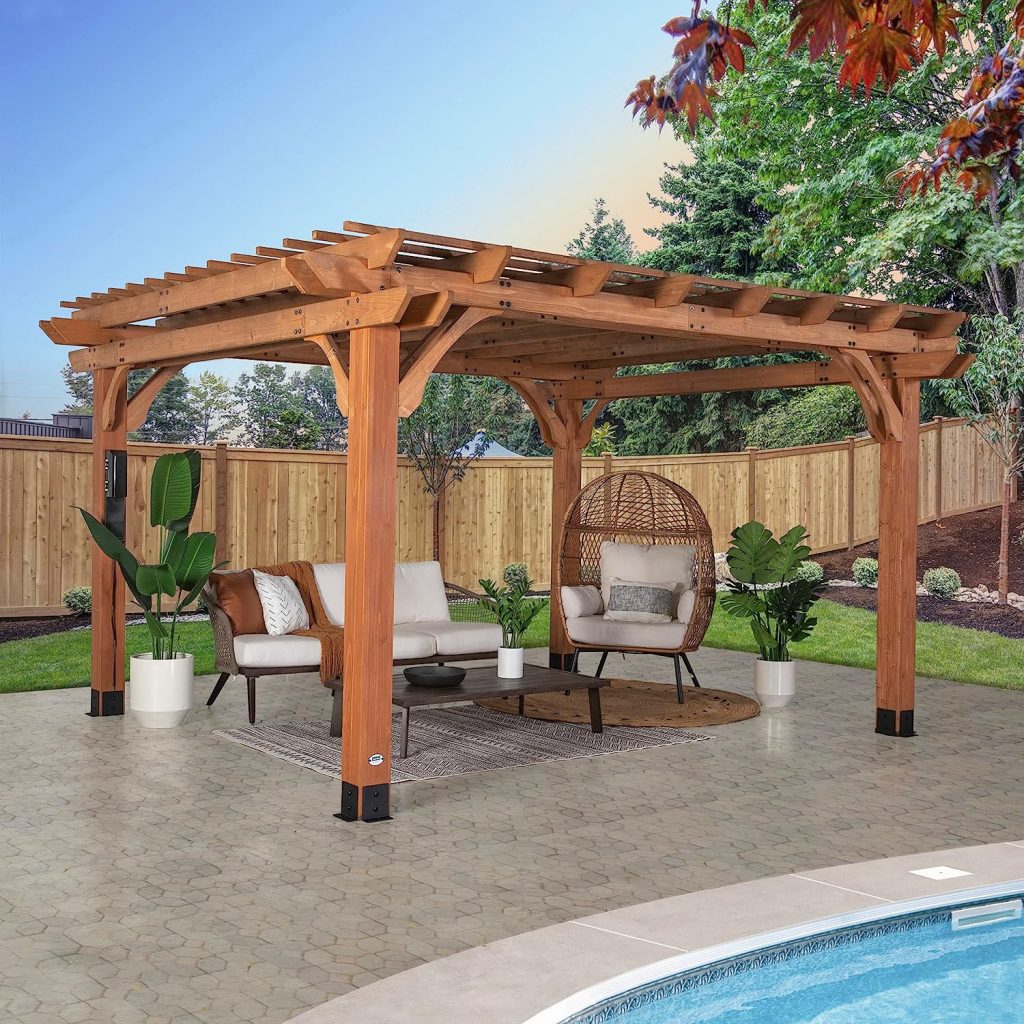 One of the best ways to implement concrete patio ideas on a budget is to simply remove or shape the sides of your patios so that it looks a bit different, bringing a new look to your garden or backyard! It might seem like a plain thing, but just try it if you don't have the budget to redo it or make any changes. It will definitely make a difference in the overall looks of the place.
11. Make a Garden Wall for Your Patio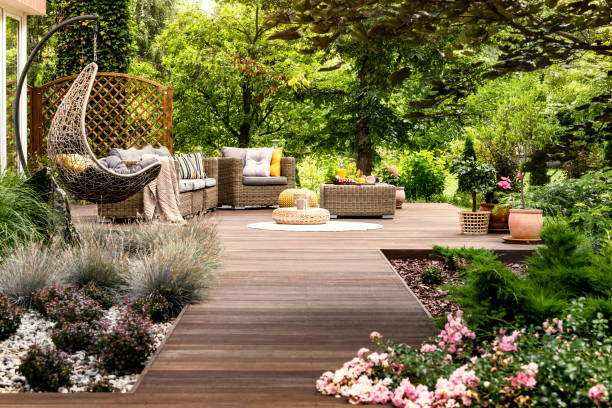 One of the best reasons to implement these ideas is to create something which is entirely new and unknown for your home, which (the majority of times) ends up good! We understand you might think that this might go beyond your budget, but you can simply DIY with some reclaimed wood, a woodcutter, and some measurements and nail. It will be a great experience building up the wooden wall where not only is it going to look artistic, but the green climbers will add a different dimension to it!
12. Decorate Your Patio with Indian-Style Tiles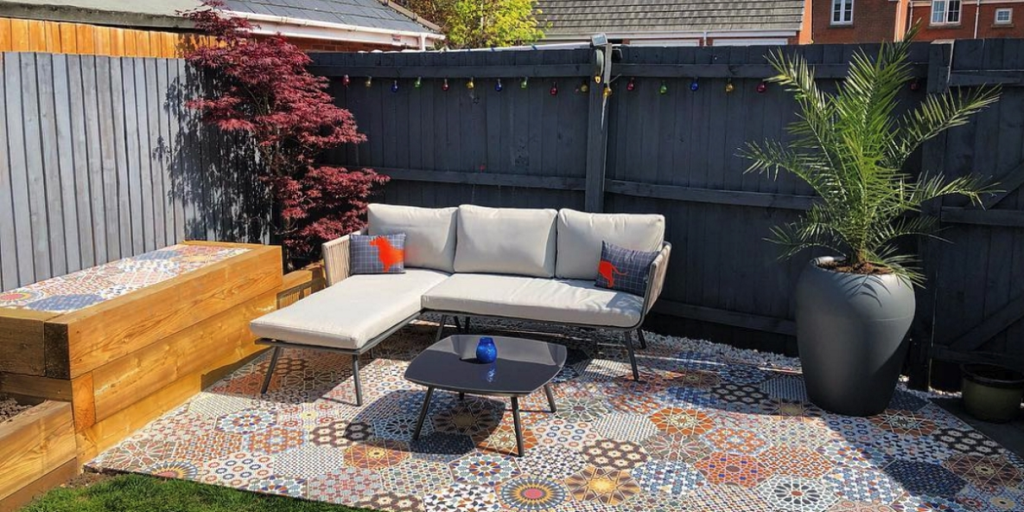 These Indian-style tiles are available in lovely colors and shades, which will bring a different character to the concrete patio. Implementing these ideas on a budget is a great way to show that decor does not always have to be uber-expensive. Also, these tiles bring a durable guarantee and are absolutely suitable for your gardens.
13. Build Yourself a Cozy Reading Nook
We all love ourselves a small cozy place where we can read in silence. Just us, books, and maybe a cup of tea! Identify one corner of your patio where you think you will get optimum privacy, and arrange a cozy patio couch and table and some green plants to accompany you while you take a trip around the world!
Final Thoughts
We believe that having a space that you can call your own is extremely important. That secluded thirty minutes or an hour to yourself will act as fuel for the next day. Spending a cozy time with you and your family will not only help you in making a lot of memories but also you'll be filled with gratitude. These creative ideas to decorate your concrete patio that too in a budget will make the space uniquely yours.
You can add or modify the changes, but we strongly believe that by utilizing whatever you have in your home, you are able to make even the outdoors more beautiful. Sometimes we tend to stop caring for our homes because we are prejudiced that it is going to be extremely tiresome and expensive.
But if we just look around, we are going to find the pieces to help us make our home on a limited budget.
Frequently Asked Questions
Why Do I Need to Decorate My Patio?
You need to decorate your patio if you want to improve the overall attractiveness of the house. You need to understand that your home is not only indoors but also outdoors. So, you need to take care of both in the same way. A beautiful patio makes the ambiance of the place even better.
Isn't It Expensive to Redo the Patio?
No, redoing the patio is not that expensive. Home decor can be easy, fun, and cost-effective. You can easily reclaim old materials or wood and turn them into expensive-looking decor. In fact, you can also use that same to decorate your concrete patios.
What Will Be the Best Patio Decor for Me?
The best patio decor depends on the type of theme your home has or what you like and dislike. Your home is your personality. If you like bold colors or if your style is minimalist, you can decorate your concrete patios with the decor of your choice.