Beautiful houses start from their aesthetically built porch areas. The entrance of your main structure should be attractive and accessible with safety measures. Even though most of the time, you will see very alluring houses with minimum appealing and clubbed with inexpensive porch ceiling ideas.
It doesn't matter how beautiful or stylish your house is. If your entrance area, which we call the porch, is not up to the mark. In fact, it decreases the whole look of your house structure to a huge extent.
You will get various ideas to style up your porch area. In this article, we are going to describe one element related to porch styling, and that is "Porch Ceiling." This article will guide you to get some precise knowledge about the porch ceiling aspect.
It will also resolve your queries and doubts about "How to get the right ceiling for your porch area?" Apart from this, the article has included a list of 15 elegant and inexpensive porch ceiling ideas to help you to cut down the cost of making a beautiful porch ceiling.
To get any further, we first have to gain knowledge of what is exactly the porch ceiling is. It will help you comprehend certain aspects while structuring your own porch ceiling.
What is a Porch Ceiling?
Basically, in simple word false or dropped ceiling is an attachment to the main ceiling, which enhance the beauty of the ceiling. The porch ceiling is equivalent to the typical ceiling, which we apply on other parts of the house, i.e., drawing room, bedroom, etc.
There are many porch ceiling ideas available in the market. But finding elegant and inexpensive porch ceiling ideas will mystify you, and as for porch ceilings choosing the right idea is very important.
The porch area is an outer part of the house, and it gets a lot of exposure. So it needs a ceiling structure that will deploy sustainability as well as style to the porch. Adding a suitable ceiling to your porch can make your house look vibrant. After looking at the basic concept, let's continue with its classifications.
Elegant and Inexpensive Porch Ceiling Ideas
1. Bring a Classic Vibe to Your Porch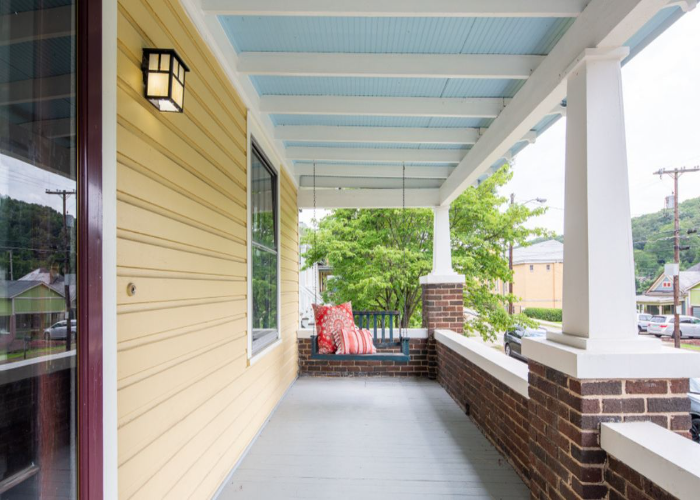 If you are a fan of simplicity, then keep it minimum. A plain POP structure for the ceiling will deploy elegance to your porch. The above image will give you clarity for applying the appropriate ceiling to your porch. Wooden flooring, traditional lamps, color, and structure of the porch complement its simple POP ceiling. You can add it if you want simple, calm vibes for your porch.
Similar Post: 21 Porch Ceiling Ideas to Enhance Your Outdoor Space
2. Give a Nature-Friendly Look to PVC Beadboard Panel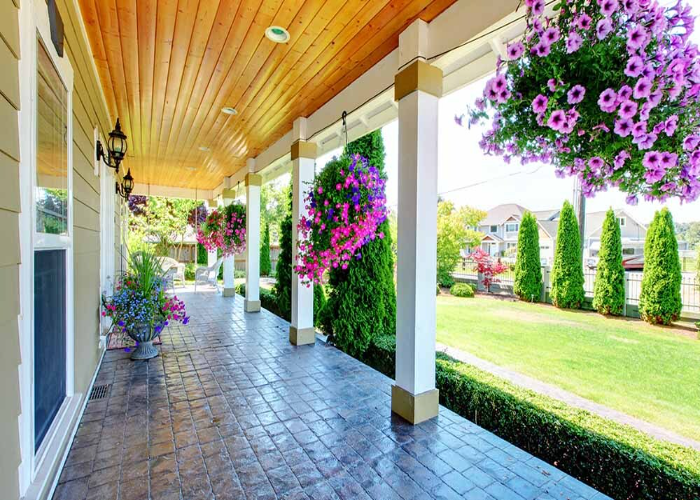 PVC ceiling is the best option for outdoor areas. The porch area of the house is the most exposed area of all. It needs elements that are durable and affordable, and for installing a ceiling, a PVC panel ceiling is the best option you can choose. As you see in the image above, vinyl beadboard panels with inbuilt lighting, colored with a wood-like finish, give a nature-friendly look to the porch area. Hanged colorful flower pots increase the beauty of the whole porch. This is the perfect inexpensive porch ceiling idea you can think of.
3. Add Reclaimed Wood to Accelerate the Look of Your Porch
A good quality reclaimed or recycled wood can be an elegant and inexpensive porch ceiling idea you can install. Reclaimed wood gives a nice stylish look to your porch area. This recycled wood you will get from sources like retired sheep, industrial buildings or factories, etc. In the image, you can see the top-up reclaimed wood ceiling making beautiful coordination with other elements like furniture, flooring, mat, etc. This design will be more suitable for huge size porches.
4. Brighten the Beauty of The Porch by Adding White Gypsum Panel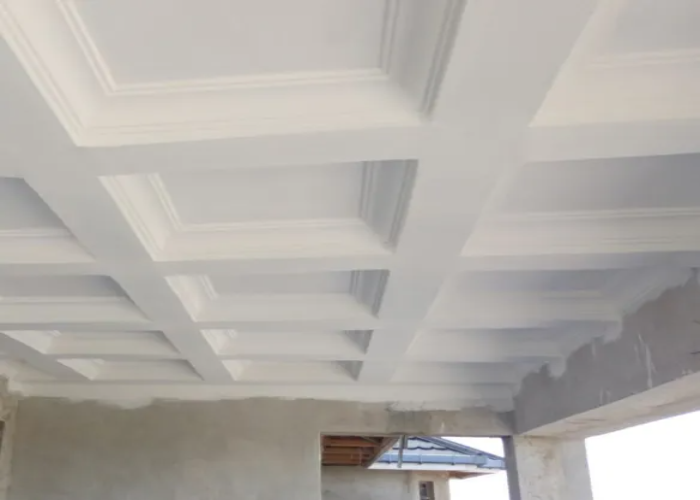 As we have discussed in the earlier part of the article, a gypsum panel ceiling is also a good and durable option for porch ceilings. These panels are made of gypsum material and are available in different sizes. The Gypsum Ceilings installation process is very easy, and it won't produce much waste like the POP ceiling process produces. Gypsum panels offer durability and fire-resistant feature in it. It is the most used ceiling solution among the others, and just like the image, you can choose white to brighten your porch.
5. Get Abstract In Porch by Using Grid Ceiling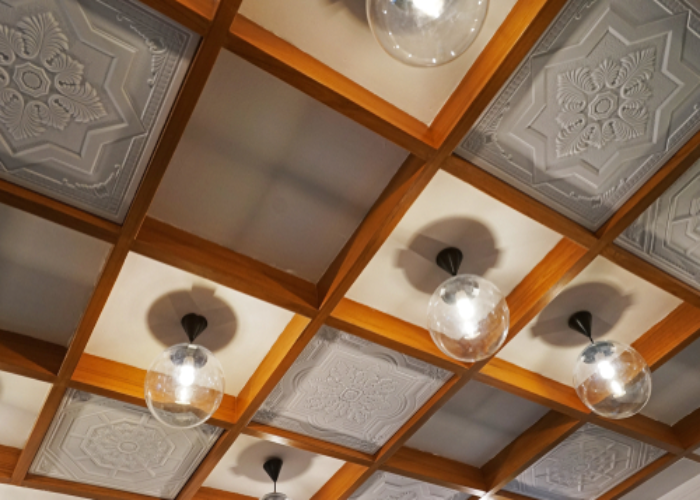 Grid Ceiling is the option where you can challenge your imagination. It lets you be more creative by adding more elements in the same frame. Basically, grid panels are combined with gypsum or acrylic sheets and metal frames. It can be used to create some abstract by using glass wool tyles, metal or bulbs, etc. The image will guide you on how you can form your porch with this beautiful grid ceiling. Give your imagination a way to flow with this grid ceiling option.
6. Use a Delicate Glass Ceiling for An Attractive Porch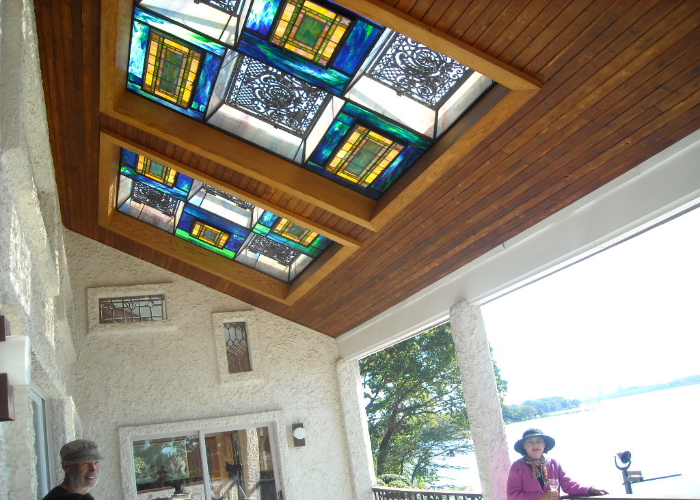 Glass ceilings are complicated to handle, but the look they provide to the structure is unbeatable. In Glass ceilings, you find different types like stained glass, black painted glass, frost, mirror glass, etc., metal, bar, or wooden frame can use to assemble the structure. As you see, the image shown above has a stained glass structure with wood. You can add this one if you enjoy and care about delicate things around you.
7. Decorate Gabble Roof with Wooden Ceiling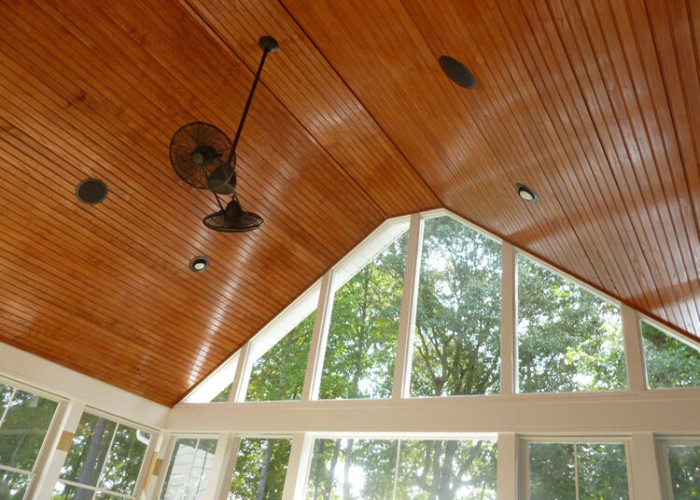 To add a ceiling to your gabble-roofed porch, a wooden ceiling is a perfect option you can give in. There are options available for materials like Cedar wood, MDF, pine wood, etc. You can make a choice for your wooden ceiling. As the image shows, the whole wooden ceiling is completing glass contained wall very well. If you have huge size gabble-roofed porch, then you can surely go with this one.
Also Read: 21 Front Porch Decorating Ideas to Transform Your Home's Look
8. Give a Rustic Look to the Porch Ceiling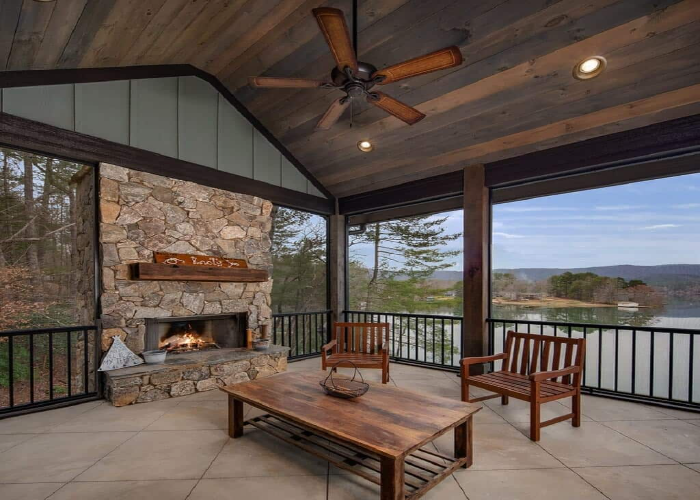 Providing a rustic look to the roof, you need to use a wooden ceiling. It will provide a more countryside look to your porch area. As we discussed, cedar wood is the best option you can choose to get an expected rusty look for your porch ceiling. In the image, all the components are inspired by nature. Like wooden furniture, natural stone fire pits, etc. If you live nearby the lake or river, this rusty wooden ceiling idea will be the best option to choose.
9. Try Vinyl Board Beading Ceiling for Long Lasting Porch Ceiling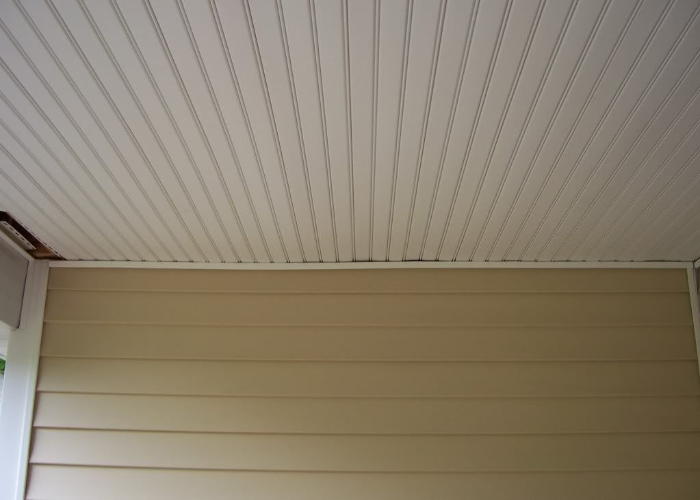 This PVC ceiling idea is the most inexpensive porch ceiling idea so far. The material vinyl is basically plastic which is much more durable than any other ceiling type. Just like the image, expressing a simple white ceiling styles the whole porch. You can install this vinyl beadboard ceiling to enhance the look of the porch and save more funds.
10. Brighten up Your Small Porch with a Pop Ceiling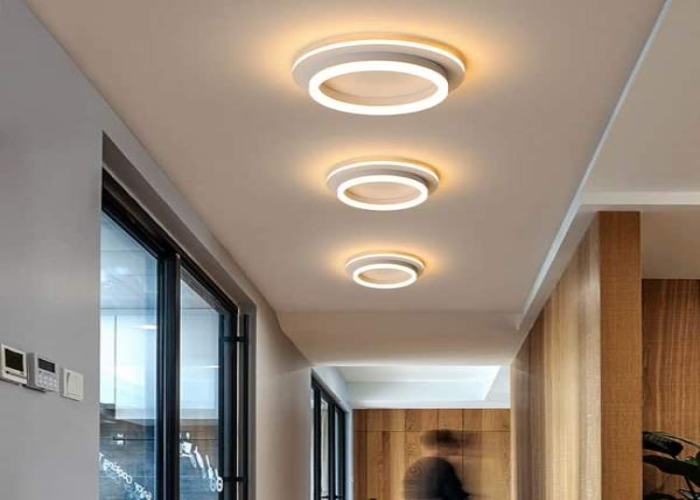 POP is the mostly used type in the ceiling. Considering the small size of the porch you can choose attractive designs for the POP porch ceiling. You will get many options in it. In the image, a narrow porch is having POP ceiling with an inbuilt circular lighting structure. It gives a stylish look to a porch regardless of size. You can install this stylish POP ceiling for your small-sized porch.
11. Re-Purposed Metal to Add Affordability to The Porch Ceiling
Surprised? Yes, this could be an inexpensive porch ceiling idea if you are struggling with the budget. You will get recycled metal from various sources. This re-purposed metal ceiling will provide a rusty look to your porch. As seen in the image, you can structure it accordingly and get a unique look for your porch.
Various Types of Porch Ceiling Options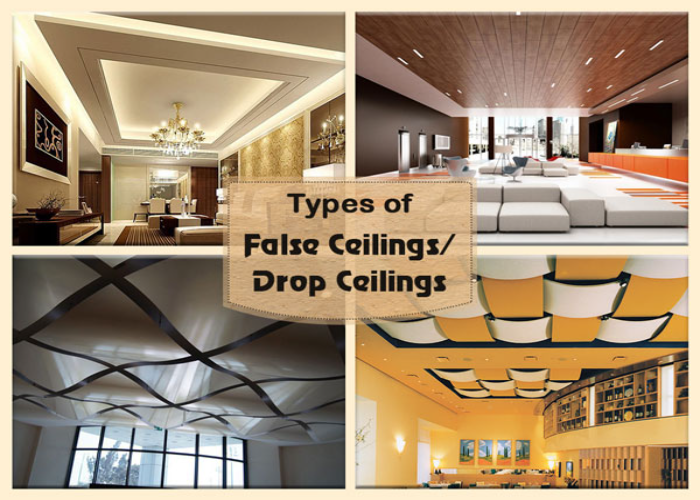 There are various types of ceiling options are available, and you can choose desired one according to your requirements. Following are some primary types of ceilings we are going to see. These primary types have some sub-categories as well. We will discover that in the future part of the article.
1. POP Ceiling
POP means plaster of Paris, and in POP ceiling is constructed using a powdered form of plaster of Paris and water. This material allows these ceilings to have flexible shaping in designs. POP ceilings, applied on the roof using a metal framework. Although these ceilings provide flexibility, their powdered form is likely to produce more wastage. This can be an inexpensive porch ceiling idea if you want to keep it simple.
2. Gypsum Ceiling
Gypsum ceilings are made of gypsum material. Basically, it is a gypsum plasterboard and is available in different sizes. You can get it from manufacturers or dealers. It will cost you around the same price as the POP ceiling. But its installation is very easy and produces less wastage because readymade board structure. Like the POP ceiling, it is also applied on the roof using a metal frame. This durable and hassle-free option can be a great choice for porch ceilings.
3. Grid Ceiling
Grid ceilings or T-bar ceilings are quite popular ceiling options these days. This openable ceiling contained a sound absorption feature and fewer maintenance options. It is a combination of a gypsum board and a metal framework. To provide a color aspect in the gird ceiling, gypsum board can be replaced with acrylic sheets. In grid ceilings, you can use glass wool tiles, calcium silicate tiles, metal, etc. A grid ceiling or T-bar ceiling is a good choice for porch ceilings for much flexibility.
See More: 21 Amazing Design Ideas for Cozy and Relaxing Screened in Porch
4. Wooden Ceiling
This ceiling option is trending these days. Wooden blocks or panels are used to structure wooden ceilings. It is available mostly in pine wood, MDF, solid wood, etc. If you are looking for sustainability features, then go for pine wood or MDF. There are different wooden ceiling application methods are available. The wooden ceiling is durable and provides ease of installation. If you are looking for an inexpensive porch ceiling idea, then a wooden ceiling idea will definitely work for you.
5. PVC Ceiling
This polyvinyl chloride ceiling is a plastic, lightweight panel. It is available from manufacturers in various sizes and designs. PVC panel ceilings are a very sustainable type of ceiling. It is a long-lasting ceiling option compared to POP or Gypsum ceilings, and even it does not require much careful handling like POP or gypsum needs. It doesn't require painting, and it also consists of features like anti-fungal, waterproof, low maintenance, etc. PVC ceiling is the most affordable solution for your inexpensive porch ceiling idea.
6. Glass Ceiling
The glass ceiling is the most attractive type of ceiling option you will see. Primarily glass ceiling is structured with a metal frame or T-bar or with a wood plus metal frame combination. Even though glass ceilings are a very delicate option for handling. The glass used in these ceilings is stained glass, mirror glass, frost glass, or black painted glass. If you want some delicacy on your porch with much care, you can add these glass ceilings to your porch.
Related: 18 Beautiful Types of Ceiling Texture for Your Home Interior
Let's Sum It Up
A porch is the essential factor of the whole house structure. It needs some special attention because its appearance affects the main structure of the house.
If it is neglected, then it will ruin the aesthetic of a beautiful house. However, It needs to be beautiful in every aspect. In this article, we have discussed the important aspect of the porch, and that is the porch ceiling.
Concerning to the primary part of the article, we have elaborated on the concept what is porch ceiling with its definition. Well in the next segment, we have detailed the primary type of false ceiling, which will help you to get a brief knowledge of the concept. To give you the most elegant and inexpensive porch ceiling ideas, we have shared a list of 11 beautiful porch ceiling images with descriptions.
Indeed this article will help you to get the perfect idea to beautify your porch area.
Check This Next: 13 Simple and Cheap Landscaping Ideas for a Perfect Front Yard