Everyone wants to have their own beautiful house. Mostly we all opt for specious houses covered with a huge front yard, back yard, and even side yard. Some lucky people get their dream house as they want. After getting a house with a perfect yard, they often start searching for various ideas to decorate their dream house. As for the interior part of the house, it can be designed with the assistance of an interior designer.
But getting the perfect look for the outer space of the house might take some time. Especially side yard grooming. For the front yard and back yard, you will get lots of ideas from your family, friends, or through the internet and many more sources. As far as side yard concerns, you will get very few ideas.
This article will help you to get the best side yard ideas by sharing 10 unique landscaping ideas to style up your side yard.
Why is There a Lack of Side Yard Landscaping Ideas?
The side yard is a majorly neglected part of your house. Mostly side yards are shaped in different dimensions. For instance, broadside yards, narrow side yards, and hilly side yards. There is also one more important aspect involved, which is a side yard with full shade or full sun. Taking all these aspects into mind and deciding which will best fit the idea for your sideyard is very confusing. That is why you will find very few side yard decorating ideas while styling your side yard. Following these side yard ideas will be a great help to get your side yard decorated.
Unique Landscaping Ideas for Side Yard
1. Install a Perfect Entry Gate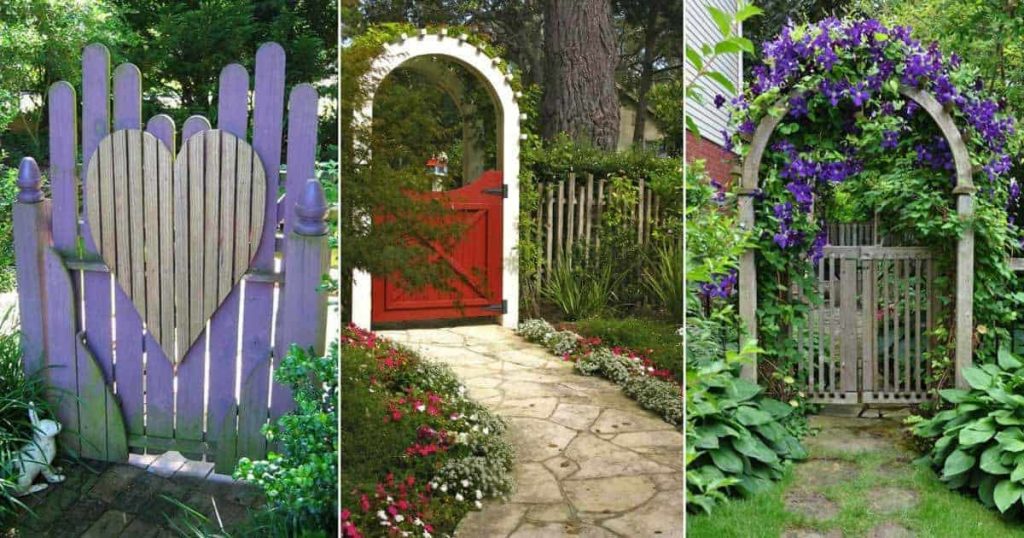 Like the back yard and front yard, the side yard also needs an entry gate to ensure security and accessibility of the house. Side yard landscaping suggests a smaller fence gate for entry to the side yard. Apart from security aspects, it will also change the overall look of your side yard. For that, you need to choose the correct entry gate for your side yard. There are many varieties available in metal, wood, steel, wrought iron, etc. To get the perfect entrance to the side yard better to check your fence design according to it and make your choice for the entry gate.
Before installing the entry gate, look at the factors such as style, price, durability, security, etc., and only after looking at these aspects can you make a choice about which entry gate you want to install in your side yard.
2. Design a Beautiful Path for Your Side Yard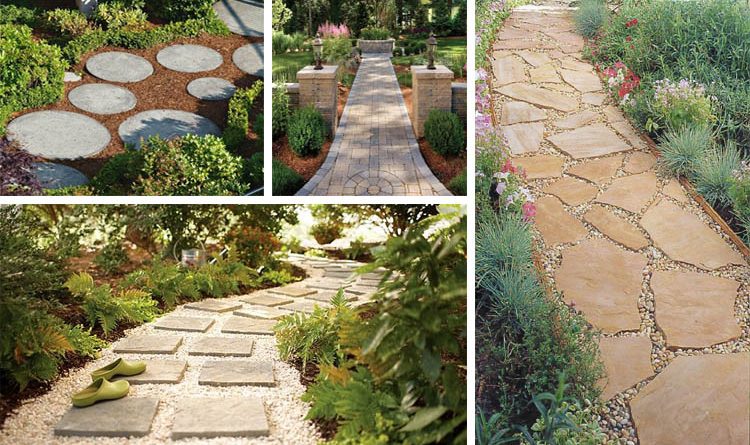 In the side yard, landscaping ideas pathway is an essential part to work on. It will give your sideyard an aesthetic appeal. There are different types of pathway ideas you will get to style up your side yard.
Gravel Path – You can use crushed rock very uniquely to create a stylish gravel path. To enhance the beauty of the gravel path, plant colorful flowers beside sideways.
Flat Stone Path – Adding a flat stone path to your side yard will certainly deliver rustic charm to your landscaping. Placing flagstone in a montage pattern by using your imagination will definitely look attractive.
Pebble Path – This pathway idea you can use with lots of combinations, like adding flagstones, paving blocks, or using grass, etc. Pebbles can be used to decorate sideways of the path by spreading different sizes and shaped pebbles in loose. Pebble Pathway is a trending landscaping idea you can install in your side yard.
3. Install a Veranda to Enjoy the Relaxing Atmosphere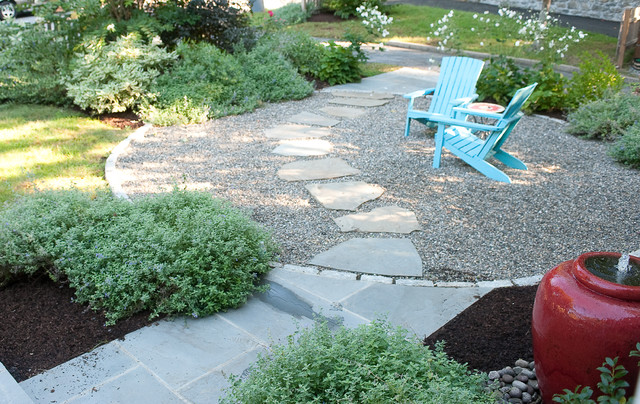 A veranda or patio will be a great option to spend quality time or to get relaxation. Adding a veranda or patio will change the look of your side yard. You can use different types of materials to build a sustainable patio. Mostly used material is fired clay bricks, concrete, or reused plastic paving blocks. You can design patios by adding the thing. For instance, cross-functional furniture and natural elements like colorful flowers and plants. Spread pebbles across the patio, hang beautiful transparent curtains, and lighten up the deck with soft light across it to enjoy evenings.
4. Style-Up Patio with Pergola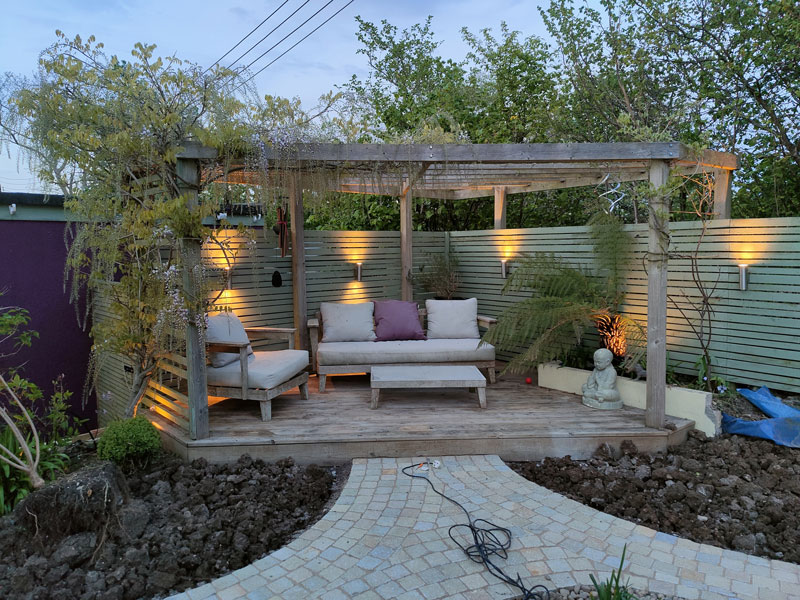 Pergola will provide a very stylish look to your patio. Usually, you will get it in metal, wood, or recycled plastic material. But to increase its beauty, many other innovative ideas are trending these days. Covering the pergola with the roof will provide a fine look to the element. There are various roofing options available, i.e., retractable roofing, louvered roofing, plastic roofing, etc. Try to add climbing plants across the pergola to get a nice natural shade and a greener look. Add beautiful lights on the pergola to brighten up your mood.
5. Beautify Your Side Yard with Arbor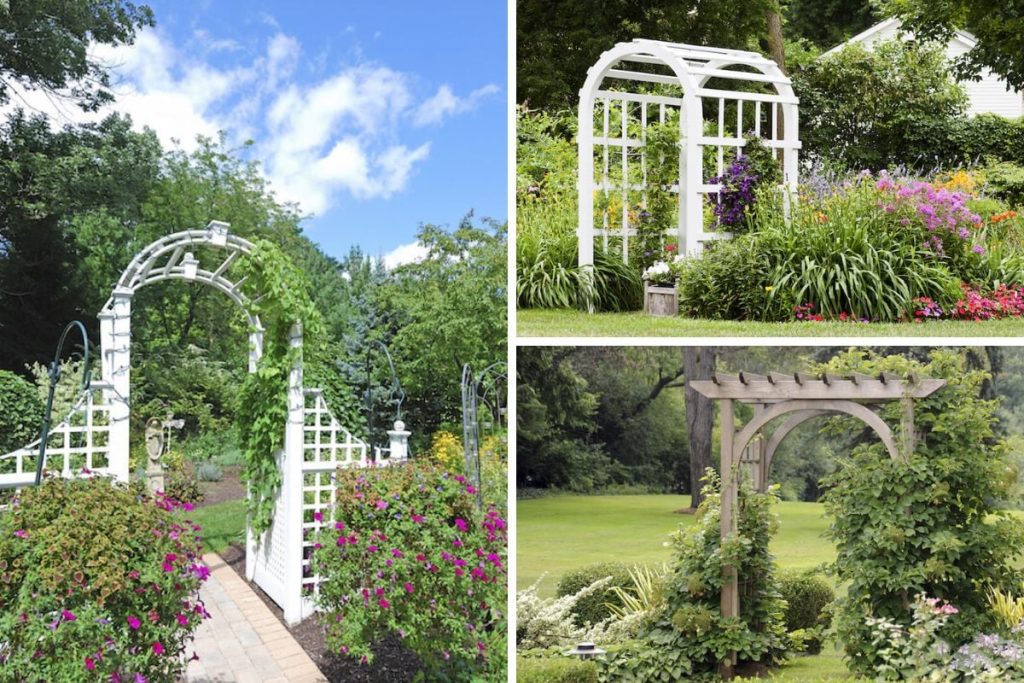 Containing an arbor in your sideyard is the perfect way to create a gorgeous look for your landscape. In the side yard, landscaping arbor is a must-have aspect. You will find arbors mostly in two shapes, i.e., arched and flat shapes with vinyl, metal, or wooden material. You can install them at the starting part of your side yard with the green platform with adding climbing plants. For instance, pathos, lianas, vanilla, honeysuckle, climbing roses, etc.
6. Go with Right Light Plants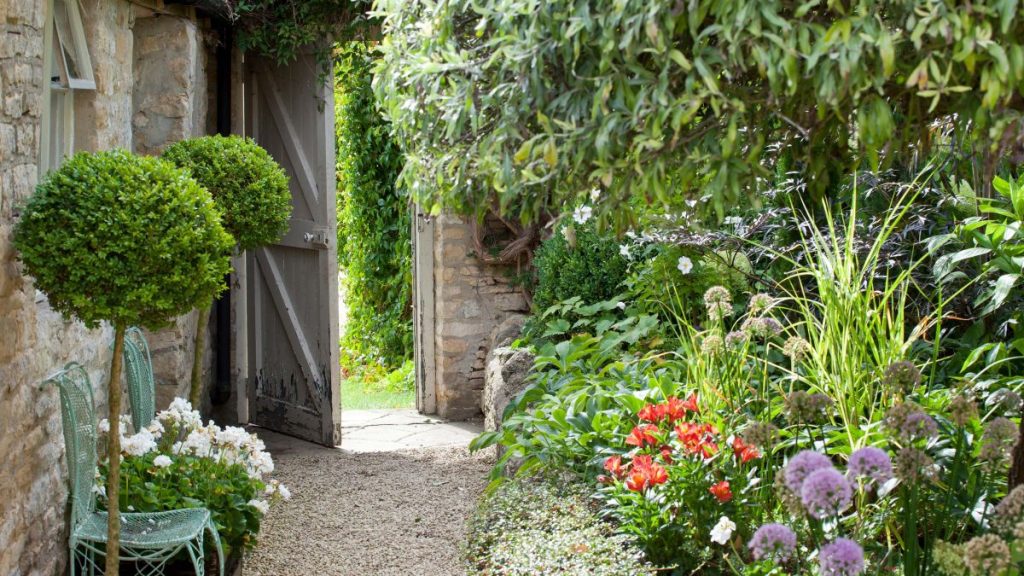 If your side yard is available with adequate sunlight, then you can consider medium or high-light plants. But side yards often lack sunlight. Therefore side yards are unable to grow high or medium-light plants. For side yard landscaping, you can add various shade-loving plants like lady ferns, snake plants, begonias, foam flowers, etc. If you have the correct amount of light in your side yard, then you can also consider creating a vegetable garden. There is another unique and fascinating idea is trending nowadays which is vertical gardening. You can opt for a vertical garden if you have a narrow side yard.
7. Bring Entertainment Element by Putting Green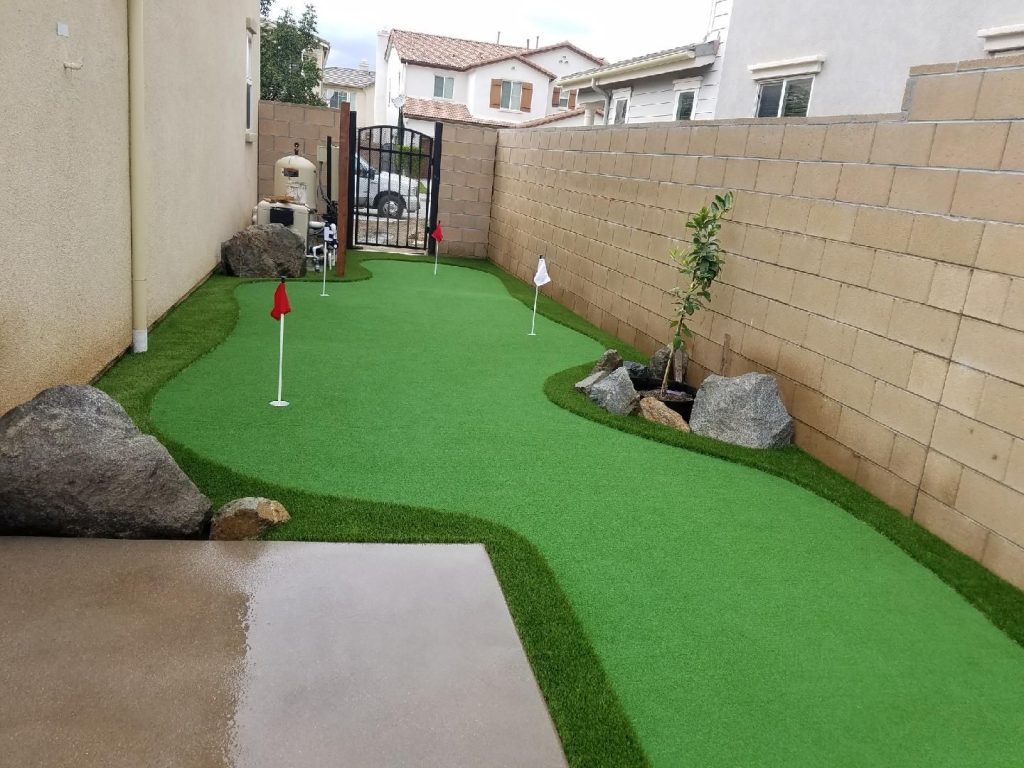 Side yards often have a narrow shape, and this factor indeed has a positive side if you are planning to include some sporting fun in it. Golf court is the preferable sport you can install in your sideyard by taking advantage of shape. To enjoy some fine golf practice with your friends at home then, you can add the putting green area in your side yard. It is the best way to utilize your side yard for fun purposes and to get some stress release by playing golf.
8. Make Sure to Get a Potting Bench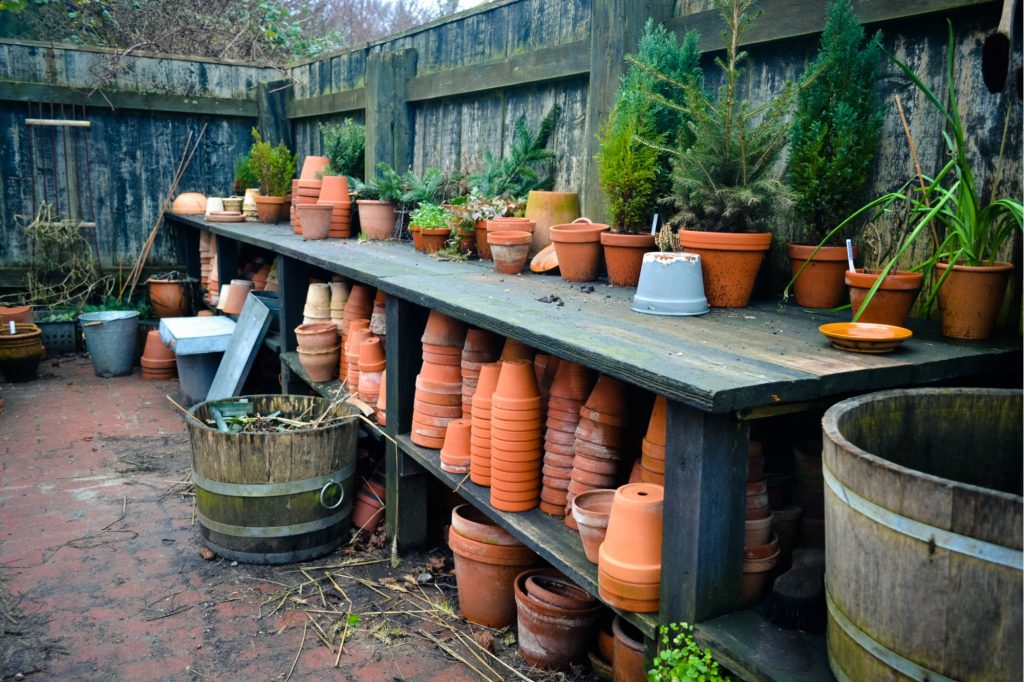 In the side yard, landscaping ideas potting bench is a highly recommended item. You can make your DIY potting bench or can buy it from anywhere. Potting bench needs to be durable to support your gardening activities with pots and soil etc. You will get this potting bench in various materials like metal, wooden, or vinyl. So add a potting table at your side yard garden to take care of your beautiful, delicate plants.
9. Don't Forget to Add in Some Kids-Friendly Aspects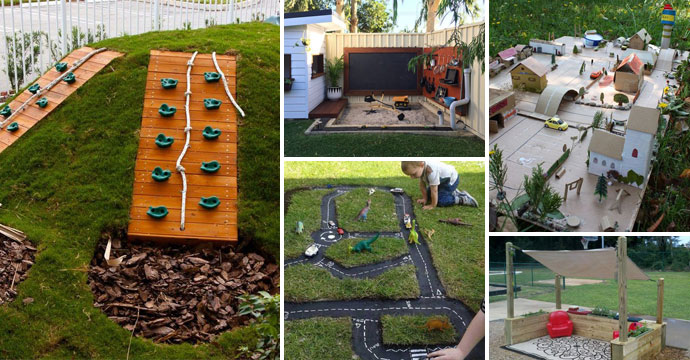 Other than the front yard and back yard, the side yard is also the most secure place for your kids. You can utilize this area for kids by adding some fun elements to it. Try-out things like low-maintenance artificial grass for kids' activities, add swings and slides if your side yard allows you (need spacious side yard), and build a small pool for kids to enjoy their summer vacations. You can even install an art station or build a tree house for kids.
10. Linking Side Yard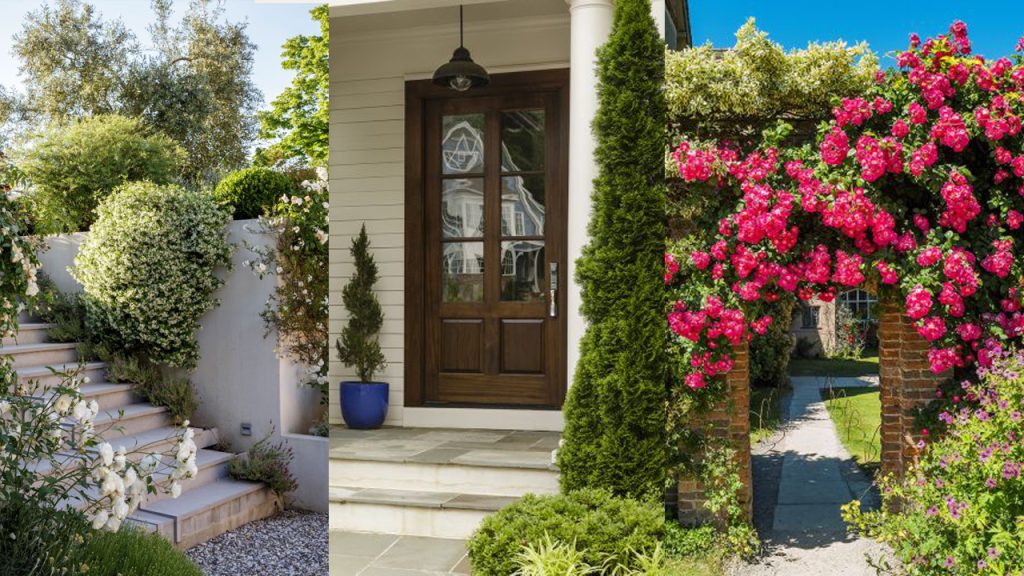 This is a very important aspect of side yard landscaping. Connect your side yard with your front yard and back yard. It will be more accessible for you in the meantime. To link it, add similar elements which have been used in the front yard and back yard. For instance, the plants, type of arbor, or pathways. This association will generate more consistency on your side yard.
11. Do Add a Compost Container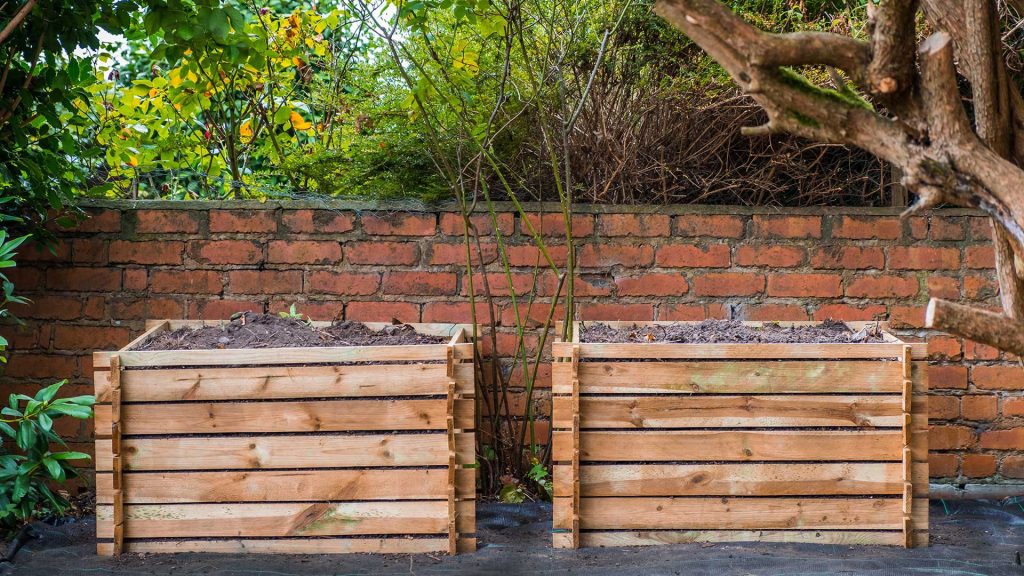 Whether it is a front yard, back yard, or side yard need of compost container is a must. Any type of yard is contained with biotic components which produce organic waste. So this organic waste composting will be a plus point for your backyard. Composting will help to upgrade the quality of soil in your side yard. So add a compost container to your side yard garden.
12. Must Have a Trash Box
A trash box will be very useful for maintaining side yard landscaping. Try to and large size wooden trash box at the corner of your side yard. Apart from cleaning and maintaining purpose, it will also bring a change in the aesthetics of your backyard. A trash box is even a necessary element for recycling purposes. Ultimately adding this element to your backyard will help you and nature too.
Final Thoughts
As you all know that side yards get very less amount of importance in your whole house structure, but this place also has the same value as your front yard or back yard.
It is just that you need to look for the correct options to recreate this neglected place with a creative eye. If you are planning to change the aesthetic of your side yard, then you probably have gone through side yard landscaping ideas. But deciding which one is good might be confusing.
In this article, we have provided the best side yard landscaping ideas. We have also described the elements like pathways, verandas, right light plant, and many other styling elements according to the shape and size of the side yard. We also discussed the must-have items in your side yard garden, like compost containers, trash boxes, etc.
Eventually, this information will help you to shape-up your side yard landscape in a perfectly planned manner.
Frequently Asked Questions
How Can I Decorate the Side of My House?
The side yard of the house is the most neglected area of your house. But you can style it using a perfect fence gate, beautiful pathways, growing the right plants, and adding elements like a potting bench, trash box, and compost containers. Constructing a veranda will be very useful.
How to Decorate My Side Patio?
Patios or verandas are the most useful places you can give them an aesthetic look with easy accessibility. Try to add cross-functional furniture, install a pergola and grow climbing plants across it to get natural shade on your patio. Add colors to the patio by placing colorful plants on it. Add lights to enjoy evenings.