A front yard is one of the most impactful elements of your house. It is the first thing guests see when they enter your property. And first impressions do count. You want a front yard that is inviting, beautiful, and grand at the same time.
Landscaping increases the curb appeal of your home. Thoughtfully chosen plants and fixtures reflect your personality and create a respectful but welcoming environment. Yet, many folks don't understand that landscaping your front yard doesn't have to be expensive.
With a little creativity and strategic planning, you can transform your lawn into a picturesque and inviting area without burning a hole in your wallet. Here, we explore 13 cheap and simple front yard landscaping ideas that will elevate your front yard and make your home the envy of the neighborhood.
By implementing these simple yet budget-friendly methods, you can create a beautiful front yard that complements your home's architecture, showcases your style, and welcomes guests with a warm and inviting atmosphere.
Let's explore these creative ideas and get started on transforming your front yard without breaking your budget.
1. Use Flower Beds as a Feature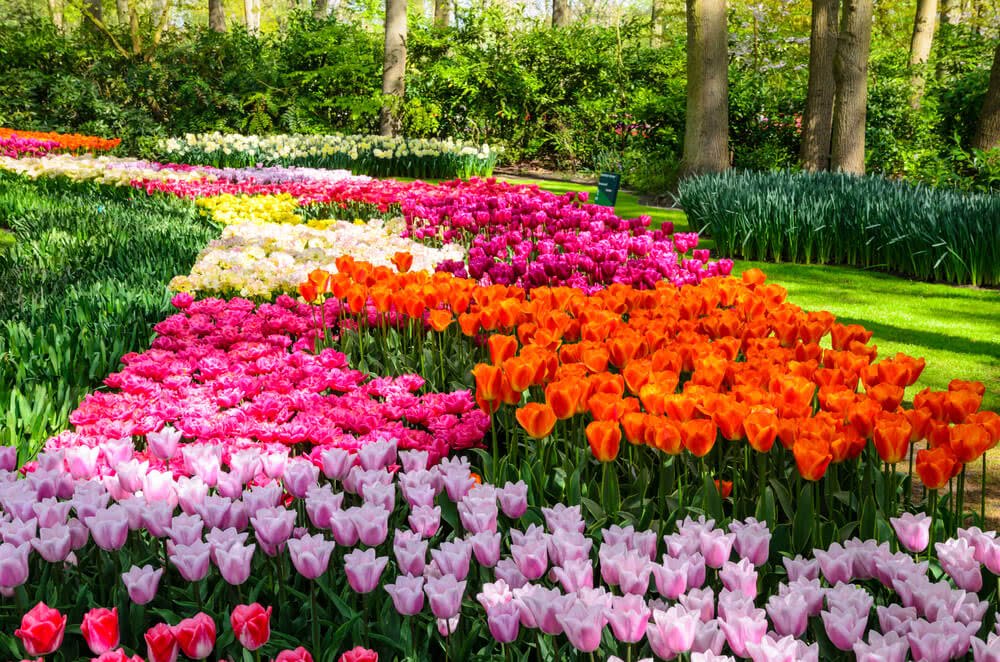 Flower beds are as simple to build as they are attractive to look at. They are an excellent and cost-effective way of enhancing your front porch's beauty. There are multiple ways to do this. You can add a row of flower beds along the exterior walls of your house. You can also add it in tiers to make it look more creative. It can also be a simple DIY activity with your family.
A great benefit of flower beds is that you can customize the way you want. There are simply no rules here. If you opt for plants that require minimal care, they are almost a one-time investment and do not need much maintenance. They are a simple and cheap way of landscaping your front yard and give a distinct visual appeal to your home that is sure to attract onlookers.
2. Add a Simple Path Around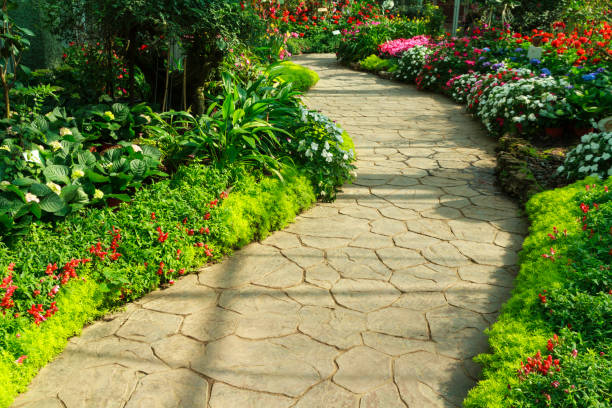 What good is a beautifully crafted front yard if you can't properly walk across it? A pathway adds some much-needed aesthetics to your landscaping. It is a gorgeous and eye-catching way of leading guests from your entrance to your front door. It also gives an inviting, homely feel to your house. From paved stones to cobblestones, different types of paths have different budgets, so you can pick and choose what works best for you.
All in all, it is a simple and cheap way of landscaping your front yard. This activity requires someone with experience and know-how. So we suggest spending an extra buck and hiring a professional. Find out how you can design a path that best suits your house.
3. Experiment with Lighting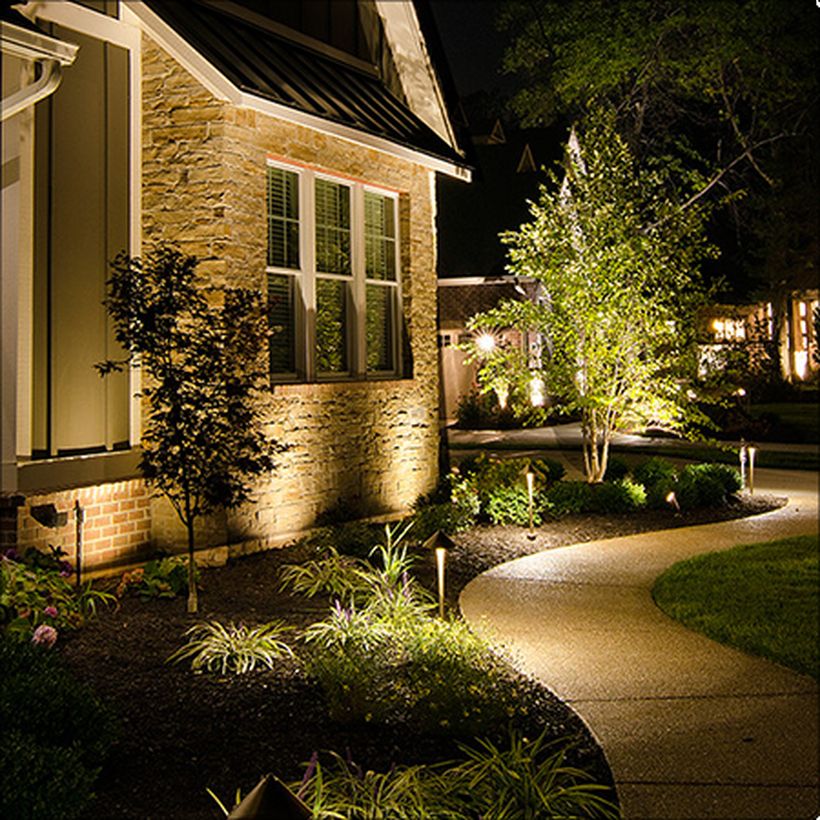 Appropriate lighting can beautify any environment. Moreover, it is rather cheap to install LED lights along your yard or pathway to make the structures pop out. Lighting can give an ethereal, almost otherworldly feel to your garden. You need to choose the color combinations that work with your design and aesthetic and complement your house.
Another creative idea is to use lighting to highlight key features of your lawn, like a fountain or a statue. A simple and cheap way to landscape your front yard, lighting can be placed in multiple ways. From lanterns to standing lights to poles, you can let your imagination run wild.
4. Utilize a Trellis to Add Height
Many house owners do not have a yard big enough to have a large flowerbed or vegetation. A plant wall, commonly known as a trellis, is an ingenious solution for this problem. It is essentially a vertical structure on which plants grow. It adds a whole new dimension to your front yard and is a cheap and simple landscaping idea.
You can use the wall to layer your plants and give them an artistic appeal. Adding this new dimension makes your yard look bigger without taking up too much space. They are a unique and gorgeous addition to your lawn that will leave your guests impressed.
5. Beautify Your Front Porch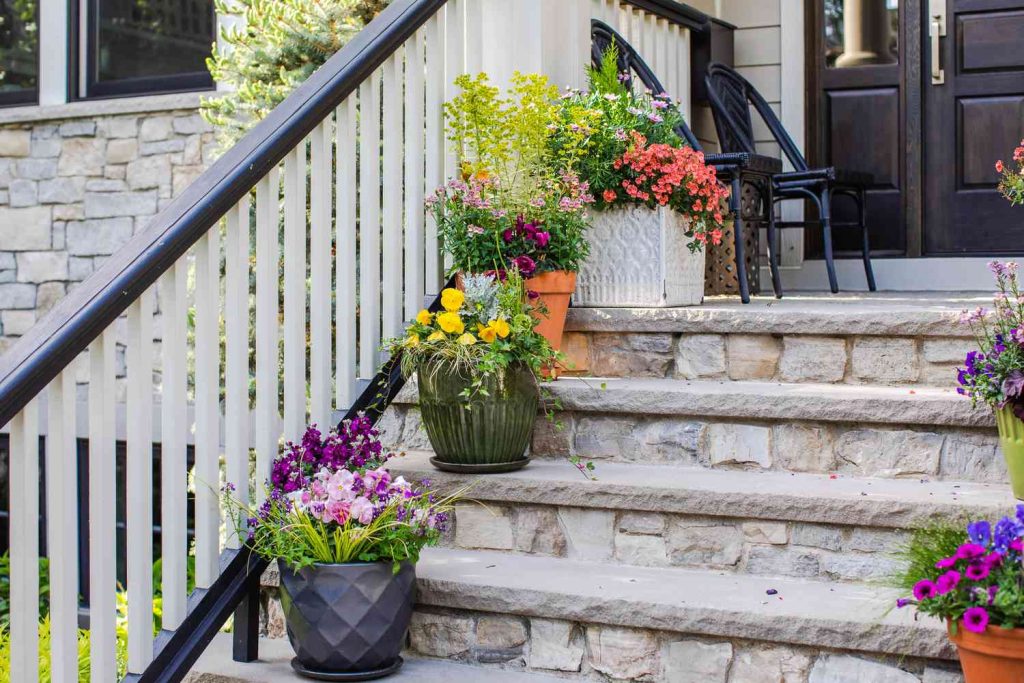 Your front porch should give off a warm and homely aura to your guests. After all, it is the entrance to your humble abode. It can be made to look more aesthetic by improving its curb appeal. You can add a few flower pots as well as some hanging pots. This will make your porch look like a continuation of your lawn. Add a few chairs and a table to make the perfect seating area for socializing.
Sprinkling a few decorative features like lamps, doormats, and artifacts can make your front porch shine. Redesigning your porch is a crucial yet cheap way of landscaping your front yard without too many hassles. It can also be an engaging DIY activity.
6. Don't Be Afraid to Rock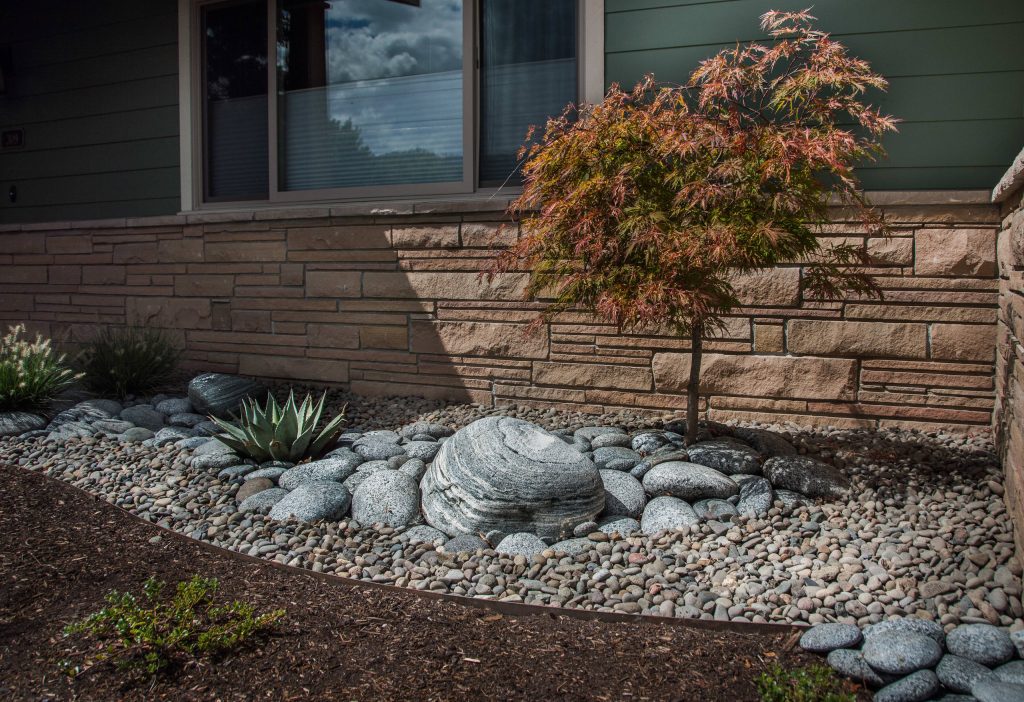 Incorporating rock features into your front yard can help you add a sense of natural beauty, texture, and durability to your landscape design. Whether it's through rock gardens, pathway edging, water features, or retaining walls, the use of rocks can transform your front yard into a visually stunning and harmonious outdoor space.
There are multiple ways to use rocks in your lawn. You can use them to border your flowerbed or your pathway, for building a bonfire, and also for general beautification. They are cheap and easily available, making them a great idea for landscaping your front yard.
7. A Water Feature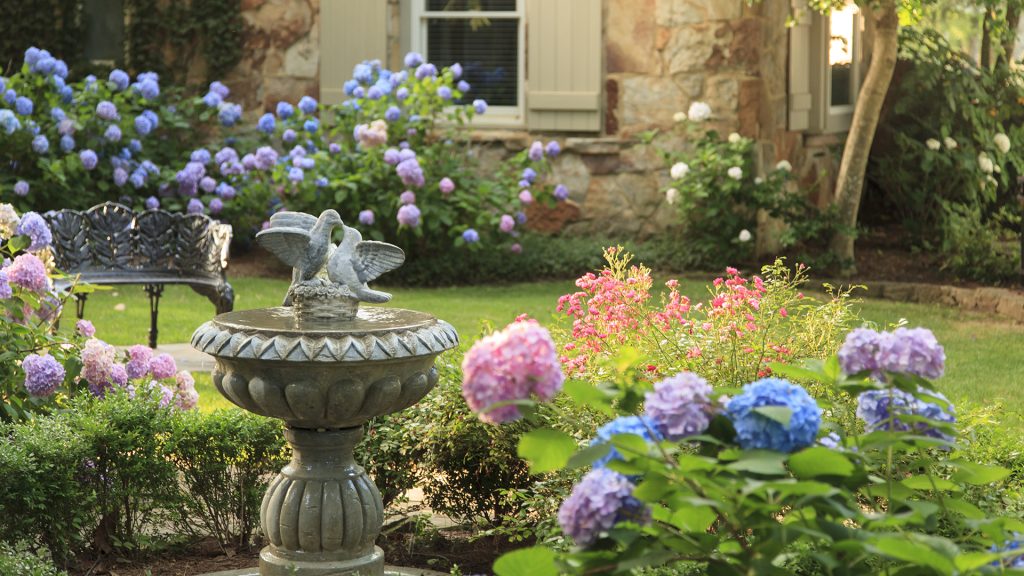 Want to make your front yard look like something straight out of a classic fairy tale? Water features are the way to go. An antique-style birdbath brings a sense of tranquility to your garden. It will also attract many birds to your house. They cost little but add a lot of personality to your house. They also make you look like a wholesome nature lover.
Another great installment to your lawn is a fountain. Not all yards might have the space or functionality for it, but it enhances the vibe of it anyway. They are known for their visual appeal, along with bringing a pristine sense of calm. It can also give a cooling effect to your lawn. A small fountain can be made cheaply and is a great way to landscape your front yard.
8. Include a Fire Pit or Barbecue Area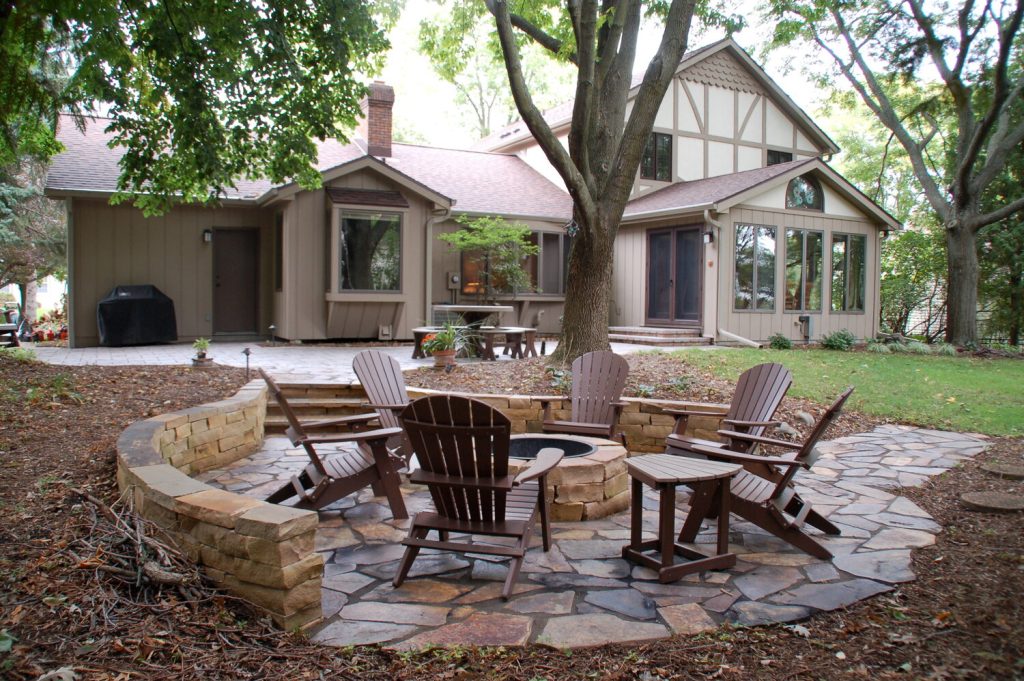 Who doesn't love cozying up with their loved ones next to a bonfire? A fire pit is a great place to relax and enjoy with family and friends. The fire creates a beautiful, warm glow that surrounds your house and gives it an inviting atmosphere. It can be built cheaply and is a good one-time expense.
A fire pit can also double down as a barbecue. The space for this feature must be carefully designed and included in the planning of your house. A barbecue area is a great space to socialize and hang out with your friends. A combination of a fire pit and barbecue will effectively make this space available for use all year round.
9. Grow Perennial Plants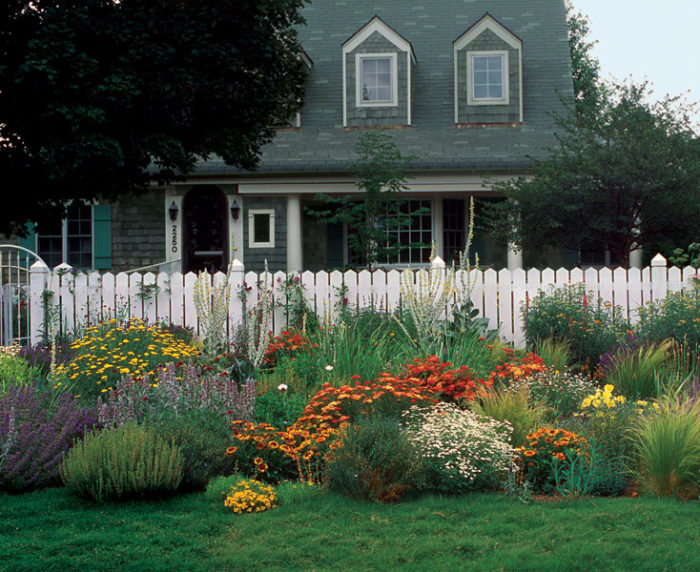 Perennial plants are those that live for more than two years. They are a beautiful and cheap way to landscape your front yard. If given the proper amount of care, they are pretty much a one-time investment. They provide some much-needed longevity to your garden.
Perennials come in a variety of shapes, colors, and textures. From vibrant flowers to thick scrubs, there is something for everyone. While their initial cost might be higher, they require little to no maintenance, making them a budget-friendly way to landscape your front yard.
10. Consider a Modern Statue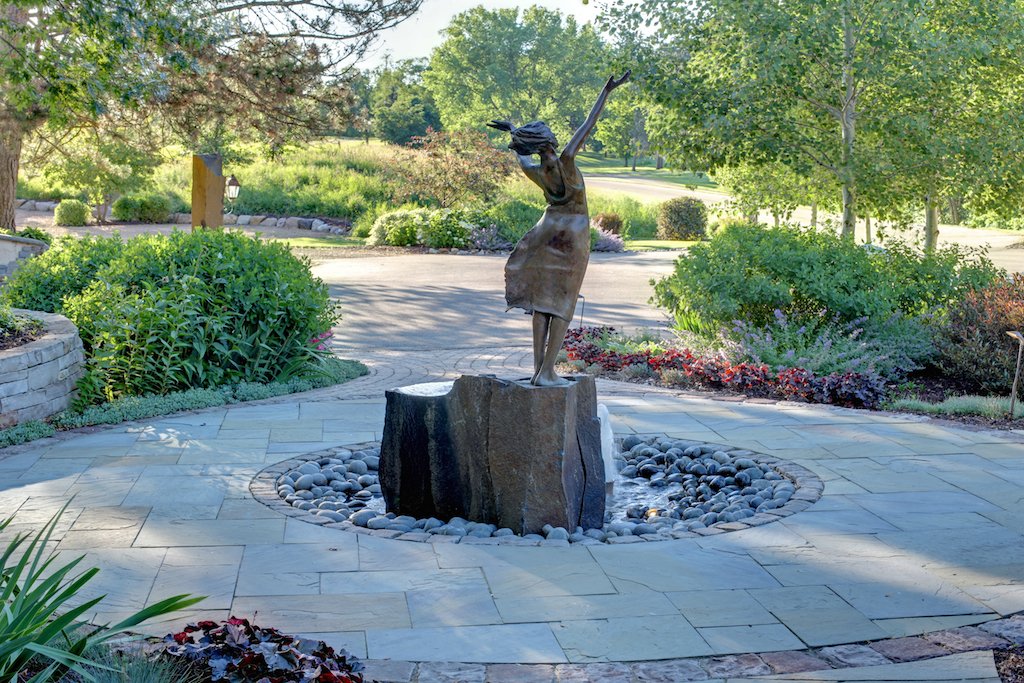 This is a rather old-school approach to landscaping but quite an effective one. Statues provide a colonial charm that sends a person back a few 100 years. They can make any area look regal and luxurious. They also add a certain mysterious, gothic element to your landscaping. The key here is to place the statue in the best place. It should be front and center but not take away from other features of your lawn.
Your guests will surely remember this unique and enthralling feature in your garden. There are many modern statues available that will suit your budget requirement. They are a simple and elegant way to landscape your front yard.
11. A Seating Area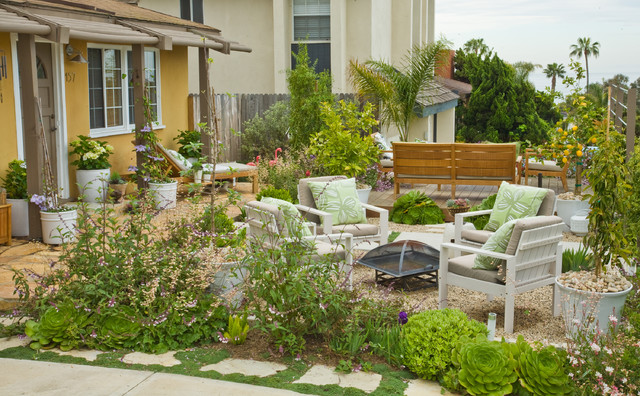 Creating a seating area in your front yard is a wonderful way to transform it into a welcoming and functional space where you can relax, socialize, and enjoy the outdoors. You can use your outdoor seating to make a style statement by giving it a distinct and unique look. The design of your seating area should complement your garden as well as the rest of your house.
It is advisable to select comfortable and weather-resistant furniture, add lighting for evening use, and incorporate elements such as planters, rugs, or decorative accents to enhance the ambiance. Creating a well-designed seating area is a simple yet cheap way to landscape your front yard. You can transform it into a cozy area where you can relax, socialize, and enjoy the beauty of your surroundings.
12. Edging for a Good Definition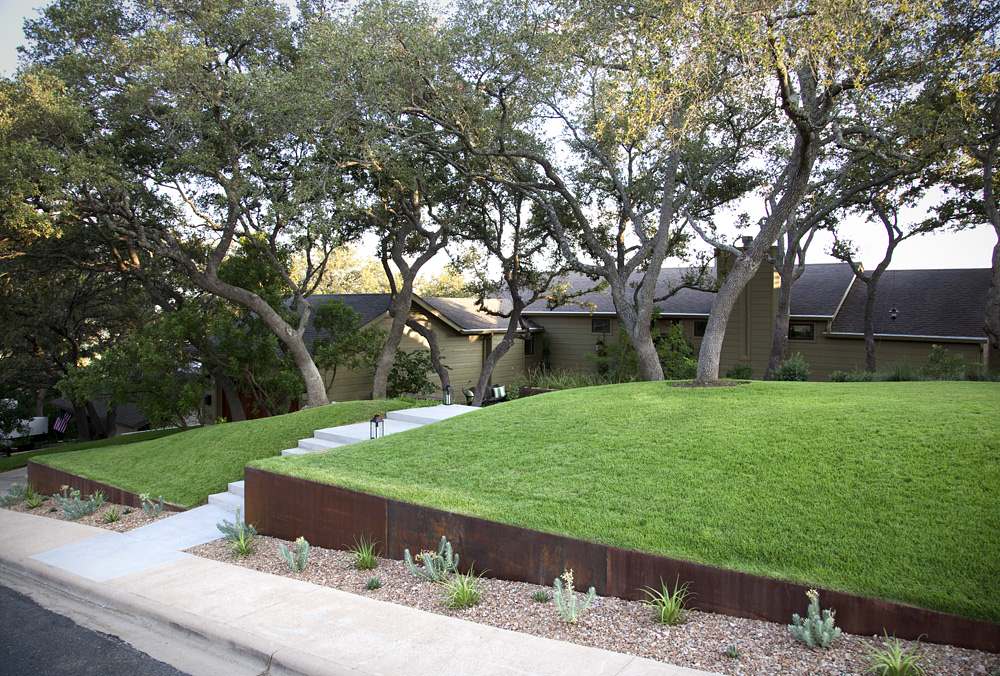 It is the tiniest of details that add a lot of value to your house. However, seemingly inconsequential touch-ups, like having well-defined edges to your lawn, create a beautiful and clean aesthetic. It is a simple and cheap way to landscape your front yard and give it a clean, polished look. You can use stone or bricks to define your edges and make your lawn pop out. It will add to the grandeur of your garden and make you proud.
This simple trick provides a neat boundary to your house and makes your borders pop out. It also makes you look as if you maintain your lawn. To make it look better, you can line your edges with flowers or plant rows.
13. Go Wild with Trees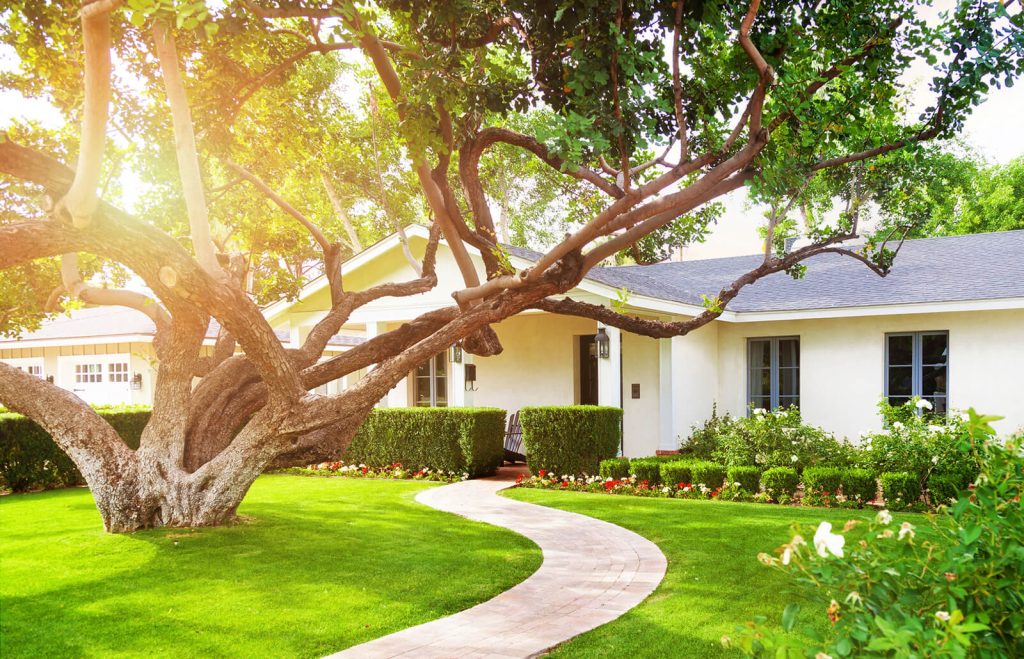 This is an activity that will bear a sweet fruit many years into the future. Trees are the primary feature of any garden. Hence, planting them will add to the natural beauty of your yard. They are inexpensive, as we all know, but provide so much to us.
When planted in the right spot, they give shade and enhance the whole lawn. The only thing to focus on is to water it to help it grow continually. A big tree adds to the character of a lawn and helps bring out the personality of the owner.
Final Thoughts
By now, you will have understood that transforming your front yard into a captivating and welcoming space doesn't have to be a costly endeavor. Whether it's adding vibrant plants, creating charming pathways, incorporating decorative elements, or utilizing repurposed materials, there are numerous affordable options to enhance your curb appeal.
Remember, the key is to plan your design, embrace creativity, and personalize your front yard according to your preferences. Don't hesitate to experiment with different combinations and arrangements that reflect your unique style. The result will be a stunning front yard that not only impresses passers-by but also provides a source of pride and joy for you and your family. So, go ahead and implement these simple and cheap landscaping ideas for your front yard.
Create an outdoor space that welcomes you with beauty and pride every day.