Your house reflects your personality, and how you decorate them tells a great deal about you and your nature. Decorating your home is one of the best things to do; picking the furniture, artwork, cutlery, crockery, and trinkets will showcase your character for all to see. If you are living with family or friends, your decorating style will mix with their style, while living alone, you can go wild with your decorating style.
One excellent decorating style is an indoor plant wall. These plant walls are perfect for your home if you are a plant lover. If you live in an apartment, a plant wall will make a great addition to your home. An indoor plant wall is still a good idea, even if you have an outdoor garden.
In this article, you will get a list of 17 indoor plant wall ideas to see which one will look gorgeous in your home.
What is a Plant Wall?
First things first, what is a plant wall? A plant wall is a vertical structure covered in live plants, also called a green wall, a living wall, or a vertical garden. They can be put up indoors as well as outdoors.
These plant walls bring nature and greenery into your home since you spend so much time inside. There are also many benefits of having a plant wall in workplaces and homes. An indoor plant wall gives you a healthy environment since plants absorb CO2 from the atmosphere. Plants also absorb sunlight, so the room is cooler and pleasant in the summer; if you have noisy neighbors, you are lucky since plants also absorb sound vibrations.
List of Indoor Plant Wall Ideas
Let's go through the indoor plant wall list to see which one will suit your taste and home.
1. Bohemia Wall Planter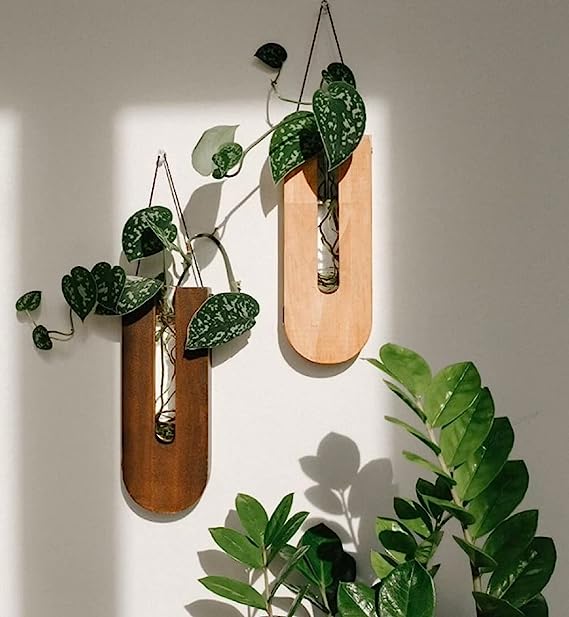 These wall vases combine modern and farmhouse styles; they will make your home decor more chic. In terms of being eco-friendly, these vases are made from 100% natural pine trees and are of excellent quality. You can easily hang up these wall planters using push pins or nails anywhere in your home, such as in the living room, kitchen, fireplace, entrance hall, bedroom, hallways, and other rooms. You can mix and match these vases around your house with live or artificial plants. Each piece is unique due to its rustic appearance so that you can admire your plants every day.
2. Self Watering Wall Planter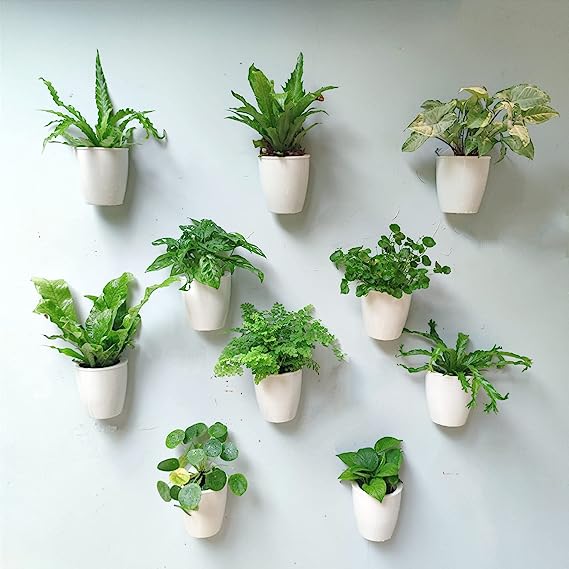 These pots will look amazing on your plant wall; these planters are flat back wall mounts. You can plant a wide variety of plants since these pots cater to the different needs of the plant. Novice gardeners can pick this plant wall option as it offers many benefits and convenience in your busy life; for example, it has a self-watering system. With a minimalist style, these planters are elegant and chic, as they will match the rest of your home decor. Hang them up on a wall, balcony, porch, railing, patio, and more. Made from strong and lightweight plastic, these pots are multifunctional as they can hang on the wall or even be placed on a desk.
3. Vertical Hanging Planter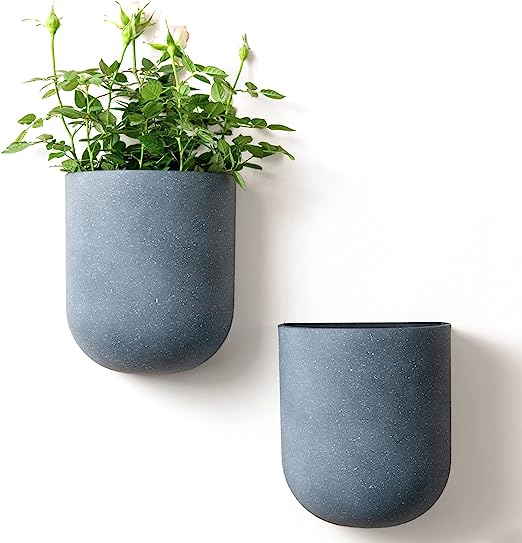 These pocket-shaped wall-hanging planters will turn your greenery into wall art; they are ideal for herbs, succulents, air plants, or floral arrangements. These grey pots offer a wide range of decor possibilities for your home. These grey pots are of minimalist style and will add chic flair due to their unique speckled design. Hang them up in your kitchen, hallway, living room, staircase, bedroom, patio, or porch. They are made from recycled plastic and natural stone powder making them durable and lightweight. Easy to install, these pots have two holes in the back, so you just need to use a nail or string to hang these up; bonus point, your walls will not be marred.
4. Glass Wall Hanging Planter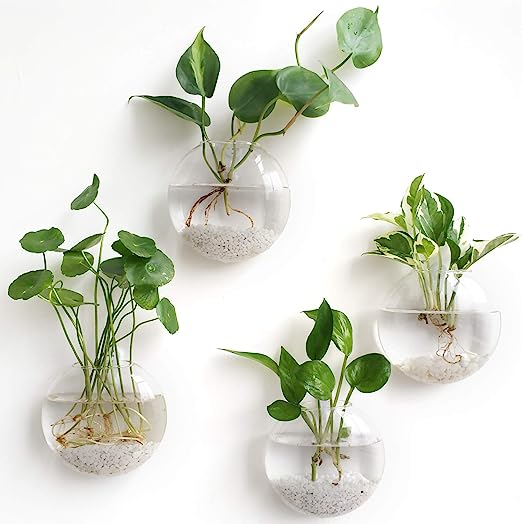 These hanging flower vases are perfect for your hydroponics plants, flowers, water plants, and lightweight plants. They complement your home decor due to their simplicity and elegance. Hang them up in your kitchen, living room, balcony, indoor garden, or hallway; the plants will purify the air and showcase your favorite plants. There is a small hole on the back of each pot, so it is easy when hanging up these plant holders on your wall with the help of a white nail hook. Easy to install, you can effortlessly remove these pots to clean them and replace the water for plants.
5. Pyramid Wall Hanging Planter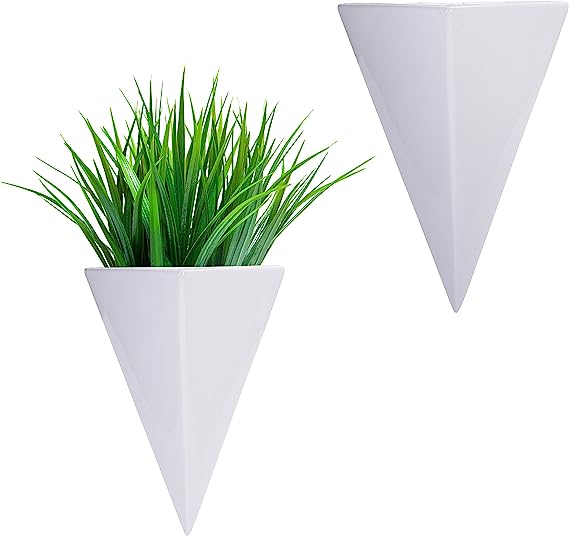 These triangular wall planters will look sleek in a modern home. The white color contrasts wonderfully against the bright floral arrangements and rich green succulents you plant in them; there is even a black color available if you prefer it over white. The ceramic material complements the clean contemporary wall spaces in your home. There is ample space in these planters for your plants to grow. You can easily attach these white planters to your wall due to a single mounting hole. The straightforward geometric design adds another dimension to your living area, especially if you prefer a minimal aesthetic.
6. Triangular Wall Planter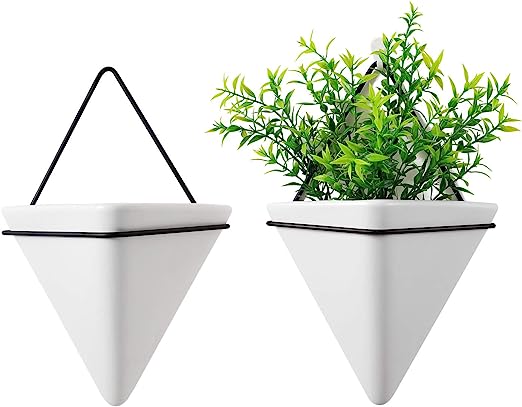 These triangular planters come in three sizes: small, medium, and large, so you can decide which one suits your wall the best. You can get them all in one size or mix and match them with different sizes. These geometric planters are made from high-quality ceramic and will look amazing by themselves or in a group. As a multipurpose wall planter, grow all kinds of plants in this pot, such as air plants, kitchen herbs, potted plants, trailing plants, cactus, succulents, cut flowers, and more. Just securely fasten the screws and mount the planter on a metal stand on your wall.
7. Ceramic Wall Hanging Planter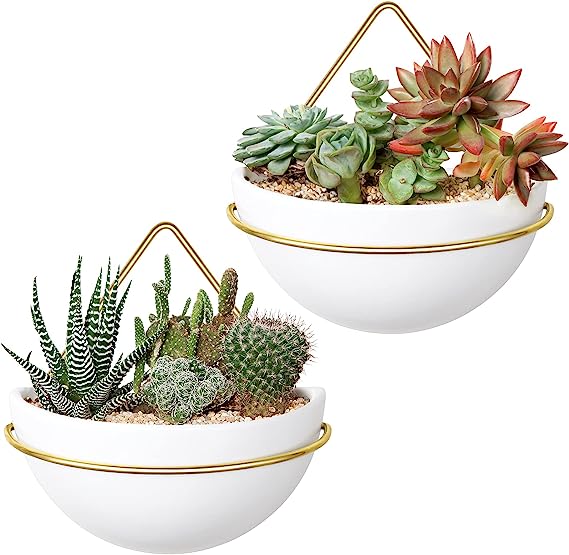 This wall planter will hold your lush plants like herbs, cacti, air plants, succulents, and other small plants. These can be used indoors and outdoors, so you are not limited to one space. These planters will fit anywhere in your home, like your kitchen, living room, office, bathroom, hallway, etc. This modern style of the planter creates a fun look for your minimalistic-styled home. In the shape of a half moon, this wall planter comes with a gold or black metal holder, which makes it much easier to assemble and hang up on your wall. The high-quality ceramic and metal make these pots durable and smooth. Designed to save wall space, easily water the plants, and protect them from any pets or kids.
8. Ladder Style Wall Planter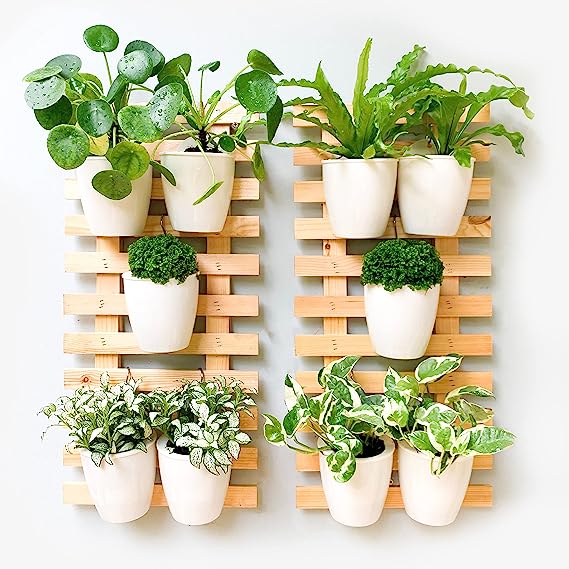 This indoor plant ladder will hold up your plants perfectly on your wall; it comes in a pack of 2 in various sizes so that you have a choice depending on your wall space available. Made from high-quality wood, this plant ladder has all-natural color and pattern. It can hold up to 12 flower pots, so your seedlings, flower plants, and small herbs will be safe. Hang them up anywhere in your home, such as a kitchen, patio, bathroom, balcony, living room, and bedroom. Decorate this plant ladder with photos, dry flowers, cards, and LED lights to turn a normal white wall into a bright feature wall.
9. Jungle Inspired Self Watering Wall Planter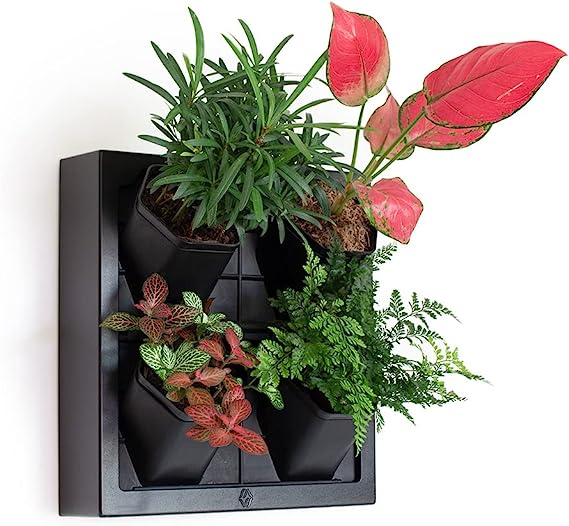 Another item on the indoor plant wall ideas list is this wonderful wall planter. Due to the self-watering system, it can hold 1 L of water, and you can water the plants every few days, saving you time. With a sturdy frame, this wall planter can be put up in your kitchen, living room, balcony, office, hallway, etc.; good for the indoors and the outdoors. Plant your favorite herbs, succulents, air plants, and any small plants. Just put a peg into the wall, and now, you can easily mount or remove the planter anytime you want.
10. Vertical Wall Planter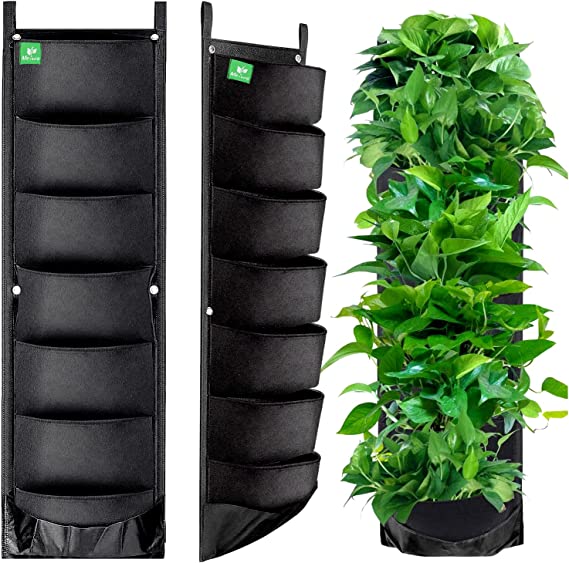 This hanging planter comes with 2 rows of 7 pockets for all your plants. This rugged felt cloth is durable and breathable, ensuring your plants stay healthy and lush. These pockets are bigger and deeper, which is perfect for growing flowers, vegetables, and other hanging plants. Using zip ties or hooks, install these hanging planters in your home, and the plants can be easily moved whenever needed.
11. Rustic Style Metal Wall Planter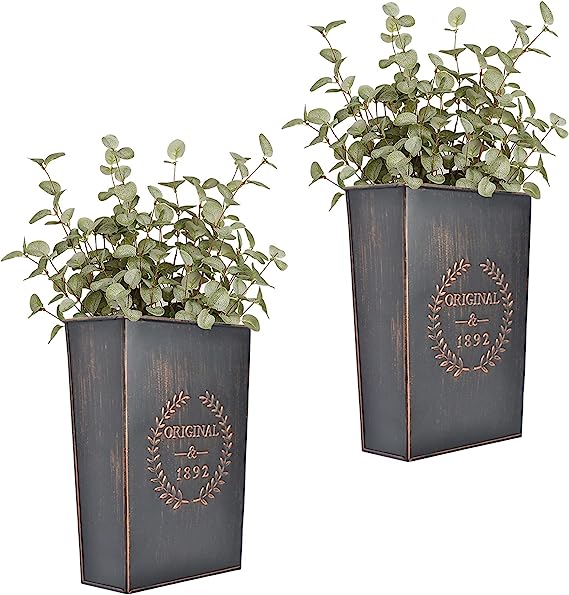 This metal wall planter is made from high-quality galvanized metal and has a vintage finish. This rustic planter will go perfectly well with your home decor. They are easy to install and sturdy to hang up on your walls. This metallic planter is decorative as well as functional, so you do not have to worry about where to hang these planters.
12. Hanging Planters for Wall and Ceiling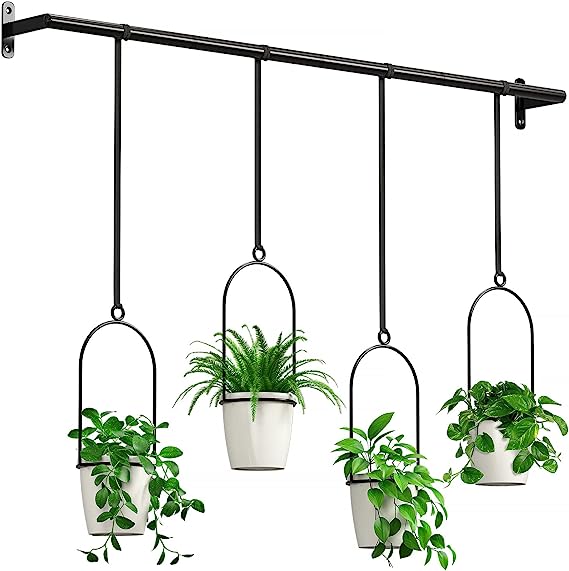 This hanging planter can be hung from the wall or ceiling, whichever you prefer. These four pots are attached to a bar made of sturdy and durable metal, which can be adjusted depending on your needs. The pots are hung on nylon rope which can be modified for different heights. Resistant to temperature changes, these pots can be placed indoors or outdoors, based on your preference. Easy to install as they come with screws and detailed instructions.
13. Self Watering Wall Mounted Planter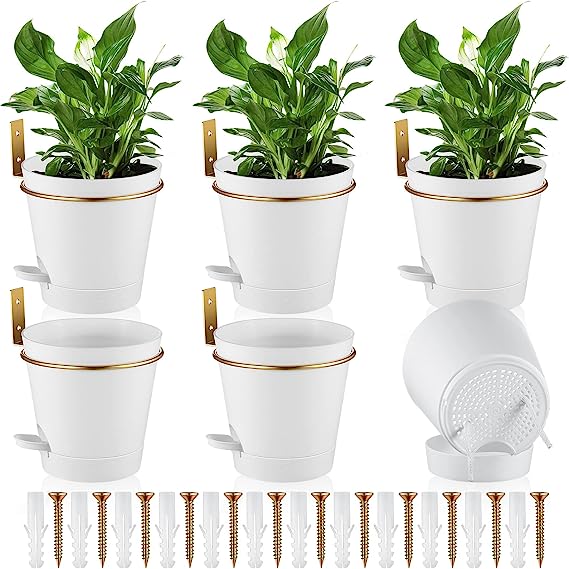 This wall planter comes with pots, metal rings, screws, cotton ropes, and a detailed instruction guide. The pots are made from quality plastic, and the support rings are from quality metal, resistant to rust and corrosion. These are self-watering pots with drainage holes so that excess water is removed. The cotton ropes are absorbent which helps the plants receive water in time. Display these wall planters in your kitchen, living room, dining room, bedroom, office, or hallway.
14. Wall Mounted Planter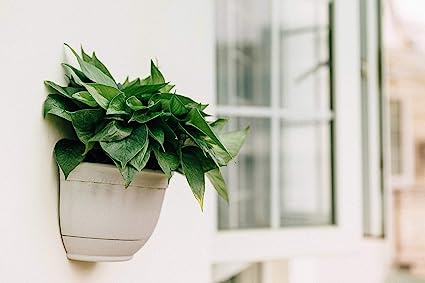 Next on the indoor plant wall ideas list, this wall planter comes in a set of four made from high-quality plastic hence why they are lightweight and durable. There is a detachable water storage on the bottom plate for its self-watering system, and the drainage holes remove excess water. Hang them up indoors or outdoors based on your preferences. As this planter set comes with metal hooks, you will have no problem installing them in your home.
15. Glass Wall Hanging Planter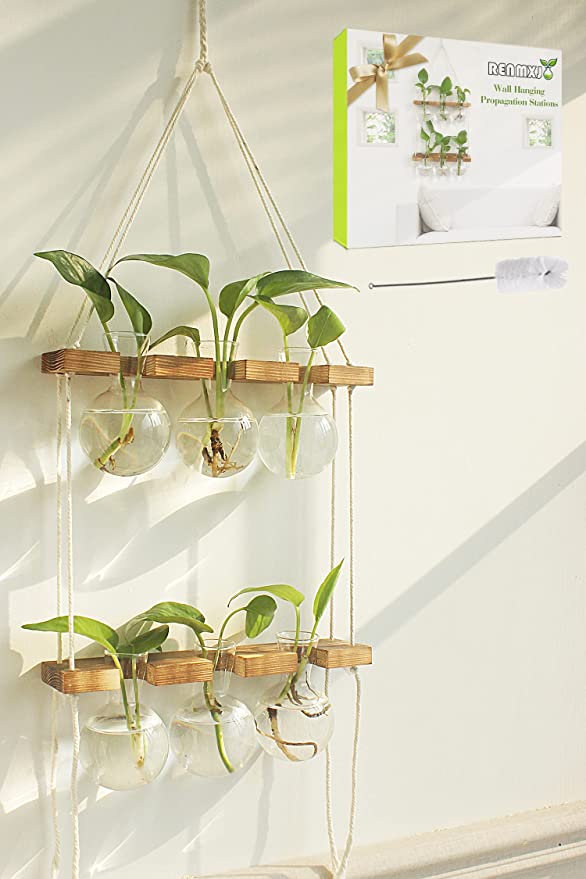 This wall planter set is both stylish and functional, which becomes obvious once you have placed them on your wall. The bulb vases are easy to remove for changing the water and plant replacement. Bring some greenery into your kitchen, living room, bedroom, office, hallway, or nook. The wood used is light and firm, while the glass is of premium quality.
16. Window Hanging Planter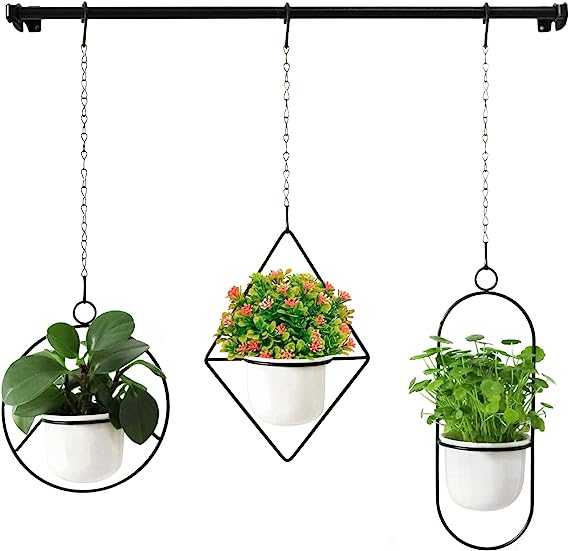 This quaint hanging planter is perfect for growing herbs, aloe, succulents, cactus, vine plants, and others. Mount on the wall or ceiling of any room, such as the kitchen, office, bedroom, balcony, bathroom, or porch. Kept out of the reach of pets or kids, the planters come in different shapes to suit your different planting preferences. In the planters, there are drainage holes for the plant's health and a detachable rubber plug for capturing the excess water.
17. Self Watering Vertical Planter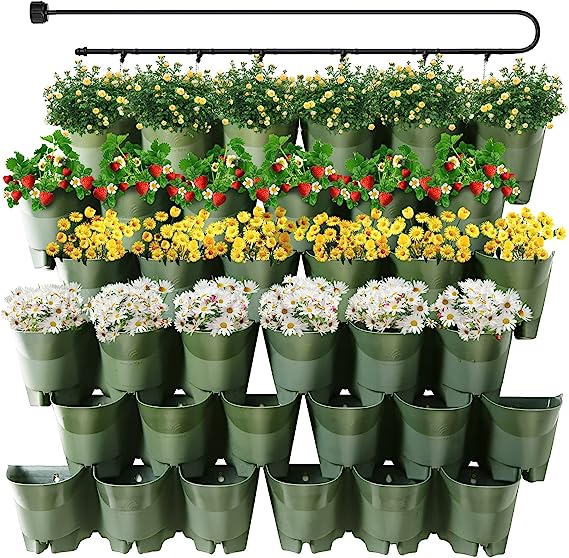 This wall planter has a self-watering system, so you do not have to water your plants frequently. In this automatic dripping system, water drips from the tap on the top row and goes down to the subsequent row, and all plants are sufficiently watered with no stagnant water. With this wall planter, you can grow herbs, succulents, perennials, vegetables, or houseplants in just one place at your home. As this planter is made from propene polymer materials, it is durable and suitable for indoor and outdoor use. These lightweight planters can easily be mounted with some screws.
Which Plants Should I Keep on My Plant Wall?
The plants on a plant wall must be kept in the right conditions, such as lighting, watering, soil, and temperature. You also need to consider which plants are companion plants because otherwise, your plants will not thrive properly, too busy fighting over nutrients.
Philodendrons are perennial plants, with several species to choose from for your plant wall. These kinds of plants grow in partial shade, so they work perfectly for plant walls that do not get enough sunlight. A climber such as Philodendron scandens will look fabulous on your plant wall.
Another plant choice you should consider is ferns. They may be flowerless, but they grow well indoors since they are protected from extreme wind and temperature. Asparagus aethiopicus, Davallia fejeensis, and Nephrolepis exaltata are just a few options for your plant wall. They will grow well with other plants and have dense foliage for you to admire.
Jade pothos is an evergreen vine from the subtropical regions. They are drought-tolerant and like indirect sunlight, so they are perfect for an indoor plant wall. They do not need constant attention, so novice gardeners will have no trouble with them. Do remember to put a stake with these plants if grown in pots.
Herbs are an essential part of any kitchen garden, so that's why you should plant them on your plant wall. They bring beautiful fragrances, greenery, and edible plants into your home. Basil, mint, thyme, lavender, lemongrass, rosemary, and chives will thrive on your plant wall; these herbs are all extremely useful in cooking and baking.
Flamingo Flower is a genus consisting of a wide range of tropical plant species. They flower almost all year round, so planting them on your plant wall is an obvious choice. The gorgeous red blooms bring vibrancy to your home. These flamingo flowers look perfectly nestled in the lush greenery on your indoor plant wall. They are easy to grow and take care of, along with needing indirect sunlight.
Final Tips on a Successful Plant Wall
Start off your plant wall slowly; begin with a few plants. See how they are growing and make any adjustments as necessary. The growing conditions need to be suitable for the plants to survive and bloom. If a plant isn't growing correctly, it might need to be moved to another spot on the plant wall or replaced. Plan out your plant wall well in advance and thoroughly research the plants you will grow to see if they are complementary.
Do your research on self-watering systems if you need them. If you want to install a floor-to-ceiling indoor garden, make sure you are able to reach the top; once in a while, you will need to take the plants out of the plant wall. You will have to repot your indoor wall plants and check if the wall is dry and mold-free.
To Sum Up
Decorating your home is the best thing since you are able to express your personal style. Your house is the place where you spend the most time, and you are able to be your true self. That's why you fill your home with your favorite books, furniture, artwork, people, trinkets, and much more. Whether your style is bohemian or minimalistic, there is a wide range of decorating ideas for everybody's individual taste.
Having plants indoors is a brilliant decorating idea that everybody should consider. Plants bring a little bit of nature indoors, purify the inside air, and brighten up your home. If you are confused about how to arrange plants inside, then this list of indoor plant wall ideas will be your guide. Go through the list and see which ones catch your eye.
Write down in the comments below which indoor plant wall decor mentioned in this article you have used in your home and why you picked that particular style.