Nothing is better than enjoying the time with your partner(s) in your free time. And imagine you utilize that time while watching television outside. The first thought that comes to the mind after thinking about it is that it might be hard to accomplish it.
You are somewhere correct and somewhere not! Through the right setting of an outdoor TV setup, you can decorate your backyard into a beautiful scene that too with ease if you read this guide carefully.
Your evening and night get mesmerizing when you spend time with your friends and family. That is not only a source of enjoyment but also an opportunity to build bonds and amazing memories with them.
In this article, we have brought you the top 13 outdoor TV ideas to enhance your experience. Whether you are a DIY enthusiast or you want experts to do it for you, you are going to love it once it is done.
So let's begin our journey for entertainment excellence and turn the dream into reality!
Outdoor TV Ideas for Your Entertainment
1. Install Weatherproof Outdoor TV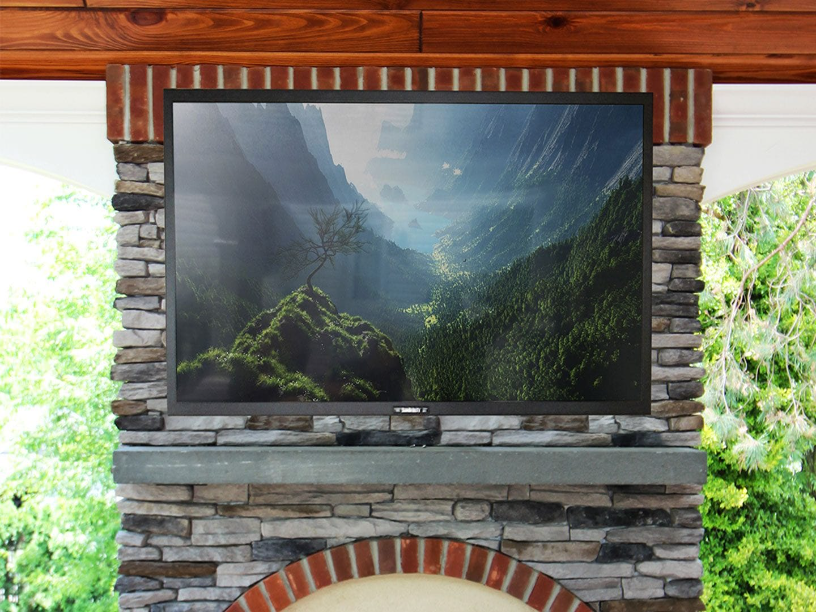 Installing an all-weather television necessitates a careful focus on the minute details to put it up. By following the following step-by-step guide, you will end up having an amazing set up.
Step 1: Prepare the Mounting Surface
Once when you have finally taken the initiative to complete this endeavor, start by measuring and preparing the surface where you want to install the TV. Don't choose a weak or imbalanced place. It should be sturdy and strong enough to carry the weight of your Television set without any other support.
Once you are done with it, install the TV brackets. Now obviously, there is a high risk of wrong alignment due to the fact that you don't do it every day. Usually, it is beneficial to call some expert for this purpose. However, if you are dedicated enough to do it by yourself, use proper tools rather than managing with the wrong ones!
Step 2: Setting the TV
First, buy a TV that is designed for outdoor use. You may use your indoor TV, but it has its own consequences. Imagine a dusty wind going inside any of the $1000 TV ports, and they get malfunction! An outdoor TV is generally water and dust resistant. They also have a covered speaker system.
But even after you choose an outdoor TV, use it in the surrounding when there is clear weather. You know, there is no surety what may happen.
Step 3: Cable Management
Now generally, people ignore this step, and it's not even wrong to ignore it. But if you love systematic things, this is for you.
If you already have a creative idea to hide or decorate those cables, then you may like a few cable managers like this particular set, or if you don't like that one, then you can have a look at this.
2. Create a Cozy Sitting Area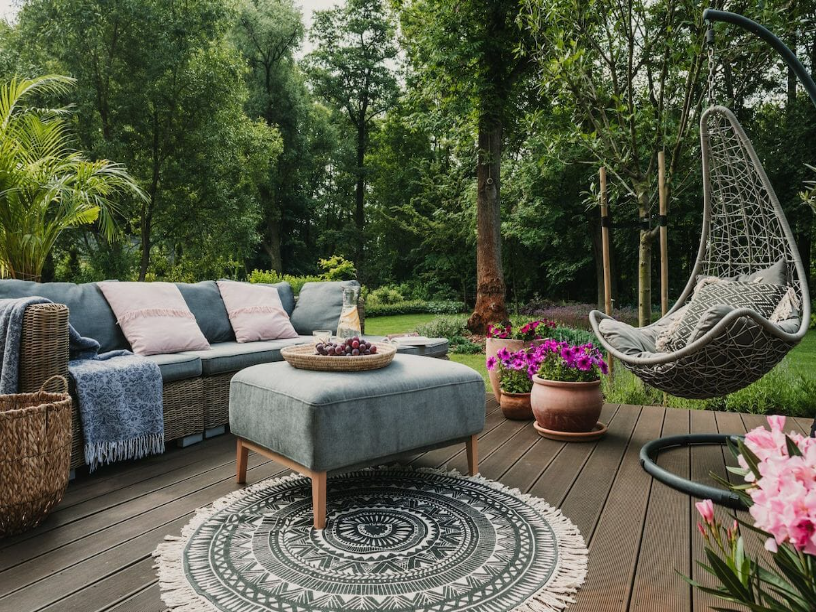 A great show but uncomfortable seats? Please no! It is obvious when you plan an outdoor TV show, you are definitely going to sit for hours. A comfortable seat is not only important for your enjoyment, but also it protects you from severe bone pain and is good for your spine. Let's see how we can build a perfect area for sitting even if you have not-so-comfortable seats.
Step 1: Define a Space and Select Seating
Just draw an imaginary line in your head where you are going to put the couch or chair, or bench. If it is for 2-4 people, then you may not need to put that much effort, but for above that, you need a basic mindmap before you start setting them.
Now as said earlier, what to do if you don't have bouncy or luxurious seats? For that purpose, it is suggested that you bring your couch pillows from the bedroom. But if that doesn't work, you can make a small investment for happiness by buying these foam chair mattresses! You can not only use them outside but in the bedroom and living room.
Step 2: Add Accessories
You can improve the quality of your time by adding various things like small fans with water sprinklers if the weather outside is warm.
Don't forget one thing, and that is food! Have some popcorn or chocolates or anything you think that can last longer.
It may feel excessive at first, but trust me if you add spotlights in the escape, that will definitely enlighten your mood and your partner's as well!
The list is literally endless; you can consider these things out of many more while decorating the area.
– Shade and Shelter
– Side tables
– Pillows
– Blankets
– Artwork
– Fragrance
3. Optimize the Viewing Angle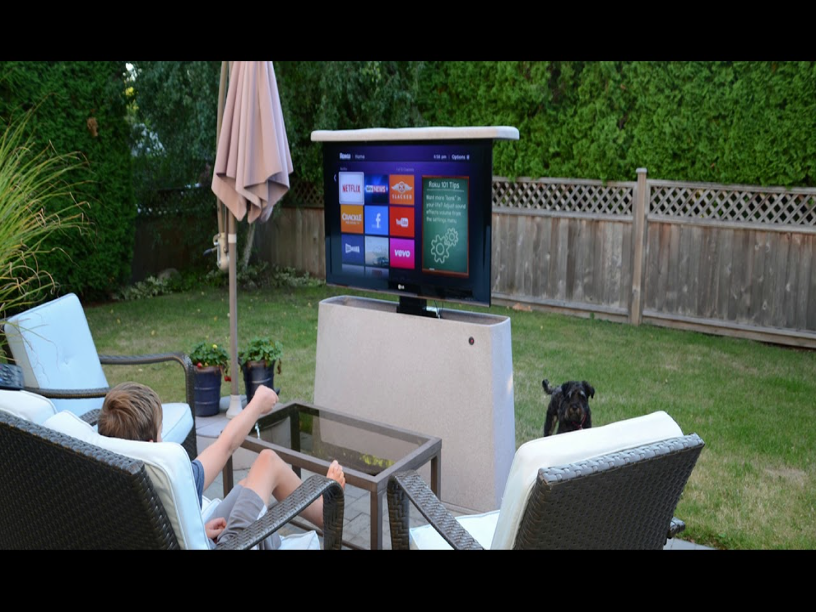 To ensure everyone can enjoy the show, it is essential to optimize the viewing angle. You can follow the steps mentioned below.
Step 1: Choosing the Right TV
Seek out a television specially made for outdoor usage. Outdoor TVs generally incorporate features such as intensified luminosity and anti-glare technology, heightened visibility, and sun-drenched outdoor settings.
Step 2: Determining the Viewing Angle and TV Positioning
Identify the primary seating area where people will be watching the TV. Take into account variables such as proximity to the TV, available shading options, and the TV's orientation in relation to the sun. Place the TV in a location that minimizes direct exposure to sunlight and obtrusive reflections. Position it away from direct sunlight and avoid direct opposite highly reflective surfaces such as glass windows or white walls.
Step 3: Add Additional Accessories and Shade or an Enclosure
If possible, establish shade around the designated TV area utilizing accessories such as umbrellas and canopies. This will help in reducing the detrimental effects of direct sunlight on the TV screen, thus amplifying the viewing experience. Add supplementary accessories like anti-glare films or screens designed specifically to be affixed to the TV.
4. Add Outdoor Surrounding Sound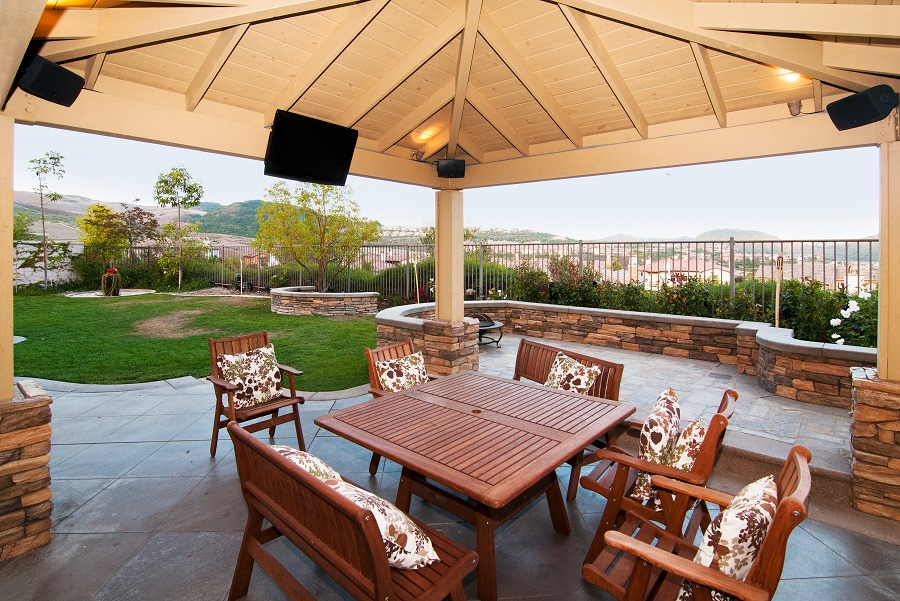 To add outdoor surround sound to your outdoor TV setting, you can follow these steps:
Step 1: Select an Outdoor Audio System
Opt for speakers designed for outdoor usage. These speakers are made to endure diverse weather conditions while delivering amazing audio quality in an outdoor setting. You can consider aspects such as power output, speaker placement options, and compatibility with your TV or audio source.
Remember to verify the weather resistance ratings of your outdoor speakers and take appropriate measures to safeguard them from extreme conditions when not in use.
Depending on your preferences and budget, consider exploring supplementary features such as speakers with wireless connectivity, multi-room audio capabilities, or integration with smart home systems. These features can augment your outdoor audio experience, providing enhanced convenience and control.
Step 2: Connectivity and Testing
Connect the speakers to your audio source, which may include the outdoor TV, a receiver, or a soundbar. Add appropriate cables or leverage wireless connectivity options to establish a seamless connection. Refer to the manufacturer's instructions for proper setup and configuration.
Once the connections are in place, play audio or test movie scenes with surround sound effects to ensure that the speakers are functioning correctly and delivering the desired audio immersion. Make necessary adjustments to the speaker volume and settings to achieve the desired sound balance.
Step 3: Incorporate a Soundwoofer
Enhance the low-frequency bass effects by integrating a subwoofer. Position it in proximity to the primary speakers or at a central location to achieve a balanced bass response. The subwoofer contributes significantly to the overall audio experience, adding richness and depth to sound effects.
5. Install a Retractable Canopy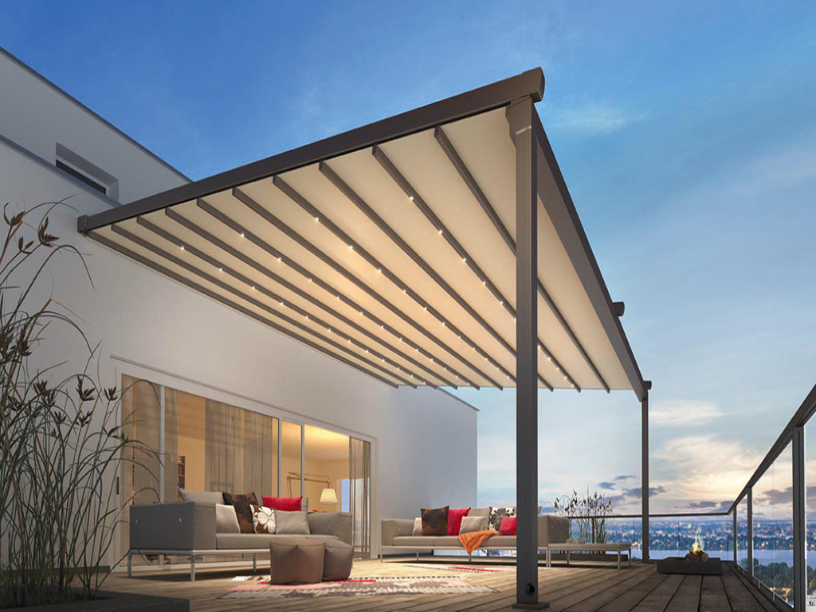 To set up a canopy for your outdoor television area, adhere to the following guidelines:
Step 1: Area Measurement and Canopy Selection
Start the process by measuring the precise dimensions of the designated installation spot for the retractable canopy. An accurate assessment of the width and depth is essential to ensure a seamless fit.
Choose a retractable canopy specifically tailored for outdoor usage that aligns with your space dimensions. Consider factors like size, color, material composition, and functionality.
Search for a canopy offering ultraviolet (UV) protection if your outing plan takes place in the afternoon and weather-resistant attributes to guarantee longevity.
Step 2: Setting the Brackets and Attaching the Arms
Proceed with the installation of the mounting brackets as per the step-by-step instructions provided by the canopy system manufacturer. These brackets play a vital role in securely accommodating the retractable arms of the canopy. Use a level instrument to ensure precise alignment and secure attachment to the chosen surface.
Once the mounting brackets are firmly in place, securely fasten the retractable arms to them, paying careful attention to the specific directions mentioned by the manufacturer.
It is crucial that the arm is affixed in a manner that ensures steadfast connection and proper alignment.
Step 3: Prior to Finalizing the Installation
Prior to finalizing the installation, it is of utmost importance to conduct a thorough functionality test of the retractable canopy. Extend and retract the canopy several times to ascertain its smooth operation and identify any potential issues or obstructions that may impede its functionality.
There is a misconception when it comes to assembling and setting it up. If you are not the expert, there should be at least 3 people doing this. Two for holding the canopy and one for the tools and the screws!
6. Add an Outdoor Fireplace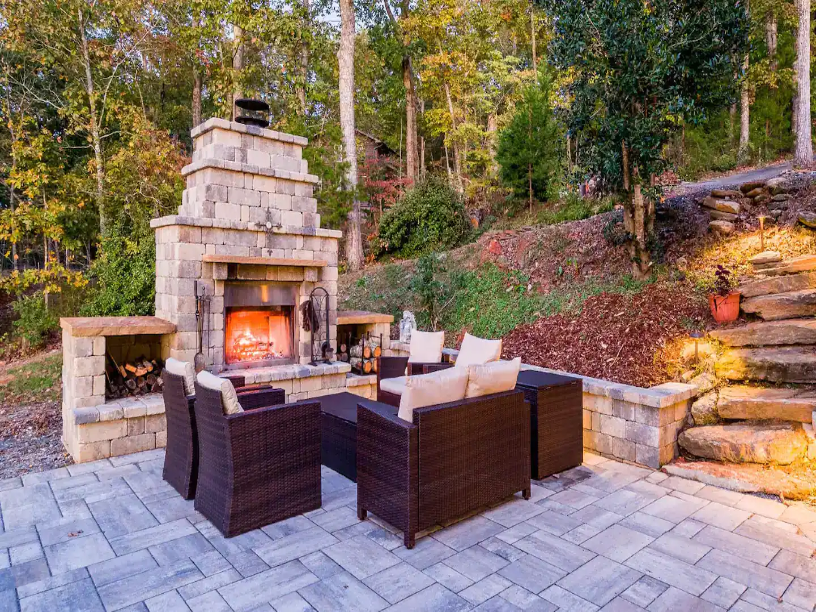 To add an outdoor fireplace to your outdoor TV setting, follow the following set of instructions.
Step 1: Chose the Fire Type and Perfect Location
Make a decision regarding the specific type of outdoor fireplace that best aligns with your preferences. Available options are wood-burning, gas-fueled, or electric fireplaces. Factors such as fuel prices, maintenance demands, and safety considerations should be taken into account during the decision-making process.
While choosing the location, Identity the optimal placement for your outdoor fireplace, taking into consideration variables such as its proximity to the TV, seating area, and safety parameters. Ensure that adequate space is available for proper ventilation and that the fireplace maintains a suitable distance from combustible materials.
Step 2: Prepare the Fire Pit
For this particular step, there are two options available. One is the DIY method, where you build the fire pit as per your preference, and the second is buying a ready-made fire pit.
For the latter option, refer to the available option from the list below.
For DIY Method-
Steps for Preparation and Construction
Take special care of the base and level the fire pit. This typically necessitates digging a shallow hole, pouring a concrete slab, or constructing a fireproof base utilizing heat-resistant materials like brick or stone.
You may choose to construct the fireplace structure independently, but alternatively, hiring a skilled person to handle the construction is a viable option.
For wood-burning or gas fireplaces, the implementation of a chimney or venting system is important to appropriately direct smoke and fumes away from the area. It is essential to ensure that the chimney possesses the correct dimensions, is constructed from fire-resistant materials, and complies with local building guidelines.
Once the basic structure is in place, finalize the fireplace's appearance by incorporating your preferred materials, such as stone, brick, stucco, or tile. This step not only enhances aesthetic appeal but also safeguards the structure against unexpected weather.
6. Set Up an Outdoor Bar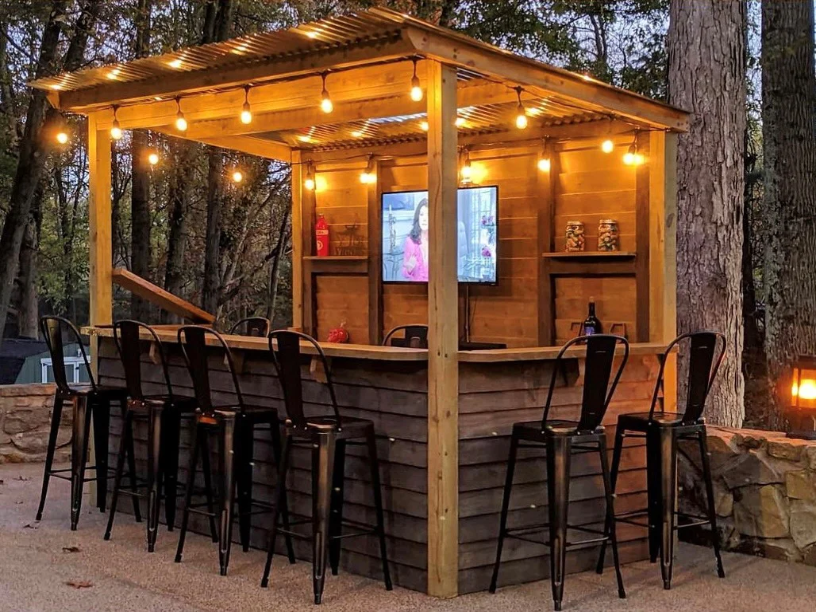 To establish an alfresco bar for your open-air TV arrangement, adhere to these instructions:
Step 1: Layout and Install the Bar Counter
Design the arrangement of your outdoor bar based on the available space and personal preferences. Consider the dimensions and configuration of the bar counter, the number of stools to accommodate, and potential additions like a sink or storage cabinets.
Opt for a bar counter that matches your style and requirements. Various options exist, including pre-made outdoor bar counters, customized counters, or repurposed furniture. Ensure the chosen material is resistant to weather conditions and durable.
Position the bar counter in its designated location, ensuring it is level and stable. If the counter is freestanding, secure it to the ground or a stable surface to prevent shifting or tipping.
Step 2: Adding Accessories
Depending on your needs, consider adding storage cabinets, shelves, or a compact refrigerator to your outdoor bar. These additions provide convenience for storing glassware, utensils, and beverages. Include accessories such as a bottle opener, ice bucket, or blender for crafting drinks.
Install appropriate lighting around the outdoor bar area to create a welcoming ambiance and ensure visibility during the evening or nighttime. Options include string lights, pendant lights, or recessed lighting.
Enhance the aesthetic appeal of your outdoor bar area by incorporating personal touches. This could involve decorative elements like potted plants, outdoor artwork, or a themed sign.
7. Install Outdoor Lighting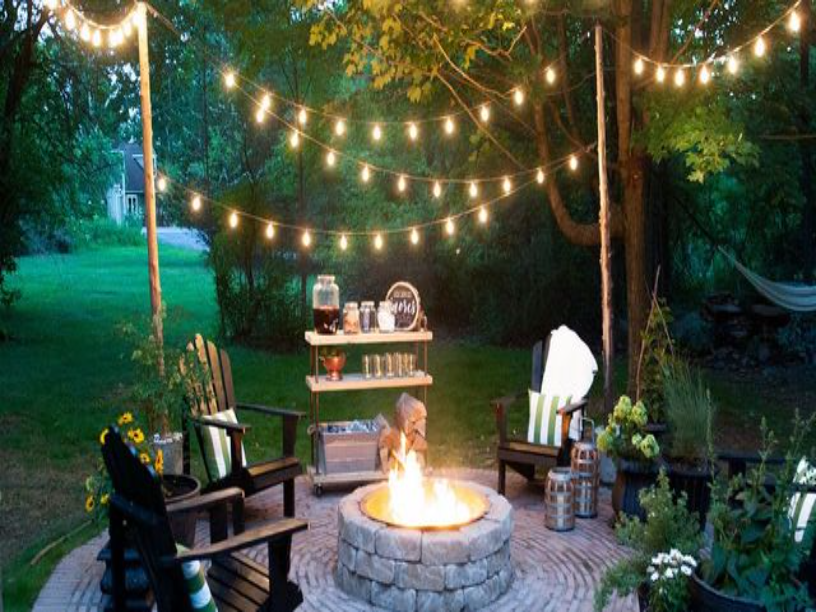 To accomplish the installation of outdoor lighting for your open-air television set up, adhere to these sequential guidelines:
Step 1: Conceptualization of Blueprint
Think of the specific regions necessitating luminosity surrounding your exterior television arrangement. Take into consideration emphasizing the television itself, the seating area, pathways, as well as any other architectural or landscape elements. Decide upon the preferred variety of lighting apparatuses, including affixed wall lights, enchanting string lights, focused spotlights, or illuminating pathway lights.
Step 2: Set Up
In the event that there are pathways leading to your open-air television setup, keep in consideration the installation of pathway lights for safety and visibility. Determine the optimal spacing between each light and mark their designated locations along the pathway. Add a tool to manage the low-voltage wiring connecting the lights to the power source beneath the ground.
In order to focus on specific features, such as a majestic tree or a focal point in close proximity to your outdoor television setup, contemplate the installation of spotlights. Position these at appropriate distances and angles to achieve the desired visual effect.
To promote energy efficiency, you can integrate dimmers or timers into your outdoor TV setup.
8. Create a Themed Outdoor Viewing Space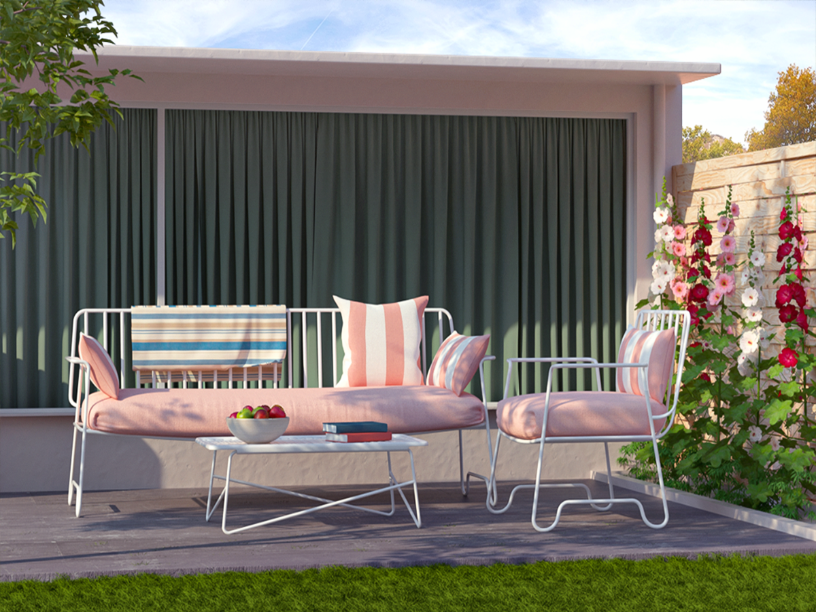 Select a theme that aligns with your preferences and style. Popular options include tropical, rustic, beach, sports, movie theater, or contemporary. Consider the overall atmosphere you want to create and how it fits into your outdoor surroundings.
Determine a color palette that complements your chosen theme. Use colors that evoke the desired mood and ambiance. For example, tropical themes often have vibrant greens and blues, while rustic themes may feature warm earth tones.
Remember to prioritize the comfort of your guests and ensure the TV placement allows for optimal viewing angles. Regularly assess and adjust the space to meet your changing needs and preferences.
9. Design a Dedicated Outdoor Theater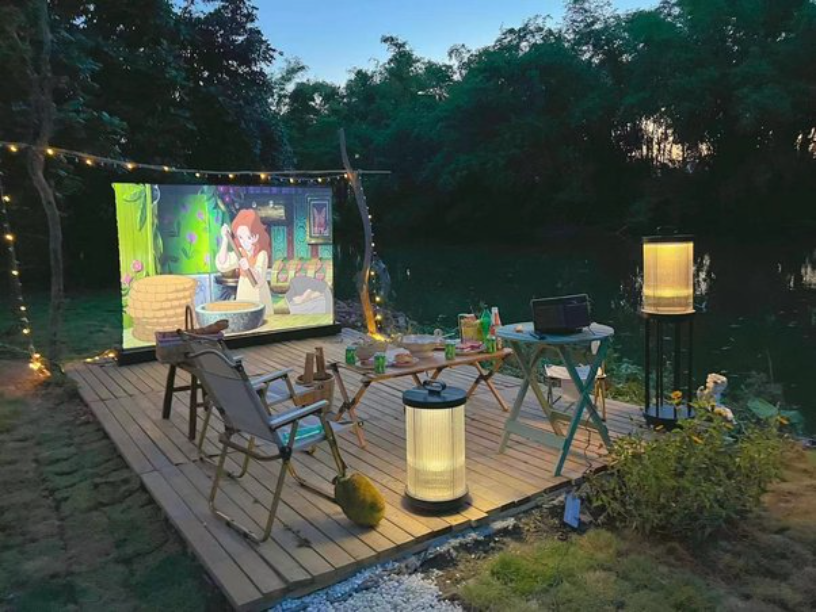 Below is the step-by-step guide to fashioning an extraordinary outdoor theater:
Design the seating to align with your personal preference and the space available in the area. Try different possibilities by arranging the chair in a stadium-like structure or individual chairs with cushions. You can try having a beanbag or even a bed!
Pick an appropriate outdoor projector that has a luminous and clear image. Seek out a projector boasting a high resolution, preferably 1080p or higher, to guarantee visual clarity. It would be great to add a projector equipped with built-in speakers for added convenience, or alternatively, connect it to an external sound system to enhance the auditory experience.
Incorporate snacks and refreshments. Create a charming arrangement by setting up a compact table or a stylish bar cart adorned with an assortment of popcorn, beverages, and delectable treats, ensuring a delightful movie-watching experience.
Immerse yourself in an elevated theater experience by installing a superior audio system. Consider a range of options based on your budget, including a captivating surround sound system, weather-resistant outdoor speakers, or the convenience of a portable Bluetooth speaker.
10. Incorporate Outdoor Gaming/Computer Gaming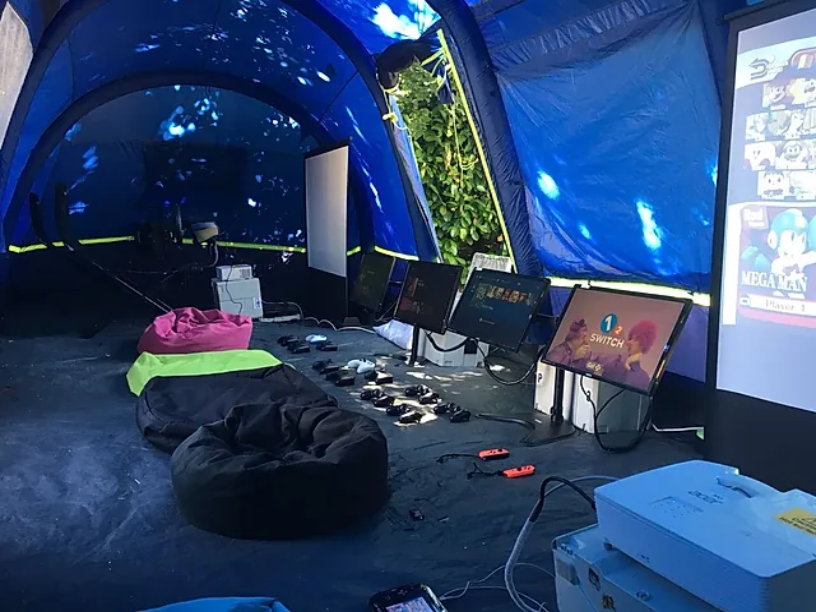 Create an environment of focus designed exclusively for gamers. Enhance the seating arrangements by including gaming chairs and bean bags that give a comfortable experience to the players. This is one of the best outdoor TV ideas for adults and kids.
Add good speakers or give personal gaming headphones or VR headsets that seamlessly merge with comfort, giving the gamers a memorable experience.
Many more accessories can be added for this purpose, including wireless controllers that liberate the player from those traditional wired ones. Ensure the compatibility of these gadgets with the chosen gaming console or PC, establishing a perfect connection between hardware and software. Moreover, install the charging stations or power outlets in close proximity to the gaming consoles, empowering controllers and other electronic parts.
11. Install Outdoor TV Lift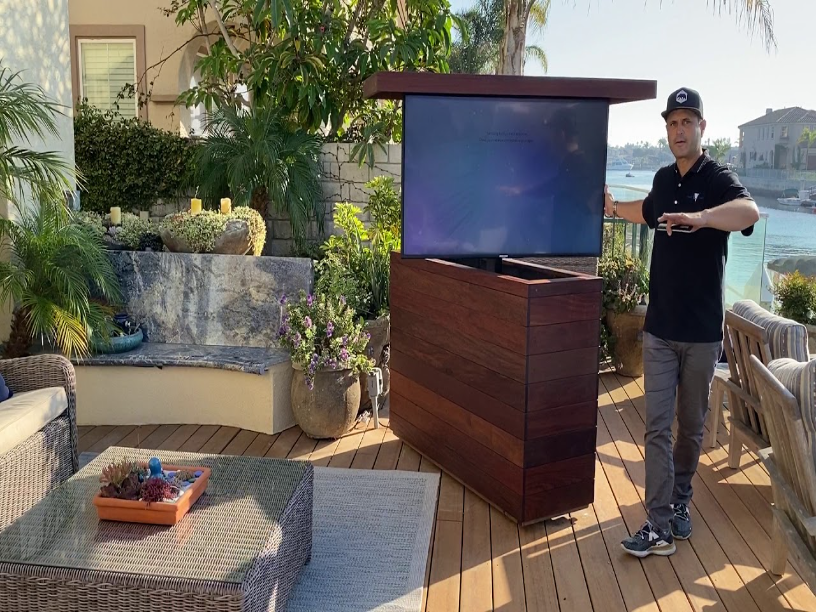 Step 1: Selection
Choose an outdoor TV lift crafted for the explicit purpose of withstanding the outdoor environment. Seek out materials that boast weather-resistant properties and are designed for enduring natural issues such as wind gusts.
Step 2: Setting the Place Before Installation
Consider optimal positioning for the TV lift, taking into account many the factors such as visibility, effortless accessibility, and seamless integration within the outdoor TV setup. Assure ample support has been added to set this TV up for enjoying without any mail functionality and fear of damage.
Step 3: Installation
Adhere to the manufacturer's step-by-step guidelines to fasten the TV lift to the designated mounting surface securely. Use suitable screws or bolts to guarantee a steadfast and unwavering installation, leaving no room for compromise. Verify the levelness and precise alignment of the TV lift, ensuring a symmetrical and harmonious connection with the surrounding.
12. Create an Outdoor TV Cabinet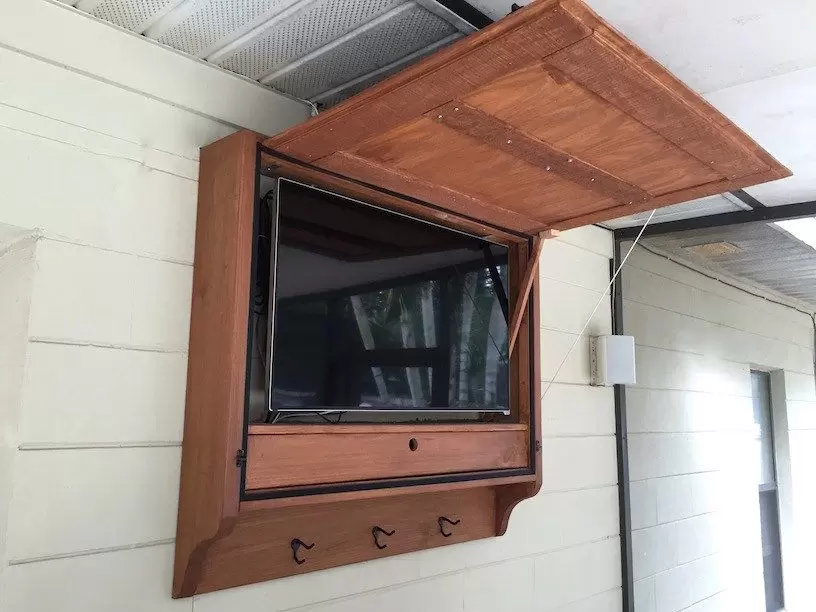 To create the outdoor TV, Cabinate, follow the below steps.
Step 1: Designing and Selecting Material
Start by crafting a blueprint and arrangement for your television cabinet. Make all the required measurements, such as television dimensions, desired storage capacity, and style. Draw the cabinet's size and appearance, which will act as a guide for you.
Have appropriate material that can withstand open-air challenges. Choose weather-resistant material such as waterproof plywood or high-density polyethylene (HDPE). Ensure that the chosen materials can withstand prolonged exposure to sunlight, moisture, and the ever-changing atmospheric temperature.
Step 2: Assembling and Cable Management
Initiate the process by constructing the foundation of the cabinet and joining the lateral and lower panels using corrosion-resistant screws or nails. Firmly fasten other panels to establish the structural framework, making an opening for the frontal entryway to access the panel.
Incorporate selves within the cabinet to accommodate media apparatus, cables, and supplementary components. Give enough room for effective cable management by integrating strategically positioned apertures, providing systematic routing of cables.
13. Add Rugs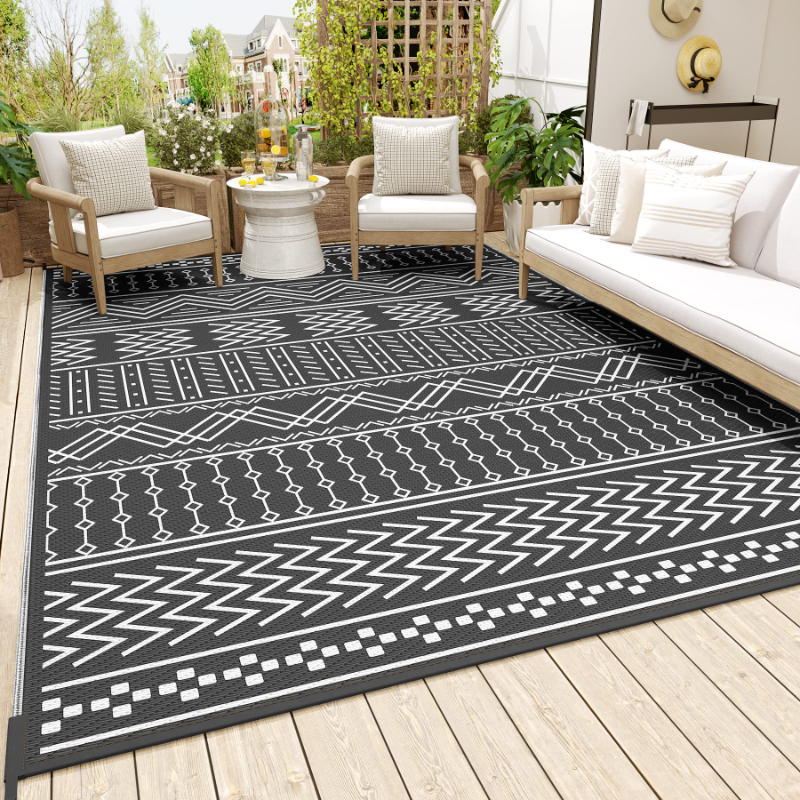 This might be an unpopular opinion, but setting the rug outside can give a premium appearance to any scene. Here's how you can select a perfect rug for the outdoors without worrying about any damage to them.
When selecting rugs, it is advisable to choose those crafted from weather-resistant substances like polypropylene, polyester, or synthetic composition. These materials are specifically designed to endure the various outdoor elements, including rainfall, sunlight, and dirt.
Before making a decision, it is crucial to calculate the dimensions of the designated area where you intend to position the rug. This step ensures that you opt for the appropriate size that perfectly matches the space. Additionally, take into account the shape of the area, whether it adheres to a rectangular, square, or circular layout. Outdoor rugs are available in multiple sizes and shapes, giving you the freedom to select one that precisely fits your unique requirements.
It is vital to choose a rug that matches your outdoor furniture and the overall theme of your decor. Take careful consideration while choosing the colors, patterns, and textures that will seamlessly blend with your existing design elements, including pillows and outdoor accents. This thoughtful approach ensures a visually appealing aesthetic for your outdoor space.
Final Thoughts
Take your backyard entertainment to amazing heights with these extraordinary outdoor TV ideas. Start by installing a premium-grade, weatherproof outdoor TV and firmly affixing it for optimum viewing pleasure.
Set the viewing angle by opting for a TV with intensified light and anti-glare technology while thinking about the integration of shading solutions to ensure clear visibility. Add the ambiance with the inclusion of weather-resistant speakers for outdoor surround sound.
For enhanced comfort, establish a retractable canopy that has UV protection. Design your backyard into a beautiful area by adding elements such as a good fireplace, a specially designed bar counter, and bright outdoor light. Furthermore, if you need a pool, grace it with a poolside TV crafted for outdoor.
These inspiring ideas shall enable you to improve your moments with your loved ones!