If you live in a tiny house, you are already doing the toughest task while managing the storage space to create. You struggle to find the perfect storage and house interior ideas to help you make your simple tiny house interior beautiful and organized with more and more space to walk and move around.
What's worse is when you have the perfect room sizes, but when you think about creativity, you struggle to manage the storage, especially if you have a large family and more accessories and decor items.
And you find it hard to manage everything in the simple tiny house interior and rooms while maintaining the aesthetic and beautiful house vibes. No worries! We have compiled this post to help you get the most out of your tiny home creativity and storage.
We have curated this list of 21 creative ideas for your simple tiny house interior design and creativity for more visually appealing and organized tiny homes.
We have covered from the pocket doors to hanging swings, from mounting the tv to hiding it, and much more.
1. Pocket Doors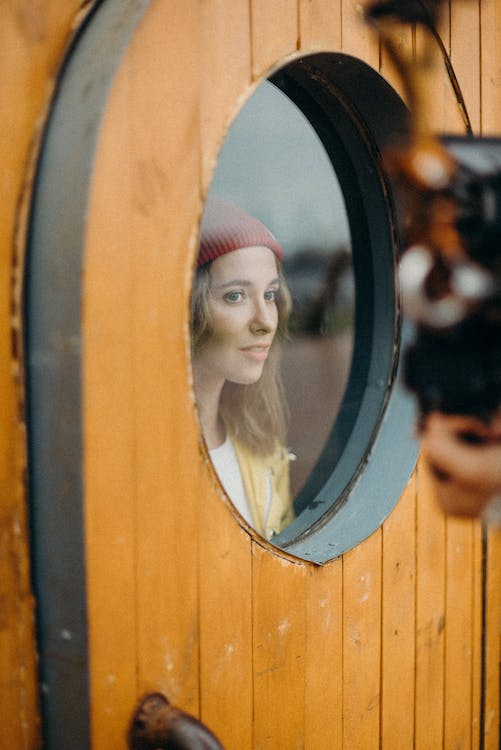 If you want to bring more light to your tiny home, pocket doors are the way to start. Use glass windows to seal them. They are a good way to create partitions in the room while occupying minimum space.
These pocket doors can slide into the walls, which helps to create more space compared to the swinging doors. You can install the pocket door from the main door of your home with closed sealing and unbreakable glass material to the door for each room.
2. Divide Your Rooms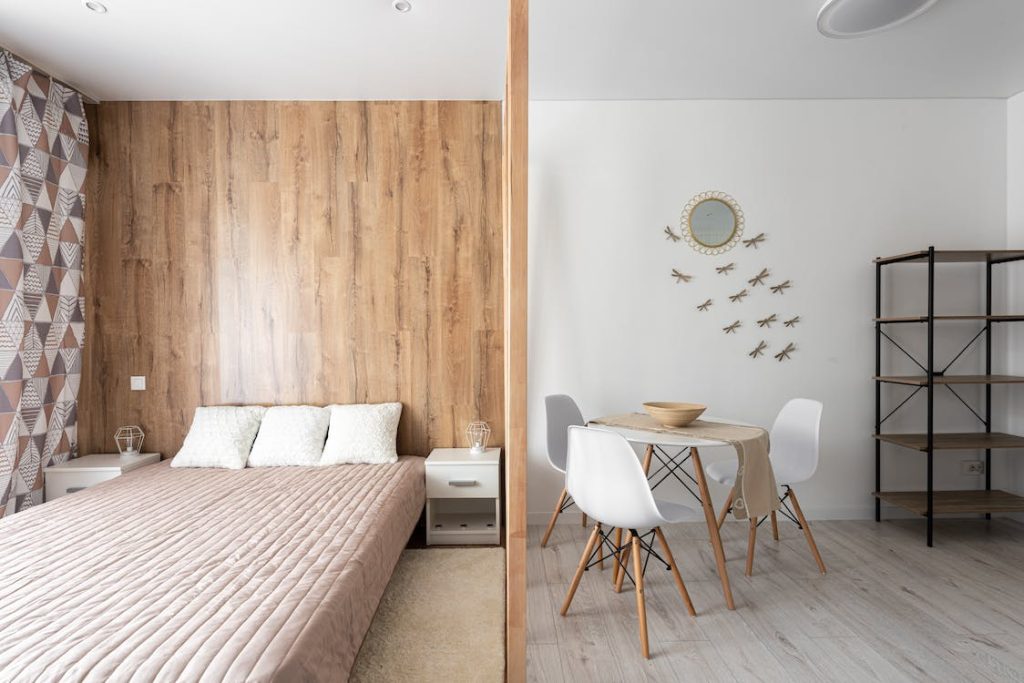 If you don't want to create specific rooms for sleeping, playing, and entertainment, dividing your room is a good choice. You can convert a single big room into two to four depending on your requirement and the activity for which you want to divide the room. Traditionally people used to install curtains to divide the rooms.
In modern trends, you can use footboards or tall headboards to create an illusion of separate rooms. For instance, you can install a few taller footboards in one big room to divide the living space, restroom, reading nook, and entertainment zone. You can do the same with your kitchen and dining room. Dividing rooms with footboards is affordable, and users can always move to pull them out or move them according to their space requirements.
3. Add a Wall Gallery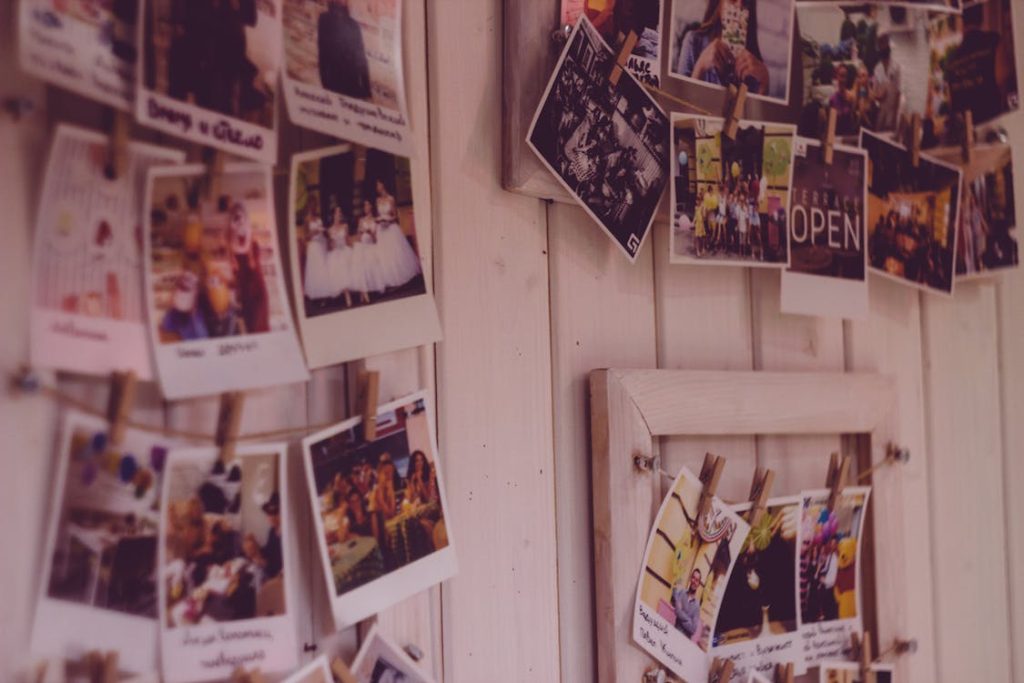 If you want to make your tiny space bigger despite its construction into a smaller area, then art is a great way. Add an art gallery wall to your outer room or each room, which is used frequently for guests.
Covering the full wall with the art gallery creates the illusion of a much bigger room. Covering the full wall with ready-made art can be expensive, but you can use fewer art pieces or prepare it DIY to make it more affordable.
4. Large In Small Space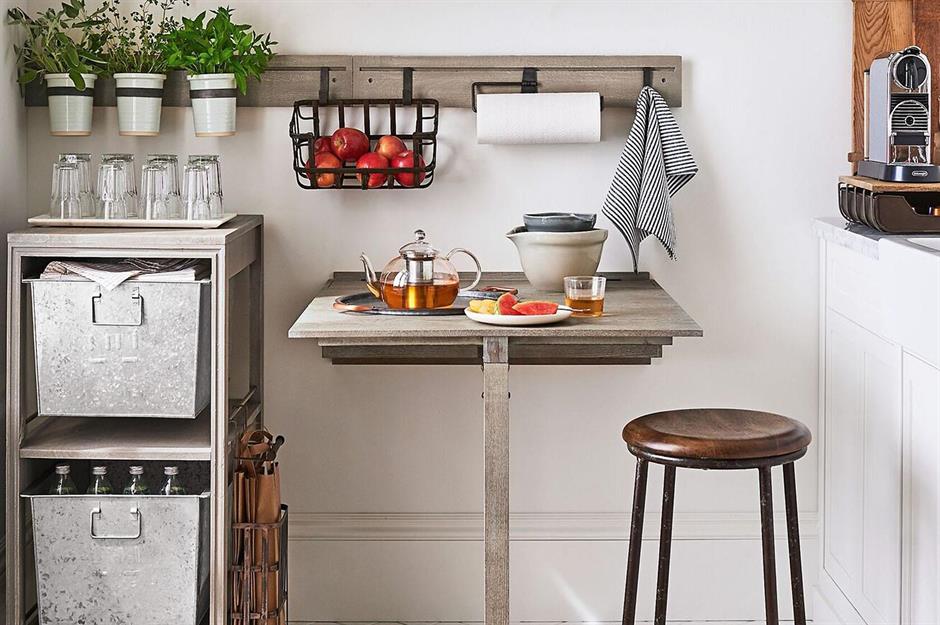 Living large in a small space is a good theme if your home is smaller and you want more free space. You can use vertical and organized storage that provides more floor space to adjust other things. Get creative with the open cabinets and hanging ideas. Use slimline appliances and shape-shifting furniture.
Use the wall-mounting slimline horizontal drawers with hangers to help you put big baskets in the air to save more space. Use tables with slimline bases and broad top counterparts as dining tables or arrange the basic kitchen utilities.
Use slim stools instead of big chairs or sofas to create more free space. You can adjust the maximum stuff and things in one room without categorizing a specific room for different things.
5. Hide the Utilities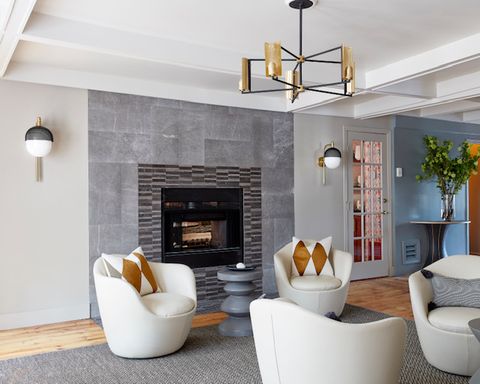 If you want affordable creative ideas to brighten your room, hiding the utilities is great. To make it an aesthetic small little home, use curtains and draperies for more creativity. Cover the pipes and other visual chaos that affect the beauty of a room or home with drapers and wallpapers.
Use the curtains the hide the utilities and storage stuff. The curtains are the simplest and easiest way to get creative and decorate your room. To create more space, you can also hide the big utilities that are light in weight in the ceiling.
For instance, you can store lightweight blankets, pillows, and cushions for another season's use in the ceiling and cover them with ceiling drapers. This idea will help you store more in small rooms and be affordable. On the other hand, you can also shift the slim and long things under your bed. This hiding utilities idea is a great way to store and hide big slim utilities.
6. Stack Drying Racks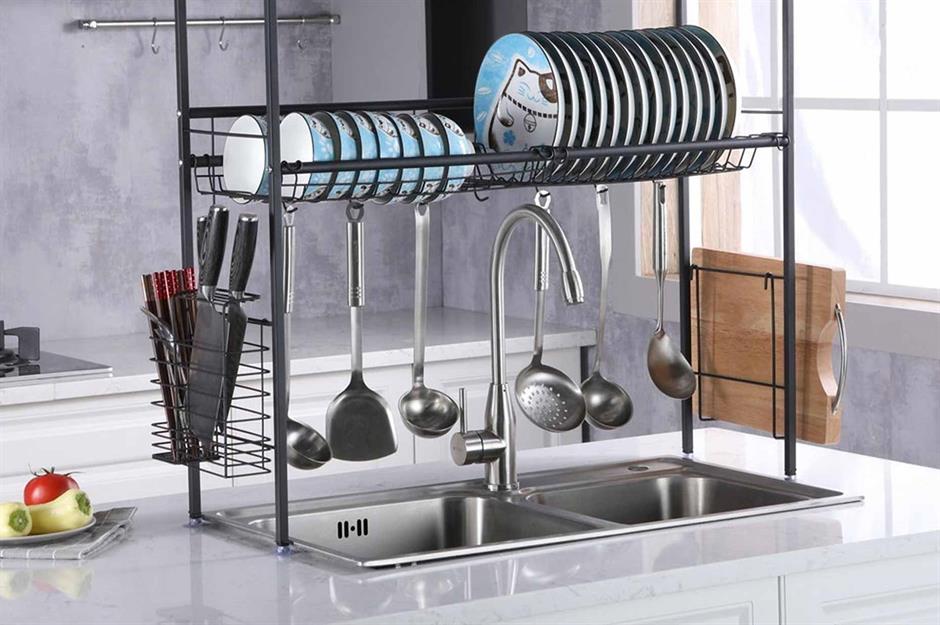 If the kitchen is smaller and you want to store maximum kitchen utilities, stack drying racks are a good fit for you. Use vertical drying racks with multiple units to store the maximum utensils.
You can install the stack drying rack above the sink so that you have more than enough space to use the sink, wash the utensils, and your hanging utensils with the drying rack stay enough above the sink.
This stack rack is a perfect storage idea as well. You can utilize stack racks to store kitchen utensils and regular usable items like pans, baskets, knives, large spoons, and much more.
7. Hang a Swing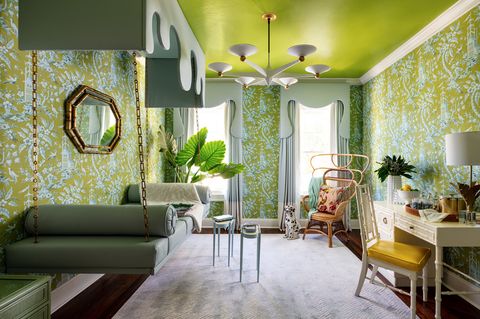 Adding the hanging swing is a great way to make your simple tiny house interior full of utilities and fun options. A hand swing does not cover the floor space, giving the vibes of more open space and the visualization impact of a larger room. This hanging swing serves two purposes, sitting and fun.
You can use the hanging swing instead of a sofa, table, or chair set. For creativity, select the color of the hanging sofa according to the color of your room wall, like this hanging swing room designed by Nickolas Sargent.
If you want to add more fun and make more space, you can use a bigger hanging swing, which comes like a swinging daybed. So you can also replace the bed with this swinging daybed to make your room wonderful and create the illusion of more space.
8. Double-Duty Furniture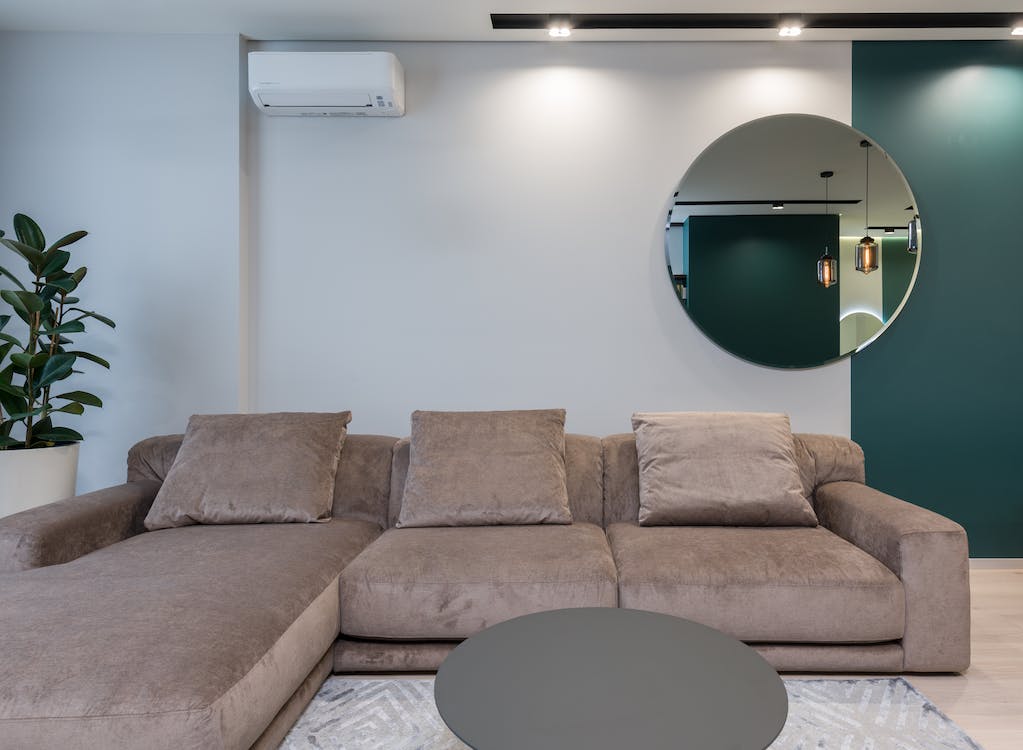 You can use a few big pieces of furniture as double-duty furniture to create real space in your tiny house interior. It will not only help you to organize things in a small space, but it will also help you to roam around freely in your tiny home like it is big. Use sofas that can be double-down as sleeping beds.
The top bed surface seamlessly fits in the back side of the sofa, looking for a thick and heavy sofa set. During the net, you can always pull it outside and use it like a bed by placing the bed cushions. You can also use the sofa that doubles as the bed and seamlessly fit into the wall to make it easier to convert them into each other.
9. Maximize Shelving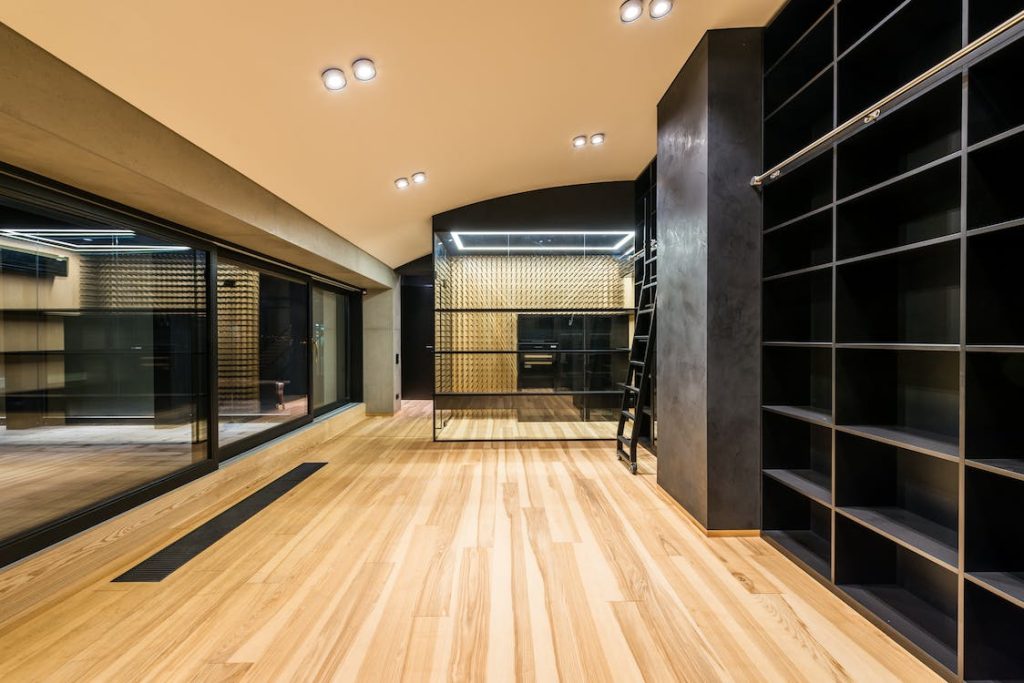 If you want to double down the rooms and space, you can use the idea of maximum Shelving. Use the lower shelves and cabinets to set the kitchen and other big accessories. Use the bookshelf to organize the books and small accessories.
You can double down one room as a dining room and storage room to make the most of the simple tiny house interior. Use the colors to make a greater impact on creating a large space. Use neutral colors on the floor and ceiling, darker shades on the shelves, and dining tables and chairs.
10. Movable Storage Simple Tiny House Interior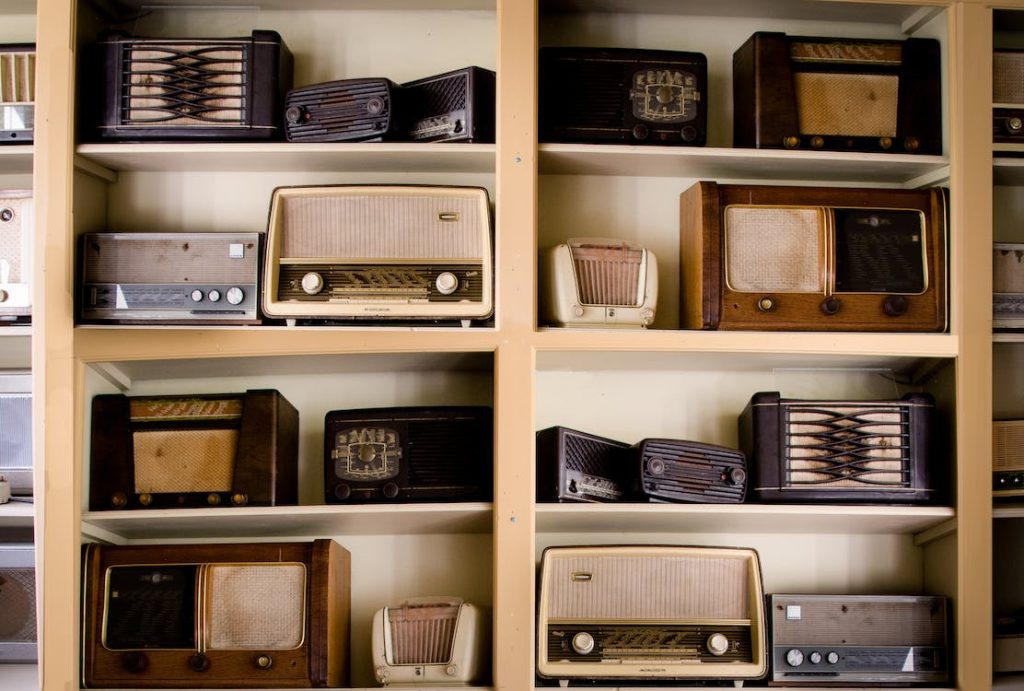 If you don't want to spend enough money mounting and fixing the shelves to store the utilities and other home utilities, portable storage is for you. It is affordable, and you can easily move the storage stuff from one place to another when needed.
Use big racks to place the big baskets and create stable and sturdy cabinets. Now you can use baskets and boxes to store your things and organize them in the cabinets and racks. For plants and lightweight utilities, you can use movable racks with wheels so it will be easier to change their positions according to the requirements.
11. Mount or Hide Your Tv
If your room is small, and you have a TV or media entertainer, mounting them is a great way to create more space. Mount the TV on the room wall instead of a complete TV shelf. The mounting will not only help you to make more space in the room, but it will also help you to make your TV stable in one place and easy to move around, especially when there are kids in the home.
A cabinet is a great choice if you want a safer and more stable place for your TV. It is a much safer option if you do not want to risk mounting your costly TV in the wall, especially if the room wall is older and thinner.
So place the TV in the cabinet which can be closed and hide it when needed. You can keep it in the art display room, dining room, or where most families gather and spend enough time making more space in your tiny house interior.
12. Make Most of The Dead Space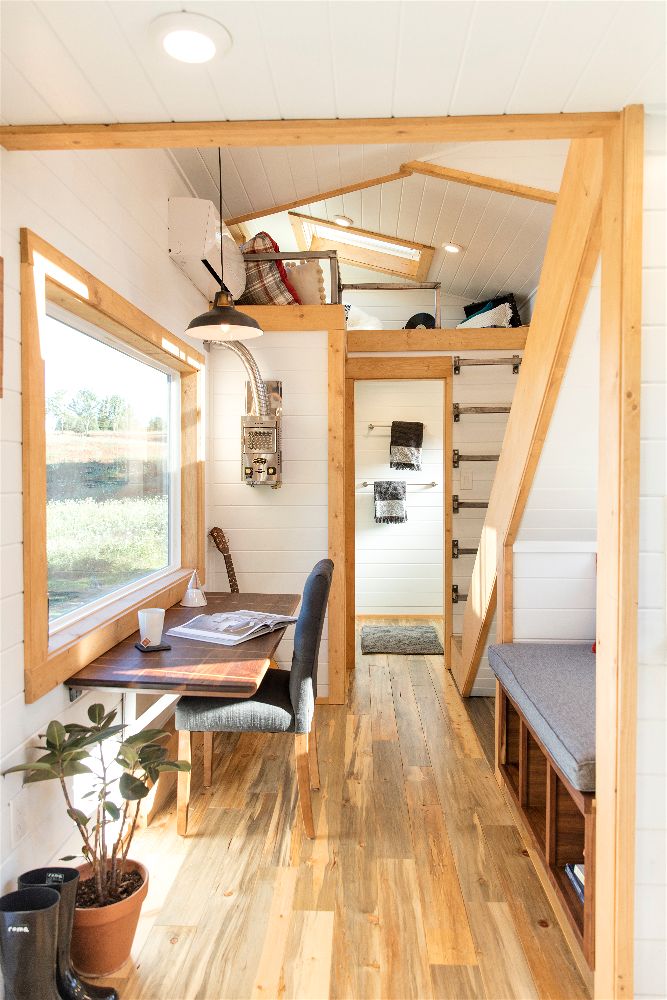 You can always use dead space areas like a secret storage area under the stairs roof or other things built on a height to create more space in a simple tiny house interior. They are often left unused because the surface is sloppy.
So you have to personalize and customize the furniture and doors according to the space. They are a good idea to store maximum, and the best thing is people don't often notice the seamless furniture installation in the dead space.
13. Use Mirrors In Simple Tiny House Interior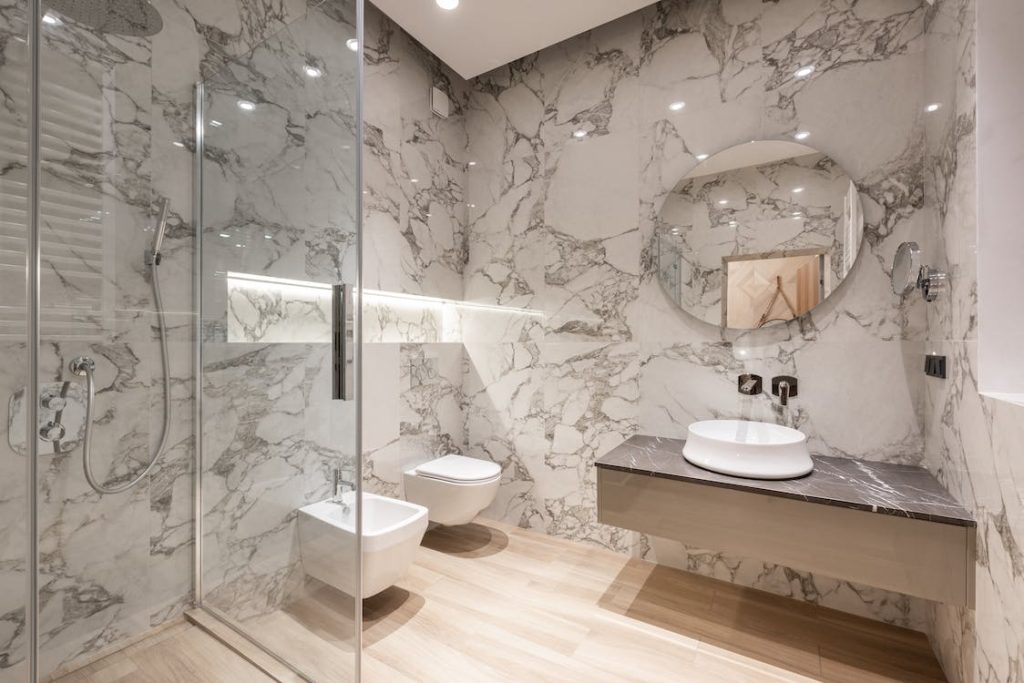 If you are looking for conventional ideas to brighten up your room and create more space, then mirrors are a great choice. You can double the room space of your simple tiny house interior with a full-size mirror on one complete wall. If you want to get creative, use the designed frame outside the small mirror that can look like an antique piece accessory and mirror glass that creates more space for your room.
You can use round, oval, or rectangle mirrors according to placement and mounting. Use can also cover the center cabinet with a mirror to create a glass island in your room, making it much bigger. If you want sturdy and more creative ideas, you can use mirror tiles on your room walls to make them bigger.
You can install these mirror tiles from the kitchen to the bathroom or entertainment room. This mirror idea will also make your room vibrant and shiny. So avoid using it in your bedroom or sleeping room, as it will disturb the sleeping cycle.
14. Neutral, Simple Tiny House Interior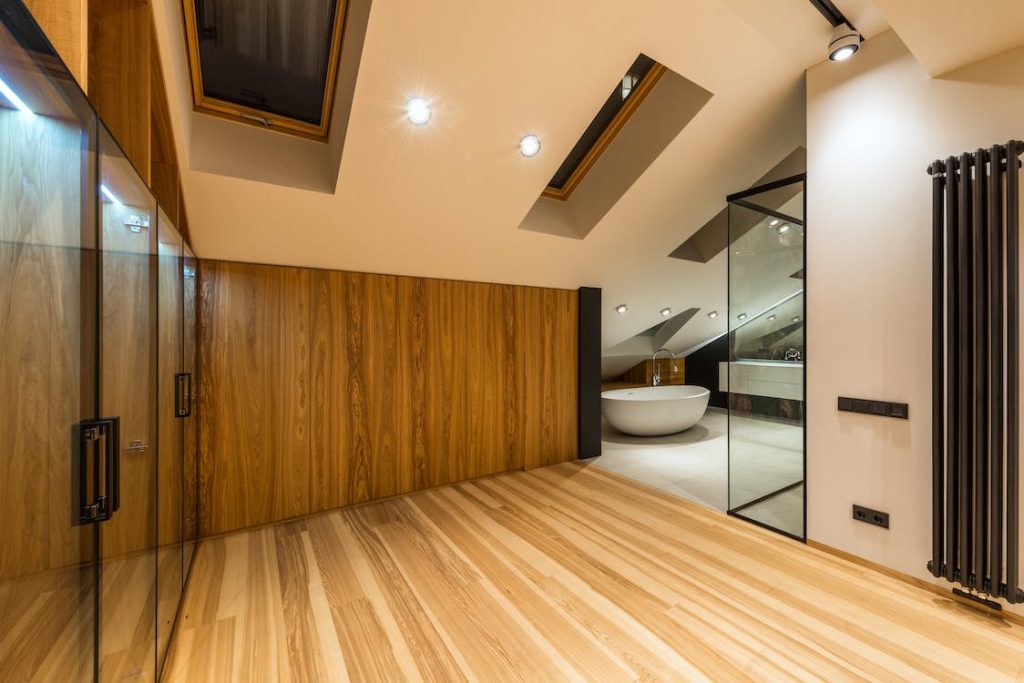 Colors are important in creating a room's overall look and home. They can create the false impact of smaller and bigger rooms according to the shades and combinations. Calm and Even tones of colors create this false impact on the eyes that the things are bigger and more spacious than the original ones.
So paint the small room walls with calm neutral colors like tan, cream, and beige to make them more spacious. To add more creativity to your small rooms, use the textures to mix up with the colors so that they don't turn out to be boring or flat in visualization.
15. Layer up The Furniture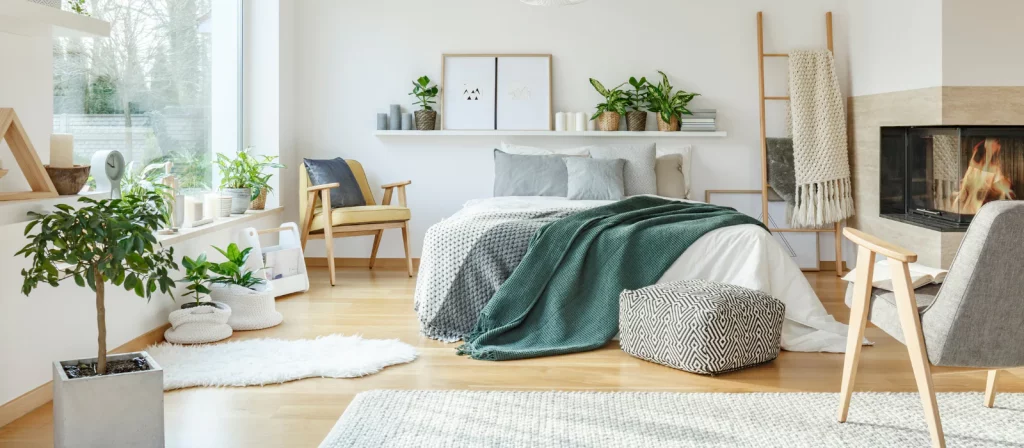 If you want to store a maximum in one room where the reading nook and sleeping room are in one, then this idea is for you. Organize your books in the vertical bookshelf and big utilizes on the bottom shelf. Hide the lower part by covering it with the help of your bed.
Make sure you leave some space so that you can comfortably pick up the books and other items.
You can place the cushions, bed covers, pillows, blankets, bedsheets, etc., on the lower shelf when not in use or according to your requirement. It will help you make more space and cover the unnecessary things beautifully and seamlessly.
16. Bus Simple Tiny House Interior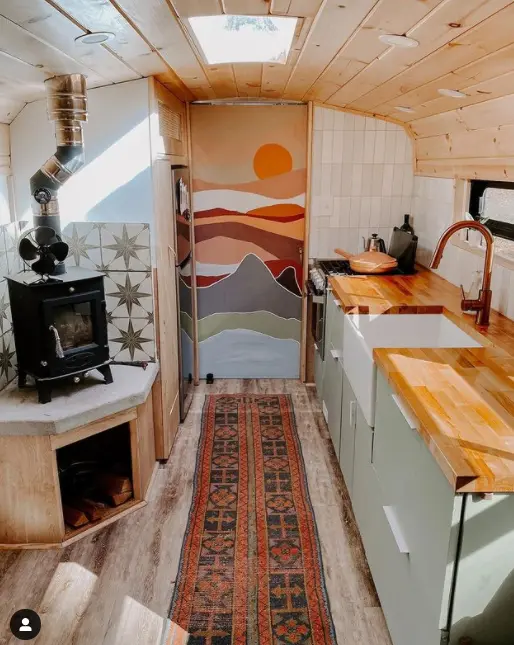 A tiny bus house is a good idea to create a new tiny home. You can paint the cabinetry with different colors to make it bright and vibrant. Wooden furniture can work as storage, and their counterparts can work as sofas and beds.
Install a small functional fireplace, and use the countertop as the kitchen base to place the basic kitchen utilities. This tiny bus home by The Arrow Anglers is a perfect choice if you are a traveler looking for a movable house. If you already have a tiny home, organizing your things and house like this is still a good idea to store the maximum in the minimum space.
17. Convert a Closet
If you are looking for smart storage ideas for your tiny space, a closet room is a good way. Create a new room in a wall closet to convert this idea into reality. Convert the doors into silhouettes to store the clothes and laundry stuff.
Use the multiple hangers to hang the clothes and use drawers to store the small items, from washable items to cleaning ones. You can always create a separate cabinet from the usable clothes to hide the laundry.
You can close the door to hide the mess and store the stuff smartly when not needed. It will save your space and create an organized aesthetic room you do not have to feel embarrassed about.
18. Slim Wall Shelves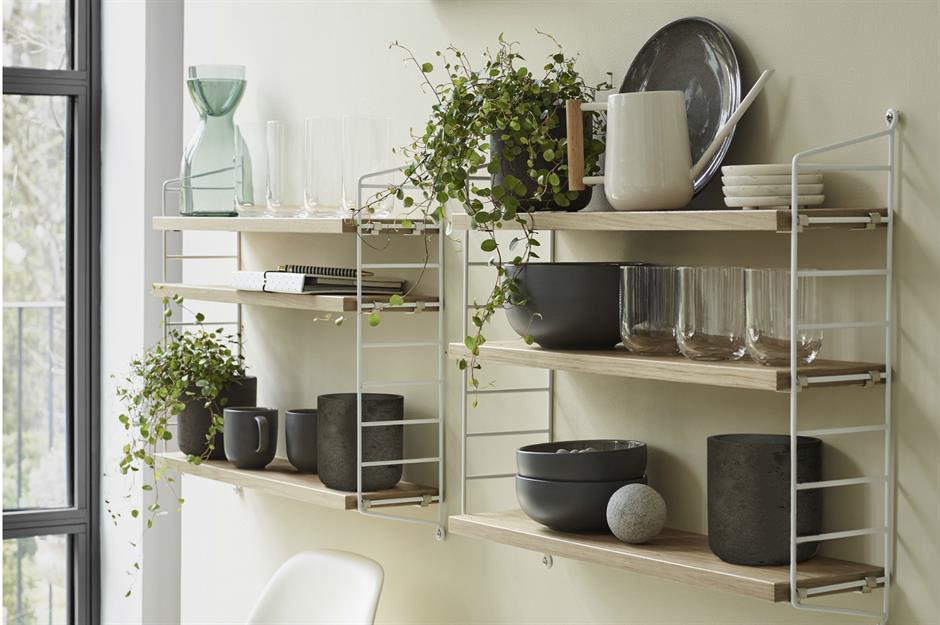 Use narrow vertical shelves to store the top things seamlessly above the floor. They don't consume much space, and you can always utilize the space below them to store other big things and home utilities. Use multiple racks like this by John Lewis to maximize the shelf space and organize the maximum number of items.
You can always hand up items like pans, pots, and big kitchen utensils on the side of mount racks with the hooks installation rod. To create the illusion of a big room, you can mount the racks around the wall corners so that it turns out to be a bigger rack shelf. You can also use slim dishwashers in your kitchen cabinets beneath the stove counterparts.
19. Vertical Planting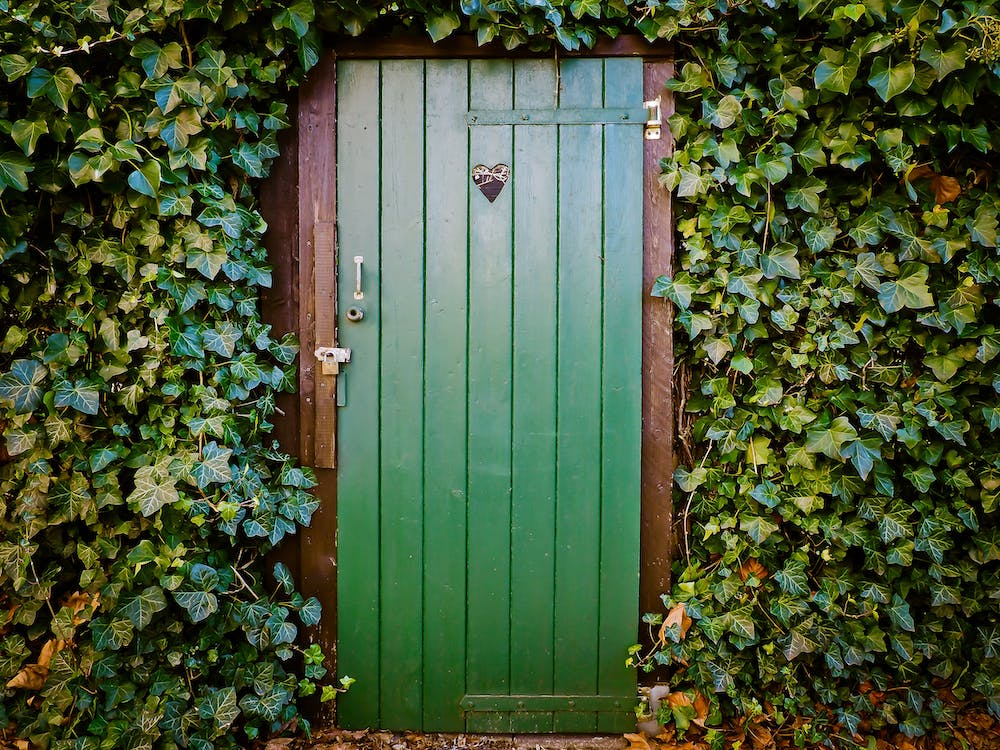 If you are fond of plants and gardening and want to give them a space inside your simple tiny house interior, this creative idea is for you. Use the vertical racks and frames to mount your small garden on the wall to make room for your tiny plants and vines.
This idea will not only make your walls aesthetic and creative but will make them cool as well. You can use this on your balcony or outside the windows of your house.
20. Seamless Scheme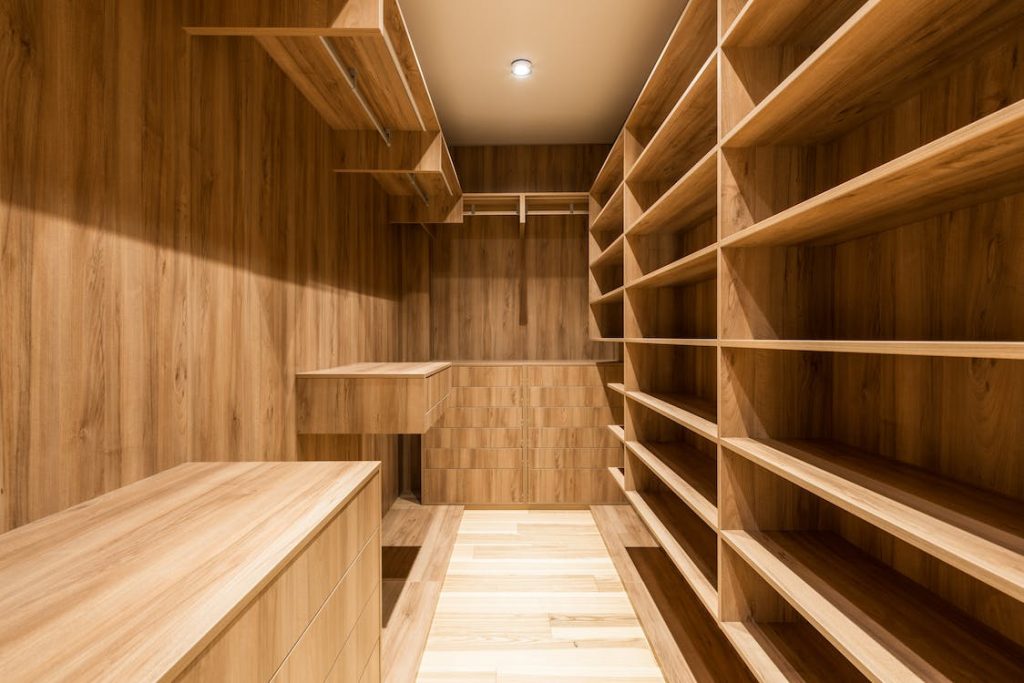 Choose a few color themes of one or two hues throughout the rooms to create a seamless, less scheme in your tiny home. You can mix up dark and light shades of a particular color, like brown or blue.
These hue tones of a specific color create the illusion of less fragmented space in the home, tricking the visitors into thinking the house is big. Hue tones room also give the videos openness and create a seamless sense of cohesion in your home.
While opting for this seamless theme, ensure that the colors seamlessly blend and the room gives a smooth and streamlined finish.
21. RV Simple Tiny House Interior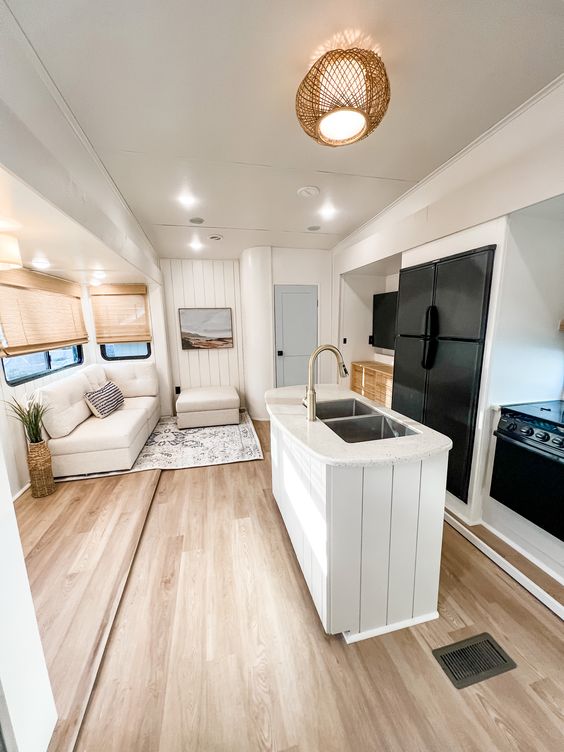 If you want a minimalistic home interior idea, an RV home interior is a good choice. This RV's simple tiny house interior is another movable home that can inspire you to organize your smallest home interior idea; this is for you. You can renovate your simple tiny house interior like an RV upscale retreat.
Give space to the full shelves and furniture for storage purposes. Use long sofas which can double down as storage cabinets and beds. Install a fireplace in the lowest cabinet. Ensure the shelf material is durable enough and doesn't catch fire easily.
Final Thoughts
Every house owner and home lover wants to live in a home with enough space to roam around. And managing the storage for items and home stuff, getting creative with the house walls and colors, and using good ideas are ways to get there.
This blog post showed you 21 creative ideas about simple tiny house interior designs, from adding an art gallery to mounting your TV in the room wall, from maximizing the shelves to doubling the big items to create more space. If you are considering getting help from a professional, connect with one of our professional home interior designers to get personalized strategies or reorganize your home.
If you want more ways about home interior ideas to make your room creative and beautiful, sign up to bet the best strategies direct in your inbox.