The backyards of our houses are often the most neglected spaces. But looking at the beautiful patios and the waterworks in those movies, you might have often wondered how extravagant they make the spaces look. When decorating your home, it is suggested that you pay equal attention to that backyard as much as your kitchen or living room. After all, the outside of the home should be as beautiful as your humble abode.
If you have been looking for inspiration to beautify that backyard, you are in the right space. In this article, we are going to explore several decorative hardscape ideas that will spice your backyards and make your neighbors jealous. Some of our experts have put together this list by gaining inspiration from everything around them, yes, even the movies.
We hope you like it, and this time, you don't just stop at gaining inspiration. Instead, turn them into a reality.
What is Hardscaping?
Any non-living, decorative structure present is known as hardscaping. They are often considered like outdoor rooms. Hardscaping areas in your house help you use the available space efficiently. If you are building your home, make sure to incorporate enough space for hardscaping. Let your home breathe.
While hardscaping your homes, something that is very important to remember is the season when you get this work done, because of the varied structures, they can be hard to build. While some hardscapes might require heavy manual labor, others might need a variety of equipment. Experts say that spring, fall, or mild summers are the ideal time to get hardscaping done.
Hardscaping Ideas to Renovate the Backyard
While hardscaping can have its own set of challenges, when done efficiently, it can give your home a makeover like never before. If you are planning for Backyard Hardscaping, here are some amazing ideas that can save you some research time:
1. Stone Patio with a Bench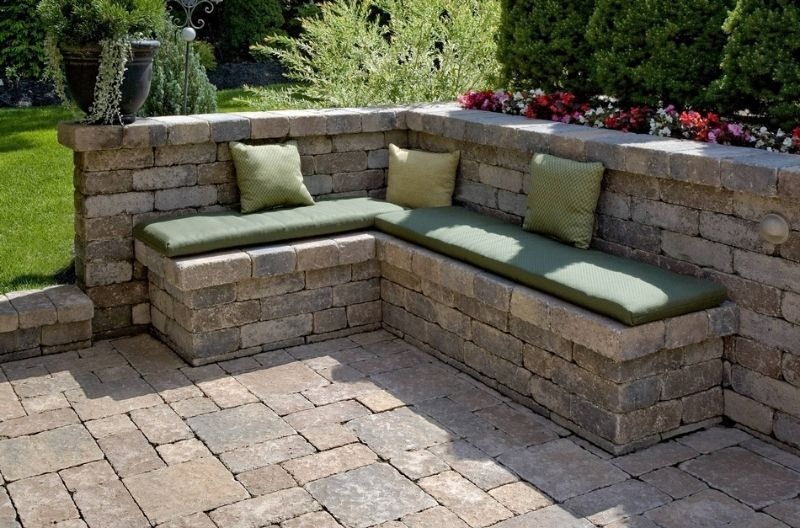 While the stone patio will give a rustic, Mediterranean look, the benches make it more useful. This backyard hardscape idea makes the summers and springs even more enjoyable. Stones blend perfectly with the nature around, and using them for that patio adds to the aesthetic appeal. Stones are low-maintenance, water washable, and can serve you for a lifetime. Install them once and enjoy their beauty forever. Make sure to place the benches carefully. They should not hinder the walkable area, nor should they make the patio look cramped. Whether you want to enjoy a long day alone or sit back and relax with your friends, this hardscape idea is cost-effective, long-lasting, and adds the beauty your home deserves.
2. Wood Deck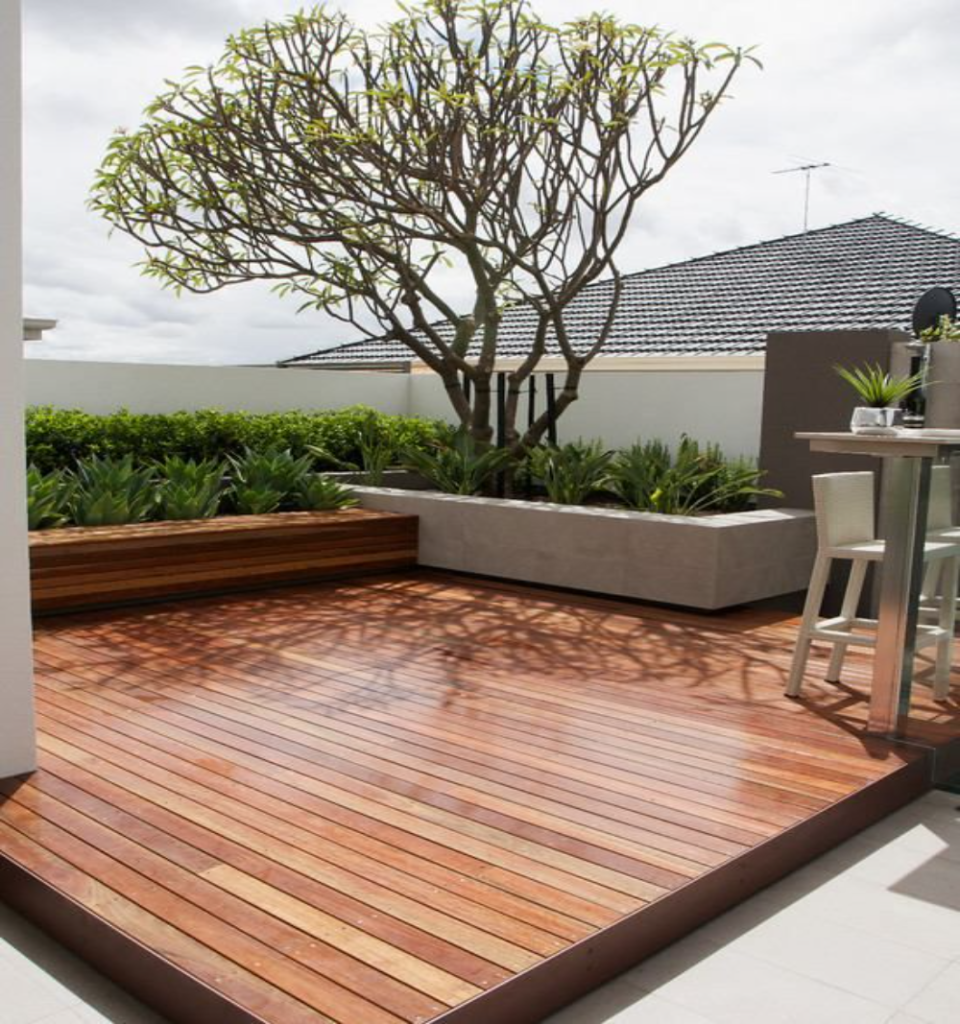 We can think of nothing better than wood to make your house a home. Being in use for decorative items for centuries, this wooden deck is ideal if you want to add a sense of warmth to that backyard. When inviting guests over, we are certain that you want to make them feel at home. You can never go wrong with this hardscape idea. The modern wooden decks are functionally better and make space for a sleek entertainment area. What makes the wooden decks an ideal backyard hardscape idea is the fact they give way to a natural transition from the interior to the exterior. It increases the usable space available and makes the area look larger than it already is. Wood is available in a lot of architectural styles and tints. Choose wisely for a timelessly elegant look.
3. Underlit Steps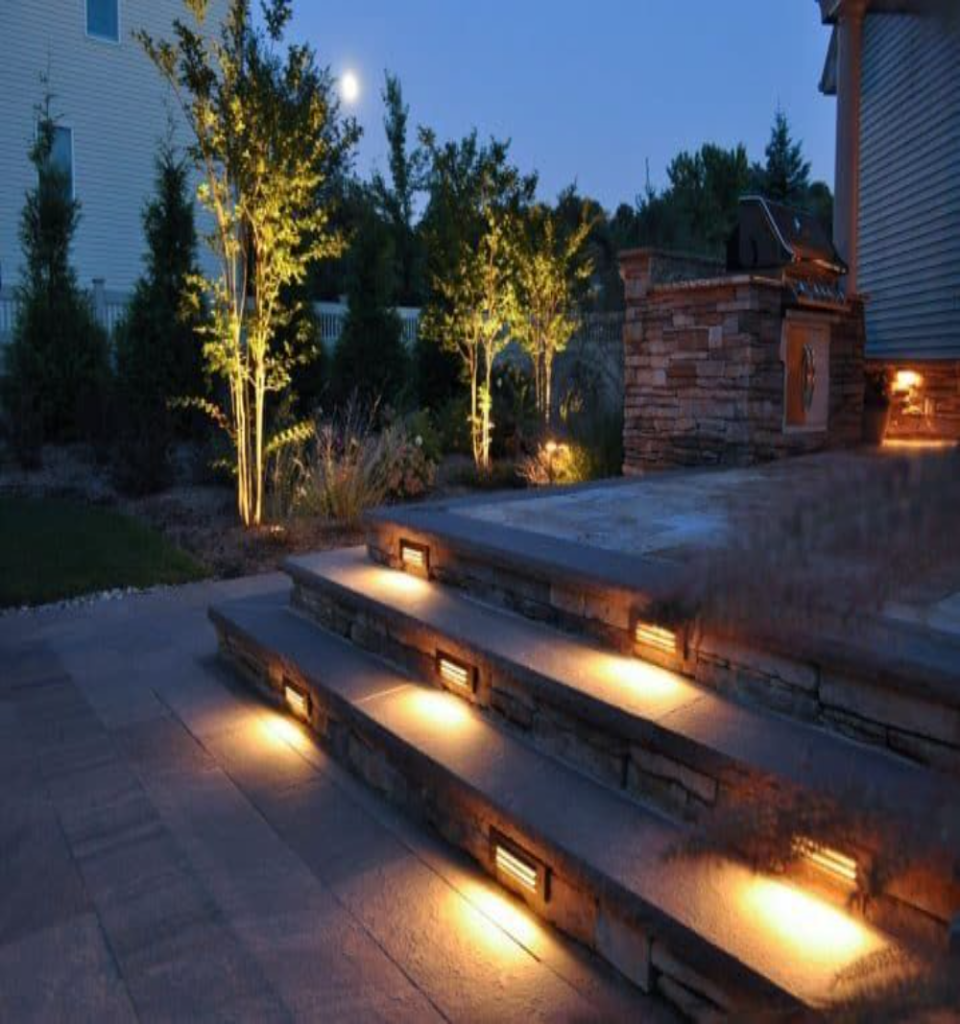 This hardscape idea serves right, especially for homes that have a garden in the backyard. Creating a differentiation between the home and nature, the underlit steps enhance the look by many degrees. Our experts suggest not building a railing by the steps and giving them an asymmetric pattern. One look at the gorgeously lit step and everyone is bound to fall in love with your idea (Thank us later, maybe)! Add a beautiful ambient light and visual effect to these steps with subtle lighting fixtures. One of the common errors that many make while adding the underlit steps to the backyard is the use of extremely bright light. Make sure to keep them subtle and elegant. From stone to concrete or timber, you can use a variety of materials to create these steps.
4. Firepit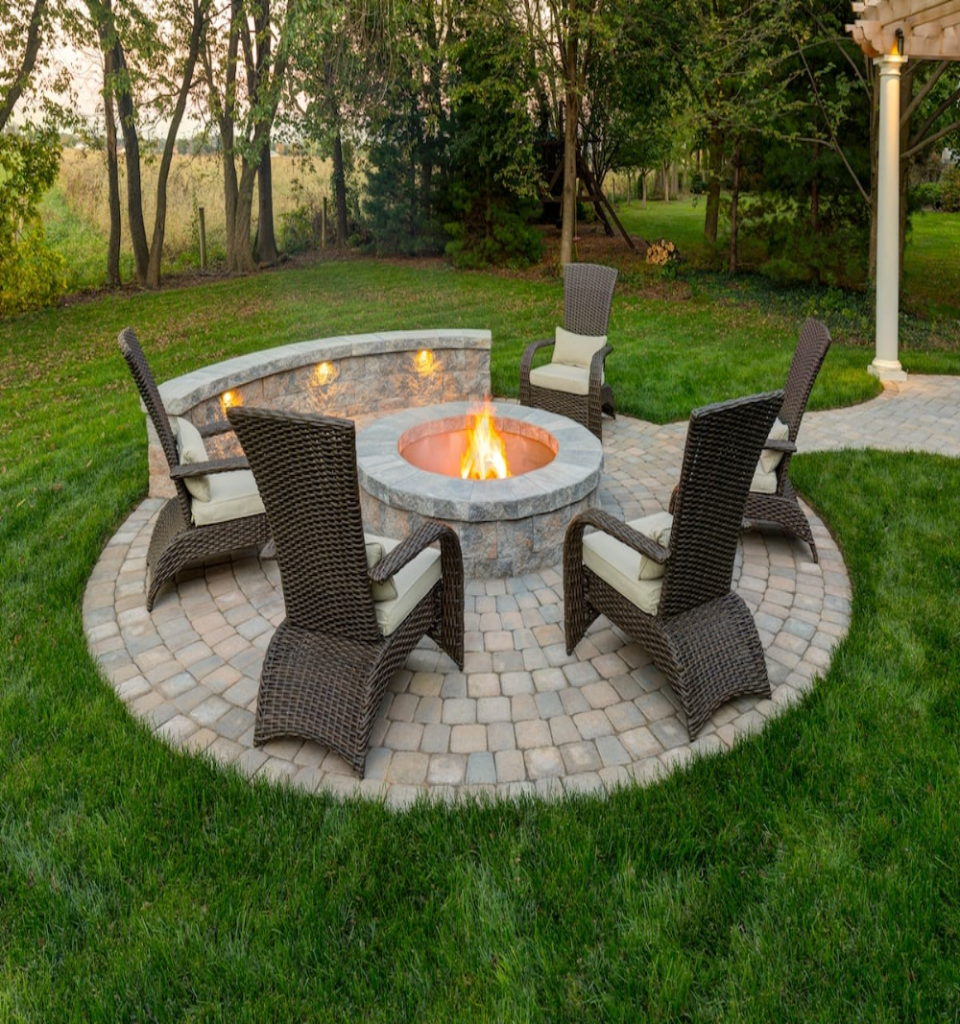 While many think that a firepit is usable only during cold weather, our experts suggest otherwise. After you have set up a fire pit in the backyard, make sure to add a removable countertop to it. Add a few comfortable chairs around it, and you have a great place to hang out with your friends or by yourself. The firepit then serves as a center table to keep those teapots or wine glasses. A firepit is often associated with a relaxed ambiance, hence adding this makes it ideal for sharing quality time with your loved ones. During the winter, this place can provide much-needed warmth under the starry skies and make every moment memorable. If you are thinking of a not-too-expensive addition to that gorgeous backyard, choose this hardscape idea.
5. Front Wall with Fence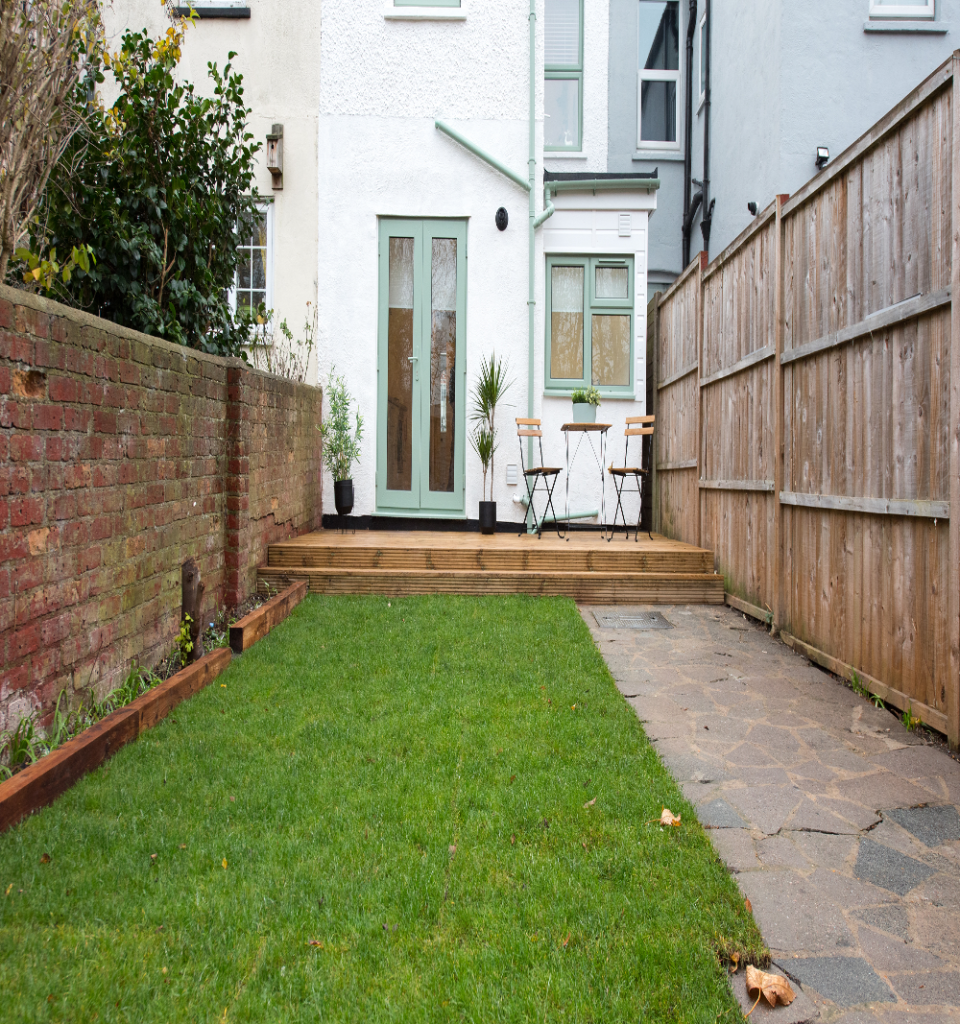 Do you think walls are just for your interiors? Think again. Add a textured wall in the backyard with a fence that separates the interiors from the backyard and your own space from the rest of the neighborhood. You can add an additional gate at the end of your space to create a backdoor entry or for times when you want to lead guests directly to the backyard. Privacy, security, and visual appeal – you get it all with this hardscape idea. This decoration is more suggestible for families with young children. To add a hint of nature to the area, you can plant your favorite trees just by the fence. You can use concrete, brick, stone, or wood for this hardscape idea for elegance. This no longer remains just a decorative piece but is also a practical idea.
6. Driveway and Sidewalk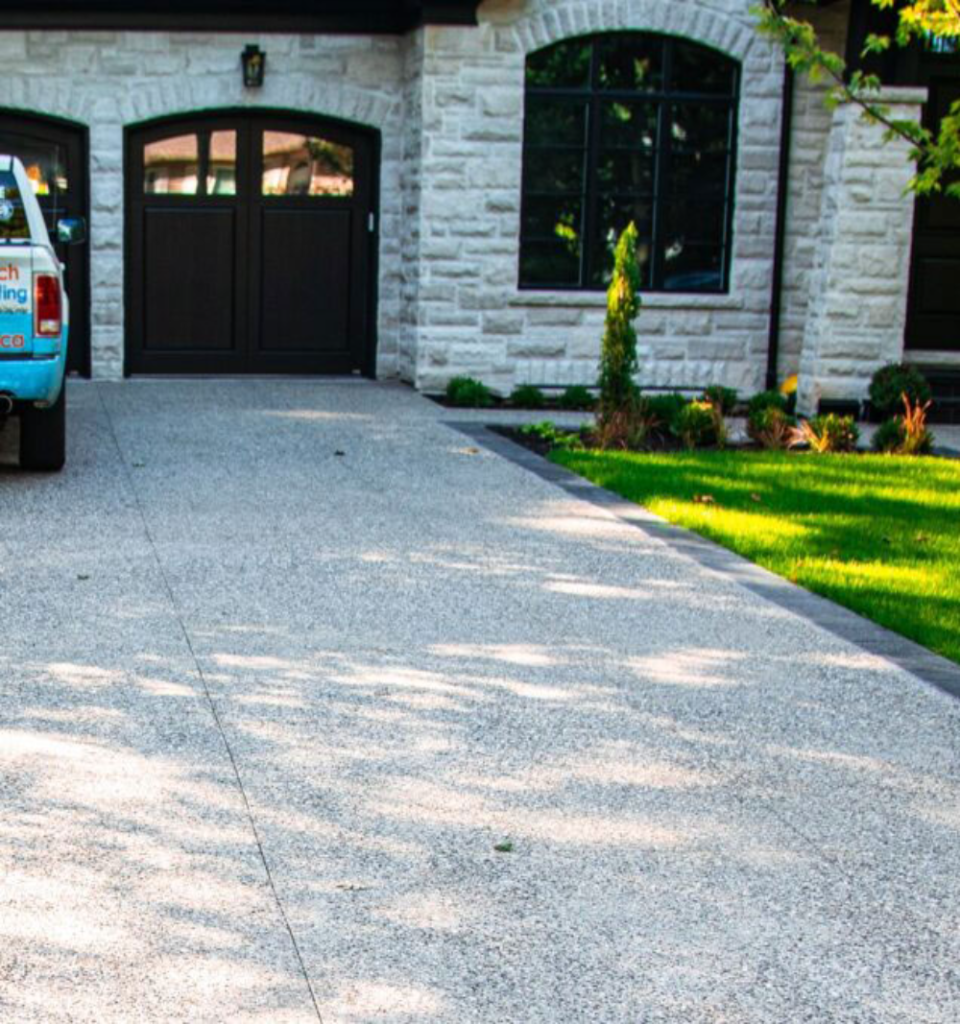 Want a backyard that is straight out of a movie? Look no more. A driveway, along with a sidewalk, integrates your home with the neighborhood path. This is an extremely practical hardscape idea. Give your vehicles a smooth parking area and ensure safety and convenience with the sidewalk. This helps utilize the yard space to its maximum ability. You can choose materials that complement your home well. Plants, lighting fixtures even smaller water features can add to the aesthetics of the backyard. The warm and inviting path from the backyard to your home gives it an additional charm that your guests won't forget easily. Practicality and visual appeal – you get it all with this backyard hardscape idea.
7. Water Fountain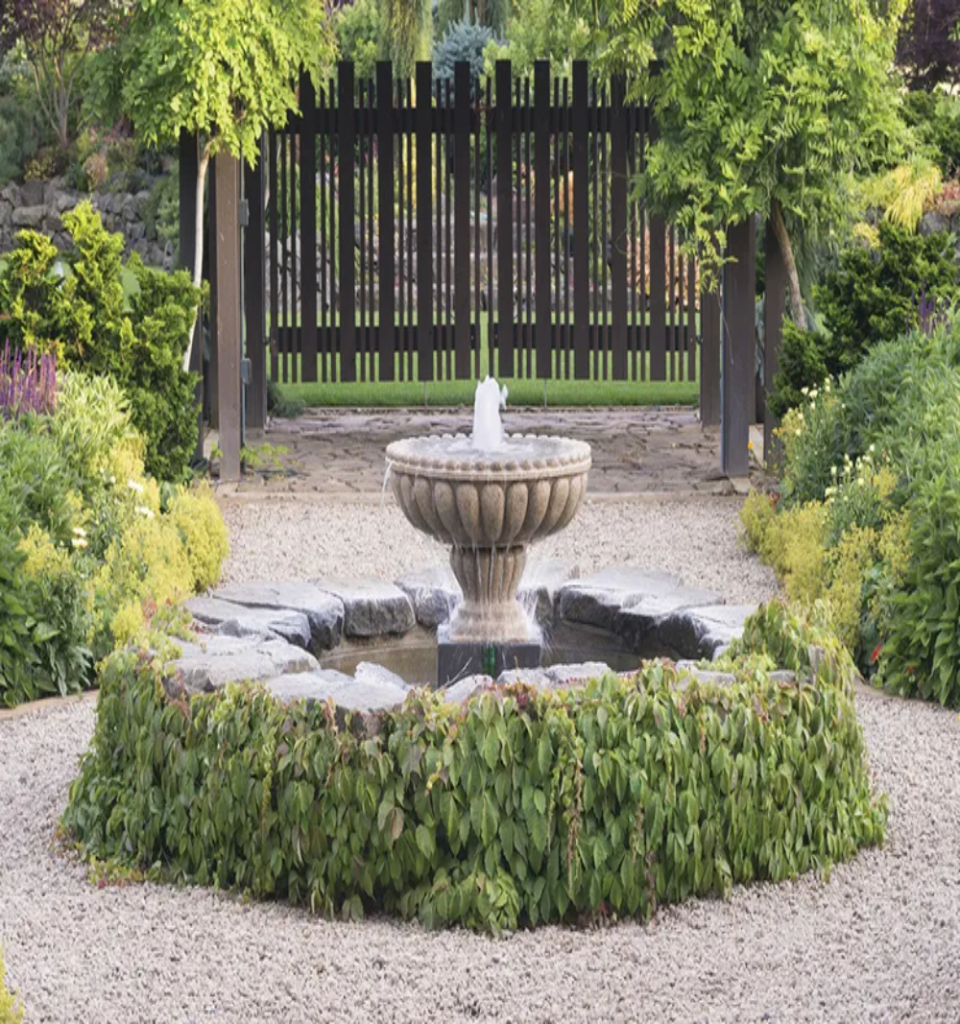 What is that one backyard decorating idea that never grows old? A water fountain. This water feature is loved by people across the world to enhance their backyards. A water fountain is especially a great idea when you have kids around. It gives them a nice, soothing feel when they are out in the backyard and gives your home a contemporary look. If your home has a lot of wooden and rustic elements in it, implementing this hardscape idea is a no-brainer. Besides the visual beauty, the continuous soothing sound of the water flowing around your home brings peace. A water fountain often attracts a lot of birds, which adds an element of nature without you having to worry about it. Take this hardscape idea a level higher by planting trees around the fountain.
8. Grilling Station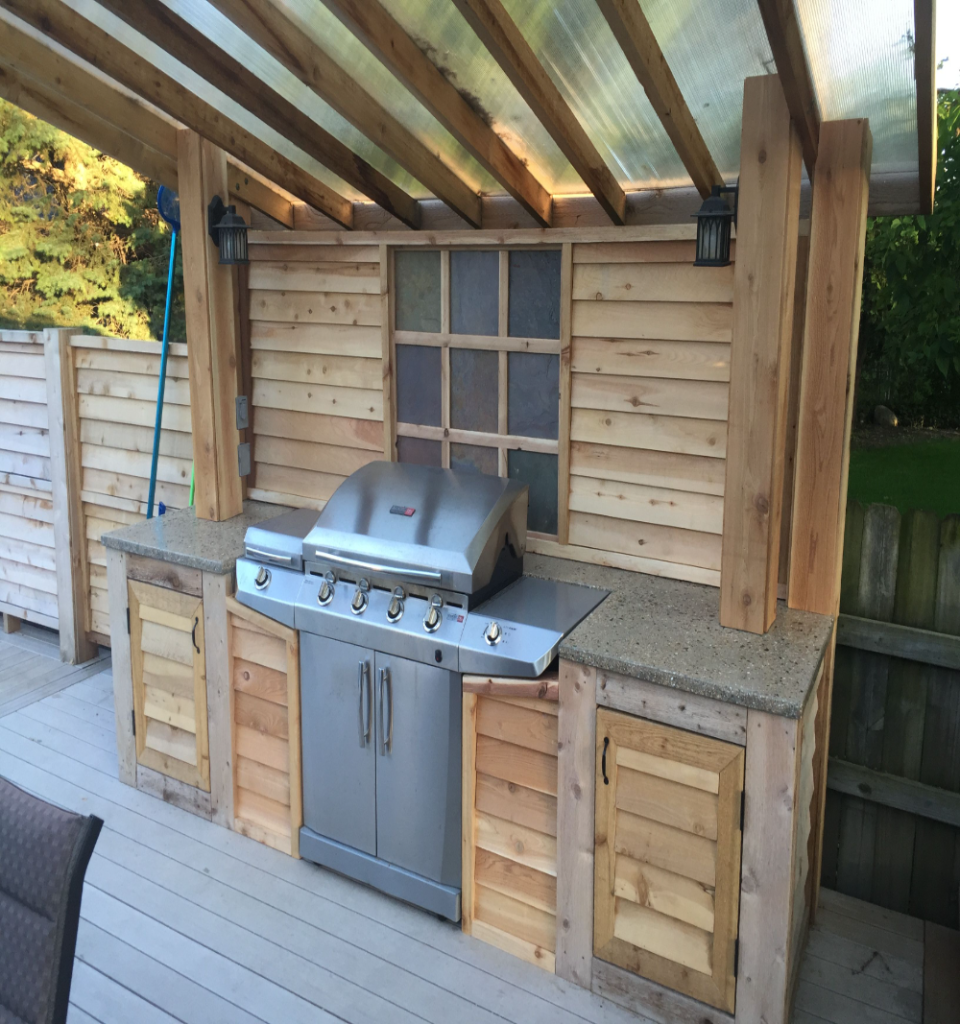 Do you often spend the weekends or the evenings out, spending some quality time? Now bring your grilling set up outside so that you don't miss any of those stories. A grilling station is ideal when you have someone who is an outdoor cooking enthusiast. Watch the kids or your pets play around while you grill your favorite meat in the beautiful weather out there. You can make the grilling station even more functional by adding a few cabinets that can store your plates, napkins, and skewers, a sink, and a countertop space for preparation. Once you have this feature installed in your backyard, we are certain you won't be hosting any more parties indoors. When you have a blast with this setup, don't forget to remember us.
9. Poolside Jacuzzi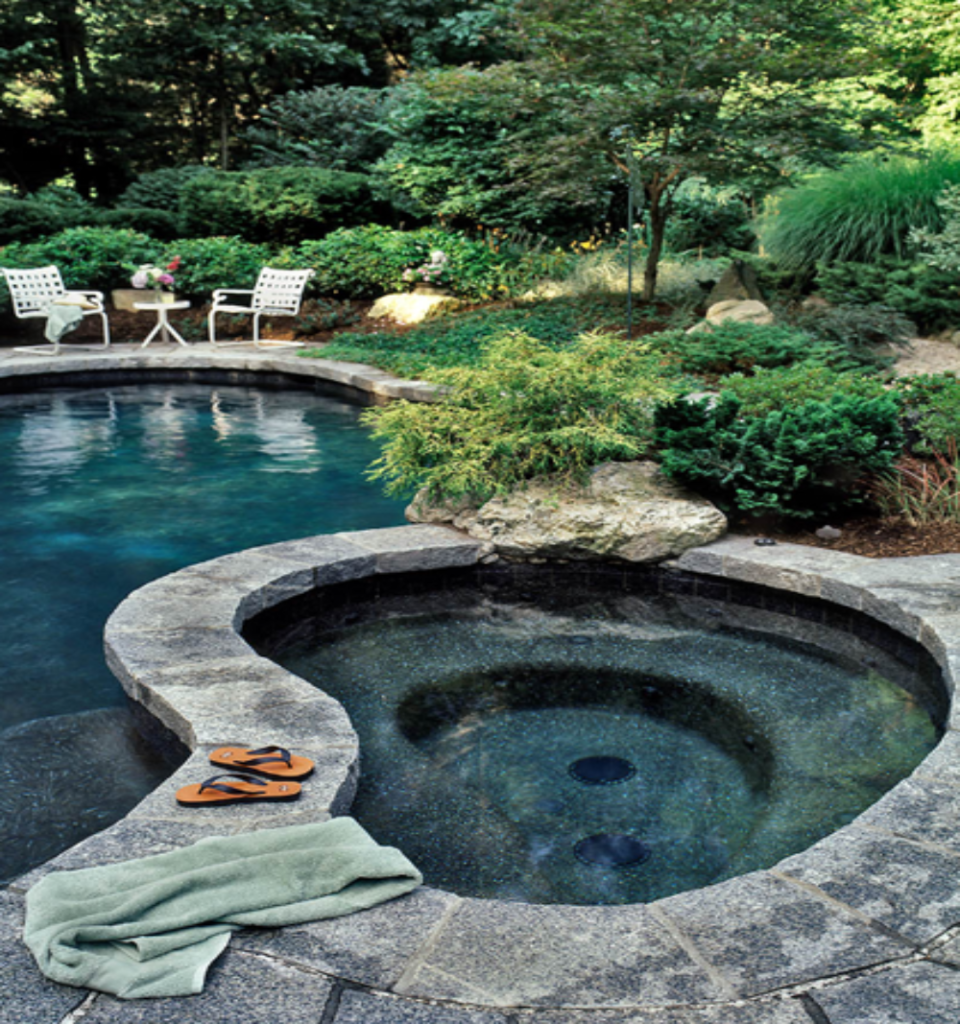 Are you someone who doesn't just want the visual appeal for the backyard but also a sense of comfort and luxury? Then this hardscape idea is just right for you. Get a poolside patio with a jacuzzi in any shape of your choice, and you will hardly want to come back indoors. Enclose the area with stone or pavements of grass to keep the privacy intact. Get the benefits of a swimming pool and the refreshments of a hot tub. While your friends and neighbors go away for a restful retreat, you get it right in your backyard. Add comfortable seating and adjustable features to make it more personal. Unwinding, socializing, or just taking the time out in a comfortable corner – this poolside jacuzzi brings it all for you. Still wondering if this is the perfect backyard hardscape for you? If luxury is what you want, then you know you want it.
10. Cabana with a Pool Patio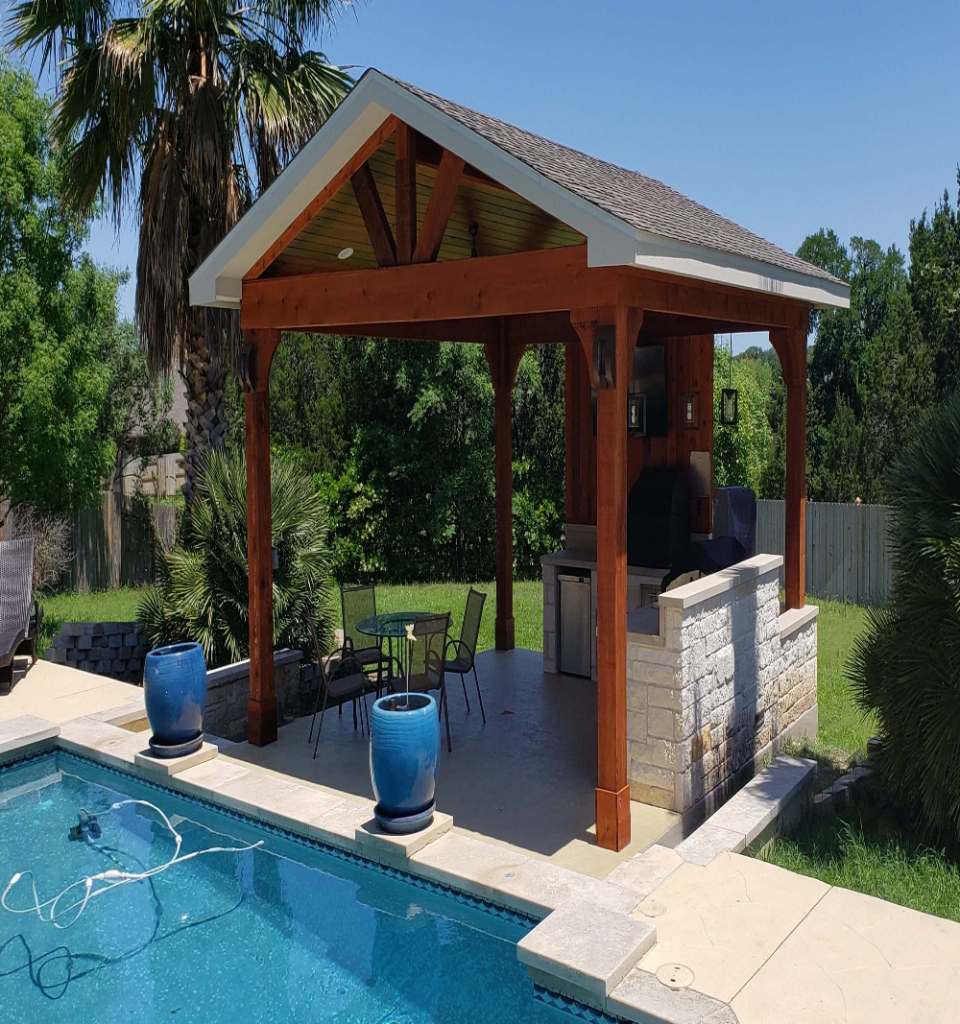 What do you do when you want to rest for a bit by the pool amid a swim or just hang around the pool? A cabana is the answer. Adding a comfortable set-up of the cabana is ideal for those warm evenings or pleasant weather. The cabana also adds a sense of warmth and homeliness, even in the backyard. A private space to take a break or get away from the sun while being in the open – a cabana is the perfect touch of sophistication. Enjoy your quiet moments by the pool or host a pool party. The cabana is also a great place when you want to be by the pool but not in the pool.
11. Backyard Pathway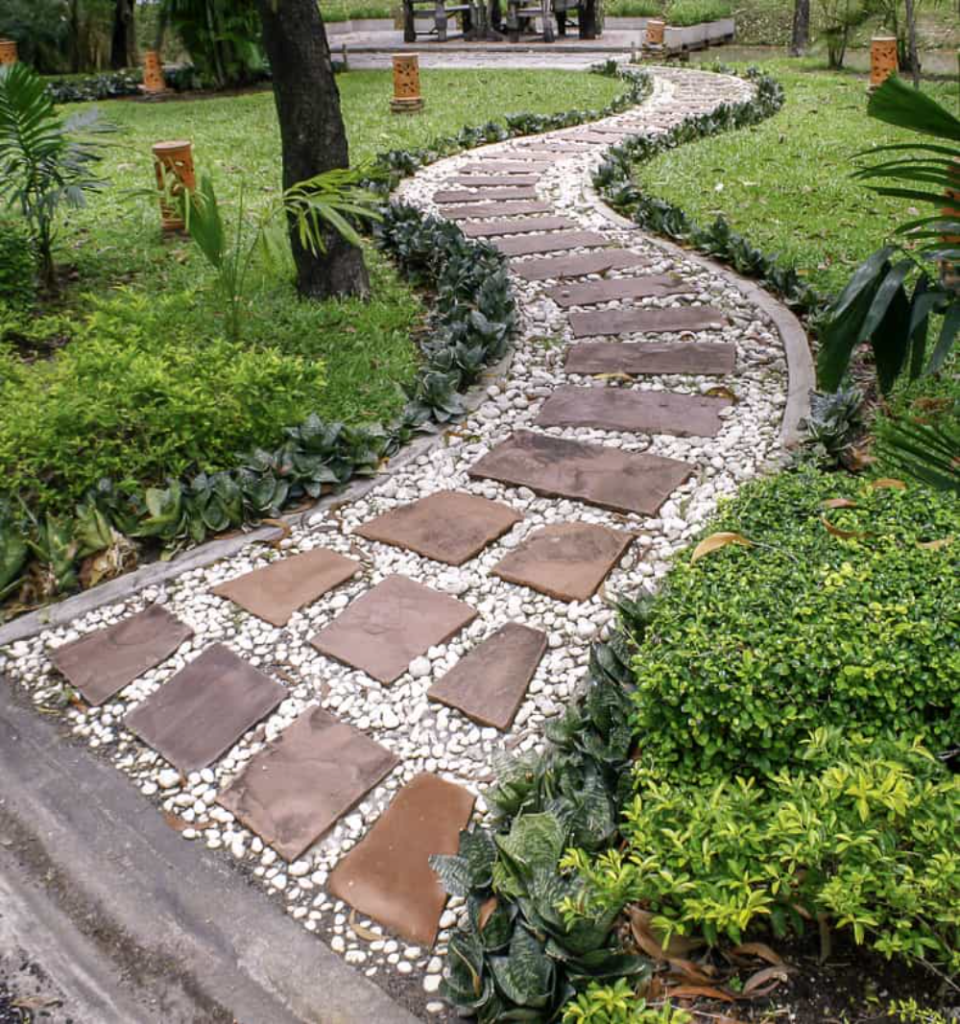 Extremely simple integration of the home with nature in the backyard, a backyard pathway is a smart way to take a walk outdoors. By creating an asymmetric pathway amid the plants, you get a sense of belonging in nature. You can use gravel, stepping stones, or flagstone to give your backyard a structure without really defining it. It helps you wander around and take a break throughout the day. You can walk around in the evenings to get the calm after a tiresome day. We suggest this hardscape idea to blend the beauty of nature seamlessly and practically with the rest of the home. This idea also helps add more room for nature which is anyway a great idea for a home.
12. Gazebo and Stone Walkaway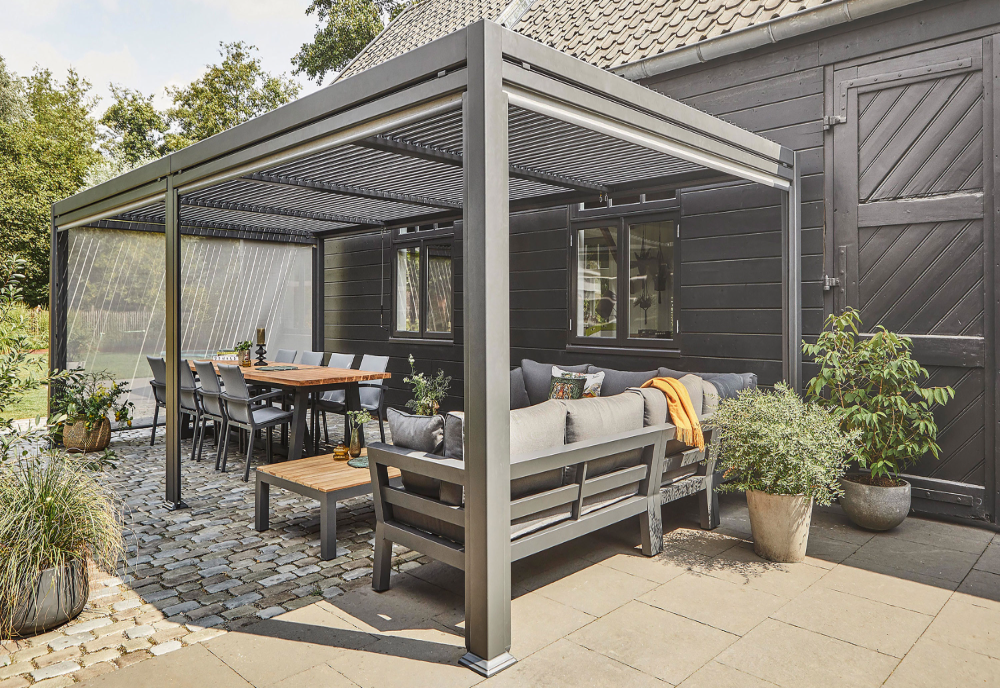 Talk about privacy in the backyard, and there is no better way than a gazebo. Our experts suggest creating the gazebo with glass and metal that are ideal for all weather conditions. Create the pathway with stone and watch the space look bigger and more gorgeous. A stone walkway gives a different kind of look to any decorative piece, and adding the gazebo only enhances the charm. Make a comfortable sitting set-up within the gazebo and turn it into the ideal outdoor space. Take a walk in the backyard on the stone walkway to sit in the gazebo. Make sure to place the gazebo in a way that it becomes the center of attention for the guests.
13. Outdoor Bar Set-Up
Taking inspiration from the grill counter, you can build a bar set-up, along with sitting arrangements in the backyard. This hardscape idea is perfect for people who host a lot of parties. Instead of taking large groups in your home for the party and taking up all the private space, take them to the backyard, set up high tools, countertops, etc., and let the party begin.
14. Workout Deck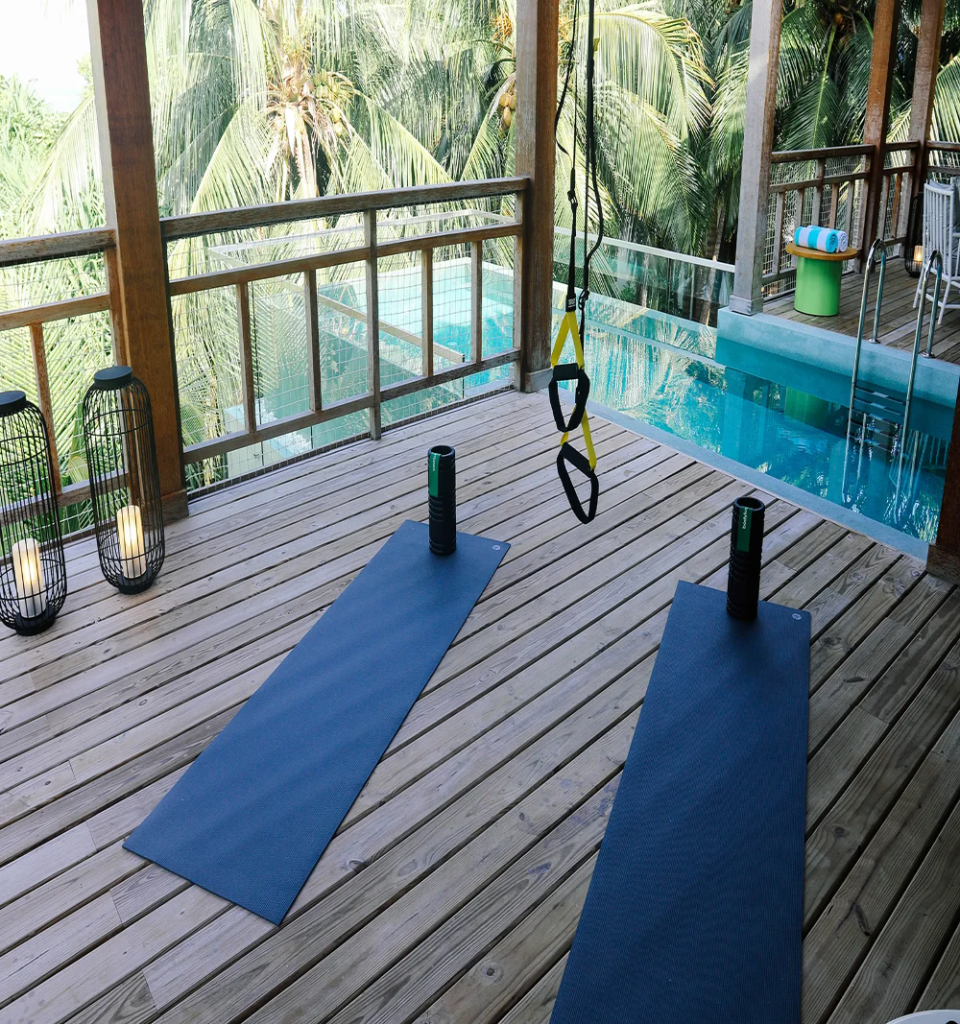 If you love to work out/ do yoga in the open, this hardscape idea is just right for you. Get into those poses or prepare for the beach body while being in nature. Create a high-end deck with steps that connect directly to the home. Grab your mat, water, and protein shake, and head directly to the deck in the morning. Working out in the open makes you feel even fresh. Working out outside has benefits like feeling the breeze of fresh air, being in nature, and being under direct sunlight, which have many health benefits.
15. Vertical Garden Wall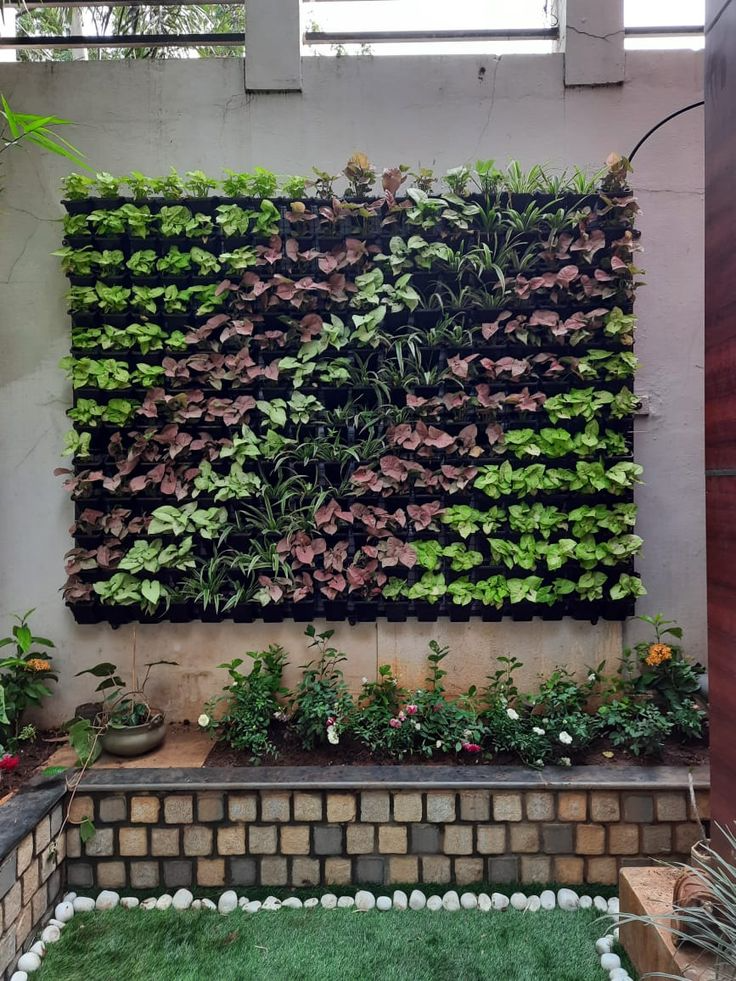 There is no limit to adding nature to your home. It adds a positive vibe and brings peace. If you want to increase the amount of nature your home has, add this vertical garden wall to the backyard. Watching the plants bloom in the sunlight will make you happier every day. Just looking at these plants move and grow can help you refresh.
Final Thoughts
While deciding upon the kind of backyard hardscaping you want for your home, there are several factors to be considered. The space available, the practicality, and your budget are some of them. If in doubt, talk to an expert before choosing the one that suits your home. In this article, we have tried to cover some of the top, most elegant, and popular concepts and ideas for backyard hardscaping.
Each of them with their own uniqueness. What is most important is to strike the right balance between adding an element of visual appeal and of nature. One important tip that our experts leave for you is to not only concentrate on the beauty factor but instead keep the functionality aspect in the highest regard.
With these amazing 15 backyard hardscaping ideas, it's time to get down on business. Explore that creative side of yours and gift yourself a backyard that will stay etched in everyone's memories.