The etymology of the word 'patio' stems from the Spanish language denoting an inner courtyard. Constructing a patio in your backyard gives you a usable living space outdoors that can provide various functions. You can incorporate a grilling station, barbecue area, or even an alfresco kitchen to enhance the space to be more utilitarian. It's an incredible way to be close to your home and enjoy the outdoors.
Flagstone is known for its sturdiness and rugged nature. A flagstone patio will add the perfect amount of resilience to your home's outdoors. Are you looking for flagstone patio ideas to enhance your courtyard? On executing the ideal theme flawlessly, your flagstone patio will not only provide a space for entertainment but also elevate your house to the next level.
Continue reading our guide to find out the most creative flagstone patio ideas and the easiest way to install one!
Best Flagstone Patio Ideas
1. Rectangles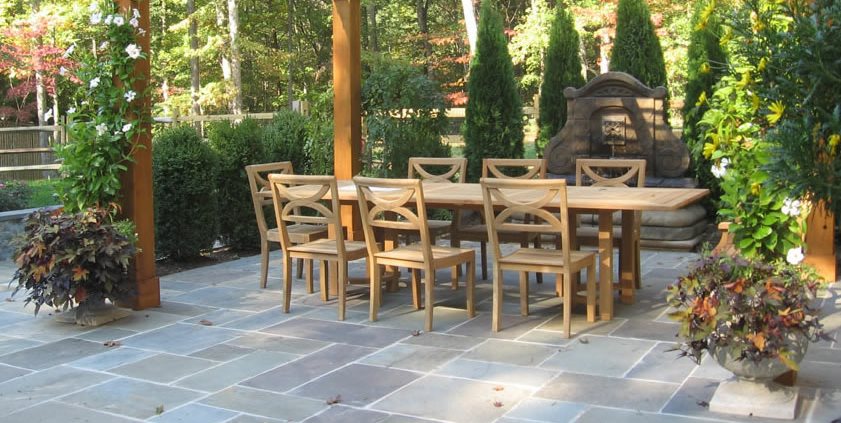 Shaping the stones into different sizes of rectangles is arguably one of the sleekest flagstone patio ideas. Despite the varying sizes, the uniform shape gives an illusion of consistency and homogeneity. To experiment with your patio, do not measure the flagstones while cutting, and add in the rectangles as and where needed. However, this technique may need more flagstones than required.
2. Abstract & Irregular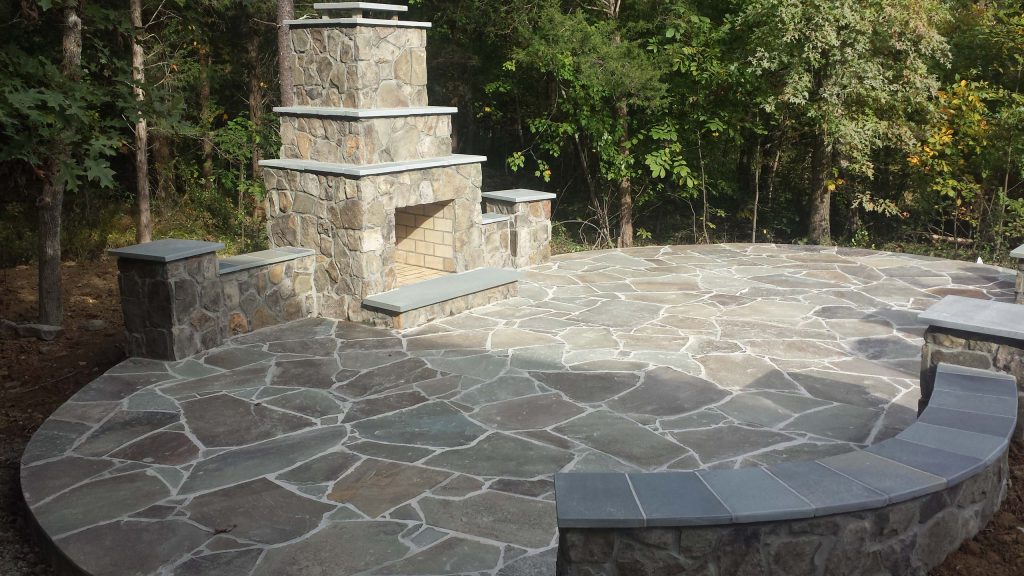 While rectangles of varying sizes can portray uniformity, abstract shapes of the flagstones denote creativity. They also give a more natural appearance to the patio. Since you're relying on irregular sizes and shapes of the stone, the foundation will have many gaps. You can use smaller stones or additional filling material to cover them up. However, the rough edges can pose hurdles to moving your outdoor furniture.
3. Grow Plants Between The Flagstones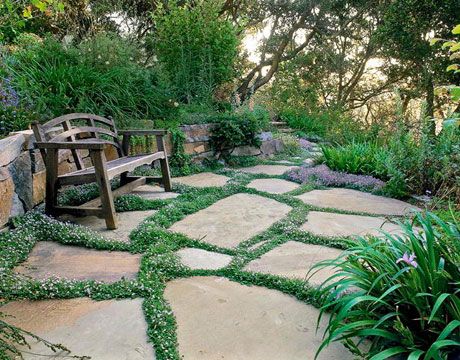 Growing plants between the stones is one of the most organic flagstone patio ideas. Not only does it make your patio seem more natural, but it also softens the look. While you can always go with ordinary grass, some other popular options are thyme, baby tears, dichondra, mint, sedum, and moss. However, to grow plants, you must add topsoil as the filling material.
4. Construct A Firepit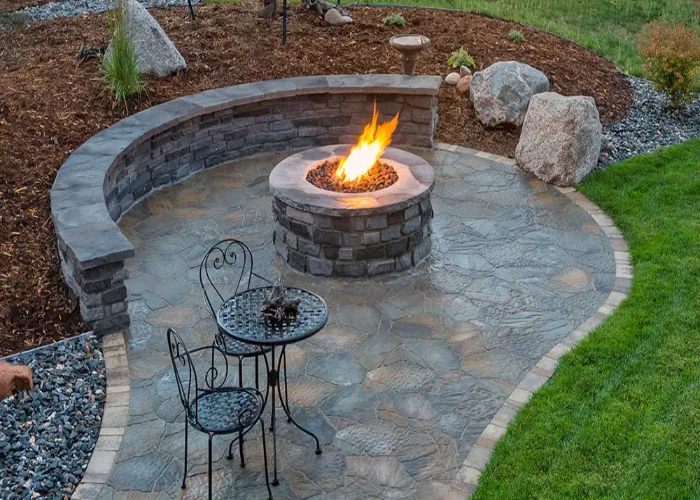 Do you live in a consistently cold region? Or do you like to light a lot of soothing fires? Then this is one of the best flagstone patio ideas. Construct a firepit of the same or contrasting theme along with your gorgeous patio. Your firepit could be circular with seat edges for colder seasons, or you can add a built-in one in the ground while constructing it.
5. Link It to a Path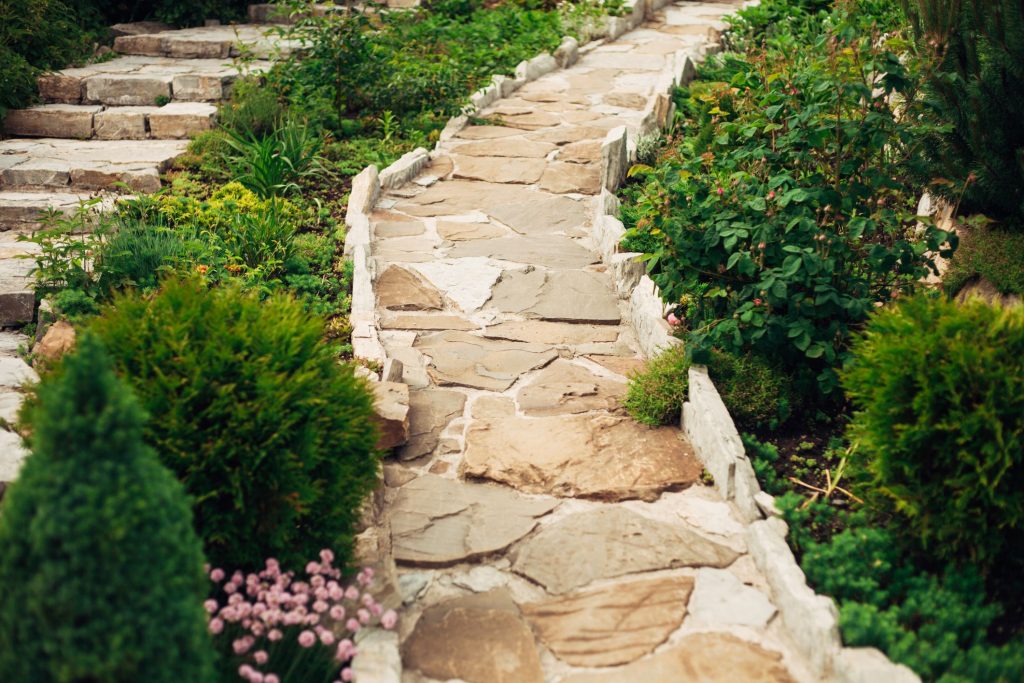 Do you have a beautiful garden in your front yard? Adding a path is one of the most sophisticated ways to elevate your garden. A walkway provides means to tend to your garden and have a soothing walk through your flowers. What better way to brighten your outdoors than linking the path to your flagstone patio? Just ensure that the former and latter follow the same theme.
6. Multi-level Patio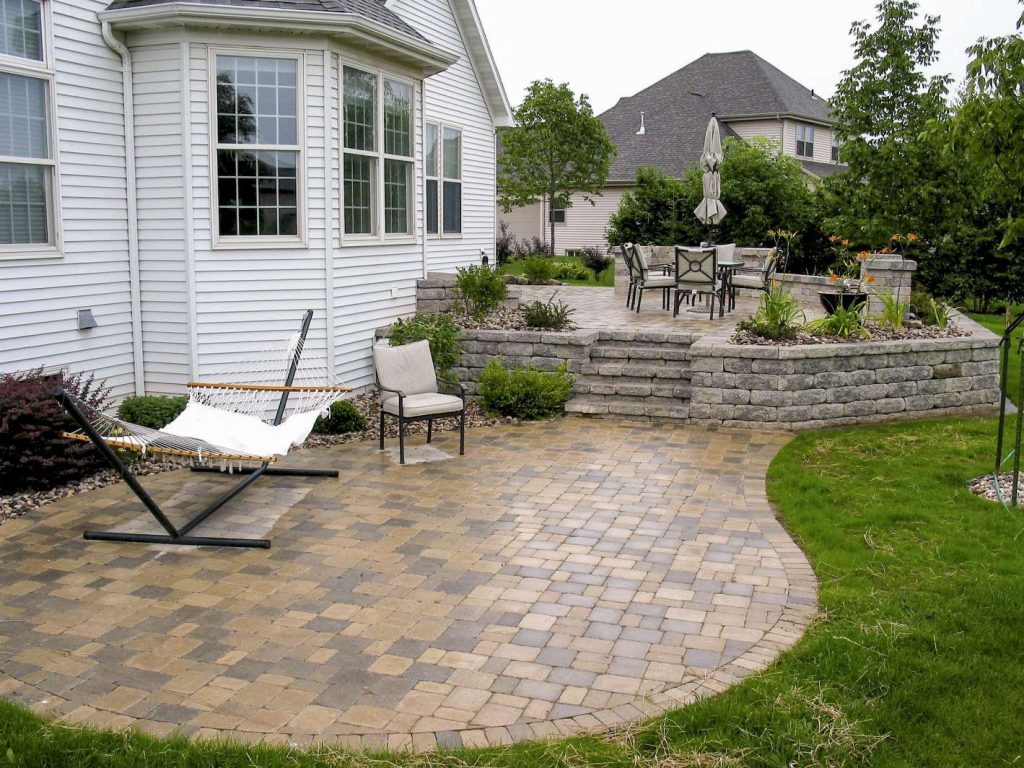 Do you already have a patio but wish to raise the bars even higher? Why not go for a multi-level patio? You can add furniture and a firepit on the different levels to feel cozier and more relaxed. You can add metal furniture, wooden or rocking chairs, a coffee table, and even a small shed to create a compact zone of tranquility. Try including different complementary themes to add a bit of jazz.
7. Polished Flagstones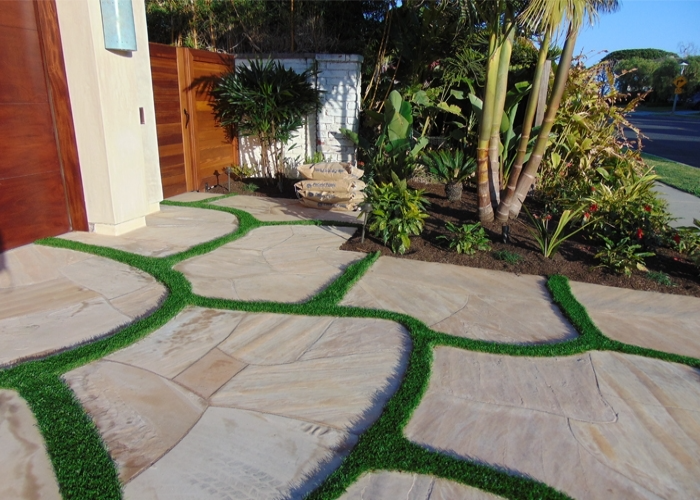 The smooth surface of polished flagstone will give your patio a sleek and elegant appearance while adding a look of sophistication and refinement. Furthermore, polished flagstones are comparatively more durable, long-lasting, easy to clean, and slip resistant. If you have a lot of spill accidents in your household, then this timeless patio idea is our top recommendation for you to keep your outdoors clean.
8. Add Swings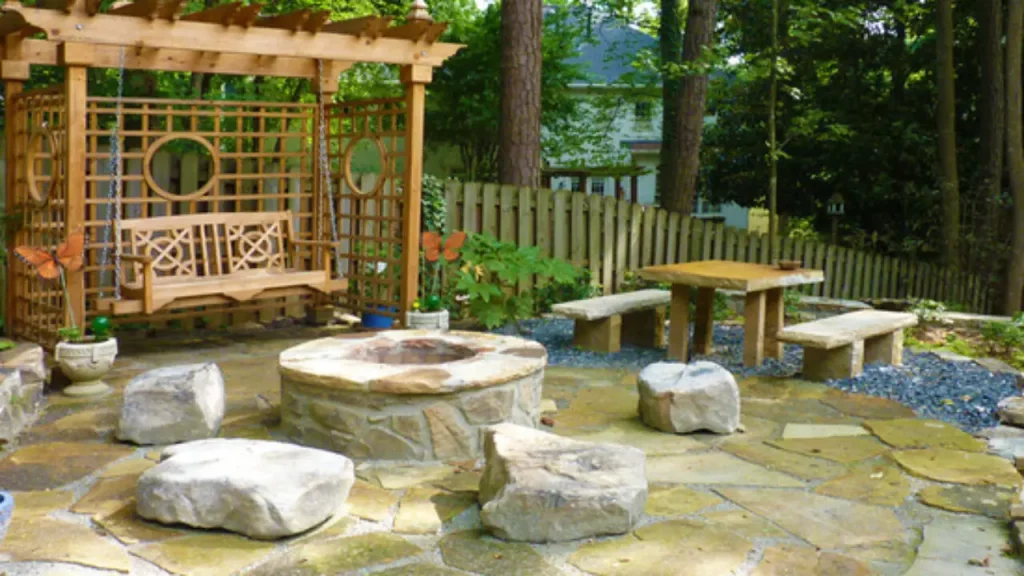 If you install a swing on the patio, you can easily incorporate a playful touch to your outdoors. It provides a comfortable space to sit back and relax with a cup of coffee in the evening. Swings are also a great way to create a delightful and whimsical ambiance. Additionally, if you have kids who like to be in the fresh air, your patio will double as an incredible play zone with a swing.
9. The Means to An End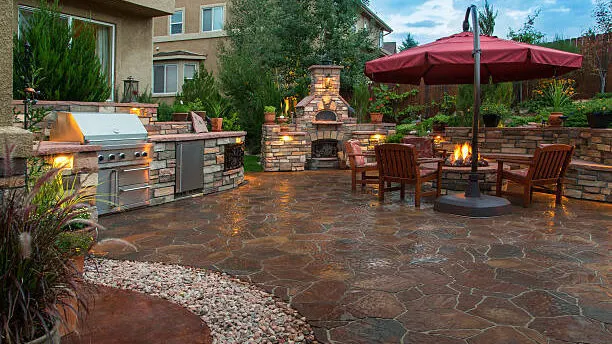 Arguably, a patio can be designed as a connecting space. If you have a garden, a seating place, a grilling or barbecue station, and an alfresco kitchen, but all with varying themes, you can construct a patio to pull together the different zones. However, make sure the theme of your patio suits the various utility areas. In short, your flagstone patio will be the means to an end to uniting your outdoors.
10. A Raised Patio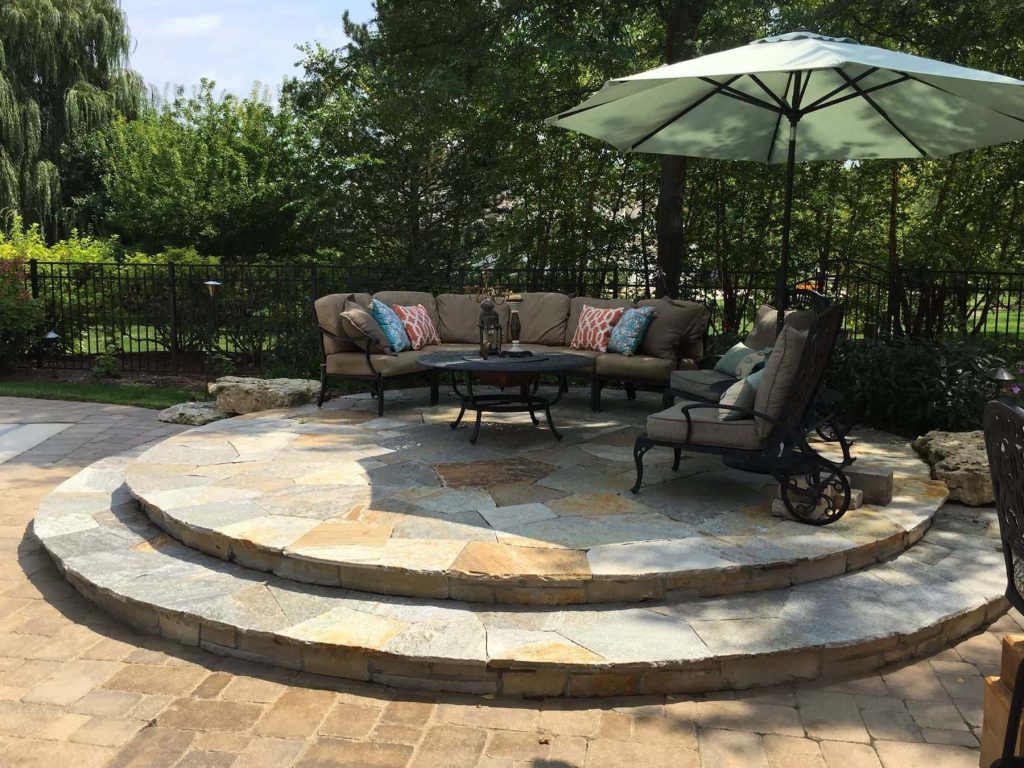 Do you want to add a focal point in your backyard? If yes, a raised patio will be perfect for you. Not only will it provide a panoramic view of your outdoors, but it will also elevate the aesthetics of your courtyard. If your town happens to receive a lot of rainfall, a raised patio might be more suited since it's great for minimizing water accumulation and enhancing drainage.
How to Execute Your Flagstone Patio Ideas?
Once you decide on a theme for your patio, the next step is to bring it to life. There are two ways to install a flagstone patio – dry-laid and mortared. While mortared flagstones offer more stability, we personally recommend installing dry-laid flagstones. They're more flexible for repair and maintenance. The latter also allows more water permeability into the soil due to the lack of adhesive. If you're in a fix on how to install the perfect flagstone patio by yourself, worry not since we have compiled the complete guide to help you out. Read on to learn the steps in detail and get started!
1. Planning the Project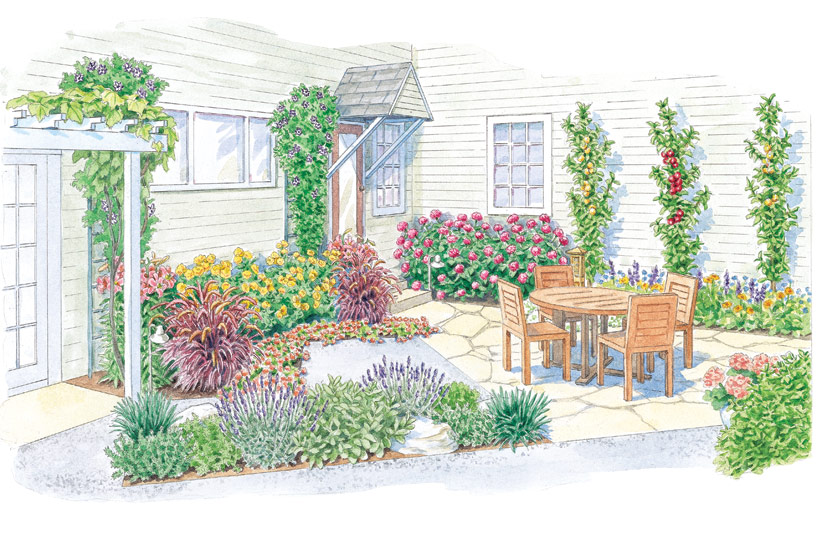 Begin by calculating the square footage of the area you wish to cover with the flagstones. To plan each step of your project carefully, check out the local building codes of your locality and ensure that you do not cause any violation unknowingly. Also, no gas or water lines should pass under your designated section since they can later cause concerns. Lastly, mark the perimeter of the patio in the ground and take proper measurements.
2. Purchasing the Flagstones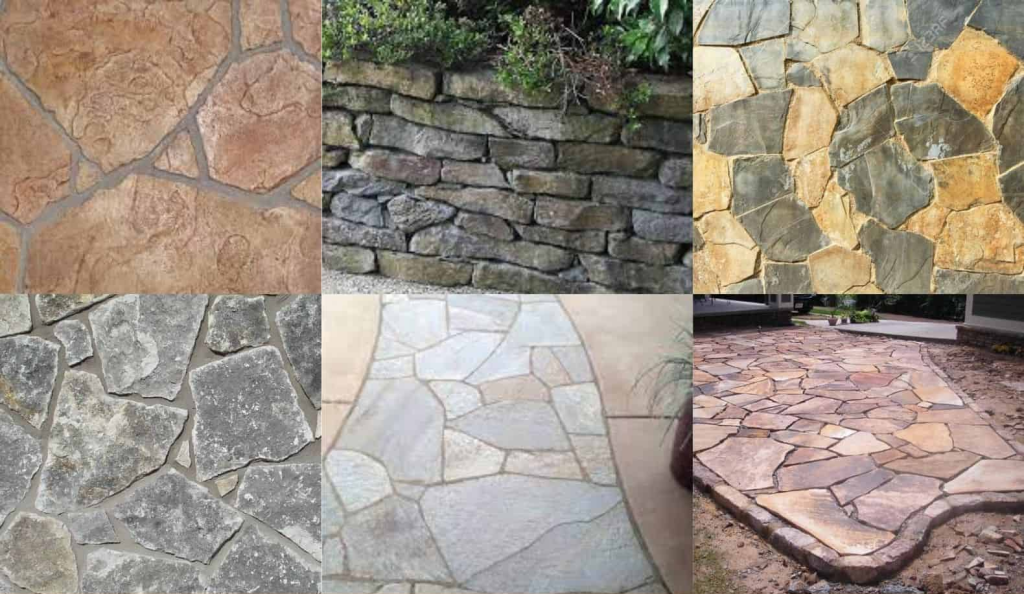 Once you have an estimate of the area your patio will cover, you can figure out how much flagstone you will need. Consider one that matches your flagstone patio ideas most appropriately. We recommend a thick flagstone that can bear heavy weight and foot traffic. Otherwise, your layout will break or crack easily. One ton of a two-inch thick flagstone will ideally cover 70 to 80 square feet.
3. Digging the Ground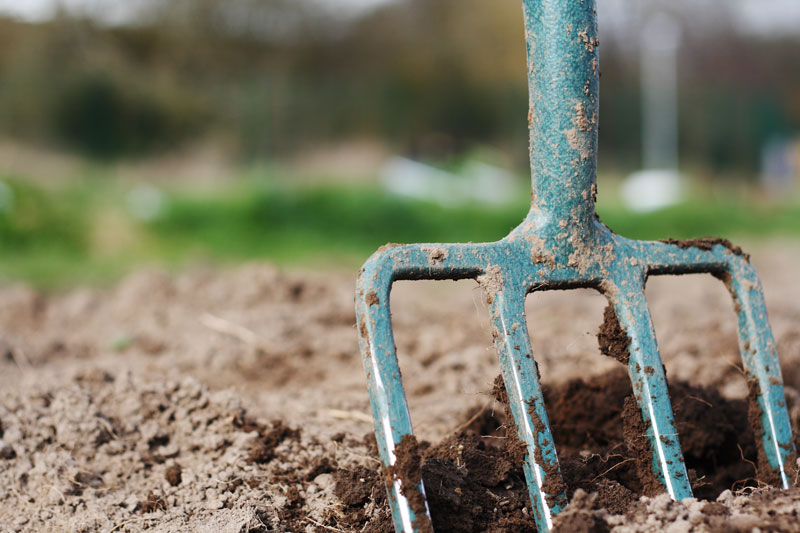 The next step is to dig out the foundation. You can use marking paint or garden hoses to mark the area of the patio. However, ensure that your tracing is highly visible so that you don't face hurdles ahead in your project. How much you need to dig depends on the flagstones' thickness. On average, you will need to dig around 6 to 8 inches of ground to install a flagstone of 2-inch thickness.
4. Installing the Edging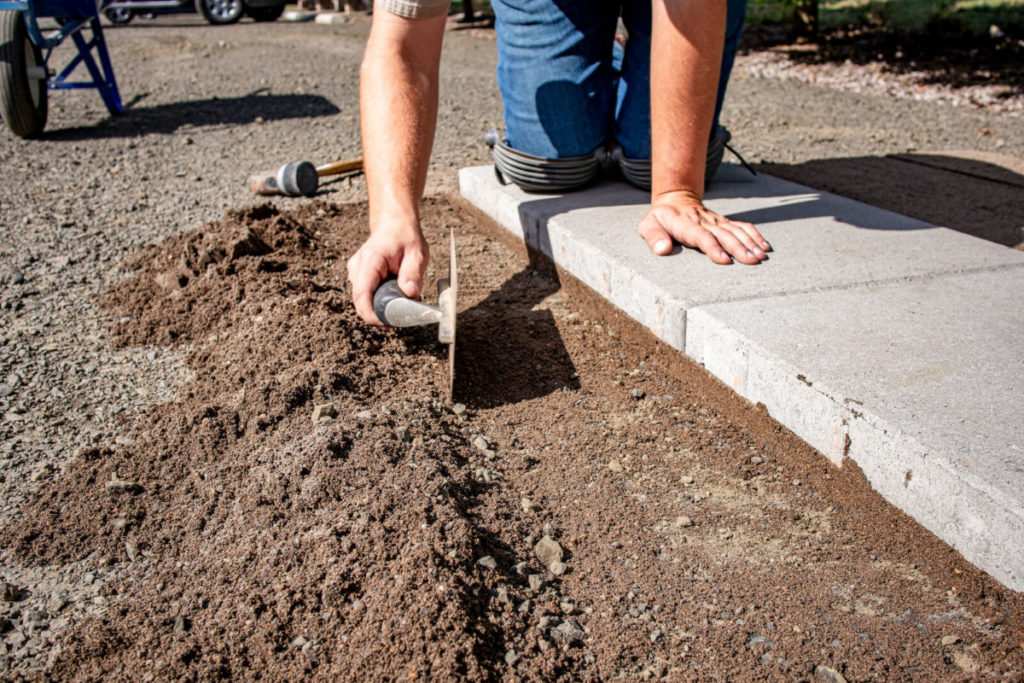 Your project will need solid edges to mark the boundaries. To install the edging, begin by lining the sides of the digged-up region with any edging material. Treated lumber, bender board, vinyl, steel, bricks, or carved stone can be used as edging material. However, if your material is flexible, add steel spikes and drive them deep into the ground to secure it safely.
5. Creating the Foundation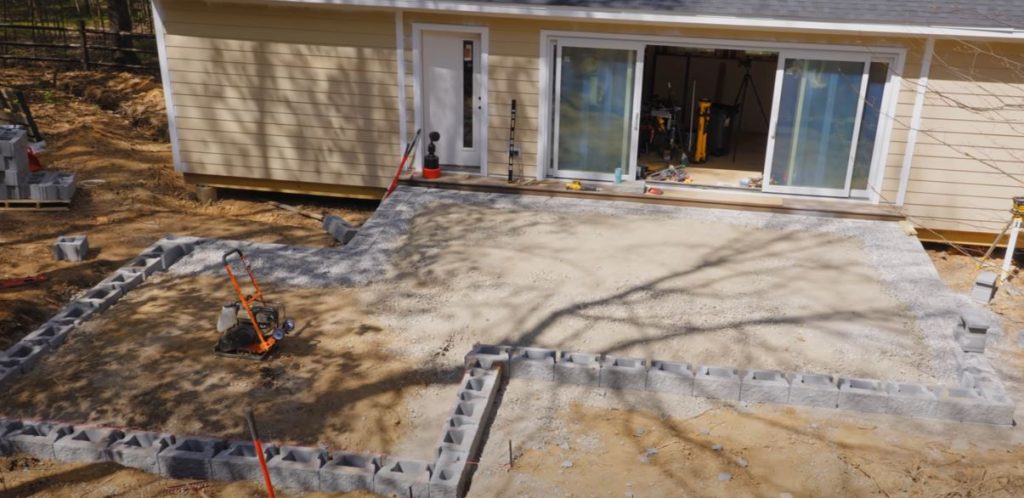 The next step is to create a foundation. The key to a strong foundation is to form three layers of landscape fabric, gravel, and sand. Landscape fabric will not only separate your patio from the original soil but also prevent unnecessary weeds. Next, a 4-inch gravel or pea stone layer will ensure water runs off your patio easily. Lastly, two inches of wet sand will make it much easier to secure your flagstones.
6. Laying the Flagstones
Start laying the stones according to your flagstone patio ideas. You can cut and shape them according to your wish. Remember to begin from the perimeter and work towards the inside. Install heavier and thicker stones in areas having comparatively more foot traffic to increase the stability of your patio. Also, ensure that your flagstones are laid uniformly at a level surface. You might have to adjust the sand to achieve that.
7. Leveling the Stones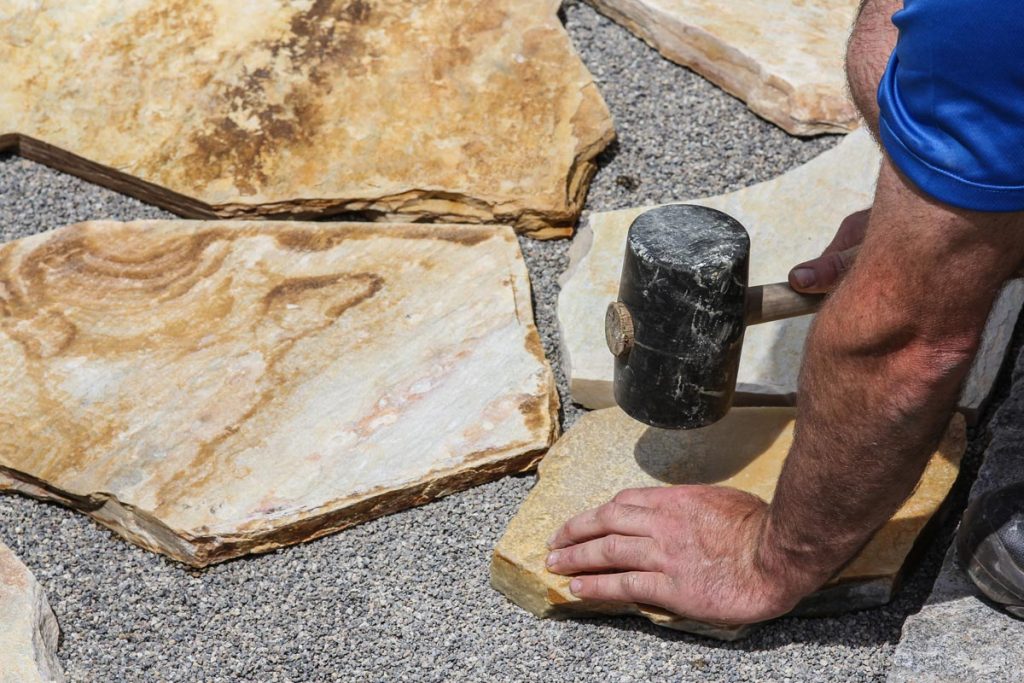 This step is quite crucial for the durability of your project. Once you have positioned and arranged all the flagstones, the next step is to secure them in place properly. You can use a rubber mallet for that and tap the stones lightly. As mentioned above, wet the sand under the flagstones before you lay them. It makes the process much easier and more efficient since compact soil has increased stability.
8. Filling the Joints
Right now, you are one step away from finishing your project. To complete your flagstone patio, fill in the gaps between the stones to secure them more firmly. All you need to do is put the filling material in the gaps and tamp it down. You can use joint fillers, pea gravel, decomposed granite, or even sand. An aesthetic tip: put topsoil instead of the filling material and plant thyme or ordinary grass.
Conclusion
In parting words, we recommend a flagstone patio since it's perfect for taking your outdoors to the next level. While constructing complicated or multi-level patios requires professional installation, you can set up a simple patio by yourself. The first step is to explore various flagstone patio ideas.
You can choose polished flagstones, a raised platform, or one that links to your garden through a pathway. You can also fabricate an outdoor seating area with metal furniture, wooden or rocking chairs, or a coffee table to further enhance the patio. Add a firepit that will tie the whole thing together.
For a DIY patio, follow our simple step-by-step guide to constructing the perfect outdoors. Begin by finalizing your theme and planning the project accurately. Next, buy the material and start by digging up the ground.
Set in the flagstones once you have created a strong foundation of three layers. Fill in the gaps to secure the stones in place. What has been your most intriguing patio project? Let us know in the comments below!
Frequently Asked Questions
Is a Flagstone Patio Worth It?
Flagstone is one of the best materials for installing a patio since they are more durable, long-lasting, and elegant. They add a sleek and sophisticated look to your courtyard while providing the means to tie the outdoors together. You can explore the different flagstone patio ideas and pick a theme you like the best.
What is Best to Put Under the Flagstone?
You can install the patio either through a dry-laid flagstone or a mortared one. Since dry-laid flagstone is more flexible and easy to repair, it is our top recommendation. To create a strong foundation under it, you must create a bedding of three layers – landscape fabric, gravel, and sand.
What is the Lifespan of Flagstone?
One of the many reasons a flagstone patio is at the top of our list is its durability and stability. If you maintain the flagstones in the best conditions, your patio will last over ten years under normal wear and tear.
How Thick Should the Flagstones Be?
Choosing the appropriate material is one of the most pivotal steps in installing a patio. If the thickness of your flagstones isn't enough, they are liable to breaking or cracking under heavy weight or heavy foot traffic. Ideally, the flagstone should be at least one and a half to two inches thick.
How Can I Save Money on My Patio?
Constructing an affordable patio is quite easy. Firstly, explore various DIY patio ideas. Some of the best ways to save money are to pick an already leveled location, work around the existing layout, choose inexpensive material, and construct it in stages.