Bathroom remodeling can often seem like a daunting task. It is a time-consuming affair that can burn a hole in your pocket. It is a well-known fact that refurbishing your bathroom can take a heavy toll on your finances.
On top of that, you have to be conscious of your guest's preferences. There are some fun and interesting ways to make it seem less intimidating. With some creativity, out-of-the-box thinking, and some cost-saving ideas, you can transform your bathroom into a stylish, comfortable, and functional space that your guests will adore.
We explore 13 budget-friendly ideas for remodeling your guest bathroom that will help you design a rich, sophisticated aesthetic within your financial constraints. From simple cosmetic upgrades to smart storage solutions and energy-saving additions, these ideas will inspire you to revamp your bathroom and make it into something entirely new.
So, let's dive in and discover how you can create a beautiful and inviting bathroom for your guests that fit your budget.
1. Using Similar but Low-Cost Materials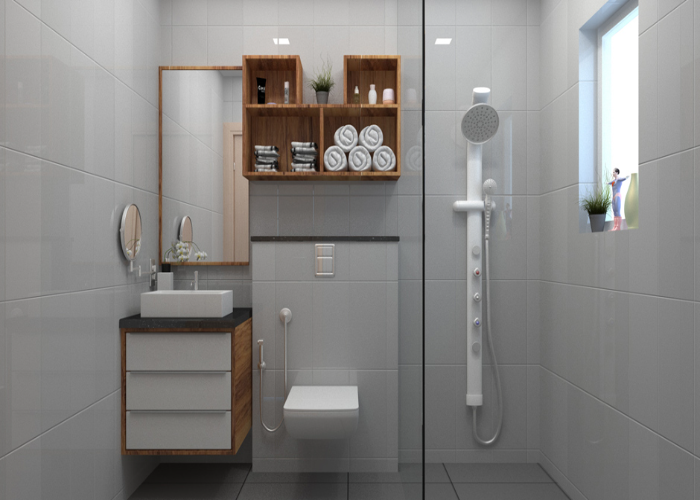 Cheap materials don't necessarily mean low-quality materials. They can add to the aesthetic of your bathroom without lowering its value. Poor-quality materials, on the other hand, tend to break or rust; and incur more costs in the long run. While remodeling your guest bathroom, a great idea is to refurbish existing elements. This saves money and makes everything look new. But swapping your materials for low-cost variants is also a great idea.
For example, vinyl flooring is a great cost-effective replacement for wood flooring. It looks similar and can fool the eye from a distance. Quartz countertops are a great way to mimic marble countertops. You can explore other such affordable ideas that give the look and feel of luxury to your bathroom.
2. Using Wallpapers to Create a New Aesthetic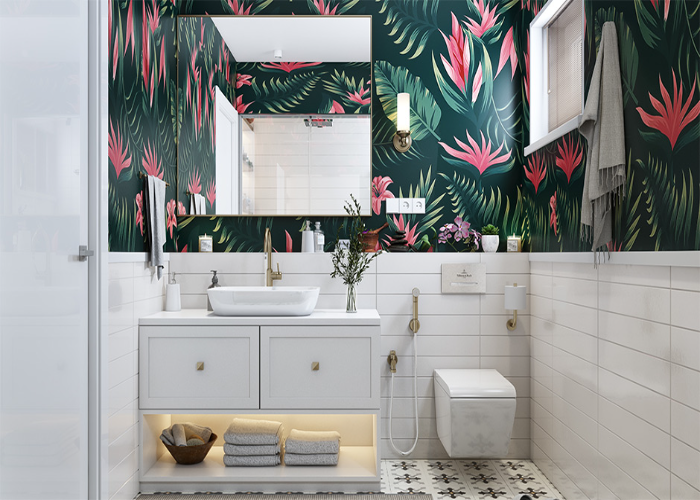 Wallpapers have steadily become more popular over the years. Used primarily for bedroom designs, they have now made a name in bathroom decor. Wallpapers ooze your personality and can transport you into any land you wish to go to. You can add a minimalist design to your walls or go for something more traditional or colonial. This is a great opportunity to think outside the box. From gothic to coastal, there are a lot of whacky designs that transport you to a whole new world.
While a lot of wallpapers can be expensive, they can be pocket-friendly for a small guest bathroom. It can be easily put up by you to give a fresh and new visual style to your bathroom.
3. Luxurious Gold-Plated Fixtures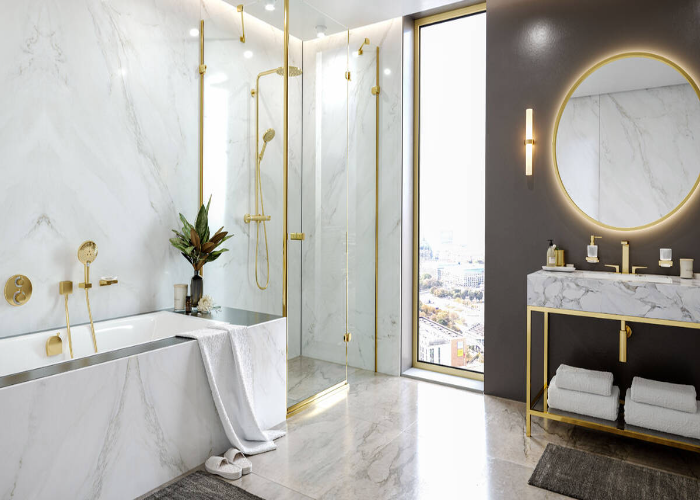 The presence of golden ornamentation can give a regal, grand, and somewhat mysterious aura to your bathroom. It instantly elevates its appeal and creates a sense of luxury. While associated with luxury, there are cost-friendly options available that would be perfect for your guest bathroom remodeling.
You can add a golden finish to many fixtures in your bathroom, like the faucets, taps, towel racks, or even your shower head. They can seamlessly blend with the other features of your bathroom and will be loved by your guests. It is ideal to use stainless steel fixtures with gold plating. This ensures longevity and is a great budget-friendly option.
4. Adding More Storage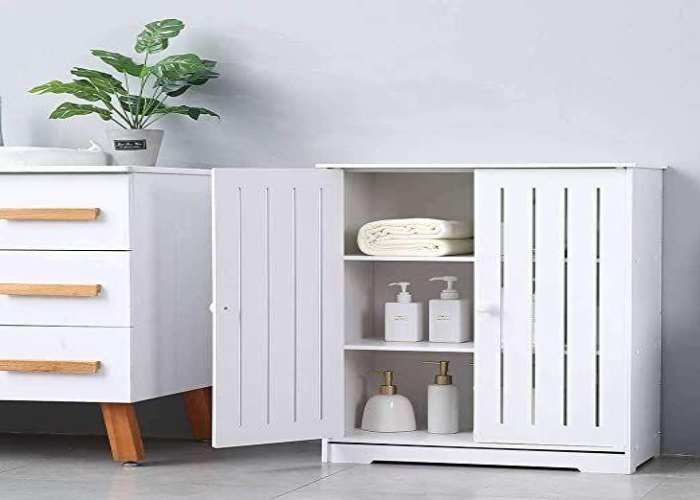 One unfortunate side-effect of a small bathroom is the lack of storage space. Creating space in a limited area requires a little creativity and some knowledge of ergonomics. You need to set up a storage unit that compliments the visual style of your bathroom. Assess your guest's needs and tailor your storage to meet their needs.
Certain storage options include a ladder shelf for your toiletries, a floating shelf, under-the-sink cabinets, and many more. All of these options can be cost-effective if utilized the right way. Where to place these units in your bathroom is also important to know. When placed right, it will fit seamlessly into the rest of your design without interrupting movement or coming in the way.
5. Painting the Walls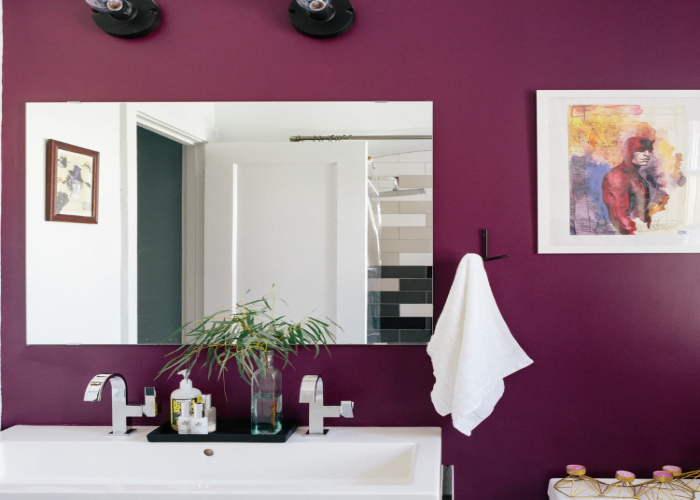 Painting can be a great budget-friendly solution while remodeling your small bathroom. It is a rather simple and fun task that can be done by you and your family together. Hiring a painter can work out to be way more expensive. Since a majority of the space is taken up by mirrors and tiles, painting is not a time-consuming task either. It can set a refreshingly new mood in your bathroom that will surprise your guests.
You need to choose the right color combinations that set the desired ambiance. You can think of the wall as your canvas and go wild while painting the most innovative designs. A good paint job will add depth to your small bathroom and make it look much bigger.
6. Add Small Windows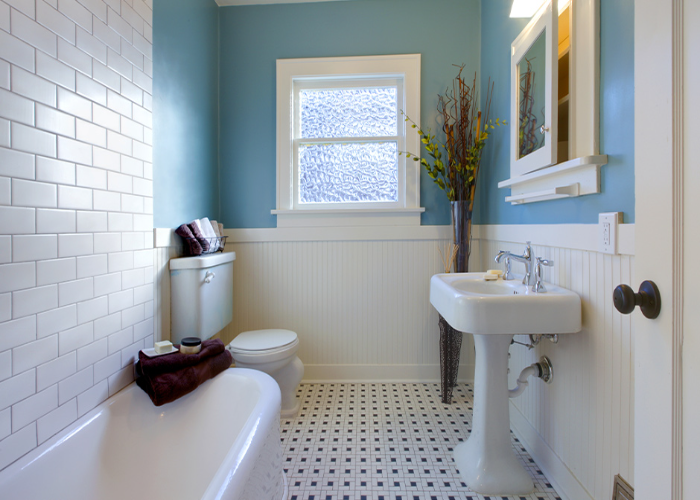 No amount of artificial lighting can substitute plain old sunlight. The presence of light can make the tiniest of rooms look bigger and more spacious. Proper illumination gives an inviting, homely aura to your bathroom. Along with that, it can also create some ventilation in the room that keeps it fresh. After all, you want to create a space your guests would like to spend time in!
There are multiple budget-friendly ways to use windows to remodel your small bathroom. You should use a window that complements your bathroom's design and style. At the same time, it should not be too large or too small. The windowpane can be intricately crafted to give it a luxurious vibe. It must be placed in such a way as to maximize the light entering your bathroom.
7. Give It a Modern Twist
Modern designs are known to have clean edges that give a sleek and airy feel to your bathroom. With this illusion of space, your guests can feel very comfortable using your bathroom. Modern designs include neutral and muted colors that heighten the airy vibe. Modern bathroom fixtures come with a popular chrome finish and are available in most stores cheaply. Sleek window frames, modern mirrors, and some new technology can be a great addition to your decor. With all these features, you can remodel your bathroom by creating this wholesome yet modern twist that your guests will love.
8. Add Small Decorative Touches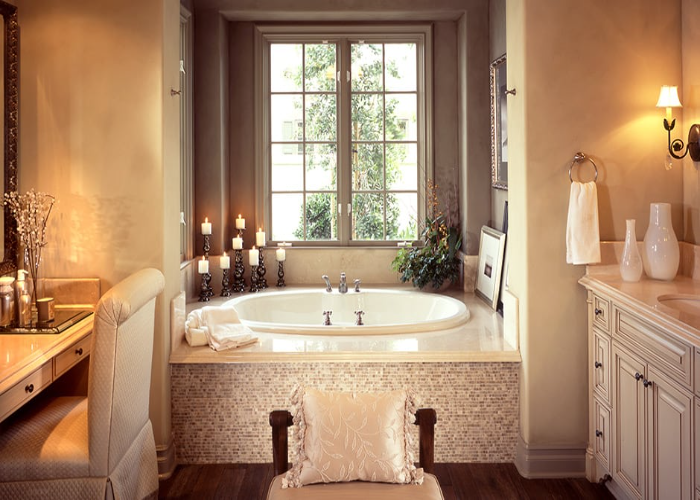 A remodel doesn't have to be a complete makeover. If you already like the look, there are budget-friendly ideas to remodel your small bathroom without changing much. You can add many decorative elements that add depth and elegance to your bathroom. This can be anything from small paintings to potted plants. Include your own photos, a bowl of potpourri, or scented candles to make your guests feel at home. You can also have decorative towels or linen to give a homely feel to your bathroom.
It is crucial not to go overboard while adding decorative elements. You must know how to strike a balance between aesthetics and functionality.
9. A Classic and Luxurious Look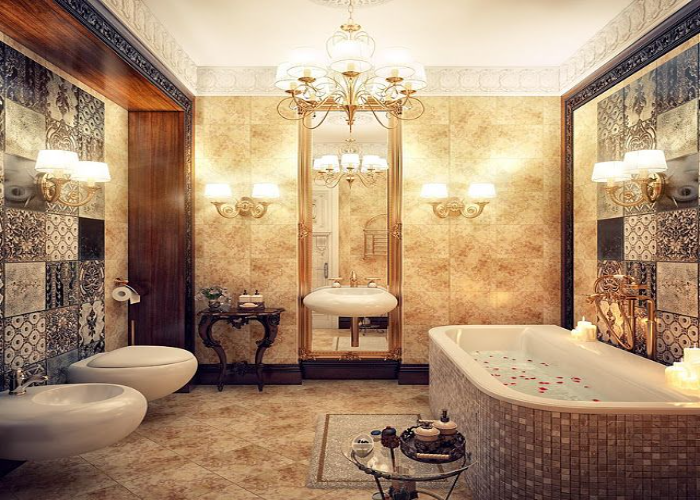 When people think old-school and classic, they think luxury. Quite often, it is true. But it doesn't mean remodeling your bathroom should burn a hole in your pocket. Creating a colonial look to your small bathroom cheaply is possible without breaking the aesthetic.
You can use quartz countertops that mimic the look and elegance of real marble at a fraction of the cost. Vintage accessories like soap holders, towel racks, and flush handles can be purchased at a low cost. Another great idea is to put appropriate lighting that makes your fixtures shine. With a careful selection of materials, you can remodel your bathroom to look classic and old-fashioned.
10. Add Wainscoting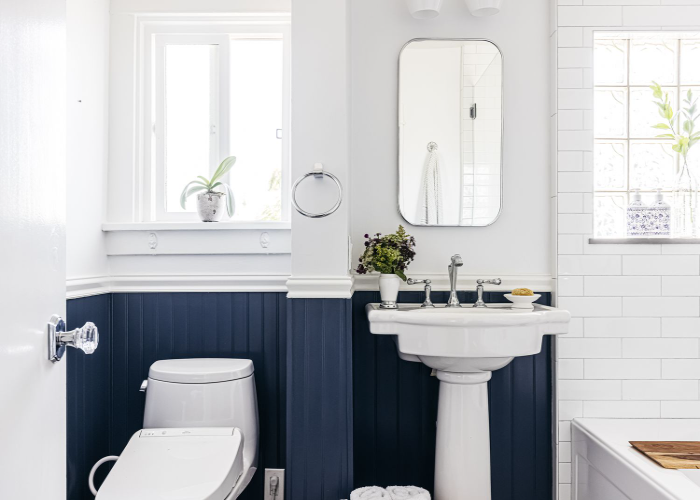 Wainscoting gives a rich, luxurious feel to any part of your house and is widely used in dining rooms to create a sense of sophistication. It is the decorative wood paneling that can be seen on the lower half of the walls. Unlike the old times, you do not need to use wood to remodel your small bathroom. The great idea is to use affordable materials such as PVC or medium-density fiberboard that looks like wood but comes at a much cheaper cost.
When it comes to designing your wainscoting, the sky's the limit. You can play around with what style goes with your bathroom, the height, and even have some carvings. Beadboard and raised panel wainscoting are some popular choices that add depth to your bathroom.
11. Use Single Showers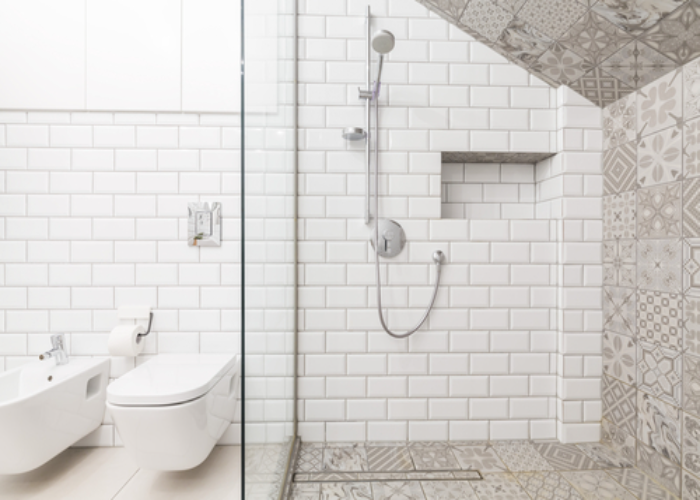 Remodeling a small bathroom on a budget, unfortunately, means letting go of some luxuries. Since space is a major constraint, the most obvious solution is to ditch your bathtub for a single shower. It is a great way to make the most of the floor space. It is a practical and cost-effective solution to your problems. But it can also be made to look sophisticated and visually appealing.
Single showers have a streamlined design that adds a contemporary touch to your bathroom. You can add a glass door to increase the visual appeal. You can also customize the glass panels and frames to suit your or your guest's aesthetics.
12. Get a Repurposed Vanity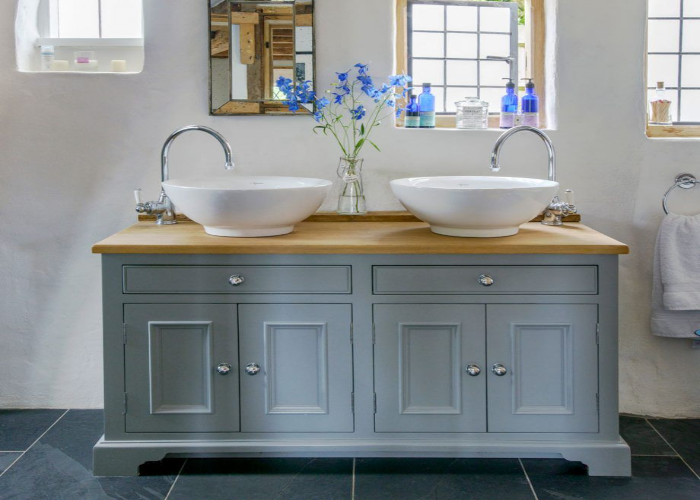 Another great budget-friendly idea for your small bathroom is to repurpose old vanity cabinets. It is a creative solution that adds to the character of your bathroom. You can choose any old vanity cabinet that you might own and give it a new twist. You can put another coat of paint or even break it down and build something new.
Hand-crafted vanities contain a unique charm that mass-produced goods don't have. It is a great eco-friendly way to fill your bathroom with a visually pleasing fixture. It also offers great personalization options that you can curate, especially for your guests.
13. Remodel It Yourself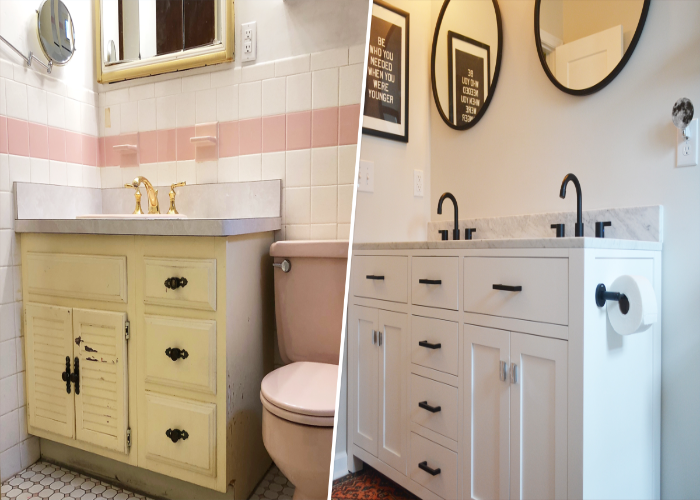 Remodeling your small bathroom on your own is a great budget-friendly idea. Embarking on a DIY journey can be as rewarding as it is fun and cost-effective. One of the major costs in remodeling can be attributed to labor. By eliminating that, you can focus on getting better quality materials that look good and last long.
This also gives you full creative control over how you want your bathroom to look. You can tailor all your fixtures to look in a way that reflects your unique style. You are also not limited by time and can take any number of weeks to finish the task. You need to know that the whole process requires careful planning, research, and knowledge of craftsmanship. On the whole, it can be a great learning activity.
Final Thoughts
Remodeling your guest bathroom on a tight budget is entirely possible with the right approach and a bit of planning. You may have learned that being on a budget doesn't mean that you have to compromise on style or elegance.
From small cosmetic changes like painting the walls or changing the hardware to more significant upgrades like installing energy-efficient devices or creating additional storage space, there are various options to suit different budgets and preferences. Remember to prioritize your needs and focus on the areas that require the most attention.
You must remember to think and plan from your guest's perspective also. With a little creativity and resourcefulness, you can completely refurbish your bathroom and enhance its functionality and aesthetics. This can be done in a way that is appreciated by you and your guests.
Now that you have the tools and know-how to create a beautiful space that reflects your style, go ahead and confidently start your bathroom remodeling project.