People usually spend most of their time in their living rooms. It is a place to relax, socialize, and have fun. Therefore, it is a great idea to revamp your living room to capture a carefree, relaxing vibe. An ever-popular approach is to convert the room into a coastal paradise. At first, glance, creating a beach-themed living room can transport you to a coastal vibe seems like an expensive affair. But with the right strategy and knowledge, it doesn't have to be.
Embracing the calming ambiance of the seaside doesn't require expensive décor or renovations. Whether you live near the coast or miles away, infusing your living room with beach-inspired elements can bring a sense of relaxation and rejuvenation into your daily life. We will explore 15 budget-friendly beach-themed living room ideas that will help you create a coastal paradise without straining your finances.
Get ready to dive into a world of coastal charm and discover how to capture the essence of seaside living in your living room.
 1. Use Wooden Flooring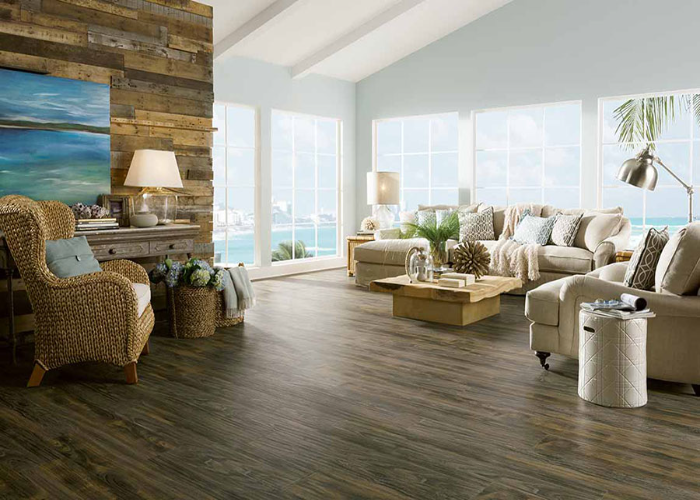 Wooden flooring exudes a calm and rustic charm that coastal retreats are well-known for. Natural materials are your go-to if you want to create the perfect coastal mood in your living room. Whether you opt for solid hardwood, engineered wood, or laminate flooring, the natural textures and tones of wood can mimic the look and feel of a cozy beach house. Light wood materials like oak can bring out the aura of the beach, while weathered styles add a touch of rustic beach cottage vibes.
Additionally, the durability and easy maintenance of wooden flooring make it practical for withstanding the demands of a beach-themed living room. By incorporating wooden flooring, you can bring a breezy coastal element to your house, elevating the beach-inspired aesthetic without compromising on quality or budget. All in all, wooden flooring is a great low-cost idea for a beach-themed living room.
2. Invite Natural Light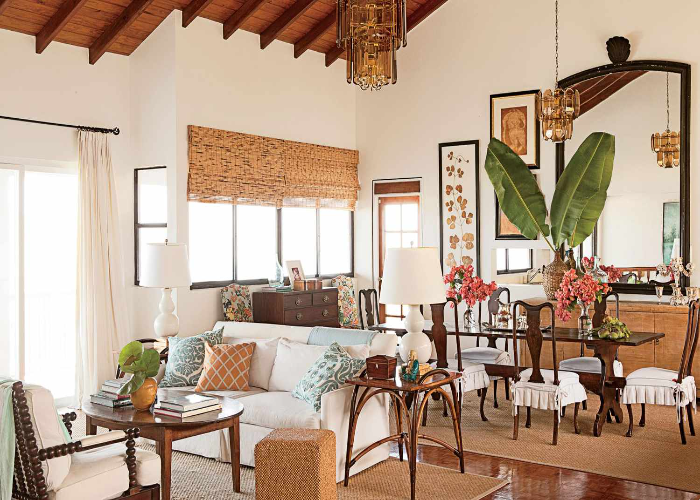 Talking about budget-friendly beach themes for your living room, this one might be the best because it's free. Nothing gives the charm and serenity of the beach like natural sunlight. Choose to have your windows in a place where maximum sunlight can fill the house. Another plus point of windows is that it lets the breeze in, making your room feel cooler and fresher. Natural light brings a sense of openness to it and makes your house feel bigger.
You must position your furniture carefully so that it is illuminated by light but does not block it. You might also consider installing a skylight to flood the room with natural lighting. This will create an experience that will bring you back to those sun-kissed shores.
3. Use Coastal Colors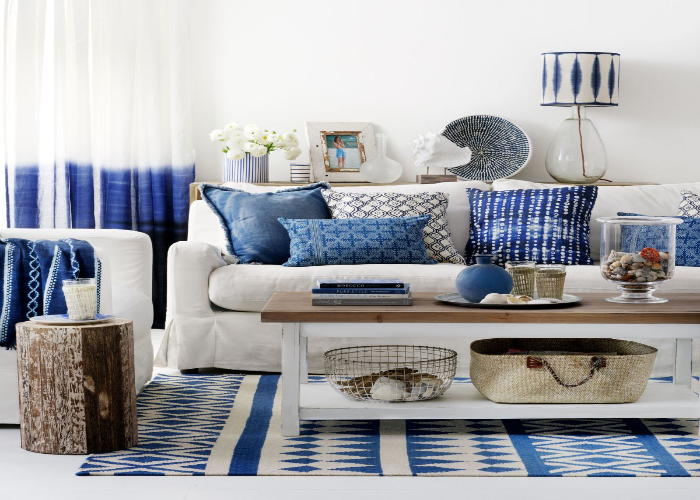 When it comes to budget-friendly beach-themed living room ideas, coastal colors are the way to go. Coastal color palettes typically consist of light and breezy shades that evoke the essence of the seaside. Go for soft blues, aqua tones, sandy beiges, and crisp whites to create a refreshing and coastal-inspired atmosphere. These colors mimic the hues of the ocean, sky, and shores, instantly transporting you to a beachside shack.
Paint the walls in a light blue or off-white shade to create a backdrop reminiscent of clear blue water or sandy beaches. Incorporate these coastal colors in your furniture upholstery, curtains, and rugs. It is a brilliant way to Accessorize with beach-themed artwork or decorative pieces in complementary shades.
4. Create a Holiday Vibe with Plants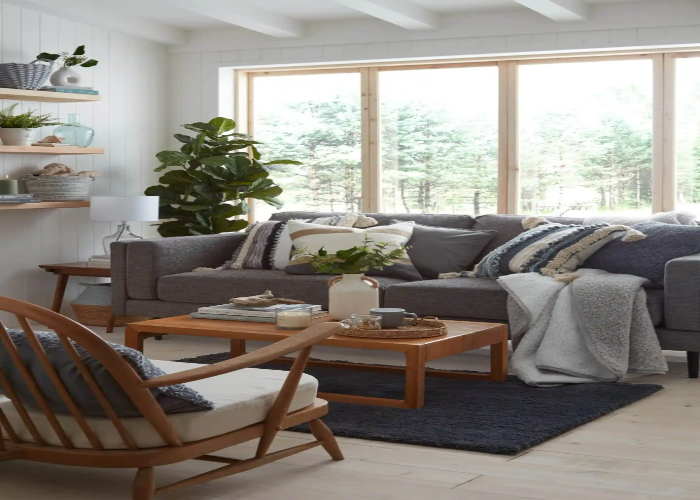 Plants go well with pretty much any living room theme. They bring a sense of calm, tranquility, and nature. Greenery not only adds a touch of tropical charm but also brings freshness to your room. A coastal-themed living room would benefit from the presence of seaside flora like palm and snake plants.
Along with pots, you can also go for hanging plants that will add another dimension to the scenery and will completely immerse you in the coastal setting. Embrace the seaside theme with the everlasting beauty of nature in your budget-friendly beach-themed living room.
5. Add Jute Furniture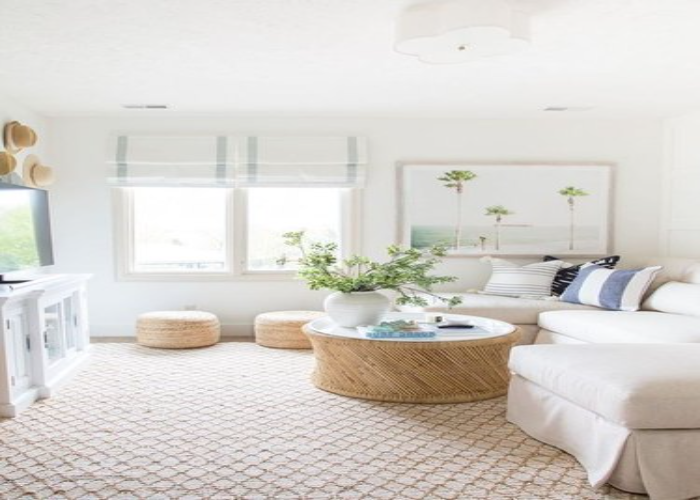 Objects made from jute add a touch of simplicity to your surroundings. You can easily elevate the beach-themed ambiance of your living room on a budget by using jute furniture. A natural fiber derived from plants, jute brings a rustic and coastal charm to your space. Budget-friendly jute furniture options include chairs, ottomans, or even a jute rug.
Jute furniture adds texture and earthiness to the room, perfectly complementing the beach-inspired aesthetic. Its neutral tones blend seamlessly with coastal colors and natural elements. Not only is jute furniture affordable, but it is also durable and eco-friendly. By incorporating jute furniture into your beach-themed living room, you can create a cozy and homely coastal cottage.
6. Use Actual Beach Décor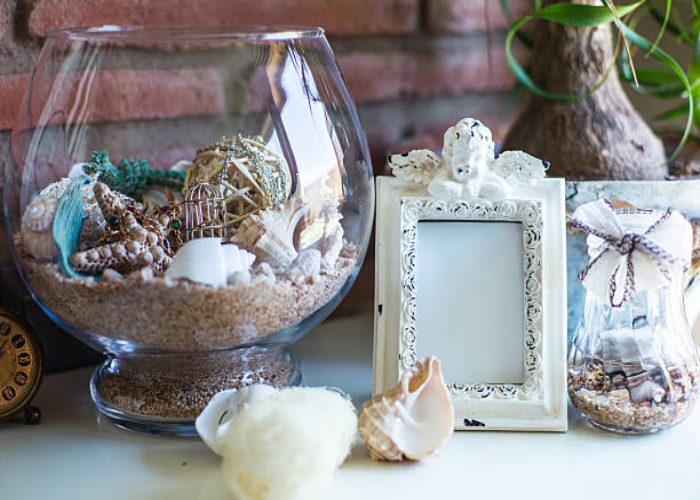 To create an authentic beach-themed living room on a budget, you can use actual beach decor to give a seaside vibe. Collect seashells, driftwood, and beach stones during your beach visits and use them as decorative elements. Finding seashells can be a fun activity for you and your family. Display seashells in glass jars or bowls, create a driftwood centerpiece or arrange beach stones in a decorative tray.
Hang a fishing net on the wall and adorn it with seashells or starfish. Incorporate sailing elements like anchors, ship wheels, or vintage maps. Look for affordable beach-themed artwork, such as seascapes or beach landscapes. By using actual beach decor, you can bring the genuine essence of the beach into your living room.
7. Fill the Walls with Art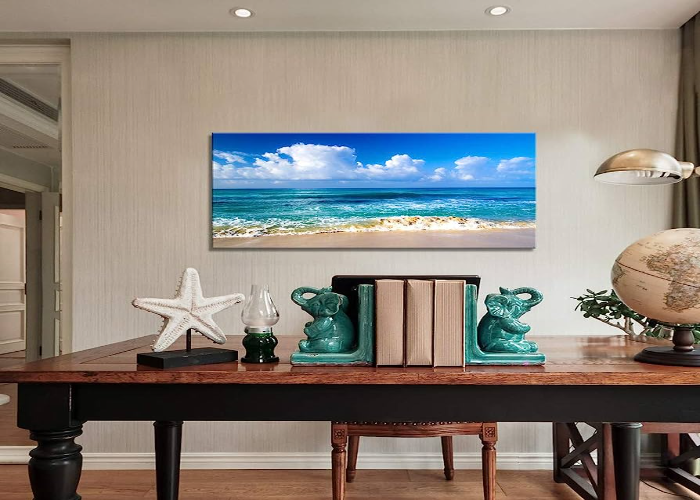 Art tends to transport the viewer to a new location. You can revamp your budget-friendly beach-themed living room by filling the walls with paintings that capture the essence of the coast. Look for affordable pieces or create your beach-inspired artwork using canvases and acrylic paints. Opt for seascapes, beach landscapes, or charming beach quotes that evoke a sense of relaxation and tranquility.
You can also frame and hang vintage maps of coastal areas or display beach-themed signs with uplifting messages. Incorporate wooden oars or paddles as unique wall art pieces to add a nautical touch. By filling the walls with carefully chosen beach-themed art, you can create a visually captivating and budget-friendly coastal atmosphere in your living room.
8. Incorporate a Hammock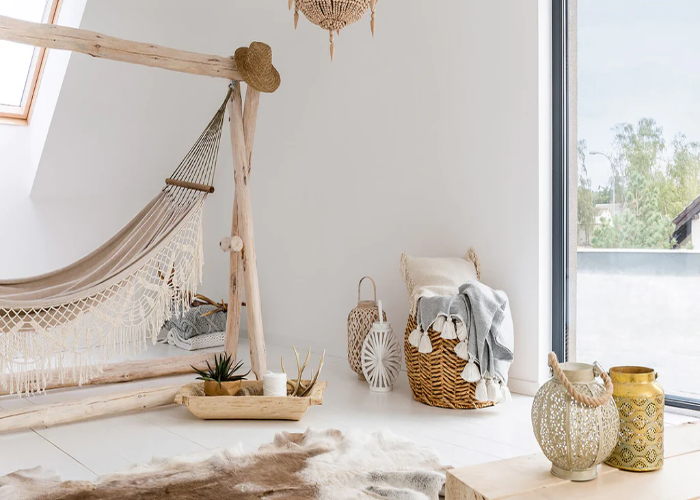 A hammock is the ultimate symbol of relaxation and seaside chilling. You can hang a hammock in a corner or near a sunny window to evoke a laid-back vibe. Opt for a lightweight and portable hammock that can be easily installed and taken down as needed. The gentle swaying motion and comfortable fabric of the hammock will instantly transport you to a beachside paradise.
Use vibrant and breezy fabrics for the hammock to add a pop of color and enhance the beach-themed ambiance. Whether you're lounging with a good book or simply relaxing, a hammock will add a lot to your budget-friendly beach-themed living room.
9. Have Access to The Outdoors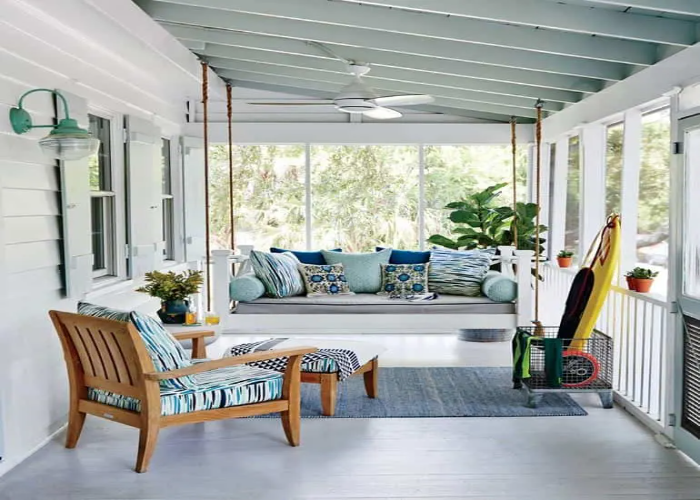 Nothing speaks of coastal influence like having quick access to the outdoors. If your living room has a patio, balcony, or nearby outdoor space, you can incorporate elements that inspire outdoor living. Create a seamless transition by using large glass doors or windows that offer unobstructed views of the outdoors. Arrange your furniture to face the outdoor space, allowing you to enjoy the natural beauty and open air.
Install a cozy seating area outdoors with comfortable chairs, a hammock, or even a swing for a relaxed and beachy vibe. These changes will be perfect for your beach-themed living room on a budget.
10. Make Things Bohemian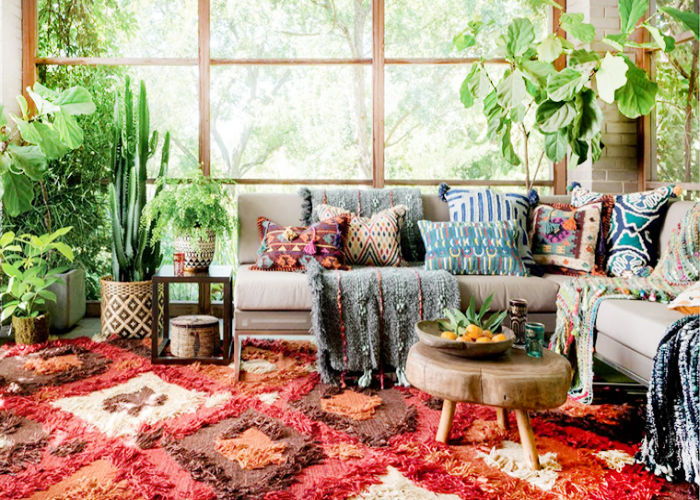 If you truly want to give your living room an exotic look, try incorporating an elegant, bohemian style.  Infuse colorful patterns, such as vibrant rugs, tapestries, and throw pillows, to add a sophisticated boho flair. Look for second-hand furniture with ornate carvings or distressed finishes that exude a bohemian charm. Incorporate natural elements like woven baskets, macrame plant hangers, and rattan furniture to create a relaxed and earthy feel. Hang dreamcatchers or string lights to add a whimsical touch.
Mix and match patterns, textures, and colors to create a visually captivating and free-spirited space. By embracing bohemian elements, you can fill your beach-themed living room with a cool bohemian style while staying within your budget.
11. A Sophisticated Mediterranean Style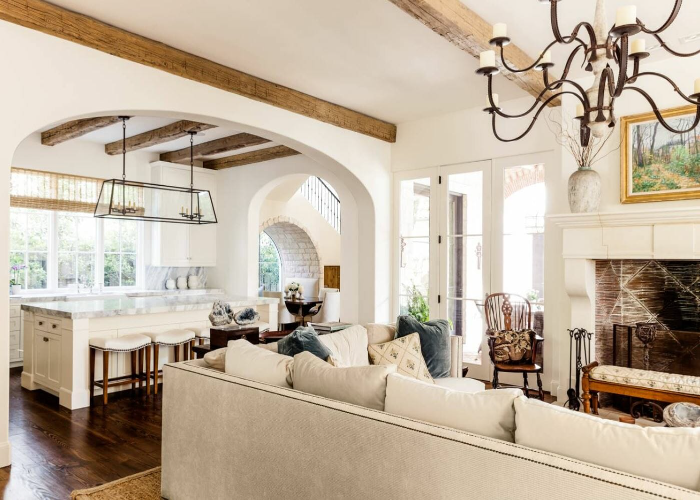 The Mediterranean style is a cool yet artsy blend of blue and white that transports you to an exotic seaside location in an instant. You can try a neutral color palette inspired by the sun, sea, and sand, using hues like beige, cream, and warm earth tones as the foundation. Incorporate materials like wrought iron and natural stone for a touch of Mediterranean opulence.
Accessorize with decorative accents like ceramic vases, ornate mirrors, and mosaic patterns that reflect the region's rich artistic heritage. Enhance the ambiance with soft lighting through elegant chandeliers or candles. By blending Mediterranean elements with your beach-themed living room, you can achieve a sophisticated and refined space on a budget.
12. Use Attractive Wallpapers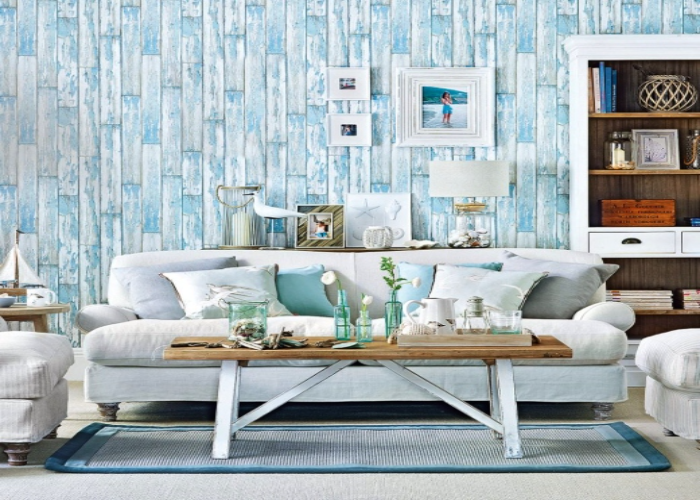 Wallpapers are a safe and low-cost way of revamping your beach-themed living room. They create a captivating backdrop to your surroundings and serve as a powerful visual aid. The regular picks include beach-inspired designs like seashells, palm trees, or tropical motifs that evoke a coastal vibe. Choose wallpapers in soothing colors such as blues, greens, or whites to create a serene and inviting atmosphere.
Alternatively, you can opt for textured wallpapers that mimic the look and feel of natural elements like woven grass or driftwood for added depth and visual interest. If you are bold enough, you can also try an underwater theme. By carefully selecting attractive wallpapers, you can create a unique personality for your beach-themed living room.
13. Get Curtains that Complete the Look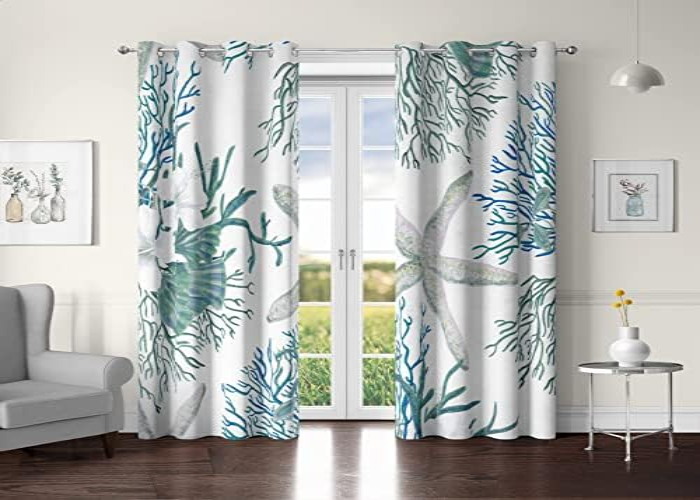 The color, print, and material of a curtain can make or break the mood of your living room. You can finalize the look of your budget-friendly beach-themed living room by selecting curtains that perfectly complement the coastal aesthetic. Choose lightweight and breezy fabrics like sheer or semi-sheer curtains in soft colors such as white, light blue, or beige. These colors evoke a sense of breeziness and mimic the vibes of the beach.
Consider incorporating patterns inspired by the sea, such as waves, seashells, or coral prints, for an added touch of coastal charm. Opt for curtains with natural textures like linen or cotton to enhance the relaxed and organic feel of the space. By carefully selecting curtains that harmonize with your beach-themed living room, you can create a cohesive and visually appealing space that brings the coast to your house.
14. Keep It Laid Back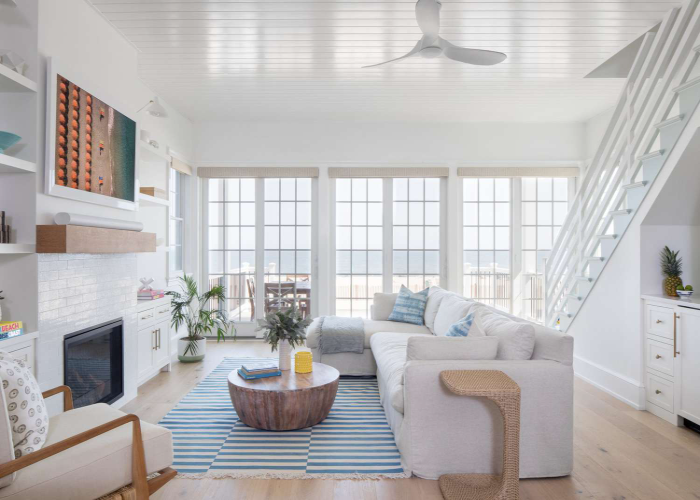 When people think of the seaside, they think of being relaxed and laid back. To create an authentic coastal experience on a budget, your beach-themed living room should inspire this emotion. You can use casual furniture pieces that invite lounging and relaxation, like hammocks or bean bags. Opt for low-maintenance materials like slipcovers in beachy colors or natural fabrics that can withstand everyday use.
A minimalist approach here can work wonders. Use soft, diffused lighting with floor or table lamps to create a warm and cozy ambiance. Add cozy elements like plush pillows, soft blankets, and a plush rug to enhance the comfort factor.
15. Embrace Coastal Fragrances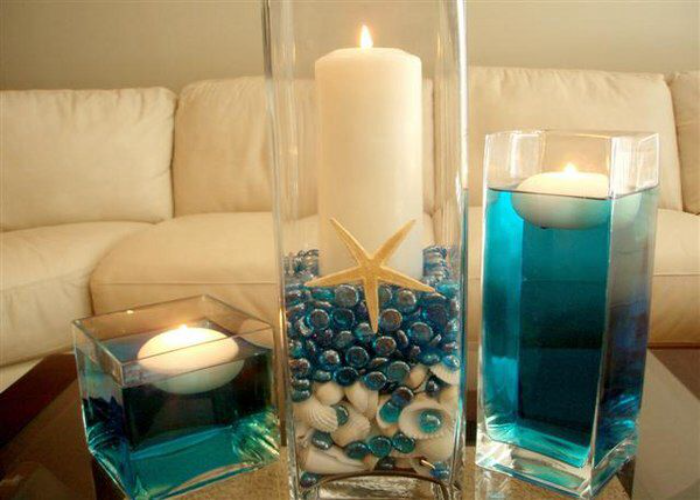 Last but not least, creating a themed appearance for your living room is not just about visuals. Odors play a crucial role in transporting people to a destination. To enhance the beach-themed ambiance of your living room, infuse it with coastal fragrances that capture the essence of the sea and a refreshing seaside breeze. Embrace scented candles, diffusers, or room sprays with invigorating notes like ocean mist, saltwater, or tropical fruits. Look for aromas that contain hints of jasmine or coconut. Strategically place scented candles around the room or use a diffuser to disperse the fragrance gently.
By incorporating coastal fragrances, you can create an authentic and relaxing beach-themed living room that appeals to both sight and scent. Let the coastal fragrances envelop your space, adding a delightful and invigorating element to your budget-friendly beach-inspired living room.
Conclusion
Transforming your living room into a beach-themed haven on a budget is exciting. That allows you to escape the daily grind and relax in the soothing vibes of coastal living.
By incorporating the right colors, textures, and elements, you can create a space that exudes calm and relaxation without spending a fortune. From repurposing existing furniture to adding beach-inspired accents and artwork, there are numerous budget-friendly ideas to infuse your living room with coastal charm.
With a little imagination and resourcefulness, you can bring the beach to your living room and enjoy a serene retreat that uplifts your spirits and transports you to the seaside, even when you're miles away from the shore.
So grab your favorite seashells, gather some coconuts, and get ready to create a coastal paradise that will leave you feeling refreshed and rejuvenated every time you or your guests step into your living room.