When it comes to creating a welcoming and stylish outdoor space, the porch ceiling often gets overlooked. However, by giving it some attention, you can transform your porch into a true extension of your home.
Whether you have a small front porch or a spacious wraparound veranda, the ceiling is an essential element that can add charm and personality to your outdoor oasis. A porch ceiling can set the tone of your entire home decor, and when you are relaxing on weekends, a good-looking porch ceiling may help elevate your mood.
In this blog post, we will explore 21 creative porch ceiling ideas that will inspire you to reimagine your outdoor space. From traditional options to more unconventional designs, we've got you covered.
So, let's dive in and discover how you can elevate your porch ceiling game!
1. Classic Beadboard Elegance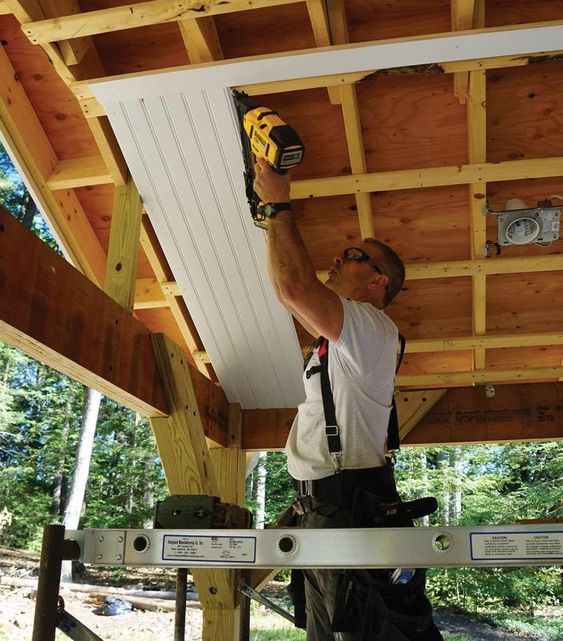 Nothing says timeless elegance quite like a beadboard ceiling. With its clean lines and orderly rows of narrow wood planks, beadboard offers a classic look that complements a variety of architectural styles. It adds a touch of sophistication to any porch and creates a warm and inviting ambiance. Paint it in a crisp white shade for a fresh and airy feel, or choose a soft pastel color to infuse your space with a hint of vintage charm.
2. Rustic Exposed Beams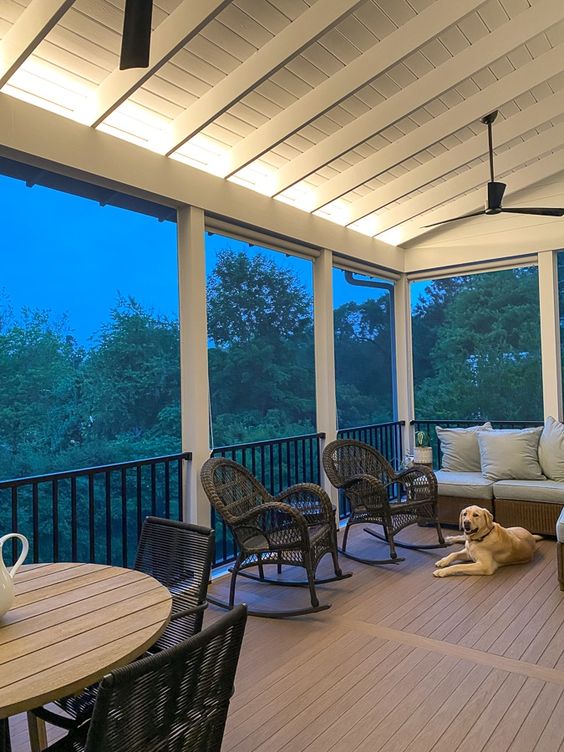 If you crave a more rustic aesthetic, exposed beams are the way to go. Exposed wood beams can bring a sense of natural beauty and warmth to your porch. They work particularly well in farmhouse or cottage-style homes, where they create a cozy and inviting atmosphere. Leave the beams in their natural state for an authentic look, or paint them in a rich earth tone to add depth and character to your porch.
3. Pop of Colour with Painted Ceilings
One of the simplest and most effective ways to transform your porch ceiling is by adding a splash of color with paint. Don't be afraid to think outside the box and choose vibrant hues that reflect your personality. A bold blue or sunny yellow ceiling can create a cheerful and uplifting atmosphere, while a soft green or tranquil grey can evoke a sense of serenity. Just make sure to select a high-quality exterior paint that can withstand the elements and enjoy the stunning impact it will have on your porch.
4. Bamboo Bliss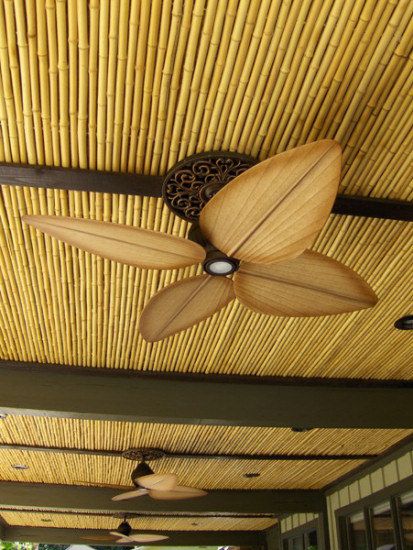 Imagine sipping a refreshing drink on your porch, surrounded by the gentle rustle of bamboo leaves—an oasis right in your own backyard. For those who seek a tropical or Asian-inspired vibe, bamboo ceilings are a fantastic choice. Bamboo panels can be installed to cover your porch ceiling, providing a unique and exotic look. Not only does bamboo add visual interest, but it also offers excellent durability and natural resistance to moisture, making it perfect for outdoor applications. It is a versatile and sustainable material that can transform any outdoor space into a tranquil retreat. Its unique look is unmatched and adds character to any setting.
Whether you're looking to create a cozy seating area on your porch or an expansive deck overlooking your backyard, bamboo can provide the perfect backdrop for your outdoor oasis. Add some bamboo to your outdoor space today and relax in style.
5. Tongue and Groove: Timeless Charm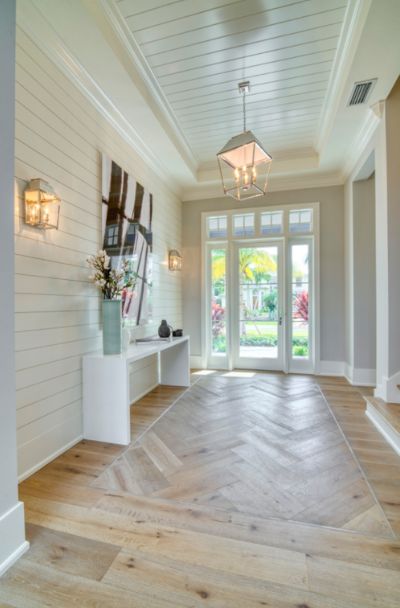 When it comes to porch ceilings, tongue and groove is a classic option that never goes out of style. This design features interlocking wooden boards that fit seamlessly together, creating a smooth and polished appearance. Tongue and groove ceilings lend a sense of traditional charm to your porch, enhancing its overall architectural appeal. They work well in various settings, from coastal cottages to modern farmhouses. Paint the boards in a crisp white shade for a traditional look, or stain them in a rich wood tone for a more rustic feel.
6. Stenciled Patterns for a Whimsical Touch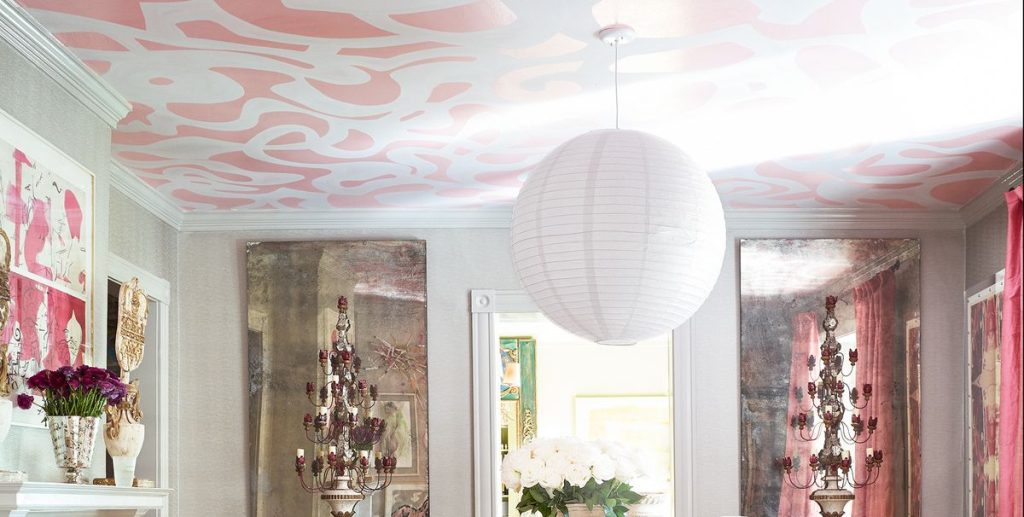 If you're feeling artistic, consider stenciling a pattern onto your porch ceiling for a touch of whimsy. Stencils offer a cost-effective way to add visual interest and personality to your outdoor space. You can choose from a variety of patterns, such as floral motifs, geometric shapes, or even celestial designs. Use contrasting colors to make the pattern pop, or opt for subtle shades for a more understated effect. Stenciled ceilings are a creative DIY project that allows you to showcase your personal style and make a bold statement.
7. Shiplap Chic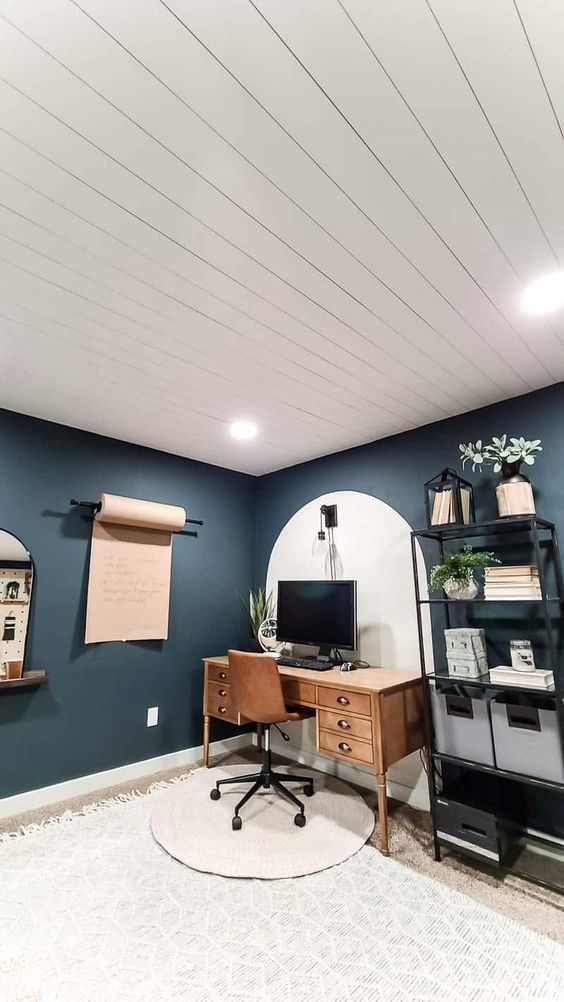 Thanks to its popularity in home design, shiplap has made its way to porch ceilings as well. This versatile material consists of long horizontal boards with grooves that fit snugly together, creating a distinctive look. Shiplap ceilings provide a touch of farmhouse chic, adding texture and character to your outdoor space. Leave the boards in their natural wood finish for a rustic feel, or paint them in a soft white or pastel hue for a more contemporary look. Whichever style you choose, shiplap will bring a dose of casual elegance to your porch.
8. Sky's the Limit with a Skylight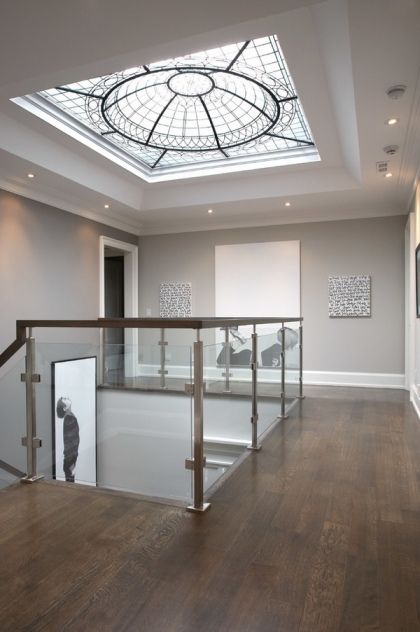 Why limit your view of the sky to just your backyard? Install a skylight in your porch ceiling to create an open and airy atmosphere. A skylight not only floods your space with natural light but also allows you to stargaze from the comfort of your porch at night. It's a fantastic way to connect with the outdoors and bring a sense of expansive beauty to your porch. Additionally, the additional light can make your porch feel larger and more inviting. Consider adding a retractable shade to the skylight to control the amount of sunlight that enters your space during the day.
9. Modern Elegance with Metal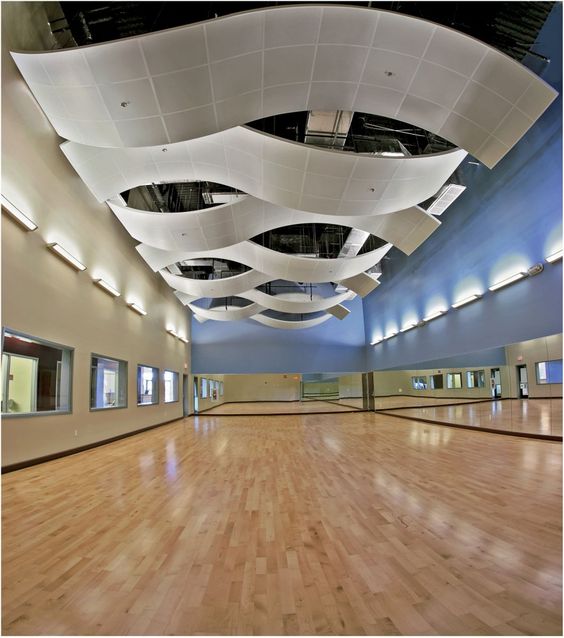 For a contemporary twist on porch ceilings, consider using metal materials such as aluminum or steel. Metal ceilings offer a sleek and modern aesthetic that works well in urban or industrial-inspired homes. They provide a cool and sophisticated look while requiring minimal maintenance. Choose from a variety of finishes, such as brushed aluminum or powder-coated steel, to achieve the desired effect. Metal ceilings can be installed as large panels or in a drop-ceiling style with individual tiles, allowing for creative and unique design possibilities.
10. Romantic Whimsy with Fabric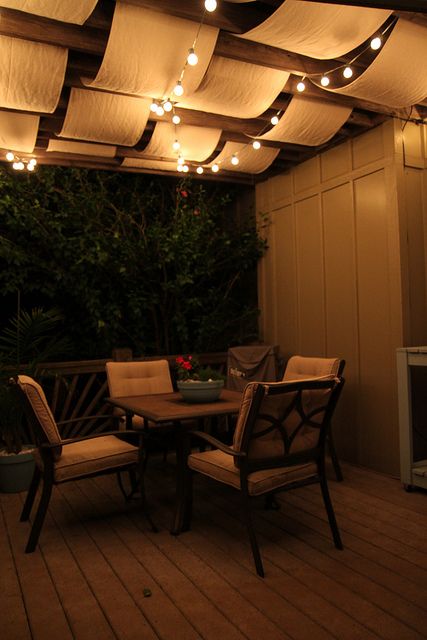 If you dream of a whimsical and romantic porch, why not consider draping fabric from your ceiling? Light, sheer fabrics like gossamer, chiffon, or voile can create an ethereal atmosphere, gently billowing in the breeze. Fabric ceilings add a touch of elegance and softness to your porch, transforming it into a dreamy retreat. Opt for neutral shades like white or ivory for a classic look, or go bold with vibrant colors or patterned fabrics. Just ensure that the fabric is durable and can withstand outdoor conditions, or consider removing it during inclement weather.
11. Modern Artistry with Geometric Paneling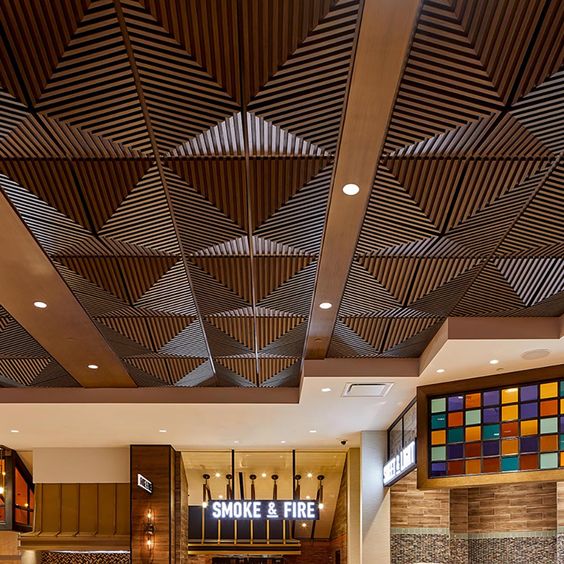 Geometric paneling is an excellent choice for those who appreciate modern artistry and clean lines. This design features geometric shapes, such as squares, rectangles, or triangles, arranged in a repetitive pattern across the ceiling. It adds visual interest and a contemporary touch to your porch. You can achieve this look with various materials, such as wood, PVC, or even metal. Experiment with different sizes and color combinations to create a unique and eye-catching statement piece.
12. Nautical Vibes with Rope Accents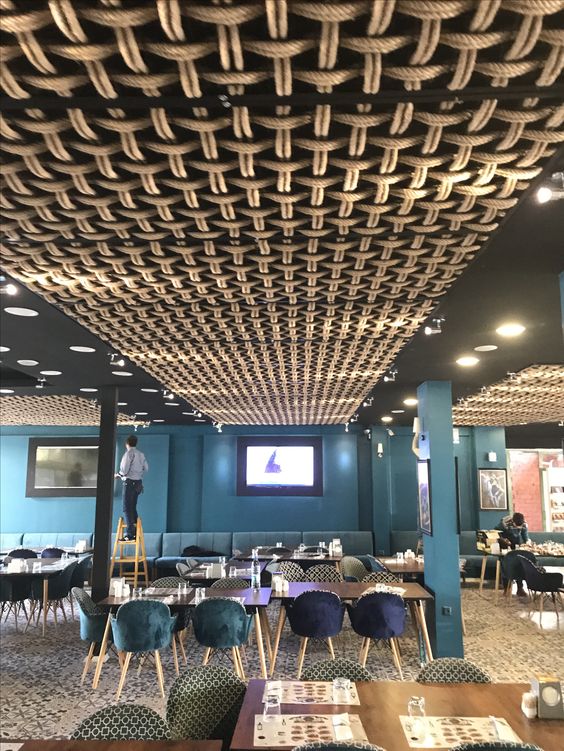 Bring a touch of coastal charm to your porch by incorporating rope accents into your ceiling design. Rope can be used in various ways, from creating intricate patterns to wrapping it around beams or installing it as a border. You can also use wood beads and rope chandeliers to add that extra natural rope touch. It adds a nautical flair and infuses your porch with a relaxed and beachy ambiance. Opt for natural rope for a rustic look, or choose synthetic rope for added durability. Consider combining rope accents with other materials like wood or beadboard for a layered and textured effect.
13. Whimsical Wood Pallets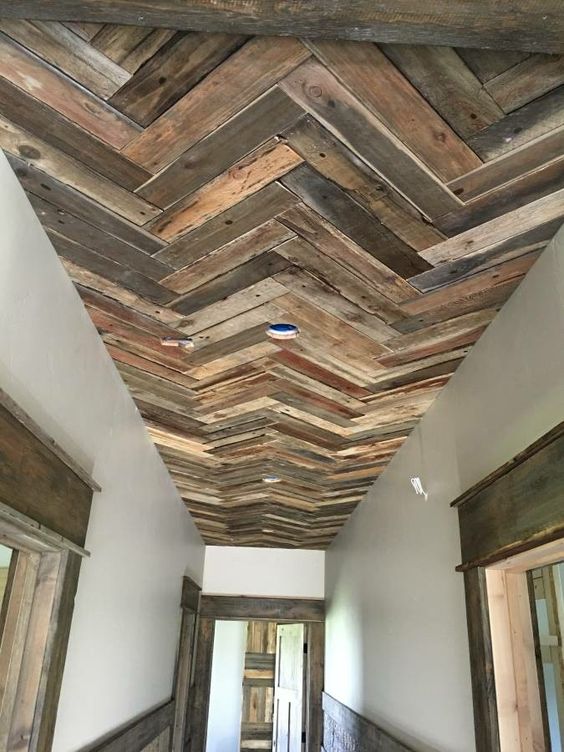 If you're a fan of upcycling and DIY projects, using reclaimed wood pallets for your porch ceiling can be an eco-friendly and whimsical option. Pallets can be disassembled, and the boards can be installed horizontally, vertically, or even in a herringbone pattern. This creates a rustic and charming look that's full of character. Leave the wood in its natural weathered state for a distressed appearance or sand and stain it to achieve a more polished look. Wood pallet ceilings are an excellent choice for those seeking a unique and budget-friendly porch makeover.
14. Asian Zen with Bamboo Matting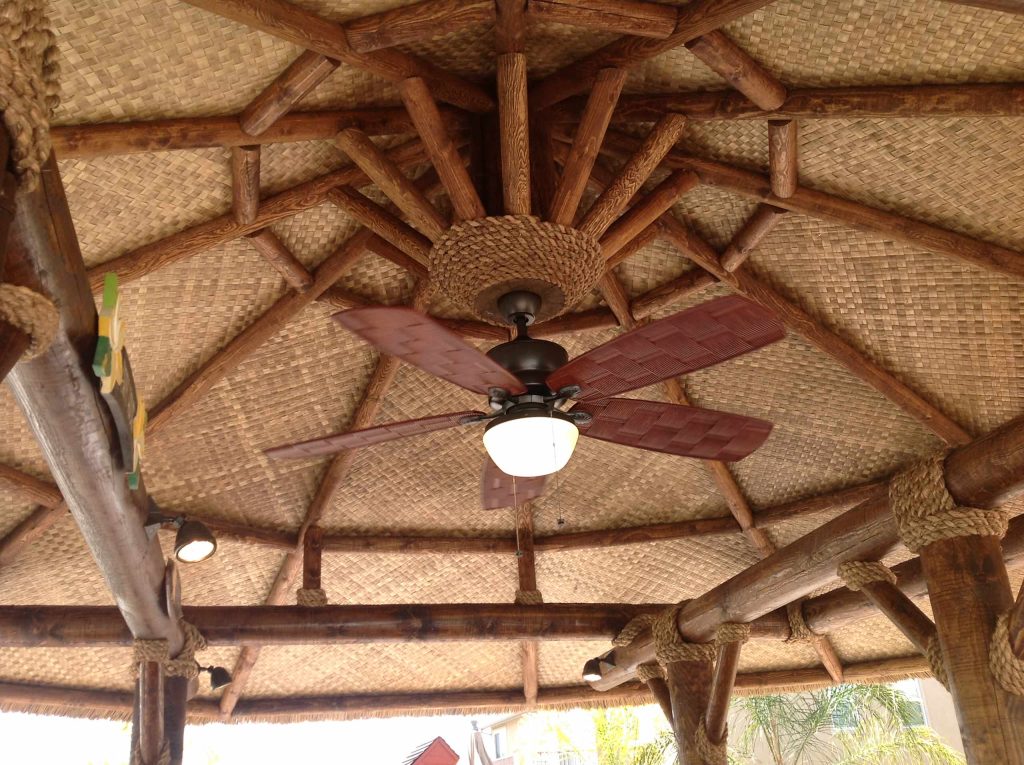 Embrace the serenity and simplicity of Asian-inspired design with bamboo matting for your porch ceiling. Bamboo mats can be attached directly to the ceiling, providing a seamless and natural look. This option creates a tranquil atmosphere, evoking the feeling of a Japanese garden or a tropical retreat. Bamboo matting is relatively easy to install and can be cut to fit any ceiling size or shape. It also pairs well with other organic materials like stone or water features, completing the Zen aesthetic.
15. Whimsical Mural for a Storybook Look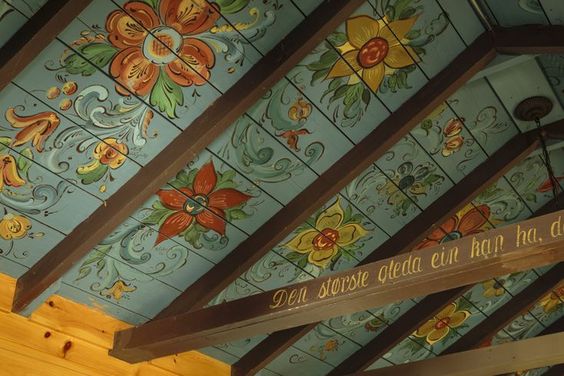 Let your porch ceiling become a canvas for whimsical murals and transport you to a storybook world. Murals can depict various themes, such as nature scenes, celestial bodies, or even scenes from your favorite fairy tales. This creative approach adds a touch of enchantment and personalization to your porch. You can hire a professional artist to bring your vision to life or even try your hand at mural painting if you're feeling adventurous. Just remember to use weather-resistant paint and sealant to protect the mural from the elements.
16. Industrial Chic with Exposed Ductwork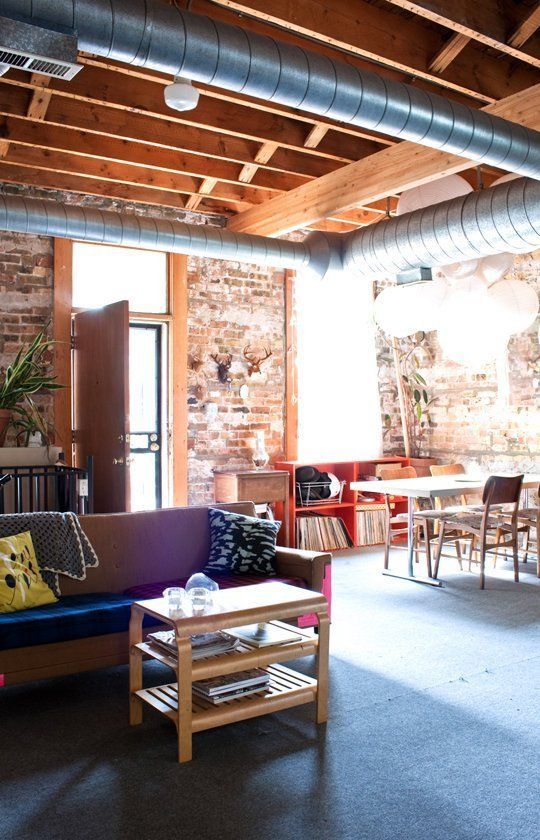 If you have an industrial-style home or prefer a modern, edgy look, consider embracing exposed ductwork for your porch ceiling. Exposed ducts add an urban and utilitarian aesthetic, giving your outdoor space an industrial chic vibe. They can be left unfinished for a raw and authentic appearance or painted in a contrasting color to create a focal point. Pair the exposed ductwork with other industrial elements like metal light fixtures or concrete floors for a cohesive and contemporary design.
17. Vintage Elegance with Tin Tiles
For a touch of vintage charm, tin tiles are an excellent choice for your porch ceiling. Tin ceilings were popular during the Victorian era and have made a comeback in recent years. These intricately designed tiles add elegance and character to your porch, reminiscent of a bygone era. You can find a wide variety of patterns and finishes, from simple and understated to ornate and highly detailed. Leave the tiles in their natural copper color for an authentic look, or paint them in vibrant hues for a more modern twist.
18. Natural Beauty with Exposed Rafters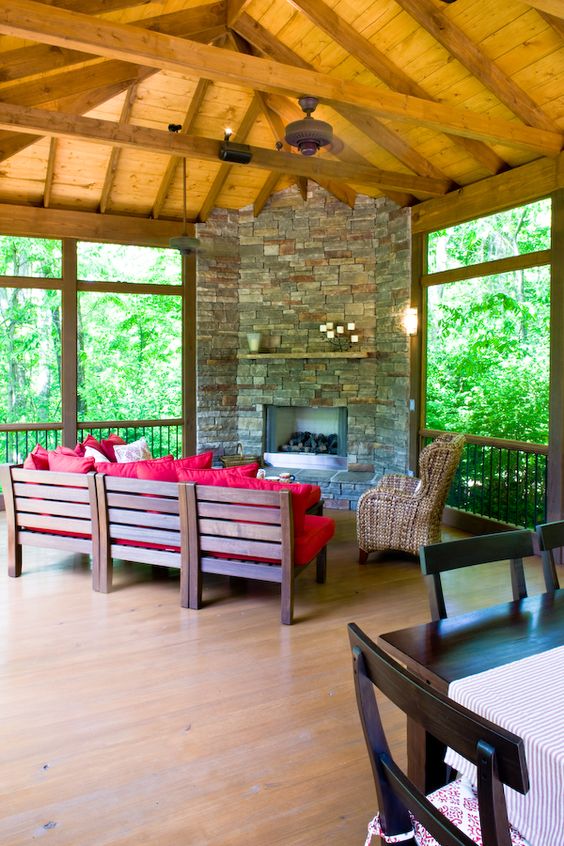 If you appreciate the beauty of natural materials, consider exposing the rafters of your porch ceiling. Exposed rafters add a rustic and organic touch to your outdoor space, showcasing the beauty of wood. This design choice works well in log cabins, bungalows, or homes with a strong connection to nature. You can leave the rafters in their natural finish or apply a protective coat of sealant to enhance the wood's color and grain. The exposed rafters bring a sense of authenticity and warmth to your porch while providing a stunning architectural element.
19. Coastal Charm with Seashell Accents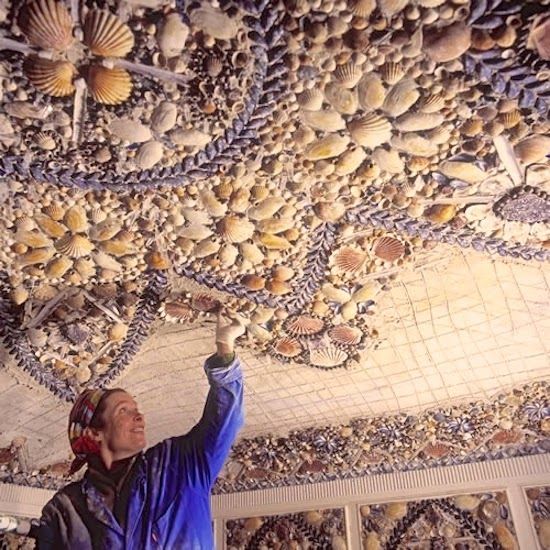 Bring the beach to your porch by incorporating seashell accents into your ceiling design. Seashells can be glued or suspended from the ceiling, creating a whimsical and coastal vibe. Consider arranging them in patterns or clusters to add visual interest. You can also use seashells as wall hangings, decorative nets, and chandeliers. You can leave the seashells in their natural color for an organic look or paint them in vibrant shades for a pop of color. Seashell ceilings are a charming option for beach houses or anyone who wants to infuse their porch with a touch of seaside serenity.
20. Glamorous Mirrored Ceilings
Mirrored ceilings work well in contemporary or Art Deco-inspired homes and can be complemented by sleek furniture and metallic accents. For a touch of glamor and sophistication, consider installing a mirrored ceiling on your porch. Mirrored ceilings reflect light and create the illusion of a larger space, making your porch feel more open and airier. This design choice adds a touch of opulence and creates a luxurious atmosphere. Be sure to use outdoor-rated mirrors that are resistant to weather and moisture.
21. The Power of Plants with a Living Ceiling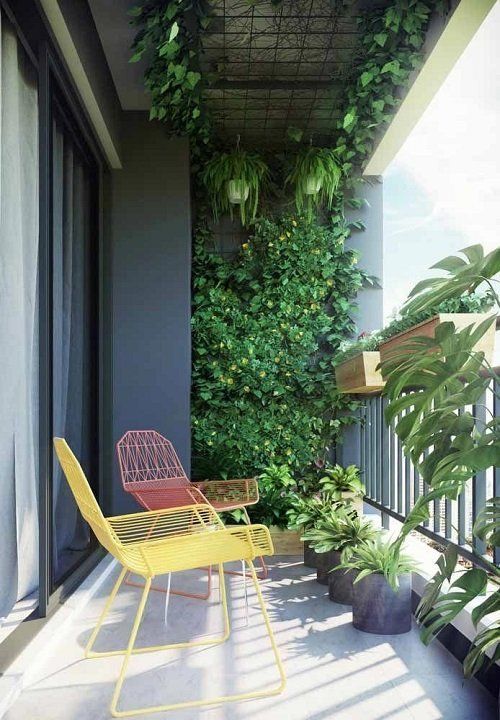 Embrace the beauty of nature by transforming your porch ceiling into a living masterpiece. Install a trellis or wire grid and let climbing plants like ivy, jasmine, or passionflower take over. As the plants grow, they will create a lush and verdant ceiling, adding a natural and organic touch to your outdoor space. Use ceiling hooks to hang the plants. A living ceiling not only provides shade and privacy but also helps purify the air and supports local wildlife. Be sure to choose plants that thrive in your climate and properly maintain them to keep the ceiling looking vibrant and healthy.
Final Thoughts
Your porch ceiling is an often overlooked canvas that can elevate the overall aesthetic of your outdoor space. From classic beadboard to whimsical murals, there are countless creative options to choose from.
Whether you prefer a traditional, rustic, modern, or eclectic style, there is a porch ceiling idea that will suit your taste and enhance the charm of your home. By incorporating one of these 21 porch ceiling ideas, you can transform your porch into a welcoming and stylish oasis that reflects your personality.
Remember to consider the architectural style of your home, the climate in your area, and the overall ambiance you want to create. With a little creativity and imagination, your porch ceiling can become a focal point that brings joy and character to your outdoor living space.
So, go ahead and explore the possibilities. Let your imagination run wild, and allow your porch ceiling to become a reflection of your style and a conversation starter for all who visit.
It's time to make your outdoor space truly shine with these inspiring porch ceiling ideas.