When it comes to home design, we often overlook the potential of our staircases. Leaving the stairs bare and devoid of character will be unjust to home designs. Wide range of staircase runner ideas offers aesthetics and serves as a practical solution for many common households, from reducing noise and preventing slips to protecting your stairs from wear and tear. The runners are both beautiful and purposeful. But the real magic lies in the vast choices they offer. 
From luxurious textures to vibrant patterns that add a splash of color, stair runners can be tailored to reflect unique styles. They will blend with various design themes, including contemporary, traditional, and more.
Here are 15 best staircase runner ideas that will unlock another dimension of the design world. Select the correct idea based on the cost, color, how it goes with the house decor, etc.
1. Some Animals on The Floor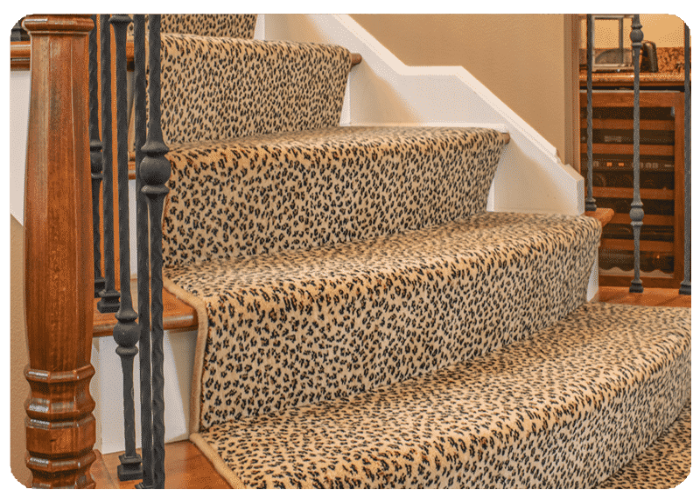 The animal print staircase runner is the best among the staircase runner ideas for any modern home decor. They add some stylish twists to the interior design of the house. They also create a cozy atmosphere. The animal print will always give a touch of glamour to the house's interior. They also come in different shapes and colors.
There are numerous options. You can choose the style of your choice. You can choose according to the color palette of the home. The popular animal prints are the leopard, zebra, and cheetah. They fit best for both traditional and contemporary. Leopard print is the perfect choice for classic design and rustic designs.
Similar Post: Learn How and Where To Print Digital Arts
2. Be Neutral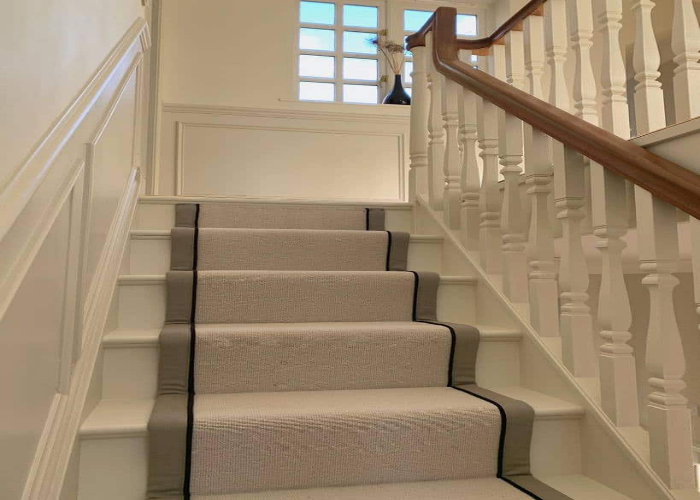 A neutral print runner is a great choice and a match for any style. There are options like dark brown, charcoal grey, or even black. Beige and tan are the most popular options in neutral print. The neutral prints are easy to clean and tidy up. So, no need to worry about the dirt and dust that would stick up.
A drawback is that they may not be much visually appealing. The neutral hues of the neutral print have a calming effect. These neutral shades create a serene atmosphere. Practically they reduce noise and provide traction. They subdue the patterns and give an elegant tone.
3. Oriental Print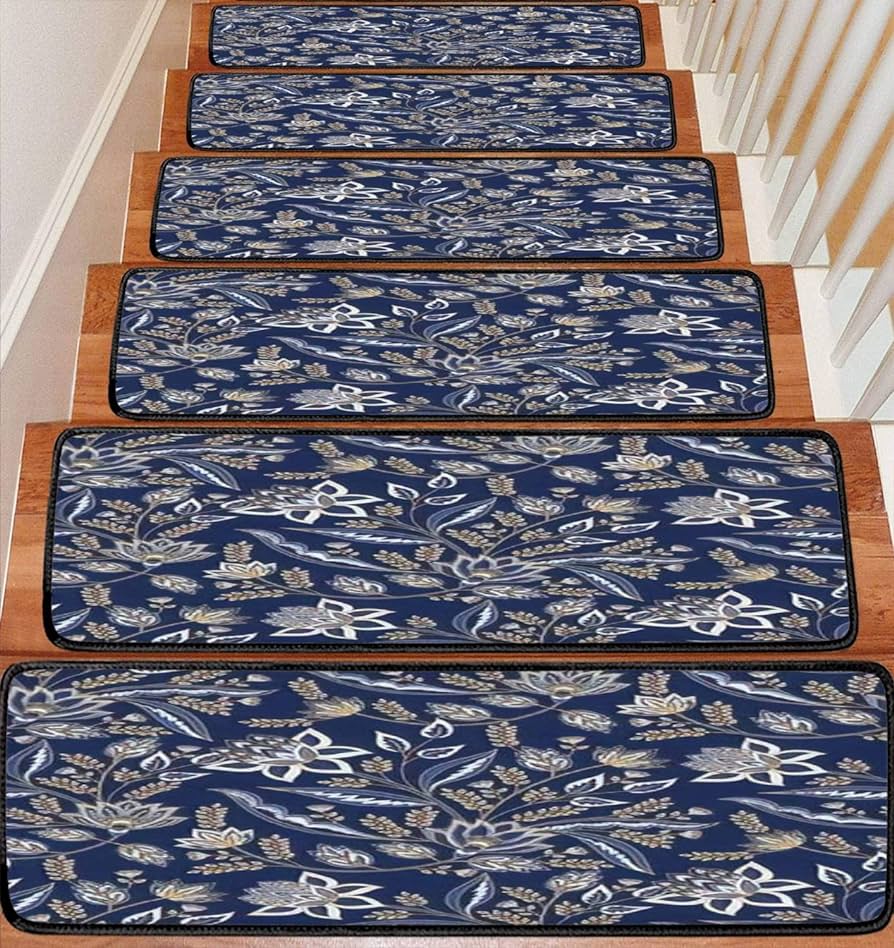 The oriental print runner adds some personality to the stairs. This type of print makes the stairway colorful. They come in different shapes and sizes. The oriental print has a variety of design options. You can also design the interior by keeping the oriental print as the base is one of the brilliant staircase runner ideas.
The rugs of oriental print are very durable. Thus, it will long for years. The most popular and often chosen colors are red, orange, yellow, and gold. Since they are mostly dark in color, the spill or dirt will not be much visible and will be easy to clean. As the rugs are durable, it reduces the noise while walking on.
4. Paint the Place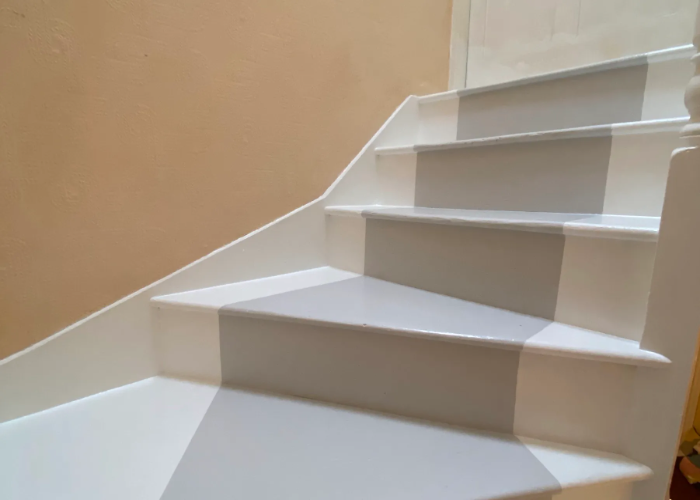 Painted runners are an easy and cheap way to add some character to the staircase. You can use a stencil or paint-free hand. It is easy to maintain and change often since it can be removed. If you have a dog at home, painting is a good option. It is easy to clean too.
There is no limited option when it comes to painted runners. You can paint any shade or choose the shade that goes with your interior design. This will make the staircase the focal point. It is not any cloth or rug material. It's painted directly to the stairs. The noise may not be reduced while walking. It may not satisfy the runners.
5. Patterned Print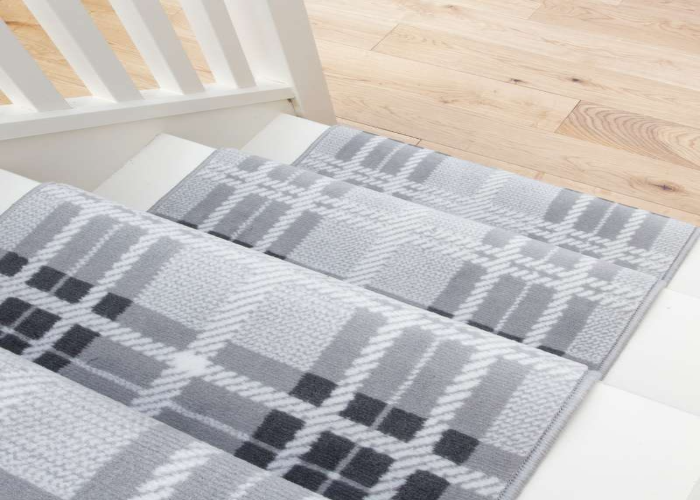 The patterned print runner is a great choice to add some color and interest. But it is important to choose the right patterns. You have to choose the one that goes with the home design. You can also use a patterned runner if the interior design is neutral. This will elevate the look of the stairs. The choice of the pattern should be similar to the design or theme of the interior design.
If you have an elegant and ornate detail interior, choosing a bright-colored pattern print carpet will not be the best choice. Try some subtle color patterns to keep the overall detail together. A stripe pattern is great for traditional design. Some funky patterns will be good for contemporary design.
6. Lines and Blocks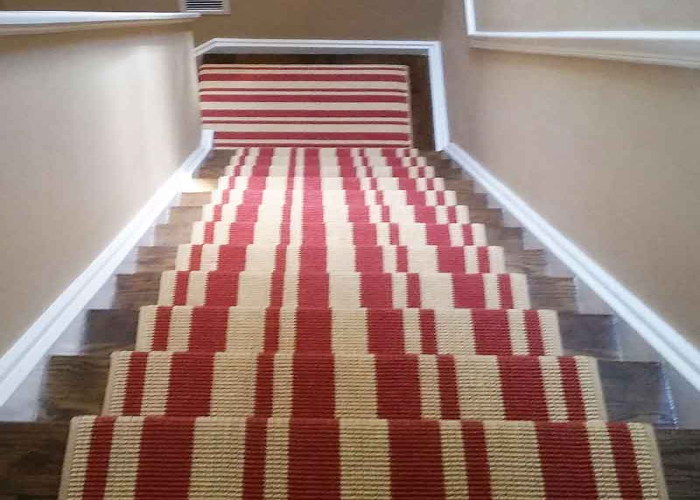 The striped print adds some elegance to any home design. They have a wide variety of colors and designs. Among those varieties, you can find the perfect one for your home. If you are planning on adding some pop color to your home, try striped print runners. This will brighten up the space. These tripped prints bring some dynamics to the staircase.
They give some visual interest to the staircase with their eye-catching color and bold lines. The stripe pattern will create a guide on the stairs. They also provide traction and protection to your stairs. The striped prints will become the focal point of the home.
7. Avenue Print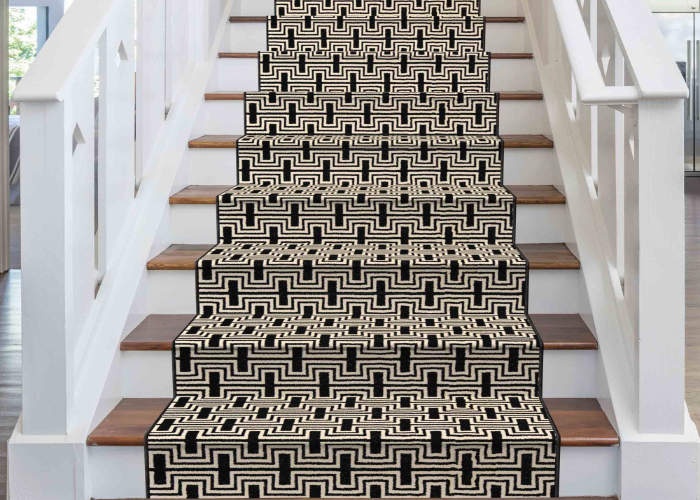 Avenue print offers a sophisticated addition to your home's staircase. It gives a city space and urban aesthetic vibes. The runners give geometric patterns which give a touch of elegance to the stairs.
They are available in a wide range of colors and designs. You can also choose any according to your style and interior design. It provides traction and the same from daily wear and tear. They elevate the staircase with cosmopolitan charm with the avenue print. With a contemporary design, the avenue print will give a focal point to the stairs.
8. Coastal on The Floor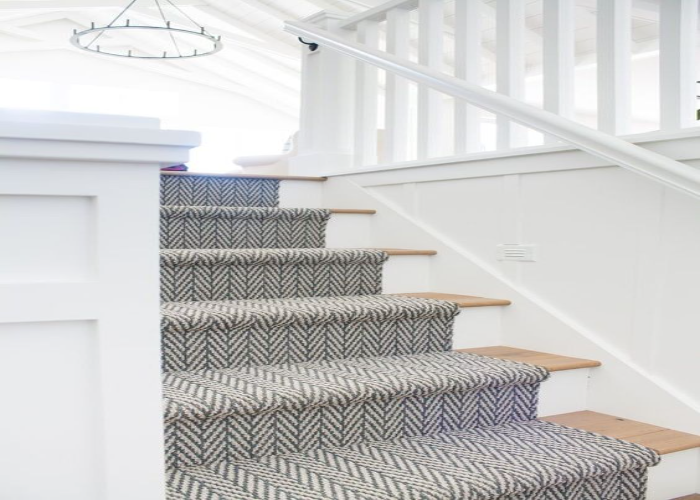 The beach print runner is very simple and elegant, among other staircase runner ideas. It is the best choice if you are looking for the traditional side of design. Beautiful coastal designs like seashells and starfish in different colors and patterns can be used. The beach print will complement any house design style. Another great idea for beach-themed runners is the bamboo design.
The beach print will give a more neutral look. They are suitable for both casual and formal home settings. They will provide traction and guard the stairs from wearing out soon. The beach theme always revolves around the blue and white shades. You can do interior designs with the beach theme making the staircase runner the focal point.
Also Read: 11 Gorgeous String Art Patterns You Can Print for Free
9. Homespun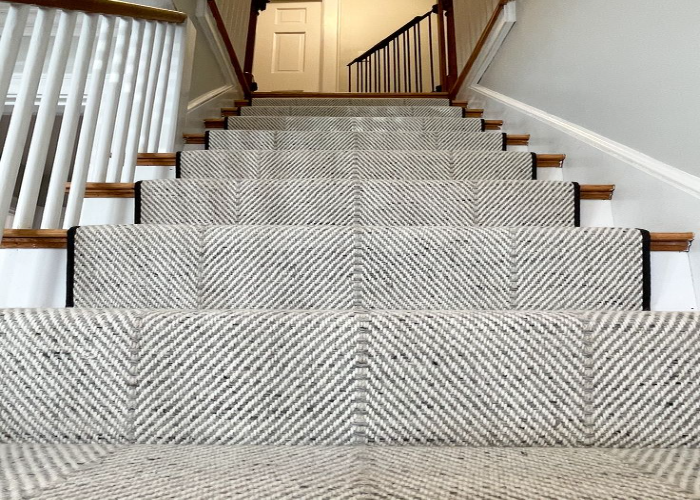 The homespun evokes rustic charm to the house. In staircase runner ideas, the homespun gives a welcoming feel to any who enters the house. They are crafted from natural and textured material. Like jute, sisal, or wood, these runners warm the space. With their handwoven appeal, the runners add an inviting and down-to-earth ambiance.
Homespun is the epitome of rustic beauty. They give a unique look and soft texture. They are durable to handle heavy stairways and hallways. The homespun comes in different colors and design options. The faded red color is the most popular because it complements most home decor styles.
10. Kashmir Print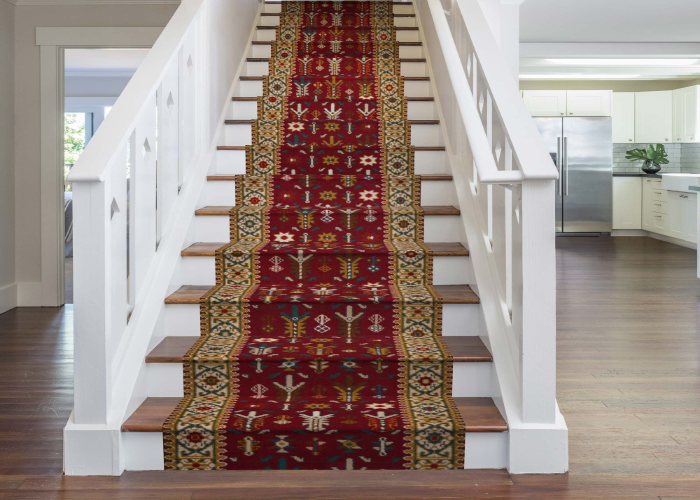 Kashmir print runner is the most durable and luxurious wool carpet. They are perfect for staircase runners in commercial buildings like airports, banks, and offices. Many residential homes also use Kashmir as staircase runners too. These Kashmir runners are quite expensive when compared to other types of runners.
But the prize is worth it for its quality. They have huge varieties of colors, but mostly they come in neutral shades. The Kashmir runner has a soft texture which gives smooth touch underfoot. It has a luxurious look.
11. Floral Print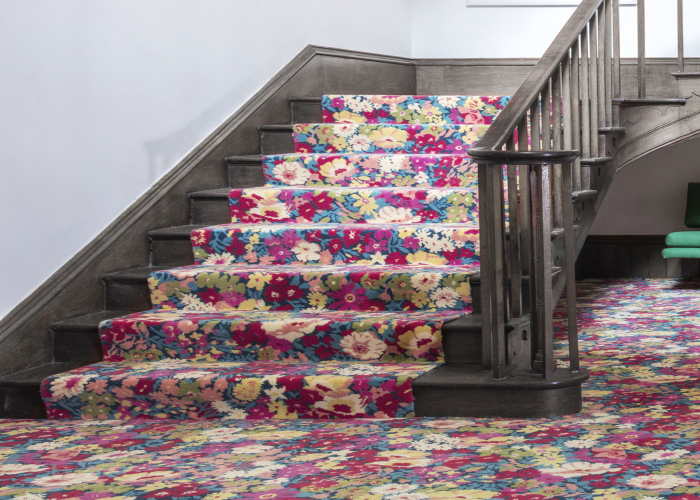 If you want a classy look for your staircase, go for a floral print runner. They are budget-friendly and your best bet. This type of staircase runner will go with any type of stairs. They can be easily installed on wooden stairs, concrete stairs, and vinyl floors.
They come in huge varieties of colors, patterns, and designs. You can choose the print that is suitable for your interior design. You can buy pre-cut strips to install easily. Choose a material that is durable and can withstand heavy staircases.
12. Walk-On Shapes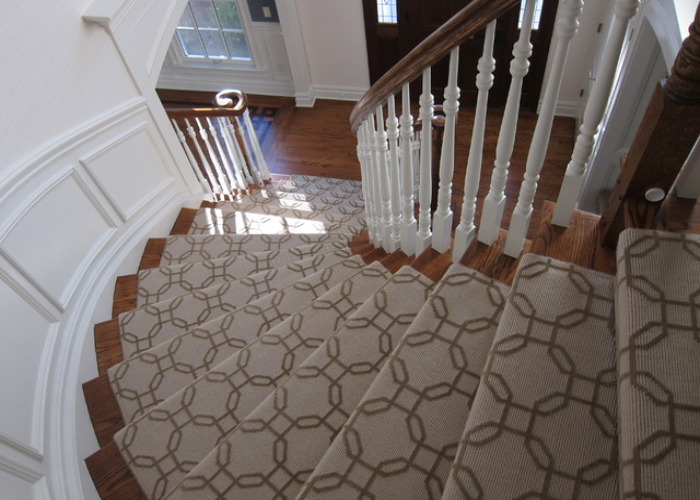 Geometric print introduces a contemporary dimension to the space. The bold shapes, lines, and patterns add a sense of artistry to the space. The geometric shapes like triangles, diamonds, or intricate mosaics. The geometric shapes create a visually striking impact.
They are available in varieties of arrays, colors, and designs. They complement various interior themes, from minimal to eclectic. Beyond artistic appeal, they give protection to the stairs. They elevate your staircase with functional geometric runners. They save the stairs from daily wear and tear.
13. Aztec Print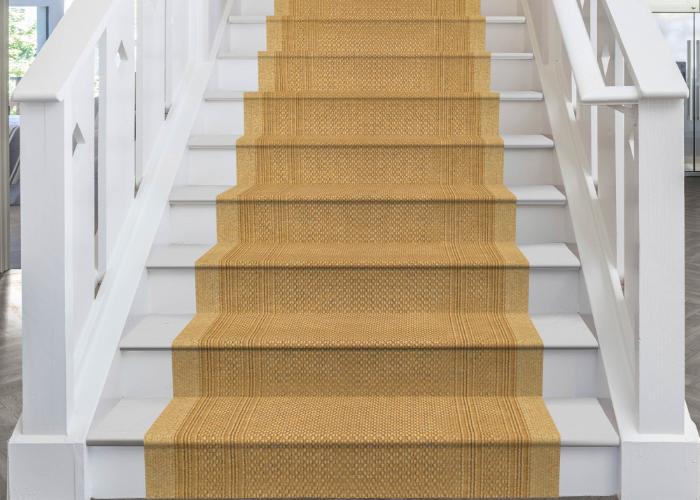 Aztec print gives a unique and trendy look to the stairs. They are the perfect choice to add some character to your home. They will make a statement when guests walk up your stairs. Make sure to choose a color that will go with the home decor. Go for neutral patterns that will blend well with any design. They give an alluring charm to the space.
Drawing inspiration from Aztec art and culture will command attention. There are also geometric shape designs in Aztec print. Choose the print with a durable material that will provide traction. They also help in reducing noise and will save from wear and tear. Aztec is a good choice if you want to make a statement.
14. Matching the Wall Colour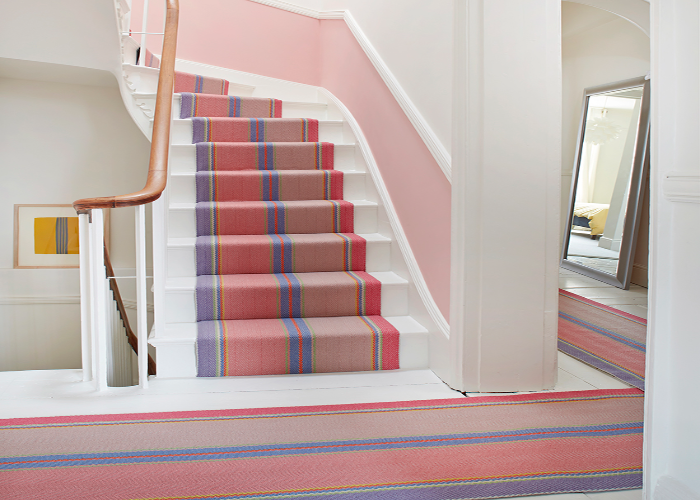 A stair runner that matches the wall is subtle but still effective. When the staircase runner and wall share the same color, they create a seamless flow around the staircase. The design will allow the staircase to blend in with the walls and other decor. It gives continuity and elegance. Matching the staircase with the wall has the advantage of making the staircase look elongated.
If you have a small or narrow staircase, it helps to create an illusion of spaciousness. It helps to provide a backdrop for the furniture, artwork, and other details in the room. You can also mix and match the color or patterns from the wall to the staircase runners.
Related: 15 Stunning Modern Coastal Living Room Designs to Blow Your Mind
15. Extension of Your Carpet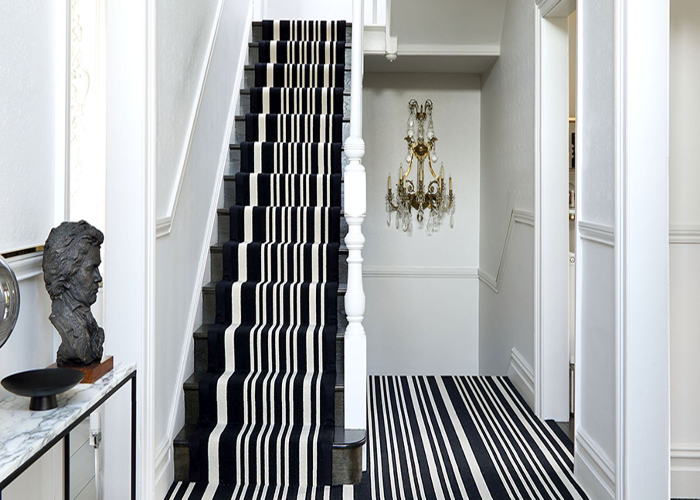 A staircase runner is an extension of the carpet that will connect you to the different rooms. When the staircase runner shares the same carpet as its adjoining spaces, it will create a natural flow. It will give a natural flow from one area to another without any break. This choice will work well in open-concept homes when the staircase is part of the living room.
This not only gives a sense of continuity but also gives a sense of spaciousness in the space. While there is a continuation of the carpet, it gives textures and maintains a cohesive design. Apart from visual appeal, they have other benefits. The continuity will give the familiar foot traffic. It offers comfort and traction as you walk on the stairs.
Summing It Up
These creative stair runner ideas give a touch of style and flair and reap numerous practical benefits. These runners serve as a safeguard, reducing noise, providing traction, and protecting your stirs from daily wear and tear. They become an indispensable addition to any household.
What makes stair runners truly captivating is their versatility. Whether you prefer elegant hues or bold statements, it goes with any design. From traditional to contemporary, eclectic to minimalistic, these runners harmonize with various design sensibilities. They will amplify the overall ambiance of your living space.
So, don't let your stairs go unnoticed. Let it serve as a canvas for your creativity and a testament to personality and function.
Check This Next: 21 Creative Ideas for Your Simple Tiny House Interior Design