Minecraft, a 2011 sandbox game, took the gamer's world by storm after its launch. Designed by Markus Persson and Jens Bergensten and developed by Mojang Studios, Minecraft has sold over 230 million copies worldwide and has 140 million active users every month.
Inside the 3-D world of Minecraft, players get immersed in building structures, fighting rogue mobs, and doing a lot more. Furthermore, this game has also shown educational utility as it has been used to teach computer-aided designs and computer science. You need to have a house in Minecraft to safeguard yourself from mobs, store your materials and resources, and manage automatic farms.
So, if you are one of those Minecraft players and wish to find out Minecraft interior design ideas and inspirations, then you are on the right page. In this blog post, you will discover 15 brilliant Minecraft interior design ideas that you can employ to build your dream house in the game.
Unique Minecraft Design Ideas for Your Home
If you are an avid Minecraft gamer, then here are some impressive ways to design your Minecraft house interiors. Whether you have constructed a lavish mansion or a Japanese Pagoda-style house, your house interiors matter as much as your house exteriors. In Minecraft, you don't have to worry about finding the right choices, as the options are abundant. In the below section, we present Minecraft interior design ideas room-wise.
1. Living Room Interiors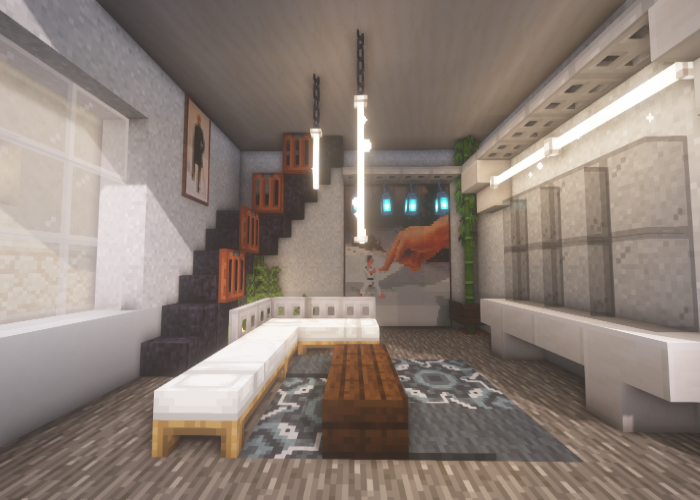 You can design your Minecraft house's interiors as per your real tastes. When it comes to making an unforgettable house, your interior decorations matter as much as the exteriors.
The living room is always one key area of your house, whether it is your real place or you are in the world of Minecraft. A grand fireplace, a sleek wall-mounted TV unit in front of white leather couches, and a big bookshelf will make your Minecraft house outstanding. You could use tiles matching the walls.
Furthermore, you can also add an aquarium and chandeliers to add a luxurious touch to the living room. What you mustn't forget is making high walls with a high ceiling to make a beautiful living room.
2. A Marvelous Bedroom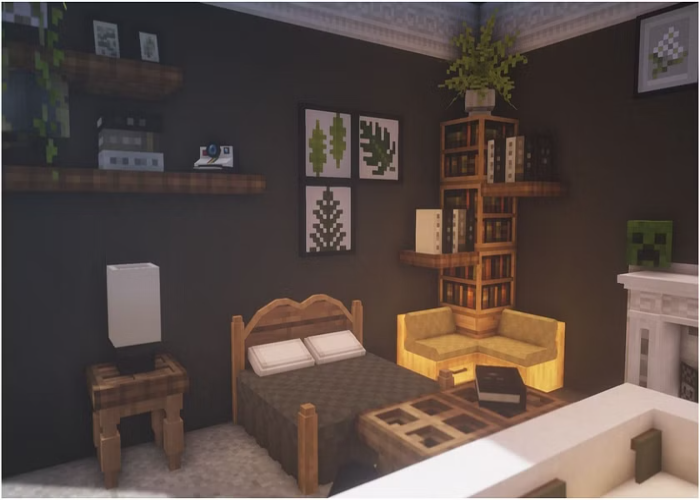 After a spectacular family room, next comes the bedroom that needs to resonate with your idea of comfort and well-being. A bedroom is a sacred space of the house where we spend an important time of our day resting and rejuvenating, whether we are at our real home or inside the Minecraft world. Our bedrooms are also our personal spaces where we keep our important belongings.
So, having a cozy bed, lots of closets, and a dresser is a must. Aside from this, you could install a wood panel as your bed's headboard. You can also add a study table and some wall shelves to store your items and resources.
3. Bedroom Ideas for Kids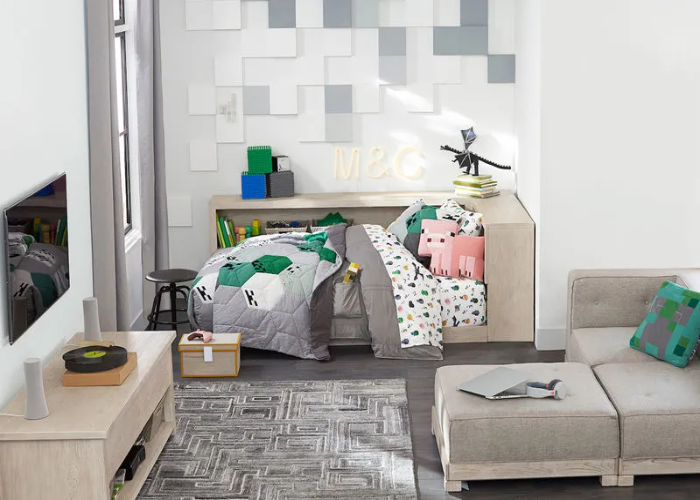 For kid's bedroom ideas, adding cradle and bunk beds would be ideal. Also, designing the walls in funky colors is a great option. Also, try the grid pattern or add starry wallpapers. Some greenery-inspired designs on the wall are a good choice when it comes to making a kid's bedroom in the Minecraft game.
Placing some toys and learning items is also ideal for kids' bedroom ideas. Soft pillows, attractive walls, and bunk beds are all ideal for decorating a kid's bedroom in Minecraft.
4. Bathroom Decoration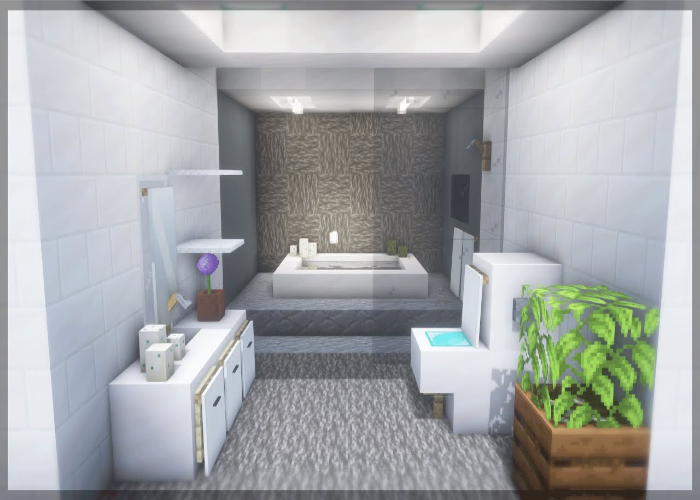 Any home is incomplete without a bathroom. In Minecraft, you can design your bathroom as per your real-life taste. But why would you need a bathroom in Minecraft? Well, it would be that your character wants to take a shower or just spend some time alone doing business.
You could place a toilet, sink, shower unit, closet, mirror, bathtub, and more in your Minecraft house. Impressive lighting is also a key to having a spectacular bathroom. Some toiletries may be added to complete the overall bathroom.
Of course, you can have more than one bathroom in your Minecraft house, and whatever way you wish to design both is absolutely possible in the game.
5. Minecraft Kitchen Design Ideas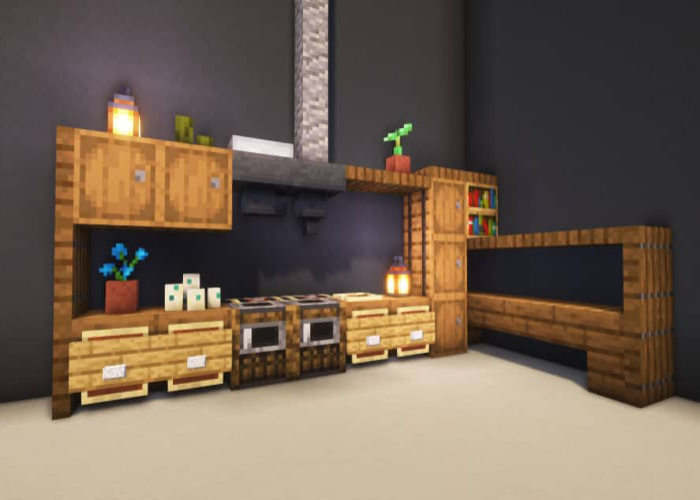 Whether you want a tiny kitchen, a spacious one, a traditional one, or a modular kitchen, you will get all the supplies to make a kitchen as per your preference in Minecraft.
A countertop, a sink, a few floating shelves, and storage cabinets are key to making the perfect kitchen. Designer tables, dishware, and utensils of different materials like glass, metal, and wood are much-needed kitchen elements.
Oakwood or steel designs for cabinets are commonly used in Minecraft by gamers. Simplistic tiled floors will also enhance the kitchen interiors.
6. A Personal Library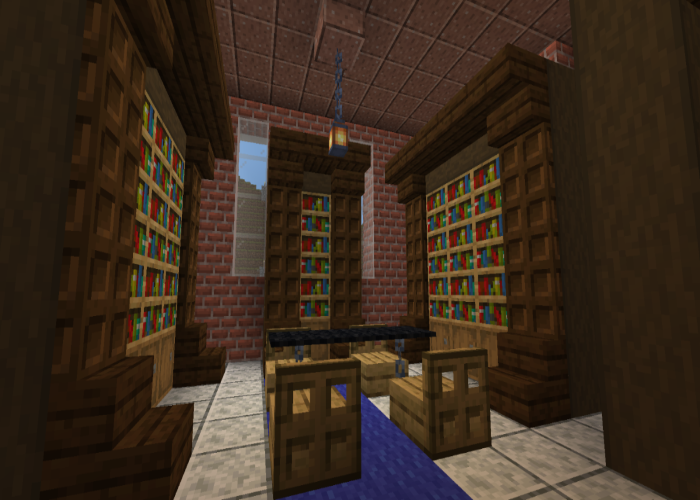 Another excellent Minecraft interior design idea is to include a separate study for your house. A somber library is a great way of making your Minecraft house stand apart from others.
Although the library isn't a key requirement for a survival house, it could still be used in various ways. Your Minecraft character could use the library for daily journaling or for enchanting. Enchanting is essential in the survival mode of the game as it makes your gear stronger and more powerful. You could also hide your resources in ender chests. Furthermore, it could be a resting place for your librarian villager buddy.
So, you can design it with humongous bookshelves and a chest of drawers. A modern study table made of oakwood, a computer system, and some hanging lights would be thoughtful additions.
7. Portal Room Interiors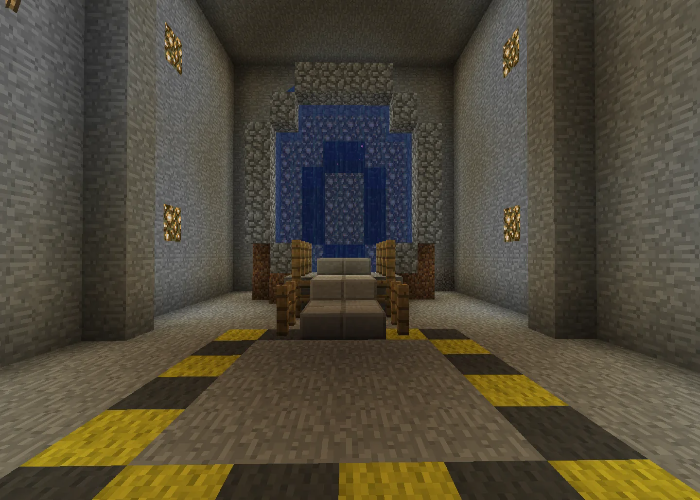 The Minecraft game has an end portal which is a structure used to portal yourself to the end. It is usually incorporated in a stronghold. In survival mode, your character must enter the stronghold to activate the portal, as it will give them access to the hells of the Nether.
So, when in the creative mode, a portal can be constructed by situating 12 end portal blocks within a ring enclosure. This has to be followed by placing the eye of the ender in each block, as it is essential to activate the end portals. This room could either be in your house's basement or adjacent to your house.
8. Storage Room Design Ideas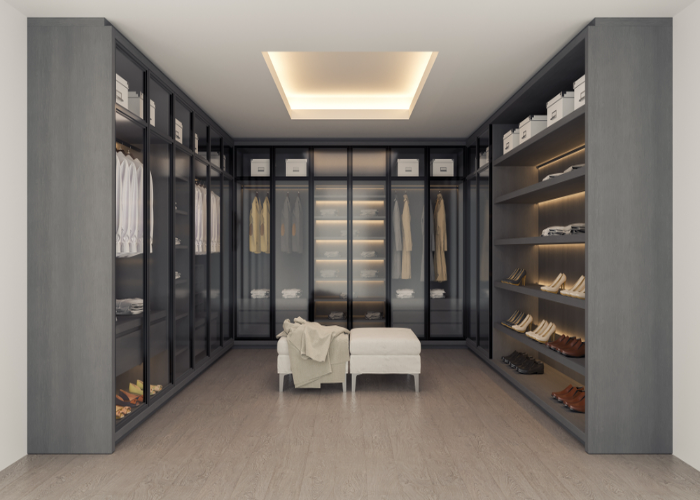 If you are worried about where to store your valuables, you could design a storage room in the basement of your house structure. Although an underground room, you can never miss doing some fantastic interiors for your storage room as well.
So, you can design it with carpets, colorful walls, cabinets, a chest of drawers, and panel lights. Your basement could also serve as a place to stock up on your supplies and as a secret hideout from unruly mobs.
9. Interiors for The Throne Room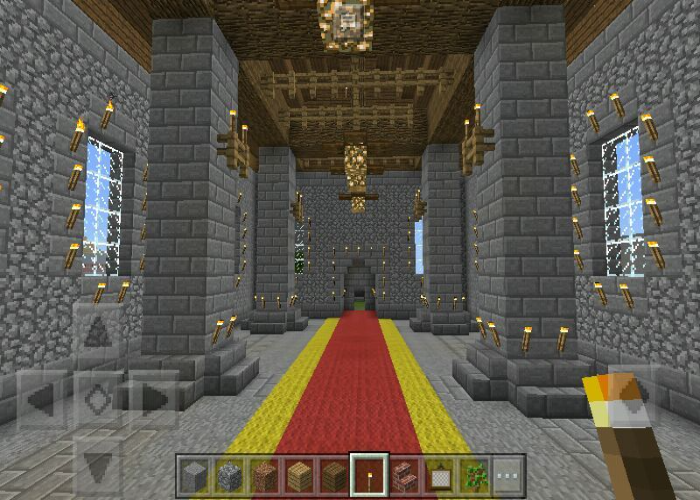 If you are a king and have built a beautiful castle for yourself, how can you not build a throne? And to make a throne, you need to create a throne room first.
So, you can create a powerful and designer throne, arrange for seats for your council in the throne hall, and add a balcony of guards for your defense. You can make slabs and stairs with stone bricks, wooden planks, quartz blocks, cobblestones, or even sandstones.
10. Map Room Ideas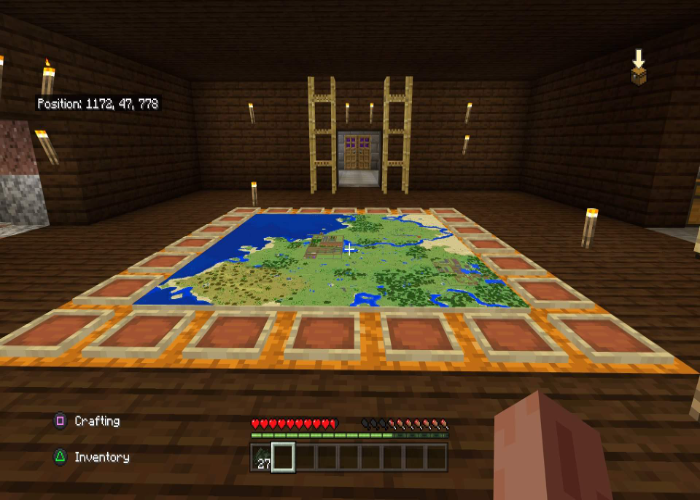 Again if you are a king or explorer in Minecraft, having a map room adjacent to your throne house would be a necessity. But why do you need a room full of maps in the first place?
Well, it could be to plan an attack on your neighboring kingdom or demonstrate your progress so far. A map room could be the ultimate addition to your Minecraft base.
11. Making Use of An Array of Crafting Blocks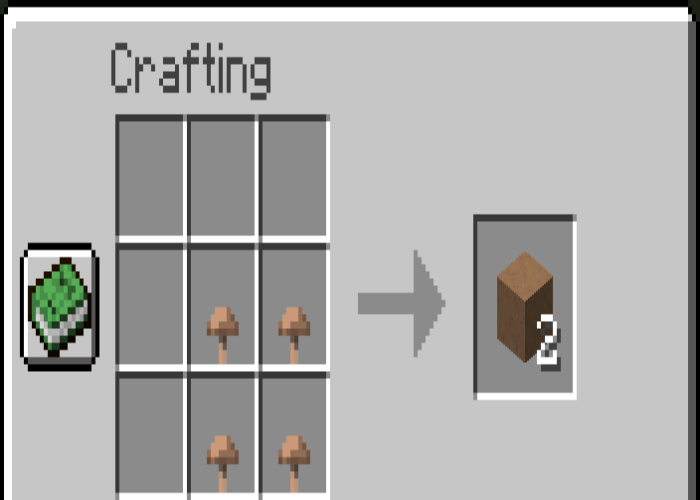 In the newer versions of the game, players have access o a wide variety of crafting blocks. When players want to add an aesthetic and unique touch to their Minecraft houses, they can choose from a wide variety of crafting blocks.
One can add smoking chimneys to blast furnaces in a smelter with the help of crafting blocks. Also, players can do cartography tables in a workshop using some rare crafting blocks.
12. Interesting Flooring Ideas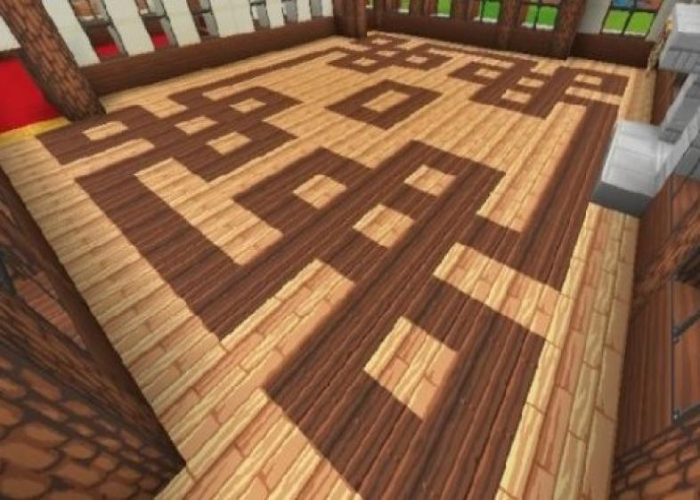 Any room is incomplete without a well-designed and neat floor. A floor adds an aesthetic touch to your rooms. Whether you choose from a range of carpets to designing your floor with wood, stones, tiles, or marble is possible in Minecraft.
Making raised slabs and different sections can create a maximized space effect.
To add details and texture, you can use polished or chiseled blocks. Whatever material you choose to use, good floors are a must when it comes to Minecraft interior design activities.
13. Fancy Decorations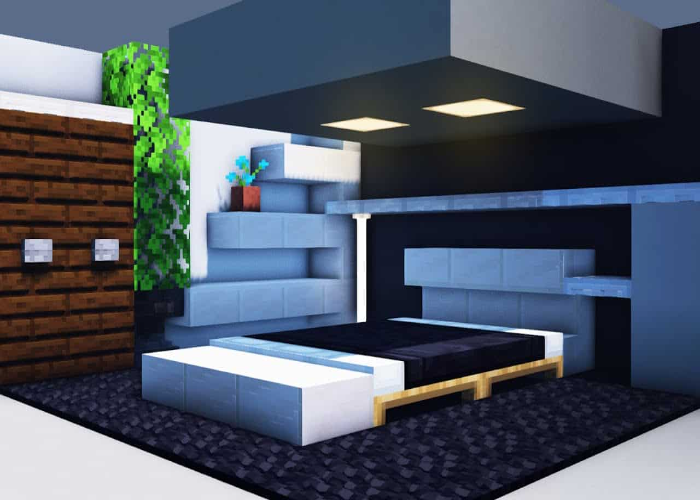 Barrels can act as additional storage materials alongside chests. They can fit under stairways, have a holding capacity equivalent to small chests, and also add a unique look to the room where you are placing the barrels. Also, players can place two barrels on top of each other to make a storage space equivalent to large cabinets.
You can hang artwork on high walls. Blue velvet chairs, fancy chandeliers, and more designer items can make gorgeous Minecraft interior designs.
14. Making High Walls and Ceilings
In real life, having higher walls is important to have the perception of more space and to have cooler rooms. However, in Minecraft, having higher ceilings can create more space to hang lanterns and lights.
Other than this, higher ceilings help to create adequate space for storage, in addition to hanging wall decorations, having enough space, or making larger windows. The player can also make shelves, install chests, crafting tools, and cauldrons.
15. Hanging Decorative Lanterns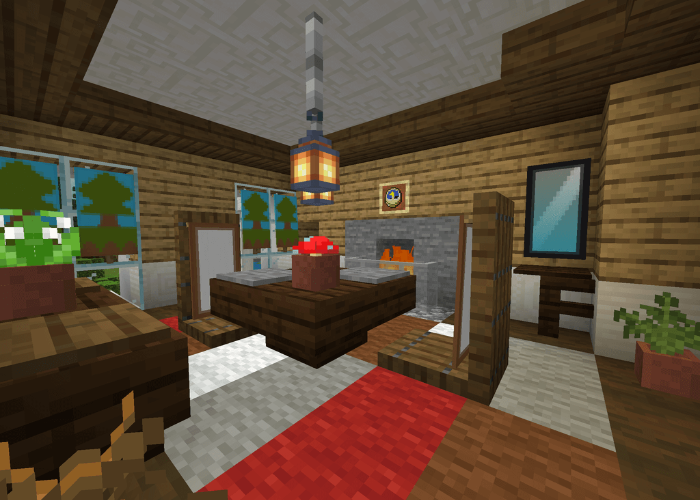 Whatever your house style, starting from castles to luxurious modern houses and even container houses, you always need to have excellent interiors coupled with ample lighting inside the house.
Besides making rooms aesthetically pleasant, lanterns are good for those players who are tired of carrying and placing torches everywhere. Lanterns made of iron can be hung from ceilings or attached to walls. Lanterns also add more light to the room.
Final Thoughts
The above-listed Minecraft interior design ideas will help you create wonderful homes in the world of Minecraft. Over the years, players have created different types of houses in Minecraft, ranging from mansions to secret basements. Players always need houses in Minecraft either to store their materials or discover their building abilities.
So, if you play your game in Survival Mode, you would need to build a nice house. The best thing about Minecraft is that you can build anything in their immersive world. From carpets on the wall to luxurious furniture, there is a wide range of possibilities in the world of Minecraft.
Hopefully, you have discovered some unique ideas to design your Minecraft house with the interiors suggestion from this blog. However, as a player, you can always choose to do something new for your home sweet home.
Frequently Asked Questions
How Do You Make a Good Interior in Minecraft?
When it comes to making an impressive interior in Minecraft, you will have a myriad of options starting from using various crafting blocks, exploring interior designs with wooden and other materials, designing closets and doors with barrels, and so much more.
What Do I Need to Build a House in Minecraft?
The process of making a house in Minecraft is much like making a real house, starting from raising the walls to adding doors and windows, decorating your house interiors with lights and basic amenities, and adding additional features like security and burglar alarm systems, automatic farms, etc.
How to Decorate a Minecraft House Exterior?
The exteriors of your Minecraft house can be decorated using fences, different colored glass panes, slabs, and stairways. Additionally, you can add farms, ponds, or other water features like fountains. Also, plant trees and create a beautiful landscape with biomes matching your house.