There is a wide range of marbles available in the market, but Calacatta is one of the most desired marbles of all. It is known for its signature subtle grey veining contrasted with a pure white background, which makes it an eye-catching marble.
From the past few years, Calacatta marble gains so much popularity in the marble industry, which makes it the most requested marble. Silestone natural quartz and most people choose natural over human-made quartz. This thing impacted most of the people, and that's why Calacatta is so much famous.
However, Calacatta alternatives look just as good as natural Calacatta, but they do not offer other positive qualities that make natural Calacatta unique. Upon detailed inspection, I found that people are complaining about maintenance.
There is no doubt that the Silestone Calacatta gold is much beautiful, but to keep it looking best, you must be aware of the maintenance. Calacatta marble is a naturally porous surface that needs to be sealed periodically. If the seal got contacted by any acidic substance, orange juice, or vinegar, then it will undress the polish, which makes the marble surface uninteresting.
Silestone is the leader in quartz surfaces for kitchen and bathrooms. The company got a ton of attention with its Calacatta gold marble. After gaining so much popularity in the Calacatta quartz surface, Silestone launched the two different variations of their famous Calacatta marble – Silestone Bianco Calacatta and Silestone Calacatta Classic.
Both are very beautiful and unique on their own. Apart from this, Silestone is also going to launch its ETERNAL range very soon. Let us dig into it to know more about Silestone Calacatta gold marble.
What is Silestone?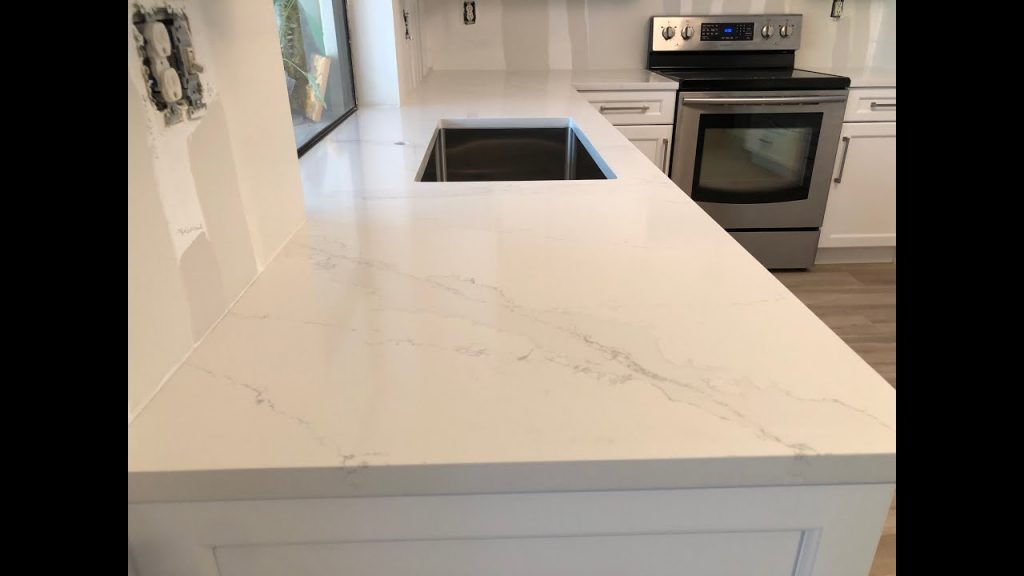 Silestone is a material that is made from natural quartz crystal. It is used to make countertops, sinks, shower trays, floors, etc. You can also use it for kitchen remodeling and wall cladding for the bathroom. Silestone is sufficiently durable, and it is known for its non-porous structure.
Most modern homes are using Silestone because it is hard and resistant to smudges, stains, scratches, fingerprints, bacteria, and viruses, etc. compared to other surfaces. Silestone needs very less maintenance, and it is fully customizable. You can fully customize your house with Silestone to achieve a high-end and luxurious look without any high-end support.
What Is Silestone Calacatta Gold
Silestone Calacatta gold is a natural quartz surface that is stain-resistant and non-porous. The Calacatta gold is famous for its subtle grey veining contrasted with a pure white background. The veining flows through the complete body and thickness of the slab. The Silestone Calacatta gold comes in two finishes – Polished finish and Suede finish.
The polished finished is excellent and makes the slab all the time. However, if you are someone who does not want to wipe out the slab again and again, then we advise you to go with a suede finish. The Suede finish hides the visible fingerprints and stains that can take place throughout the day.
It comes with a goodness of matte texture soft-touch finish, which makes it more interesting. The suede finish is highly resistant to smudges, and it does not need any maintenance as the natural stone has. You can easily wipe out all the ketchup spilling, orange juice, and vinegar spilling with a microfiber cloth.
Difference between Silestone Calacatta Gold and Silestone Calacatta Classic
Silestone Calacatta Gold
Silestone Calacatta gold was launched in the year 2017. It catches the true nature of the Calacatta marble along with a modern touch. The thick veins in grey all over the slab are elegantly detailed and look decent on a pure white background. It reminds the old Calacatta marble, which was very famous in ancient times.
Silestone Classic Calacatta
The Silestone Company launched the Silestone Calacatta classic in 2018. The cunning and elegant design makes the marble surface gorgeous. It comes with grey veins throughout on top of the neutral base to look like a genuine stone.
Calacatta classic comes with the durability of quartz, which makes it an exceptional choice for your kitchen and worktops. It comes in 4 types of thickness – 12mm, 20mm, 30mm, and Jumbo slabs for large kitchen islands.
So which one is good enough?
Both quartz surfaces are inspired by Calacatta marble, but both surfaces are different from each other in their looks. The Silestone Calacatta gold marble was launched in 2017 and came with a grey and golden shade vein in the pure white background. On the other hand, the Silestone Calacatta classic was launched in 2018 and came with translucent looks with consistent dark grey veins.
Both Calacatta gold and Calacatta classic looks striking and gives a complete luxury look to any environment. However, people still choose Calacatta gold marble more because of its unique grey veins with a golden shade.
On the advanced side, both surfaces come with Silestone N-Boost technology, which makes them stain-resistant, fingerprint resistant, liquid repellent, etc. It makes them more comfortable to clean and provides the surface with more vivid colors that are the cherry on the cake.
Where to Buy Silestone Calacatta Gold Marble
If you are going to design your house, renovating your kitchen with Silestone Calacatta Gold Marble, we recommend you get in touch with an expert to get outstanding work in your home. On the Silestone USA website, you will get a "Where to Buy" locator, which allows you to contact the best kitchen and bath studios working with Silestone.
You can also ask them any questions you have in your mind related to Silestone Calacatta gold marble. Apart from this, experts will let you decide which color will look best in your house.
Checkout Store Locator
Benefits of Silestone Calacatta Gold Marble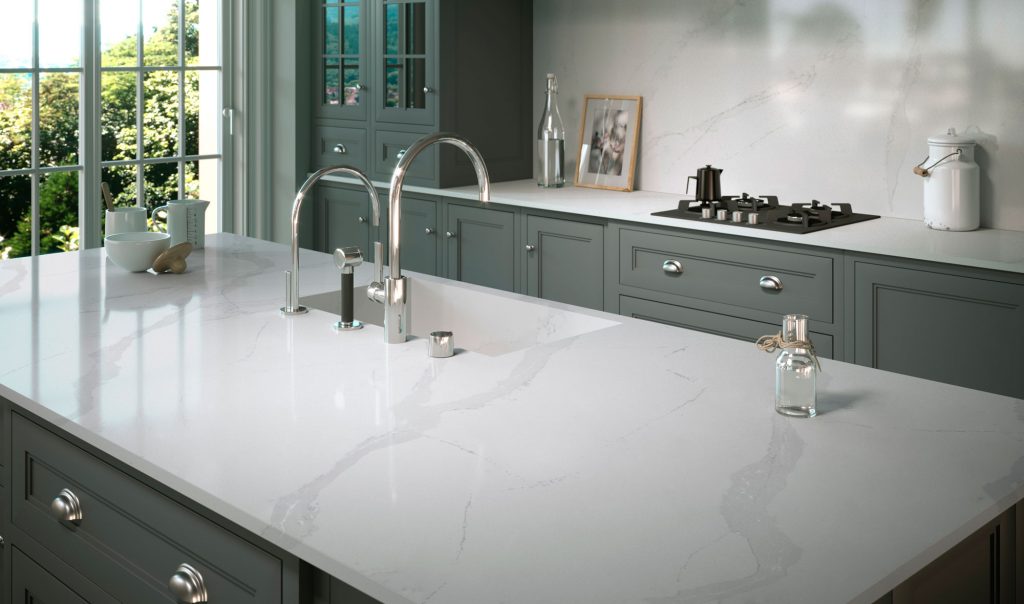 Scratch Resistant
The Silestone Calcutta gold marble is fully scratch-resistant and scorch-resistant. You can easily wipe out all the smudges, stains, fingerprints in one go with a microfiber cloth. As we know, quartz is one of the most durable materials that durability of the quartz transferred to the Silestone, which makes it harder than granite. If you are looking for renovating your kitchen, then Silestone is the best option for you.
Non-Porus Surface
As we discussed, Silestone is a harder material, and it has the beauty of granite and marble. It means the surface of the Silestone is non-porous, which means it is resistant to stains, bacteria, and viruses. The quartz crystals naturally have antimicrobial protection to prevent bacteria growth.
Easy To Clean
Silestone is straightforward to clean because of its scratch-resistant and non-porous surface. For cleaning the surface of the Silestone countertop, use any soft material like microfiber cloth, which cleans the surface correctly. But make sure to avoid dropping any heavy objects. It may cause scratches and cracks on the surface.
Warranty
Silestone comes with a warranty or up to 25 years depends on the manufacturer. Make sure to consult your distributor for specific warranty-related information. The warranty will not be valid if the damage is caused by you.
Frequently Asked Questions
Is Calacatta gold marble expensive?
The Silestone Calacatta gold marble starts from $100 per square feet and may cost as high as $250 per square feet. It is a little expensive because of its low availability, which makes it a more unique and luxurious marble. The import-export and low availability make the Silestone Calacatta gold expensive.
Is Calacatta quartz expensive?
No quartz is less expensive than marble but more expensive than a solid surface. They are in the middle of both solid surfaces and marble. The quartz is maintenance-free and requires very little care compared to natural marble.
What is Calacatta gold marble?
Calacatta gold marble is one of the rare stones in the world. It is found in the mountains of Carrara, Italy, which makes this marble very rare. It features a grey and golden veining contrast with a pure white background. The natural variation makes it a luxurious artwork.
How much is a slab of Calacatta quartz?
According to Home Advisor, the slab of Calacatta quartz can cost you from $65 to 75 per square foot. The mentioned cost is without installation fees, and you need to pay extra for installation and other charges.
Does Calacatta Marble Stain?
The Calacatta marble, which comes with the suede finish, is full stain proof and requires very little maintenance and care.
Is Calacatta marble more expensive than Carrara?
Yes! Calacatta marble is more expensive than Carrara. The reason for this is because Carrara marble is very common to find in your everyday marketplace. The Calacatta marble is very rare compared to Carrara marble.
Final Verdict
The Silestone Calacatta marble is one of the most desired natural stones in history due to its whiteness. It is available in different slab sizes and thicknesses. The eternity and elegance of this luxuries marble make your house a dream house.
The Silestone Calacatta marble is a perfect choice for the kitchen, bath, or other areas of the home. A countertop requires a substantial investment, so choose wisely which area you want to cover with Calacatta marble.