A house gives you immense pleasure and can soothe your nerves and cheer you up even after a long lazy day. There is charisma in every house, and it is unique for every house. You may feel warmth in your house, but when you visit your grandparent's homes, then you may feel different feelings out there. Therefore, there is not a single feeling which you can relate to your house. It varies respectively to your mood and aura.
To make the best out of our houses, we do a lot of things. We change our residence's looks externally and internally. There are a lot of things through which you can remake your houses and give them a different aura and theme.
We can change the color of our houses, and some also change their whole interiors to give their house a unique and better look. Even when someone makes or builds their house, they keep in mind how their house should look, what should be the interior of what color they want on their house, but what remains besides is the floor.
The floor is something which most of the house owner keeps aside or does not give as such importance. But it is something that plays a crucial role in house durability and looks. There are a lot of options to choose from, and all of them are quite interesting and beautiful on their own.
But what trending nowadays is wooden floors and times which give wooden looks and design. In this article, we are going to fill you with everything you should know about porcelain wood tiles.
Why porcelain and not hardwood?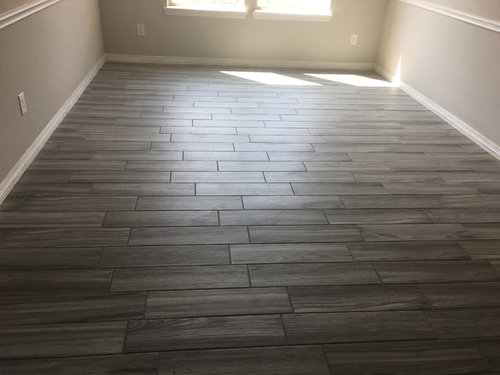 We all know that originals are far better than the copied ones or look-alike. Wooden floors add extra power and a natural look to our house.
If you are someone who buys properties or invests in them so that you can sell them at higher prices after doing some restoration or makeover things, then hardwood will be the better option for you. As you are not going to live here and adding hardwood floors adds extra value to your house.
But things become more and more complicated when you select your house in which you are going to spend years of your life. At this stage, rather than investing money in something which is not going to stand your requirements, it is better to invest in something which is the need of the moment. Therefore, people go for the wood look porcelain tiles rather than going for hardwood original wood tiles.
Wooden floors look authentic and can last up to 100 years easily for sure, but there are certain limits to wooden floors. Wooden floors are not meant for every place in your house. You cannot install wooden floors or wood tiles at the place where there is moisture every time, like a bathroom or at your patio.
Due to the constant traffic of people, it can either up or get scratches as well, which will ruin your wooden floors, and you may have to replace those costly wood times again. Pets can also be an enemy of your wood tiles as their nails can give an awful scratch at your costly wood tiles.
Just a replacement can solve all these problems. Replace your wood tiles with porcelain wood look tiles to become stress-free and free of all the tensions which you may have with wooden floors. Porcelain wood tiles have a lot of Pros but Cons as well. But the prons of porcelain wood tiles are much more than it is flawed.
Plus, Points about Porcelain Wood Look Tiles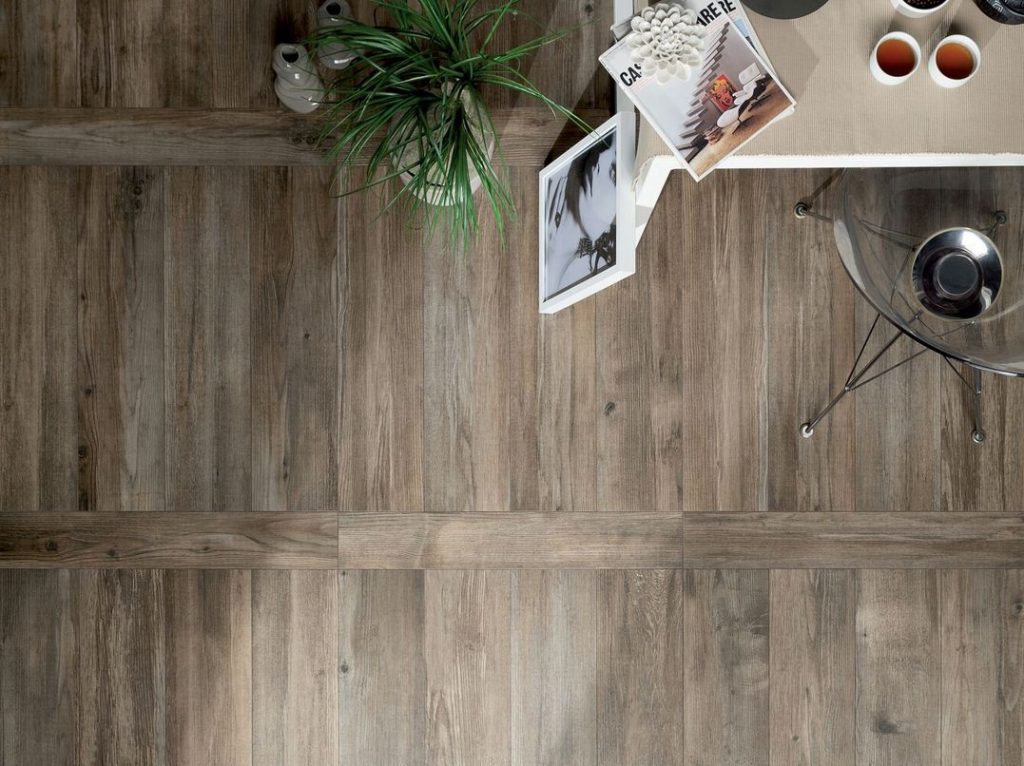 Value
This is the main thing that attracts most of the customers and deviates them from getting wooden tiles. It is relatively cheaper than the original hardwood. There are certain factors that make them much cheaper than the original hardwood tiles.
As the technology evolved, new techniques arrived, which have inherited some good qualities in them and made them easy to produce. As a result, their cost decreased over time, and designs improved over time as well. You may have to compromise with the design if you want to have low-cost wood tiles, which is not a thing in porcelain wood tiles.
Durability
We know that wood tiles are durable and can last up to 100 years, but certain conditions can make your wood tiles whither up early. But this is not the case with the porcelain wood look tiles.
It comes with extra protection, which can withstand a lot of traffic and can resist scratches as well. This helps them to stay as new as it was for years. This is an essential feature of porcelain wood look tiles.
Maintenance
Once installed, what comes as the next important thing is maintenance. Whether you have wood tiles or porcelain wood look tiles, it is essential to take care of it. But porcelain times is much easier when it comes to maintenance than original hardwood tiles.
Harsh chemicals can destroy the upper protective layer of porcelain wood tiles; therefore, always use authorized and designated chemicals only.
Versatility
Here you will have an ocean of choices to choose from. This does not mean that there are only a few of them have quality; preferably, all of them are good on their own. All the designs and types are best on their own, and you can choose the best one for you.
Whether it is color, designs, patterns, or any other things, if it is done all at once, then it will not be difficult for you, but when you do flooring rooms by the room, it may increase the problem for you in terms of matching color, designs, etc.
Pet friendly
Suppose you have let us then you do not have to worry about them either for your porcelain wood look tiles. It is allergy-free and pet-friendly as well. It is not going to harm your pet in any manner, neither your pet can harm your tiles anyhow.
Your pets can easily roam on these porcelain wood tiles without getting and giving scratches on them. No allergies are something which is quite an interesting feature, and it is something which is a result of the evolution of technology.
Eco-friendly
This is something which should be a must thing to look for in everything we buy. As our earth is damaging time by time, we must save our planet.
This eco-friendly step is an excellent initiative in manufacturing industries, which means that the product you buy is produced without damaging our earth. It will also not harm our earth after time.
These are the Pros that attract customers toward porcelain wood look tiles. But it will be unfair if we do not discuss its flaws. So, here are some of its flaws.
Cons of Porcelain Wood Look Tiles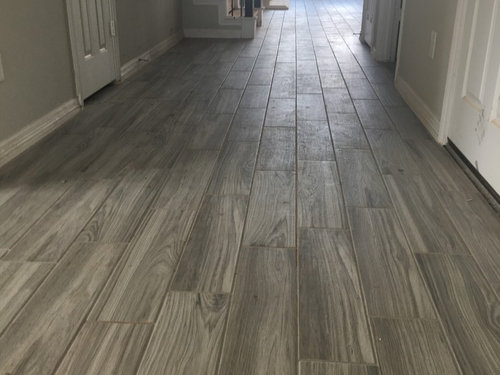 Installation
It is recommended to let it be done by the professionals and do not do it by yourself in the name of DIY. There are certain factors are there which you should keep in mind before installation. To build a layer, it is essential to have a better core.
The subfloor should be treated well so that you get an even layer of your porcelain wood look tiles. It is also necessary to take significant steps to prevent the growth of molds and dampness on your floor. Also, a calculated and well-known installation is necessary so that you get an original and authentic look.
Temperature and Comfortability
Synthetic materials sometimes cannot adjust themselves according to the outside temperature. Therefore, you must do something to maintain your floor temperature respective to your internal room temperature. It is sometimes uncomfortable if it stood for a long time on these floors.
How to Get the Best Porcelain Wood Tiles
There are some features which you should look for in your porcelain wood look tiles.
The first thing is the ratings. Different things have different scales on which they are measured and then given scores according to their overall quality. The same is the thing with porcelain wood look tiles. It is scale ranges from V0 to V4. The higher the number more will be the quality of those wood tiles.
Second things is the cost. A porcelain wood look tiles can cost you from 6 to 12 dollars per sq. Foot. While the customized ones can go for more than 20 dollars per square foot.
The third thing is the quality guidelines. The agencies responsible for grading tile quality and standards are the Tile Council of North America and the Porcelain Tile Certification Agency. So, always look for the TCNA or PCTA certification mark on your porcelain tiles.
The last thing is the brand name. Always go for the branded ones to get the best one for you. You can go for any of these names according to your needs and requirements. Merola
Vitromex
Ragno
Florim

MSI

Daltile
Porcelanosa
Marazzi
Conclusion
There is no comparison of wood tiles, but when it comes to durability and modern requirements, then porcelain wood look tiles will be far better than the wooden ones. Only focus on what are your needs and requirements, then only you will be able to buy the best one for you.
After buying one for you, make sure you get a professional to get it done quickly without taking any risk. Then comes your part, which is maintenance. The more carefully you keep your things more, it will look beautiful and as new as it was.
Remember, you are replacing wood, and therefore, it is necessary to get the work done correctly so that you do not end messing up all the things. Want to install wood tiles but oscillating between the original and the porcelain ones? This will help. Read this article to get the answers with some time as well.