Looking for better work experience in your kitchens or workplace, here are the answers to your questions. Whenever you design your kitchen or office, one thing that comes to your mind is the countertop or a surface where you do most of the work.
Several companies manufacture various types of countertops, but which one is best, and what are the things you should look up for while choosing the ideal surface to provide you the best working experience. In this article, we are going to answer all of such questions and help you design your workplace.
Here Is the List of Various Types of Countertops
Granite countertops

Quartz countertops

Marble countertops

Laminate countertops

Concrete countertops

Butcher Block countertops

Solid surface countertops

Recycled glass countertops

Wood countertops

Stainless steel countertops
There is an ample number of countertops out there in the market, but the granite countertops and quartz countertops lead all. These two are quite economical and known for their durability, heat resistance, shine, and many more.
Quick Look On the Granite Countertops Features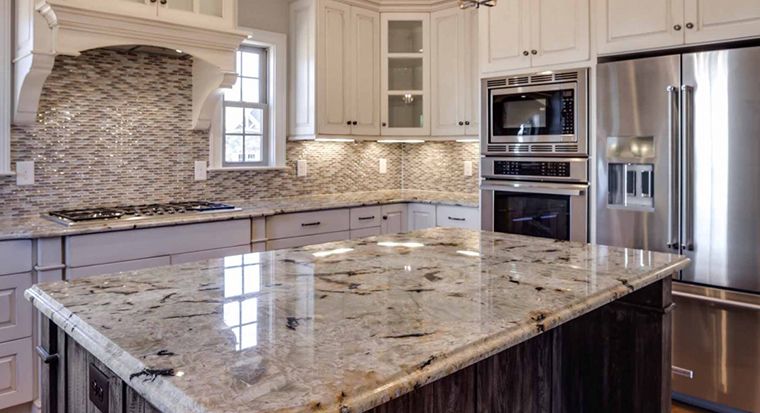 Granite countertops remain in high demand for their durability and beautiful appearance. These are mined from pure stone and then sawed into slabs and then polished before the installation. Sometimes people want everything natural in their home or at their workplace, so they go for wooden countertops, but they must think about having a granite countertop as it is an authentic stone countertop.
On the other hand, granite countertops need regular maintenance as the stone needs to be sealed at the time of installation as well as on a regular basis after the installation. It is also not as strong as the engineered stone (quartz) and can chip and crack more readily. It is also slightly more expensive than quartz countertops as it can range from $80-$175 per square foot as compared to quartz that ranges from $80 to $140.
Quartz Countertops
Quartz stone is also known as the engineered stone is a human-made stone having a composition of 90-95% naturally occurring quartzite stone bound together with 5-10% of the resin.
An important question may arise in your mind: what are the benefits of buying quartz countertops?
Benefits of Buying Quartz Countertops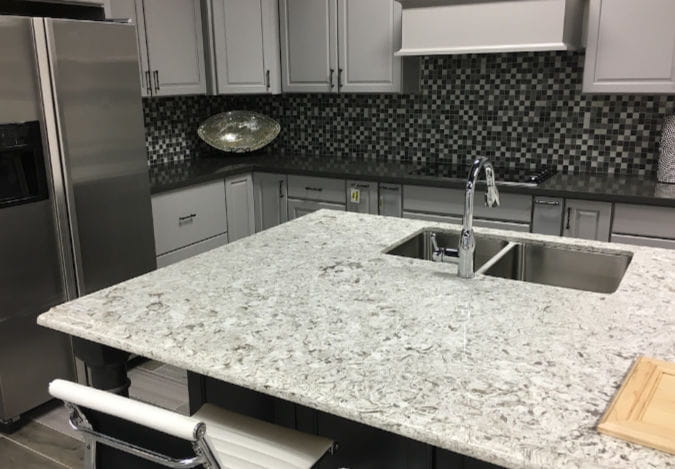 It also does not need any sealing before or after the installation that is required with all the natural stone. It is also not porous as most of the natural stones are, and that is the reason for its hardness.
Since they are engineered stone and the colors are brought in using pigmentation, and that is the reason for it being available in any color and shades. Not only that, but it also provides the three-dimensional impression that most of the natural stone has, so if you are looking for granite or a natural stone countertop, it is worth investigating quartz counters as an alternative. You can have the same appearance as natural stone but with high durability.
Another fascinating feature about these surfaces is that few manufactures add an exclusive and required thing that is antibacterial quality to this quartz stone surface. It has something called a micro ban built into the surface of the countertop, indeed a part of its structure. It helps to fight the build-up of various pathogenic microorganisms.
Now, we're going to answer the most frequent question that is being asked about countertops.
How Durable Is This Countertop?
Quartz is a naturally occurring mineral that is found in many different types of rocks. Generally, quartz comes in many different colors, but its purest form is clear. It is very well known for its resistance against the harshest material. It is a very well-known fact that wind and water erode the surfaces of rocks over time; the sparkle of quartz remains the same.
If you are looking for a stylish and robust countertop, then a quartz countertop must be your choice as it is one of the hardest materials found in the earth's crust. Even after years of cooking, cleaning, chopping, and any stress are applied on the surface, its natural beauty world remains the same, and no sealing and polishing is required.
What Is the Making Process of a Quartz Countertop?
Just like granite or other types of countertop once the natural and synthetic material is blended, the mixture is poured into the model, and we can have a desirable shape. The slabs are pressed down to the thickness of 2-3 centimeters during the process in which vacuum and vibration are used. Then these slabs are baked into the oven at a very high temperature and then polished until they get sparkling shine, and then they are ready to be cut down into the desired shape and size.
After knowing the fact that the quartz countertops are the best choice of countertops anyone can have as it has its upper hand in all the parameters and is one of the most selling countertops, let's see which companies produce the best quartz countertops and then we will compare them.
The following are the companies that produce quartz countertops:-
Cambria
Silestone
Caesarstone
LG viatera
MSI
Corian
Pental
Daltile
Hanstone
Vico stone
Cambria and MSI are one of the most reputed and oldest manufacturers of engineered quartz. They also top the list of being top sellers of engineered quartz. Now let's take a glance over the Cambria and MSI quartz price, features, and other aspects, and then we will compare them over various parameters.
MSI Quartz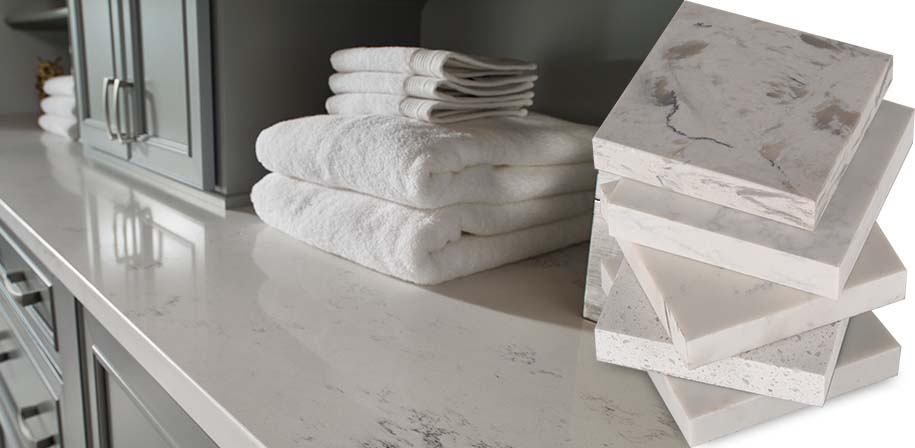 MSI is a nationwide distributor of flooring wall and countertop surfaces and was founded in 1975, and the company's annual revenue has grown over $1 billion.
Price and Benefits
The average cost of MSI quartz countertops is between $30-100 per square foot without installation price. It may vary according to the color and thickness.
MSI provides you a high-quality quartz surface that has exceptional durability.
No sealing or special cleansers are required, which means there are no additional expenses for supplies or labor.
MSI Q premium quartz comes with a residential lifetime warranty.
You can have various shades and designs of countertops according to your home decor.
The countertops are available with a thickness of 3 cm, which is ideal for your workplace or a kitchen.
These quartz countertops are stain-resistant, have a sparkling shine scratch-resistant, and heat resistant to a large extent, and have easy maintenance.
The MSI quartz has an elegant and sophisticated look with clean edges.
Even after years of cooking, cleaning, and chopping on the surface, the natural beauty of these quotes will remain the same.
It is equipped with antimicrobial properties, which will provide you with a hygienic surface.
Cambria Quartz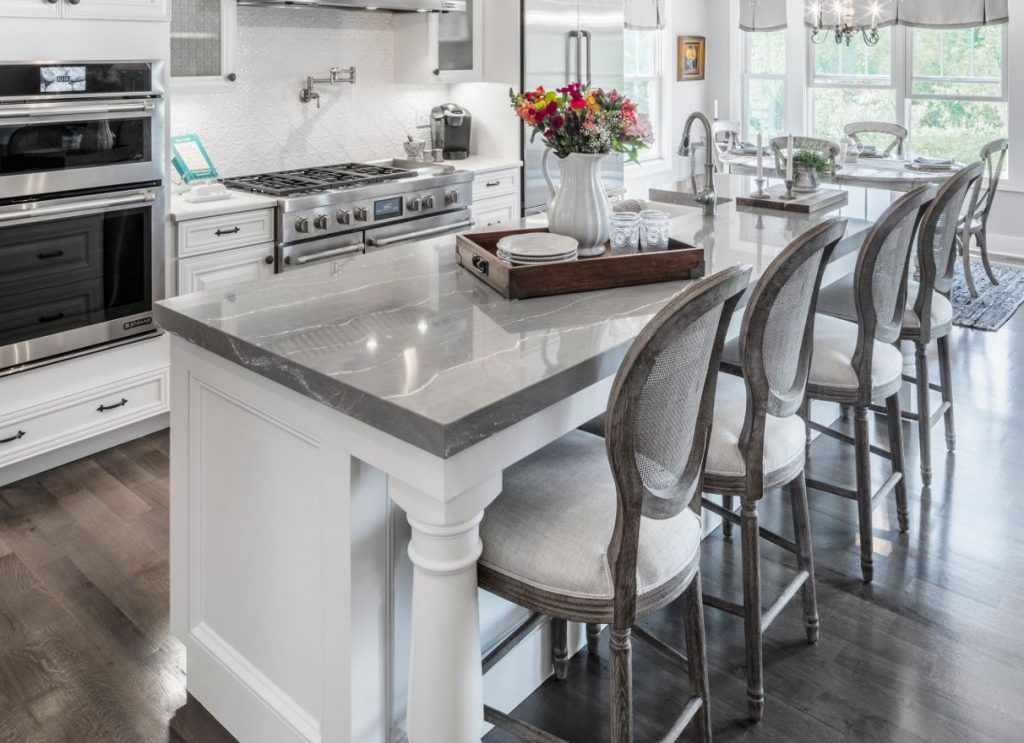 Cambria is one of the reputed producers of engineered quartz surfaces in the United States. This company was founded in 2000 and is privately held and owned by the Davis family.
Price and Benefits
Cambria quartz countertops cost from $55 to $125 per square feet along with installation charges. However, the mentioned price can be different depending on the color and thickness of the slab. Cambria quartz countertops are available in different widths that are of 1, 2, and 3 centimeters.
Cambria quartz countertop can also be used for bathrooms and backsplashes. Cambria is an old and well-known company and praised all over the world for its high-end countertop designs.
The Cambria quartz countertops use more than 90% natural stone, which makes it a durable and long-lasting countertop.
They are long-lasting, require less maintenance, scratch resistant, heat resistant, sturdy, so do not damage easily, and are durable with a sparkling shine.
There are not any health-related concerns as it releases little to zero radon.
As the stone is engineered, it is available in various shapes and sizes.
Cambria has nearly 100 colors to select, so you have plenty of choices.
As mentioned above, it is easy to clean, and the company recommends that using just a piece of cloth and water or mild soap will clean your surface.
No sealing, polishing or conditioning is required before or after the installation.
The company also recommends not to use harsh chemicals and abrasives and also try not to put hot pans directly on the surface as it can damage the surface.
It is nonporous, so the food particles and water droplets are unable to seep into the surface.
It provides safe food preparation as its nonporous nature resists bacterial growth. You can also chop raw meat and vegetables safely on the surface without cutting board as it is as safe as stainless steel and cleaner than granite or marble countertops.
The company also ensures the 25 years warranty on the surface.
Final Verdict
Both Cambria and MSI quartz is known for producing the best quartz one is better than another in some aspects. In terms of work experience, MSI leads, but the cost of Cambria is lesser than that of MSI quartz. On the other hand, Cambria quartz is made of more than 90% quartzite; the MSI's quartz consists of 94% quartzite that makes it more durable than Cambria's quartz.
Both bear antibacterial properties and are scratch-resistant, but in terms of heat resistance, MSI leads the way. In some way, the one drives over the other so you can go for any of them.