The premium Q Quartz recently launched by the MSI Companies has created a stir in the market. This naturally beautiful and immensely robust MSI Quartz attracted a lot of attention, lending the consumer strata a little enchanted. The eminent Q quartz is constructed using the international state-of-art systems and the patented Bratonstone technology from Italy.
About MSI
MS International has been a paramount surface supplier since its commencement in the 1970s, maintaining a colossal market for itself all around the atlas. The company is a master producer of flooring, decorative mosaics, countertops, wall tiles, and other hardscaping elements for an extensive range of domestic and industrial purposes.
The MSI companies have their headquarters at Orange, California. They claim to own an inventory of over 125 million sq. Ft. imported from over thirty-six countries of the globe. They have distributors spread over the United States and Canada.
They offer an exquisite collection of granite, porcelain, quartz, marble, quartzite, glass, and other mediums and styles. MSI's elite Q natural premium quartz offers scratch resistance, stain resistance, and heat resistance elegantly with an impressive lifetime warranty at stake.
The Celebrated Q Quartz
The Q MSI QUARTZ is comprised of 93% quartz. Due to the immense natural strength and maximum hardness of quartz, Q is diligently strong and durable. The Q quartz is undeniably beautiful, adding to its preeminence. The Q quartz is tested to be the best performing countertops of all due to its innate strength.
The Q MSI QUARTZ is exceedingly elegant and a statement piece to any interior. Q is unsuitable for microbial growth and harbor. The smooth edges and solid surface prevent bacterial action and hence serves best for kitchen appliances. Another complementary benefit is the ease of cleaning.
Q is impressively stain-resistant, protecting your kitchen for horrendous tea, grapes, wine, coffee, and other coloring stains to a handsome extent. It can be cleaned by wiping off using a wet cloth and maybe a mild detergent. It does not call for re-polishing, sealing, or reconditioning hence performing well in any given circumstances.
Why Quartz Countertops?
Quartz somewhat resembles granite in the physical properties being robust and hard-wearing. But it surpasses both stone and granite in performance. It is impervious, unlike natural stone that requires proper sealing and stain removal.
Q has 7% polymers and resins in its composition, which lend impermeability to the quartz making it more favorable over the other countertop options. The Q quartz does not require sealing as it is chip resistant.
The Q MSI QUARTZ also possesses chip resistance along with wear resistance and scratch resistance. One setback is the lack of heat resistance like natural stones, which calls for the use of trivets before keeping hot pans and pots and so. The copious color and style options with austere consistency make it a more reliable and go-to choice any day.
MSI Q Quartz Overview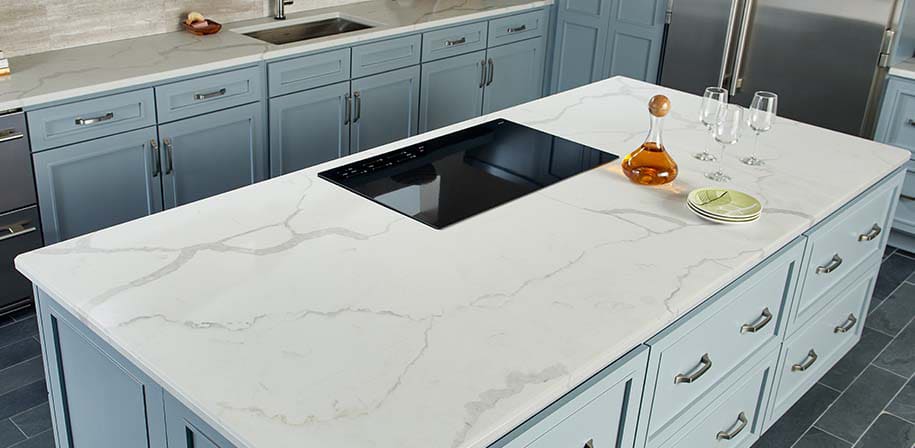 Sleek and stylish
The Q MSI QUARTZ countertops make for a statement piece in any kitchen or workplace due to their loud and eminent presence with beautiful patterns, colors, and shades. It is up to the owner to choose a top that either compliments or stands out by contrasting the surroundings.
Elegant
The Q quartz countertops give out an exceedingly elegant and poised aura. The company provides an assortment of designs, including grainy, plain, veined, textured, smooth, etc.
Well-Engineered
Q quartz comprises the optimal concentration of resins, polymers, and natural quartz. It is a perfect blend of natural and human-made materials. The composition adds to the quality and durability of the quartz, outshining granite, and natural stone options.
User-Centric
The utter ease of cleaning and maintenance makes the MSI QUARTZ tremendously user-friendly.
Abiding
The impermeability and toughness of the quartz countertops make it quite long-lasting.
Thickness
A typical quartz slab from MSI generally spreads over a depth of 2cm to 3cm.
MSI QUARTZ Alternatives

Quartz countertops have been in trend since the past few years and may even replace granite in being the option most homemakers opt for while renovating or building a new house. With the increase in popularity and sales, many companies have started their ventures with quartz countertops and strived to make more profit through them.
With the change in the narrative, the advanced engineering helped revolutionize the countertop game by blending the properties of natural quartz with enhanced features to create the most user-friendly and user-centric solutions. Here is a list of quartz countertop brands and manufacturers that have earned name through quality products and services.
1. Caesarstone
Caesarstone ranks high among the public, with numerous readily available options in outlets widespread in the country. It houses an extensive range of options, varying from modern, classical, contemporary, and traditional, to be chosen from. The idea is to be universal and match any given aesthetic and interiors to attract as many consumers as possible.
2. Cambria Quartz
Cambria quartz is a luxurious brand flexing some of the most realistic looking marble and stone patterns, comprehensively eye-catching color schemes, beautiful designs, and smooth finishes. It sure gives the values for the bucks and offers a lifetime warranty of their pieces. It has numerous options readily available at the outlets to fit into any given backdrop.
3. Han stone
Hans tone has put forth an exceptionally durable countertop for heavy-duty usage in the kitchen. The brand is North America based and has created a supportive fan base through quality service over the years. It has enormous collections serving extensive and intricate designs that attract and eye and are not harsh on the pocket.
4. Silestone
With extravagant and striking designs, Silestone remains to be a customer favorite bestowing the best value for their money and adding flavor and view to their humble abodes. It is lauded by designers all over the country and is readily available in design centers and retail outlets.
5. Corian Quartz
Corian Quartz was originally called Zodiac and is another excellent brand providing ready options to suit a variety of households. It is the brainchild of the chemical maestros DuPont. They, too, are interspersed around the country served through design centers and retail outlets.
6. LG Via tera
The LG Via tera series is a quartz countertop line created by the electronics and technological maestros LG who dived into the interiors sector with a beautiful and earthly range of kitchen counters that are sure to impress. The field is bestowed with well-curated countertops in numerous shades and colors that are readily available in retail outlets and so.
Cleaning and Caring
Maintaining a countertop is a crucial step in ensuring the long life of the top. The Q Quartz is effortlessly easy to maintain countertop. The stain-resistant nature protects it and the user from all the hassle. Upon spillage, wipe off using a wet cloth, warm water, and a mild detergent. If the spill dries, scrub using a scrub pad and some soap.
Cutting and scratching directly on the countertops should be avoided to prevent scratches, as the slabs are scratch resistant, but not scratch proof.
The edges and corners must be well maintained to prevent chipping, particularly in the wet areas with sinks or dishwashers. Colorful surfaces work better in hiding the chips as compared to monochrome or light-toned slabs.
Concentrated bleach must be avoided. The cleaning agents engaged must be checked and ensured to be bleach-free before use to prevent deterioration.
Waxing or polishing the surface is unnecessary as the slabs are already waterproof and glossy.
The use of hot mats and trivets is highly advisable as countertops are not very heat resistant.
Use degreasing products to get rid of the access to cooking grease and maintain cleanliness.
Permanent markers or inks should be used carefully around the slabs to avoid spilling and staining. In the case of staining, the cleaning procedure must be followed.
Quartz countertops must be protected from strong chemicals and solvents.
Quartz Vs. Granite
Quartz countertops are more flexible and durable as compared to granite. They are stain-resistant, scratch-resistant, and chip-resistant, but unlike granite, they are not heat resistant and must be protected. Granite is cheaper but requires sealing to ensure longer life. Quartz countertops discolor overtime is exposed to sunlight.
Granite slabs are seldom uniform and have varying color and appearance. When taken care of properly, both last the user a fair bit of time and make their kitchen look meanwhile.
Quartz countertops are indeed a focal attraction in any kitchen, bath, or other workplaces, but the quality aspect needs to be tended to. The stones and counters manufactured in China tend to have a shorter life and quality, as is documented intensively over the years.
With the hype in technological advancements, there has been a massive influx in the market of quartz and other materials that closely resemble stone, granite, or marble in the appearance but are conferred with more and enhanced properties that the former might be lacking. Quartz countertops are generally cheaper than granite and marble and have additional durability.
They can be an impressive addition to a house if bought from the right place and brand. The color, size, style, texture, and design options are elaborate and extensive. The advice of an architect or interior designer, or a slab expert is always helpful in deciding the best according to the requirements of any household.