Taking a shower is one of the essential parts of any individual's daily routine. You cannot and do not feel refreshed every morning and get the energy to start a new day without taking a hot and steaming shower. Taking a shower after coming back from work or gym is also the best way of feeling refreshed and energized again.
Since taking a shower plays such a crucial role in one's life, it deserves to be the best possible experience every time you do it. And the best way to make it a fantastic experience is to have a shower that is beautiful and elegant. Such a shower will invite you to come inside and stand below the stream of hot water and relax your body.
And the best way to make your shower or bathroom look good is to furnish them with high-quality materials like tiles, marble, stones, premium metals, etc. However, affording such high-end materials just for the bathroom is not something everyone can do. Therefore, people look for cheaper alternatives that give your bathroom the same look and feel.
To cater to the needs of people with a low budget, Maax, a brand famous for its bathroom renovation solutions, has a shower solution on offer which is affordable yet gives your shower a premium and inviting feel.
The way Maax achieves it is by using a material known as Utile. Utile is a material that looks exactly like a tile but is far cheaper and more affordable. In this article, we will give a brief Maax Utile Review by discussing the features of all Utile packages on offer. But, before starting our Maax Utile Review, let us give you introduce you to the brand called Maax.
What is Maax?
Maax is a brand focused on making stylish and elegant bath-ware solutions to create the best bathroom experience possible. The brand was started in 1969 and has exponentially grown since then. They not only offer products for your shower but also your bathtubs, bathroom walls, bathroom doors, cabinets, etc. The vast product catalog of Maax is ideal for every need and has something for everyone.
Maax offers its products in different categories and packages, and in this article, we will discuss the utile shower packages that Maax has on offer.
Maax Utile System Packages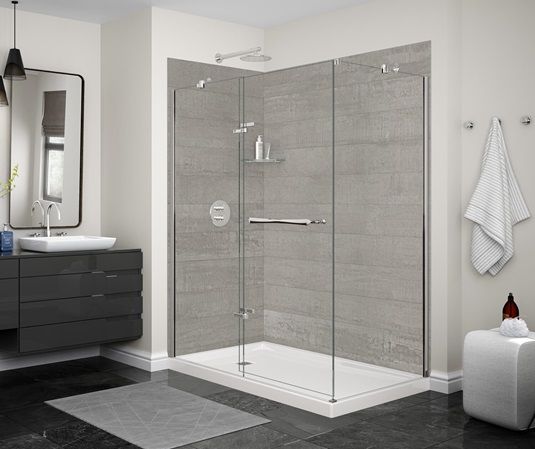 The utile shower panels on offer by Maax are a great way to give your shower a stylish look without having to burn a hole in your pocket, and features like easy direct-to-stud installation make it an even more compelling buy. Maax divides its utile shower packages into two broad categories which are:
Classic Series
The difference between the two categories in which the utile shower packages of Maax is in terms of design. The classic series designs are more elegant and all-time favorite classics like stone finishes and glossy tile finishes. The designs under Classic Series are:
Utile Metro
Utile Origin
Utile Stone
Designer Series
The designer series tiles are finished with more modern looks that stand out from the rest of your bathroom and make your shower a centerpiece. The designs on offer under the designer series make it look like you have used real premium materials like marble, premium tiles, etc. The designs under designer series are:
Utile Factory Rough
Utile Erosion
Utile Marble
Utile Organik
Utile Factory Sleek
Maax offers all its designs under classic and designer series in three different variations based on the type of shower in your bathroom, which are:
Corner Shower
The corner shower variation of design is meant for shower areas in the bathroom that are placed at a corner of the bathroom. The corner shower has only two utile wall panels that go on each wall in the corner and has a single glass panel that acts as a door. For the open side of the corner, there is a glass panel included to give your shower a good corner shower look. There is also a base drain included in the package.
Alcove Shower
An alcove shower is a shower that is surrounded by walls on three sides and has one side open. The alcove shower package of design includes three utile wall panels for each wall and a glass door for the open side of the shower. The drain panel is included in the alcove shower package as well.
Tub Shower
The tub shower packages of the Maax Utile shower system are designed with a tub shower design in mind. In a tub shower, there is a bathtub installed at the bottom of the shower instead of a floor with a drain. This eliminates the need for a drain in the package.
Walls usually surround tub showers on three sides which is why in a tub shower package, there are three utile wall panels along with a glass door panel. Now, moving forward with our Maax Utile Review, let us discuss the different variations in which you can get a Maax Utile shower system design.
Classic Series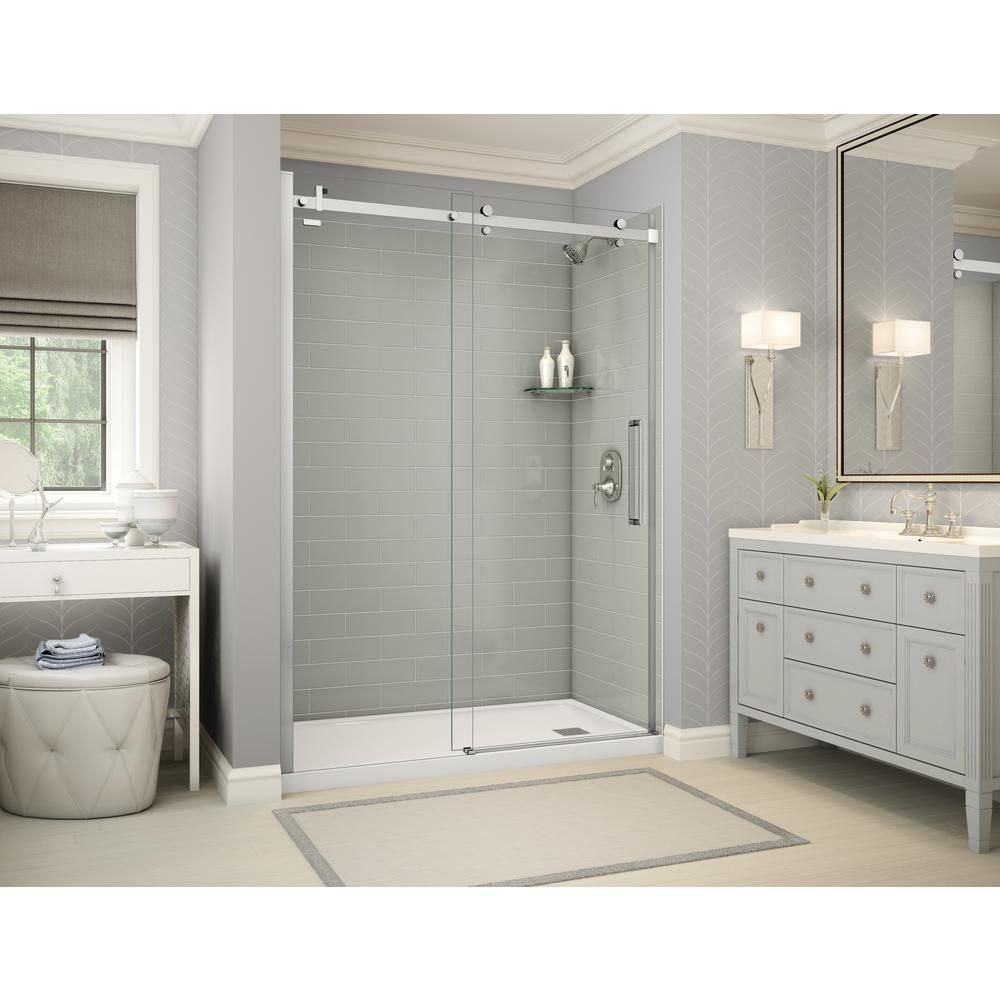 As mentioned above, you get three different designs under the classic series, which are:
Utile Metro
The Utile Metro design of the classic series a perfect option for someone willing to give their shower a subtle tiled look without going through the hassle of installing the tiles. The utile metro comes in 3 different colors, which are soft grey, thunder grey, and ash grey.
All these colors are relatively light and give your shower a calm and inviting look. You can get the metro with 48"x32"x83" base dimensions and $4000 starting price for the Alcove shower and Corner shower variant and 60"x30"x81" base dimensions and $3800 starting price for the tub shower variant.
Utile Origin
The Utile Origin design is for someone who does not want the traditional bathroom colors on their shower but something that makes their shower stand out. The origin comes in two colors, which are Griege and Arctik. It has the same dimensions and price as the metro design for nook, corner, and tub shower variants.
Utile Stone
As the name suggests, the finishing on this design is done to make it look like you have used stones for your shower walls. This design is only available in one color, called Sahara, and again has the same dimensions and almost the same pricing for all three variants.
Designer Series
Utile Erosion
Being a design under the designer category, the Utile Erosion will live up to your expectations. This designer series style is made to look as if you have used big stone or marble slabs for your shower walls, which give your bathroom a truly premium look.
This design comes with 48"x32"x83" base dimensions and starts at around $3500 for both nook and corner shower variants. It, unfortunately, has no tub shower variant. The colors available are Bora White, Pebble Grey, Charcoal, and Taupe.
Utile Factory Rough
This design from Maax is finished like a rough natural stone that is used in high-end homes. There is only one color available called Vapor and has the same dimensions as Erosion for the Alcove and Corner shower. It again has no tub shower variant and is available for around $3700.
Utile Marble
This is the offering from Maax that is finished to look like marble and comes in Carrara color, which is a white marble finish. The dimensions of this style are again the same as Erosion for Alcove and Corner shower variant, and it even has a Tub-shower variant with dimensions the same as the Metro Tub-shower variant. It starts at around $3500.
Utile Organik
The Utile Organik is an attempt by Maax to provide a utile shower panel with a marble finish that is not as aggressive as in the Utile Marble. It comes in three different colors, which are called Clay, Loam, and Permafrost. The dimensions are again the same for all three variants, and it starts at around $3600.
Utile Factory Sleek
, Unlike the Rough Factory style, this finish is like that of a sleek stone. It is offered in a single color called Smoke and, again, has no Tub-shower variant. The dimensions of the two available variants are again the same, and the starting price is around $3700.
These are all the options you get if you go through the catalog of Maax Utile Shower Panels. Below is my final verdict of my Maax Utile Review.
Verdict
If your bathroom is an important place for you and you want it to feel as premium and luxurious as the rest of your house and also are on a budget, then Maax Utile shower panels are the best option for you.
The quality of their products, along with the easy installation and reasonable price, is something that has helped them gather a considerable customer base. If you go for one of their products, you surely will not be disappointed. I hope our Maax Utile Review will help you make a better decision.