As families are growing faster, the homes we have are turning to be small homes. If you are a homeowner, then chances are very high that at some point in your life, you are going to have some permanent or long-term members in your family. They might be your guardians, parent who needs you or they might be your children who are grown up now, and they are living with you.
In such cases, you need some extra space and bedrooms in your home. If anyhow, you get success in resolving the space and bedroom issues by adding some extra beds in a single room or adjusting one or more beds in your dining room and hall. But here, privacy becomes an issue.
In such cases like this, one of the best choices for homeowners is to add a separate apartment to their house. In this scenario, adding a Garage with an apartment gives them freedom of choice. If they have an apartment garage, then they can use their garage and rent out the apartment if they need some extra income.
Owning an apartment garage not only give you extra space in case you have some extra people in your house, but you will also have some comfortable and private place for your friends and relatives to come there. Now you might wonder what the cost will to build a garage with an apartment. In this post, we will talk about all the aspects which give you an overall cost to build a garage with an apartment.
Cost to Build A Garage with Apartment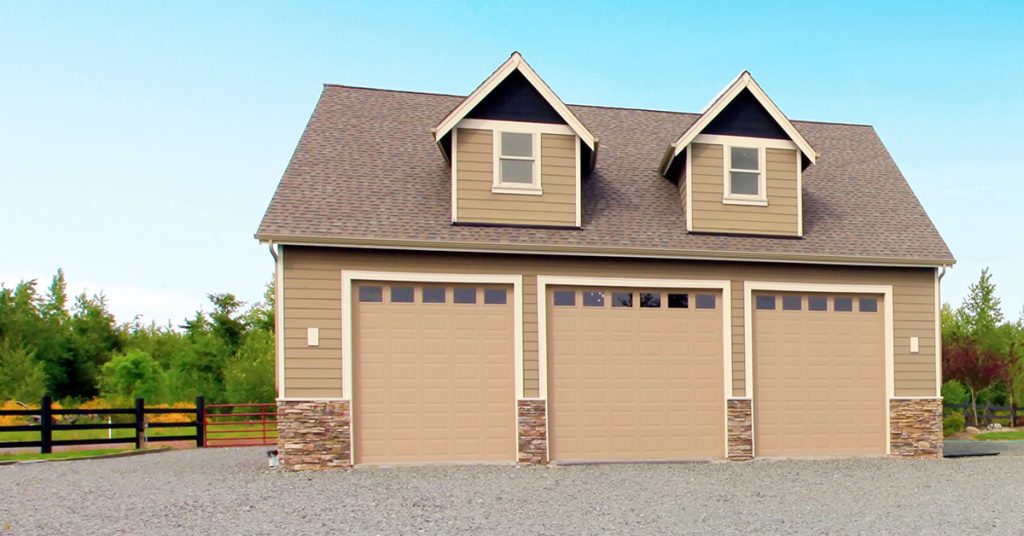 You will need to consider many different factors while determining how much a garage with an apartment will cost you.
Fees and Taxes
Some people build think that it does not require any permissions to build an external building in your land, but it is not how it works. Many jobs required in this work would need the work of licensed professionals.
While the cost of building materials and labor is a big part of the total expense when building an apartment with a garage, but you should be aware of the many other costs you will need to pay.
Before the construction of the garage apartment can even begin, you will likely need to go to get the building permit from the officials in your town, which will most likely cost you between $450 and $1900 for most people.
Building a garage or construction cost varies from place to place and country to country. For example, In the USA and construction cost per square feet averages roughly $0.79. And additionally, in your town, you may require a planning permit which will cost you according to the rules somewhere around $30. The addition must meet the zoning requirements since many residential areas in different countries are zoned as only single-family homes area.
After you have completed the addition, the extra costs may continue to increase. Now it will increase because of the size of the apartment garage, which will increase the amount of the property tax you are going to pay. Also, if you are collecting any rent for the property, even from a family member, you will have to claim for that as income on your taxes.
While it is worth the apartment garage cost, as the garage with an apartment above comes in handy.
Prep-Work
One of the very first and most crucial factors to consider while building a garage apartment is the location of the property. Before starting any construction work, a land survey is required. When the survey is done, the contractor will have a better understanding of the site, and he can begin the work.
This prep-work also costs some money. The surveyors charge a decent amount of money to conduct the survey and prepare a report. It may boost your apartment garage cost up to a few hundred dollars.
Size
Generally, the cost to build a garage with an apartment will be dependent on your needs and the space available in the property where the garage is being built. If you have just one SUV Car, then the recommended size of the garage is 12'x22′, for two SUVs is 20'x20′ and for three, the size is 32'x22′.
These are the minimum recommended sizes for an ideal garage. According to the size for 12'x22'garaze, the cost in the US is generally $25K-$30K, for 20'x20′ the cost is $32K-$37K and for 32'x22′ the Garage cost is generally $45K-$48K.
As you are looking for the cost to build a garage with an apartment, a two-story unfinished two SUV car garage, which is used for storage, will averagely cost $65K. In contrast, a finished and insulated two-story garage apartment cost for three SUV cars with living space is about $135K.
But these costs are also average costs, not the final costs. These costs are based on an average of the costs all around the USA, and best for the lower middle range use. These costs will go high when you include finishing and roofing charges.
Construction Costs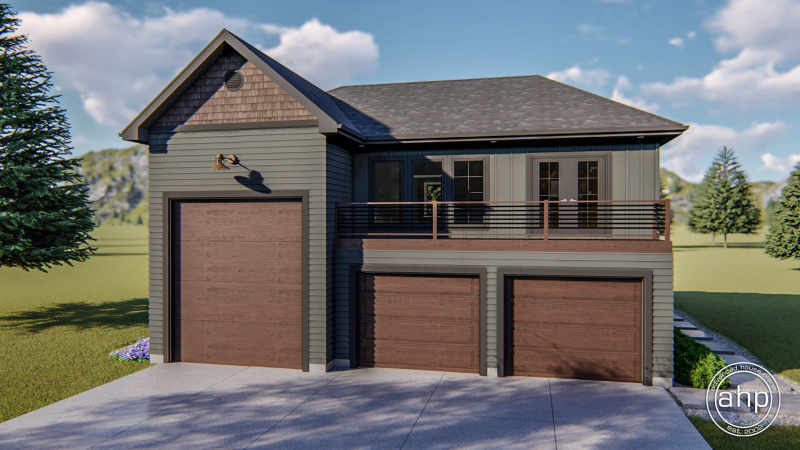 It would help if you decided whether the apartment garage is going to be attached or separate from the house yours. You also have to choose the materials you want to use in the garage apartment construction. For these works, you may have to hire a specialist who will be helping you to select the best things from so many options available in the market.
When we discuss the materials being used, one more thing is essential, which is the size of the structure. So overall, building an apartment garage will not cost you that much in construction.
In the United States of America, most people spent about $25K to build a garage with no apartment. Which is an average amount? And if you want to build an apartment garage, then it will sum up a bit more than that. Constructing an apartment above the garage will increase the costs according to the structure of the apartment.
An apartment with some rooms, a bathroom in the space, electric wiring, insulation, and plumbing will cost you between $160 and $200 per square foot. And the cost may differ according to the place you live in.
Interior
Just building a garage with an apartment is not enough for anyone who is going to live there. For the people going to live there, the interior design of the apartment has different importance. Generally, people design their homes on their own. Some people also hire different professionals or interior designers to decorate their home and make it a palace.
These designers charge a lot of money, depending on their plans and popularity. This makes a significant increment in the apartment garage cost. Usually, interior design costs a few thousand dollars in the USA for a one-bedroom flat.
Wiring and Lights
Making any decision about electricity and lightning will depend on what is the purpose of the garage and where it will be situated. If you are going to use this garage as an option to keep your car safe from elements, then you must go to consulting an electrician about any of the electrical installations and problems.
As a safety, you can install an electric automatic door as well. Electricians usually charge about $80 to $100. As you are going to build an apartment garage, then lightening and electrical will be more extensive. All the instruments and materials used in the electric wiring and lighting will add up some more amount in the total apartment garage cost.
Labor
To build a garage, you will need some laborers, and for this, you must hire a labor contractor. A contractor will be able to consult your plans with you, and then he will hire and schedule those necessary specialists to do the works that need to get done. The labor cost is going to depend on the state you are residing in. But also, many factors might determine how much labor is going to cost you.
Like, the average fees of any electrician in the United States will cost you between $80 and $100 per hour. And they can also charge some extra amount per square foot for the intricate wiring needs. Like this same, other professionals will also be going to charge by the square feet, and their average rate for an hour may cost between $40 and $50 per hour.
The labor will also be going to charge per square foot at the cost of $3 per square foot. For high-end finishing or custom brickwork, roofing of other intricate work, the labor will charge an additional amount according to work, which is going to increase the payable amount for the labor as well.
Conclusion
So clearly, there is no way too straightforward that one can evaluate how much it would cost to build a garage with an apartment. There is not only one thing to consider, and it takes a lot of factors to determine how much you are going to pay for building a garage apartment. It is also essential that you are aware of all those things. With having complete knowledge of these factors, you are never going blindly into such projects.
If you liked this article, then you must share your feedback in the comments. Your views are precious to us.